Health
PROFESSOR Dr ĐORĐE RADAK, VASCULAR SURGEON
No Amnesty for a Surgeon
Taking responsibility is the essence of surgery. Every decision a surgeon makes can be fatal. Decision on someone's health and life. Everything in surgery is simple; if it is not, it means that it has not been planned well. Only when you envisage everything and prepare everything, you can say: "Let the angels guide your hand". Although Serbian hospitals are not sufficiently equipped technologically, there is no method in vascular surgery in the world that is not performed here
By: Jagoda Plavšić
Photographs: Dragan Bosnić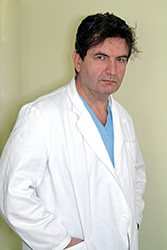 Professor Đorđe Radak, PhD, vascular surgeon, director of the Clinic for Vascular Surgery of the Institute for Cardiovascular Diseases in "Dedinje", is surely the master of his work. This doctor does not does not deviate from the principle that "surgery is a poetry of precision and skill of making decisions". Decisions on someone else's life. That is why today, after more than three decades of work, he continuously asks himself the following: "God, could I possibly be wrong, making this decision about the surgery? And will St. Peter ask me one day: Weren't you a little superficial?"
– Taking responsibility is the essence of surgery – says professor Radak in an interview for National Review. – It is often believed, especially in countries like ours, that he difficulty of this job is in the fact that a surgeon should be in good condition to stand, to be on call, to be sleep deprived, to be always available. However, surgery also has mental and emotional weight. Every decision of a surgeon could be fatal. Taking over responsibility for someone's health, life. If we make a bad decision, "no wind is good for a ship sailing in the wrong direction".
Medicine is not only prescribing pills or work with a scalpel, says Dr Radak, but it also has an important ethical dimension. There is that moment when a surgeon is left completely by himself and thinks: "Would I do the same to myself?"
– Therefore, the best sentence I can say to a patient is: "This is what I would do for my mother or father." And I must really feel that way. If there is no such sentence and such feeling, than it is better that one does not pursue this line of work.
As a young doctor, he was going abroad to learn from the best, and then very quickly other started learning from him. Systematic approach to clinical reasoning and solid subordination in organization of the ward are two things that he took over from professor Volmar, one of the best vascular surgeons in the world, under whose mentorship, as a fellow of the German government, he did his residency for more than a year. And the third one – everything in surgery is simple; if it is not, it means that it has not been planned well.
– I have tried to apply these principles here. Every morning, at the Clinic, we have grand rounds, where we jointly discuss every patient individually, we all participate in the making of the best possible decision, and envisage possible complications. Because, there are many solutions, and only one is the best. And when everything has been envisaged, and a good plan has been created, then the entire team can say: "Let the angels guide your hand." A complication can occur only if an incorrect indication has been determined, if the surgery was not technically completed perfectly. And if something takes an unforeseeable turn, the surgeon must not ask who is to be blamed, or waste time, he must immediately solve the problem. And make decisions. That is why there is no amnesty for a surgeon.
DOCTOR IS A FIGHTER AGAINST EVIL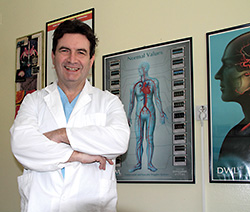 Do our doctors take frivolously or seriously the arteriosclerosis, which is, and this is proven, the foundation of all cardiovascular diseases?
– Unfortunately, in our country there is not sufficiently developed awareness of the fact that arteriosclerosis is a serious disease that jeopardizes the heart and brain. It is invisible, it does not hurt, but it is a great risk to health and life. Many are not aware of it and do not pay sufficient attention to it. On the contrary, with their behavior and lifestyle, they are constantly "feeding and nurturing" this disease, while it is targeting and attacking all blood vessels thus affecting the heart and brain. It has been an increasing threat to young people. Arteriosclerosis is one of the most wide spread diseases of the modern world, and in our territory it is also on the upswing because of long exposure to stress. The problem is also that contemporary diagnostic methods are not sufficiently available here, and the fact that patients must wait for an examination for up to 10 months. The number of interventions per capita is 10 times lower than, for example, in Belgium, and our people are far more under stress and with a lot of existential problems. That is why eight out of 10 patients in our country do not manage to come to a doctor in time. And this must be changed. Still, the most important is that this disease can also be prevented, only it should be taken into consideration in a timely manner and confront it in a proper way.
How much progress has been made in the treatment of carotid (neck) arteries?
– Most investments have been made in this area and most progress has been achieved. Our clinic is well known for successful treatment of this disease. Patients with clogged arteries are awaiting imminent stroke, or have already had a few of them, and by doing the surgery we practically eliminate the cause of the stroke, and prevent further damages to the brain. We have introduced the so-called eversion technique (the artery is not opened longitudinally, but perpendicularly), which has turned a long and complicated surgery into a simple and quick one. It was followed by resistance in the beginning, but it is now generally accepted technique. These surgeries are not difficult for patients, and they provide huge benefits. Three days after the surgery the patients can go home, back to their normal lives.
What are today the challenges of vascular surgery?
– Big progress has been made in the development of endovascvular intervention methodology. It is especially important in the treatment of aneurysmal disease of the aorta, because it is possible to come to the affected area from "within", without traditional surgery, to the aneurysm that is prone to rupture, and to insert a stent covered with graft. The patient can walk the next day. Generally, there are many more things that need to be done. We have recently introduced the so-called hybrid procedures for solving aneurysm of aorta, in which two and even three surgeries may be performed within a single procedure. It is a great professional achievement and benefit for the patients. The challenge is to bring to perfection that these procedures, which have opened a range of new intervention possibilities. Although we are on a lower level in terms of technological equipment, I can say that there is no method in vascular surgery in the world that is not performed here. But there is still a lot that must be changed and improved in the organization of our health system. Even more so because the coronary, carotid and peripheral arteriosclerotic disorders are the main causes of diseases and fatalities and will be increasing, an affecting an increasing number of young people.
What have you brought from your family, what do you handover to your children, and what do you recommend to young surgeons?
– I admire nations which manage to have several generations making progress, It seems that our fate is that as soon as one generation creates something, the next one would demolish it. I would like it if my children, who are not in the world of medicine, continue in my footsteps. Although it is the fact that the status of a doctor ha changed, that the doctor is no longer a knight fighting against a disease, and that medicine is an industrial activity, still, I advise the young doctors, although this is not popular, to try to be not only engineers, but to keep that human level, self-awareness of "fighting against evil". As well as the principle that the patient is always right.
You have not accepted invitations to continue your career abroad. Why?
– Twice I almost signed agreements to work in Germany and Switzerland. I chose to stay here. Well, I spent almost two years in Germany and I began to dream about some streets in Belgrade and, you will not believe this, even "Slavija" movie theatre. The pebble stone of Belgrade is hard, you miss something. In addition to this, a person who cures people must also understand them.
***
The Strength of One Sentence
You have published more than 300 papers in various international journals, you have written many books in which every chapter begins with a wise saying?
– Writing of scientific papers is necessary, I would not be what I am now without it. A man thinks he knows something, but when he tries to put it down on paper, he realizes how many gaps there are. Through writing and searching for right answers I have learned a lot myself. And a wise saying and that one sentence is an attempt to show that a surgeon should study methodology of thinking and making decisions not only about what is best for the patient at this moment, but also how it would reflect on his life in 10 or 20 years.
***
Journey
Professor Radak was born in Vršac, he graduated from the Faculty of Medicine in Belgrade with GPA 9.70, he is a corresponding member of Serbian Academy of Sciences and Arts, honorary professor of surgery at the University in Milan, a member of numerous professional associations. He was an editor of five national guides of good clinical practices in the field of vascular surgery and angiology, one of the founders and the first manager of the Centre for Continuous Medical Education at the Faculty of Medicine. He has published many books which have been adopted as textbooks, and received numerous awards. His professional and scientific biography is adorned with merits for introducing new methods in the treatment of vascular diseases. He is a father of four and speaks three foreign languages.