Catalog
LAZAREVAC, CENTER OF SERBIAN MINING, IN A DIFFERENT SELF-RECOGNITION
Discovering Tourism Potentials
Southern and eastern parts of Lazarevac municipality, where there are no mines, have all the beauty of Šumadija. When their entire offer in the area of rural, cultural-historical, sports-recreational, industrial or religious tourism is listed, even many locals are surprised. Exactly this is the foundation on which they are building a new strategy of development of Lazarevac tourism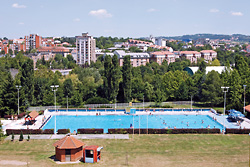 When one mentions Lazarevac, the first associations are usually coal mine, tilled land, endangered environment. However, although under heavy burden of mining-energy production activities, Lazarevac municipality – rich in natural, cultural, urban beauty – has a significant tourist potential. Cultural and historic heritage of this municipality is also not well known to the general public. There are also numerous modern sports facilities, courts suitable for good quality preparations and competitions and most sports. We can add to this recreational, rural and specific industry tourism. All these are elements on which the experts in Lazarevac are building their strategy for the development of tourism.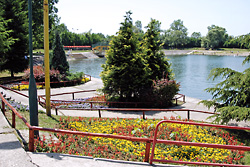 Non-mining Lazarevac. Southern and eastern parts of Lazarevac municipality, where there are no mines, have all the characteristics that adorn Šumadija. There is also a good road network and other infrastructure, a solid foundation for the development of rural tourism. In the radius of only a few kilometers there are numerous sports facilities, indoor and outdoor swimming pool, sports hall with courts for handball and volleyball, bowling alley, tennis courts, football stadium with an auxiliary court and athletics track, shooting range on the Tamnava!
There are an increasing number of lakes, created by reclaiming no longer active mines. They are rich in fish and they offer numerous attractive possibilities. In the forests of Lazarevac there is plenty of interesting wildlife, and it is well justified to create a better concept of hunting tourism.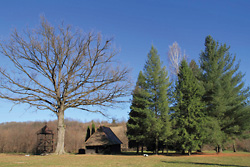 (Post)industrial tourism. Visits to surface mines and facilities significant for the development of mining, as well as examples of old technologies (cable cars, steam locomotives and smithies), proved to be attractive for tourists. "Moon Landscape" of surface mines, seen from Volujak viewpoint, has already entered numerous Serbian photo-monographs. It has turned out that this levy, paid by Lazarevac for the benefit of the entire Serbia, can also be (perceived and used differently) a significant potential. A part of these land surfaces has been re-cultivated. Small lakes were created in valleys – over twenty – surrounded by picturesque forests. An excellent area has been created for recreational and sports tourism.
Sports-recreational tourism. Modern sports centre and shooting range "Tamnava" attracts a large number of visitors. Recreational complex near the Očage Lake has a special place in tourist offer of Lazarevac. Right on the major road that leads to Čačak, Užice and the sea,, it is situated only 55 kilometers from Belgrade. The lake has spring water that is filtrated daily with modern devices, in compliance with strict regulations for river water that i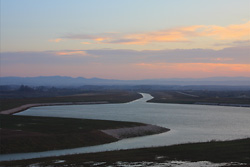 s used for swimming and water sports. The lake is six meters deep, has a capacity of about 6,000 swimmers per day. It has two Olympic diving platforms, each with three levels, and a slider with swimming pool for children and young people. The area around the lake is covered with grass, with landscaped walking paths and benches. There are also beautiful courts for small sports (for example, volleyball and football on sand). The lake is illuminated, and can be used even at night, both for swimming and for cultural and sports events. The complex includes a restaurant, with a large parking area. Also envisaged are areas for sports camp and weekend resort, with all related facilities.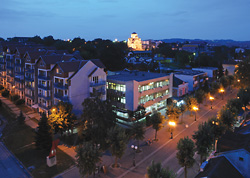 Ethno village "Babina reka". It was built for ten years, and operates since 2010. It is situated in the village of Trbušnica, 12 kilometers from Lazarevac and 20 from Aranđelovac, occupying a surface area of one hectare. It is on the very end of the settlement, naturally isolated from everything urban. The complex includes a beautiful garden with fountains and natural shade, a stage for cultural-artistic programs, parking and a souvenir shop, and the home museum is currently under construction. It is surrounded by hills, mountains, creeks, the river and the forest. Only 50 meters from the accommodation facilities there is a lake, where you can go fishing, and next to it there is a very good restaurant and creek Babina reka (the complex was named after it). Nature in its full richness.
***
Cultural-historic heritage
A memorial dedicated to Duke Stanoje, one of the first who was killed by the dahias in the eve of the First Serbian Uprising. The old military cemetery. Memorial charnel house of soldiers killed in World War One. Vrače brdo, a place of remembrance of the famous Battle of Kolubara. Modern gallery. Ambiental unit "Kamengrad". "Magic Garden" made by sculptor Bogosav Živković in the village of Leskovac, an exceptional tourist attraction, also famous for being visited by Jimmy Carter, former president of the USA.
***
Religious tourism
Temple dedicated to holy martyr Dimitrije (with Memorial charnel house of soldiers killed in the Battle of Kolubara in 1914). Log cabin churches in Vreoci, Baroševac and Brajkovac. Ćelije Monastery, holding the relics of holy Justin Ćelijski and where, according to legend, Saints Cosmas and Damian used to stay... These are only some of the elements of sacred heritage of Lazarevac.
Calendar of Events in Lazarevac
January
• Epiphany swimming for the holy cross (January 19)
February
• Encounters of young violin players in Lazarevac
• Competition of Young Pianists
March
• Eight of March International Chess Tournament for Women
• Memorial handball tournament for veterans "Srećko Trifunović – Krekac"
• International Agricultural Fair "Kolubara-Fest"
May
• Athletic street race
• May encounters of young wind instrument and accordion players
• Karate tournament on St. Mark's Day, Veliki Crljeni
June
• Saint day of the city of Lazarevac – Pentecost
• Day of the Municipality of Lazarevac – on Vidovdan (St. Vitus Day), June 28
• Bicycle Festival "Turn the Pedal"
• Gathering of motorists – Moto Show
July
• Rudovci Sports Summer
August
• Rudovci Art Colony
• Citroën 2CV "Spaček" Show
September
• Festival of Humor for Children
• Days of Beekepers "Kolubara"
October
• State competition in standard and Latino dances
• October Celebrations (Vreoci)
November
• Wine Festival "It's time for wine, let's drink local brands"
December
• Days of the Battle of Kolubara (December 9-15)
• Traditional Christmas Small Football Tournament