Encounter
TRADITIONAL EPIPHANY CELEBRATION IN OHRID
Long Life and Many Years
"The consecration of the Epiphany water is a traditional holiday in all Orthodox Christian churches, the memory of Christ's baptizing in the Jordan. It begins with a liturgy, continues with a procession, then participants jump into the icy lake and swim for the cross. As you can see, the whole city is on the shore as well as our numerous guests. It is festive and joyful", says Aleksandar Petreski, mayor of Ohrid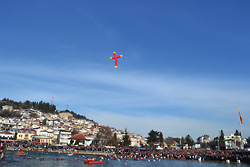 The January winter sun in the clear waves of the Ohrid Lake. The ancient city dressed in white, illuminated with the gold of heavenly light, was awaiting another magnificent festivity. Its citizens have been celebrating it for centuries, with a joyful greeting "long life and many years".
The morning festive bells are heard from numerous churches. Rivers of festively dressed people are arriving to the dock from all parts of the city. The Ohrid restaurants and producers pour hot brandy at the lake shore, to warm up the people of Ohrid and numerous guests from all parts of Macedonia, the region and faraway countries. Many foreign tourists came to the Epiphany celebration this ye
ar in the city of Clement and Naum, students of the great Slavic educators Cyril and Methodius.
The central event, just like in the previous years, is lowering the plated cross into the lake. The most courageous ones then jump into the icy water and swim for the Cross, attempting to be the first to reach it.
After the prayer and the consecration of the Epiphany water, in the presence of the president of Macedonia Djordje Ivanov and mayor of Ohrid Aleksandar Petreski, at 11 sharp, metropolitan T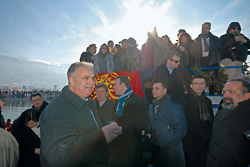 imotej lowered the plated cross into the water from one of the anchored boats. About 1.300 people who applied this year for this knightly competition, jump into the water and swim. The most skillful and luckiest was Mitko Topecharov from Ohrid, who succeeded in taking the cross out of the river for the fifth time and became a local hero. According to the legend, besides the golden twenty-four carat cross granted by the godfathers of the ceremony, the lucky diver may visit any house in the city, bring the host the blessing of the consecrated cross and receive money and other gifts in return.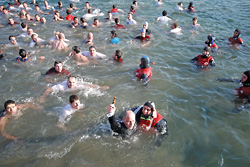 – The consecration of the water is a traditional holiday and ritual in all Orthodox Christian churches, as a memory of Christ's baptizing in the Jordan. According to the ancient custom, the day begins with a holy liturgy, continues with a procession to the lake, where the water is consecrated and contestants swim for the cross. As you can see, the whole city is on the shore. Hot brandy and wine are given to people, everything is festive and joyful – says Aleksandar Petreski, mayor of Ohrid, emphasizing that more people are visiting the event every year. – Our objective is to make this an international Orthodox Christian event.
Ohrid is a city with an intensive life throughout the year, mainly due to its many centuries long cultural heritage, openhearted and hospitable people, tasty food, good beverage, fine music well-known and famous Ohrid string orchestras.

***
Museum City
During the recent archeological excavations in Ohrid, archeologists found new layers from the Bronze and Iron Age. They discovered ceramics, marble plastics, bronze statues of Daedalus and Dionysus, probably Zeus as well, from the Helenistic and Roman period. Artifacts from later Antiquity, early Byzantine period and Middle Ages were excavated as well…
An ancient amphitheater was discovered under the Upper Port of the Old City. The names of regular visitors were still engraved in its stone seats.
***
Basilica
A monumental early Christian basilica with an atrium on the northern side, a narthex with a mosaic floor on the western, and a baptistery with mosaic ornaments were found at the archeological site near the Church of St. Clement. It is assumed that the basilica was dedicated to apostle Paul, who, it is believed, preached in these lands in the I century.
More than 2.000 tombs dating between the IX and XV century were discovered at the same site.
***
Churches
They say Ohrid has so many Orthodox Churches that you can pray in a different one every day of the year. About twenty pearls of medieval churches were preserved in the city and its vicinity, such as Church of St. Sofia from the XI century, Church of St. John Kane from the XIII century, Church of St. Nicholas Bolnicki and Virgin Mary Bolnicka from the XIV century, Church of St. Clement (Virgin Mary of Perivlepta) from the XIII century, St. Naum of Ohrid from the X century...