Health
AMONG HILLS AND BOONS, IN LUKOVSKA AND PROLOM BANJI
Health Facilities in Dragon's Furrow
In many way different from other beautiful thermal water centers of Serbia. Word about their medicinal qualities has spread far and wide (they say that even fairytales here can cure), but now there are many other modern facilities because of which even the healthy come here, and majority of the guests are "frequent visitors"
By: Petar Milatović
Photographs: Dragan Bosnić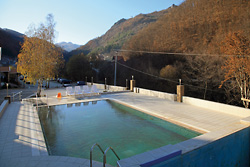 There are two roads that lead from Belgrade to Lukovska Banja. One, somewhat longer, by highway to Niš, and then further to Prokuplje, Kuršumlija, and from there, one should drive for a while down the macadam road that goes along the accumulation lake, intended to provide sufficient quantity of drinking water to Toplice district. About 330 kilometers. The second road is by about thirty kilometers shorter and, in my opinion, much more comfortable, for both the eyes and the car. Therefore, one should take the highway until exit for Kruševac, then to Brus, then to Brzeće... Afterwards, sailing downhill through a beautiful landscape of eastern slopes of Kopaonik, after about forty kilometers you will arrive at the destination.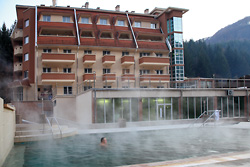 And then you are speechless. That is the first impression of a man who has arrived at Lukovska Banja for the first time. Silence. Only here and there one can hear an axe, it is winter time. All around, just like on an old mountain postcard, silent smokes from chimneys of tightly packed houses.
The highest in the beautiful necklace of Serrbian spa resorts, Lukovska has nestled at 681 meters above the sea level. Mountain peaks around it are over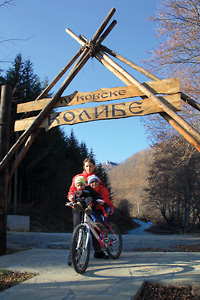 1,000 meters high. Based on the number of mineral water springs (37), diversity of composition and temperature (from 35 to 69.5 degrees Celsius), abundance (over 100 liters per second), it is one of spa resorts in Serbia that is richest in water.
It is known that the medicinal waters of this spa resort was used by ancient Romans. Even king Milutin could not have resisted them, one of the most powerful Serbian rulers in the Middle Ages, and the Turks were also taking baths here in their bathrooms-hamams. The first modern bathroom with male and female pool was built in 1948, but the real development, the seed of what exists here today in Lukovska Banja, begins in 1999, when Hotel Kopaonik was built. Ten years later, Hotel Jelak was built, also very modern, equipped with everything that is necessary for the development of contemporary spa and wellness tourism. There is also a new bath "Šljivak", with the most medicinal thermal-mineral waters (which, together with gases, spring up from deposits), temperature from 32 to 43 degrees Celsius. A little above, in the part that is called Gornja banja, two mud thermal springs are renovated into outdoor pools.
HEALTHY EVEN FOR THE HEALTHY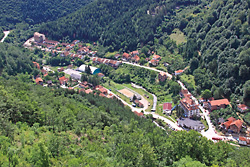 Extensive medical research, as well as personal experiences, confirms the benefits of Lukovska Banja, of all of its therapies, from mud, hydro, electro and magnetic therapies to hand massage. I do not exactly have all the diseases that the professional medical staff of this spa resort is specialized in – and these are, primarily, rheumatic difficulties, degenerative diseases of the spine and conditions after injuries on skeletal-joint system – but my gout was tamed here.
It was in Banja that I met a married couple from Belgrade and spent time with them. He is a middle-aged pilot in JAT, and she is a business wom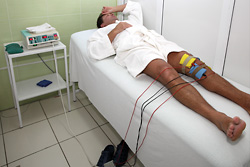 an. She arrived first, after severe bone fractures from a car accident. He joined her the following year, as becomes the superb pilots, absolutely healthy. And here they are in Banja, for the fourth year in a row, although, thanks to the benefits of their profession, Abu Dhabi (for example) is also easily accessible to them. However, they confided, they would not give up their seven to eight days in Banja for any other place on the planet.
This case has also proved right the orientation of the leading people Lukovskoj, as well as Prolom Banja that is about fifty kilometers away, that this spa resort should not b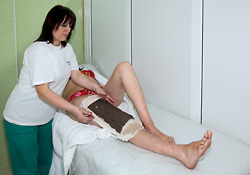 e only a medical facility, but a place for vacation, the real one, without lying around. In addition to exceptional health tracks, there is a handy ski-lift, with a very decent track, and balloon-hall for many sports (in which the famous Jelena Genčić, the first coach of Novak Đoković, has her tennis school). An exceptional challenge is St. George Church on Nenadov kamen, 975 meters above the sea level, three hundred more than the spar resort itself. Built recently, it is almost irresistibly enticing spa guests to walk toward it. And there are two roads, a longer and much easier one, and a shorter but almost vertical one. In the evening, people make bets who will arrive first and by taking which road, and the next afternoon, mostly in the outdoor swimming pool in front of Hotel Jelak, where temperature is about 36 degrees (in cold days it is steamy like mother's soup on Sunday), people talk about this extraordinary adventure.
EVEN FAIRYTALES HELP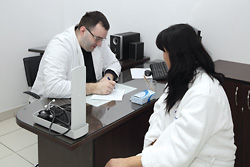 Situated 600 meters above the sea level and surrounded by Radan, Sokolovica and Meanske Mountains (from 1,000 to 4,000 meters above the sea level), about ten kilometers after taking aturn at the settlement of Rudare on the major road Niš-Priština, Prolom Banja is a true balm for all those with specific health conditions. Namely, these are people who suffer from renal and urinary tract disorders, digestive tract disorders, skin diseases (primarily psoriasis), peripheral blood vessel disorders and soft tissue rheumatism.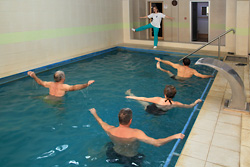 Two things are decisive. First, local waters belong to those rare waters "with high balneology values, like alkalinity, presence of ozone and silica acid, as well as low content of fluorine, because of which it can be drunk in unlimited quantities". The second thing can be credited to a natural phenomenon, i.e. creatures from fairytales. This concerns the so-called dragon's furrows, a phenomenon that occur only in about thirty places in the world and two in the Balkans. Namely, on the slopes of Radan, there is positive magnetic field of the soil that, it has been proved, is beneficial for people's health and stretches the limits of their age. And, as we know from fairytales, dragons live quite long.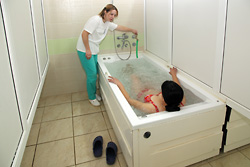 The influence of medicinal mud is also important. For centuries, the soil surrounding Prolom natural springs has been soaked with medicinal water. First the locals, and then increasingly frequent guests discovered that his mud can treat skin and other diseases. Today, this medicinal mud is obtained by mixing thermal water and soil from the surroundings of the spring Pupavci, and is used in the most modern mud baths, or as a compress, in a treatment block of the local Special Hospital.
Because of the reputation of Prolom Banja in professional circles, members of the Dermatology Section of Serbian Medical Society has been organizing seminars here for eleventh consecutive year. Prof. Dr Sonja Vesić, president of the Section, is not hiding her satisfaction with results of treatment in Prolom Banka, especially in patients who have problems with psoriasis. Prof. Dr Mirjana Paravina agrees. Depending on a person and severity of the disease, she says, some patients experience up to 80 percent of improvement in comparison with the period before they were treated here.
TO MAKE IT EASIER FOR GUESTS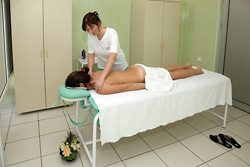 The centre of activities in the spa resort below "Dragon's Furrows" is certainly the modern Hotel Radan, which includes – to make it easier for the guests – a medical treatment block, so that one can almost complete all activities in a bathrobe, which is waiting for the guest in his or her room. And in the room (every room has a television, refrigerator, hair dryer, internet connection) the medicinal spa water is running through taps. Based on individual preferences, all hotel guests can use the fitness center, the hall for small sports, billiard, table tennis hall. There i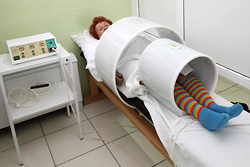 s also a large swimming pool with thermal water. This modern wellness center is offering everything, from detoxification of the body, to various beauty programs. Basically, you come withered and leave rested. You come tired and leave energized.
In addition to hotel facilities, depending on individual needs and curiosity, one can go down the so-called health tracks along the cr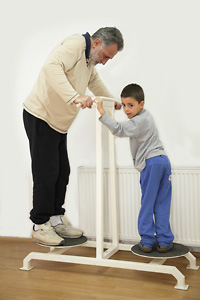 eek with the same name, then have a trout at Ethno-tavern. Those who like our history would go to Lazarica Church (2.5 km), And thjose who cannot have enough of natural wonders, will go to Đavolja varoš (about ten kilometers by foot, or 27 kilometers by spa resort bus). And what can we say about Sokolov vis or Gajtanska vrata?
Exactly because of all these facilities, both in Prolom and in Lukovska Banja the borders between medicinal and recreational tourism are being erased, and it has already been about two-three years that there are special package tours intended for those who want to, in a short time, mostly on weekends, vreme, erase the layers of stress from work and provide rest fro their body and soul. The border between seasons has also been erased recently in both spa resorts. The season here lasts for 365 days, and in various periods there are special discounts and other benefits.

***
"Planinka"
The current company "AD Planinka", founded in Kuršumlija in 1964, to manage natural resources of the municipality, was privatized in 1999, in such a way that 95 percent of the capital went to workers as shareholders. The owners of this, today modern company, are "Prolom voda", Hotel Radan in Prolom Banja, hotels Kopaonik and Jelak in Lukovska Banja, ethno restaurant, ski-track, and sports hall, and in 1995, the natural monument Đavolja was placed into their care. Thanks to "AD Planinka", the holder of economic development of Kuršumlija and Toplice district, which has 367 employees, the number of people leaving this area to go to big cities in search of employments has been significantly decreased.
***
Discounts
Both spa resorts, Lukovska and Prolom, offer extraordinary discounts for their guests. It is difficult to mention them all. The best would be for those who are interested to ask in person: for Lukovska at telephone numbers 027 381-344 and 381-512 or by e-mail (info@lukovskabanja.com, www.lukovskabanja.org), for Prolom Banju 027 88-111 and 027 88-162 or by e-mail (info@prolombanja.com, www.prolombanja.org).