Recommendation
FAMOUS RESTAURANT "PRI VODNIKU" IN LJUBLJANA
Poet's Gourmet Sonnet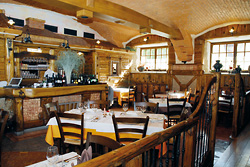 Not far from the centre of Ljubljana, within the complex of the Memorial Home-Museum of the first famous Slovenian poet Valentin Vodnik, there is an exclusive restaurant "Pri Vodniku", certainly one of the most elegant hospitality facilities in the Slovenian capital. The place with a soul and for the soul, with good drinks, tasty traditional Slovenian dishes, warm and cordial service and, above all, with unusually warm and authentic ambiance of mixed, but skillfully matched forms. Under the ceiling made of full brick, they have harmoniously blended wood, stone, ceramics, as well as numerous sculpted, carved or dressed artifacts.
This rustic place was built on the place of the old "Furmanska gostilna" (Coachman's Tavern) from the 19th century, kept by the parents of Valentin Vodnik right next to the barn. It was modeled by a skilled hand of talented artist Miladin Letić, a painter from Drvar, now living in Milan. The main motto of this artist, embodied here so perfectly, is that every ambiance must have a soul.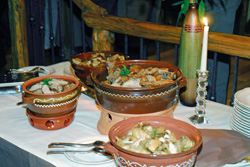 Owner of the restaurant (with comfortable lodgings) Slavko Latinović, could not have imagined that the inspired artist would, with its creativity and in the spirit of old interior designers, turn a ruined building into a well rounded and warm ambiental unit.
"I was thinking of opening a pizzeria. However, when Miladin Letić dove into the archives of the Museum of Valentin Vodnik, he only l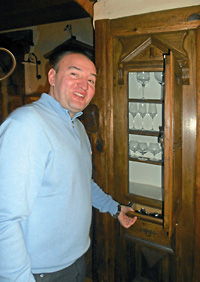 ooked at me and asked me to let him spread his wings. You are not even aware of where you are. This is great treasure and a great challenge for me! Just let me spread my wings and do not set deadlines,, he said, and pushed into my hand a list of necessary materials, not asking about money and conditions of the engagement.
The menu with old culinary specialties was also conceived in traditional spirit, with delicacies of our grandmothers, say lovely and always smiling waitress Greta Vadis, the trademark of Vodnik's nook.
Most of the dishes in culinary menu of this restaurant have been taken from the first Slovenian Cookbook published exactly by Valentin Vodnik. The menu is comprised of poetically arranged old Slovenian dishes, starting from rustic mushroom stew, local prosciutto, duck specialties, fish, venison, all the way to diverse sweet dishes.

***
Vodnikova 65a,
1000 Ljubljana
Tel.: +386 1 50 55 907
Mob.: +386 41 301 800
info@privodniku.si
www.privodniku.si