Recommendation
"OLD CUSTOMS HOUSE", ON ZEMUN QUAY, WITH US FOR FIFTEEN YEARS
By Danube Standards
Basically, it is old Serbian cuisine, with a lot of knowledge, skills and delicacies that have been forgotten elsewhere. Guests? Mostly people with rich gastronomy and enology experience, those who know perfectly what they are looking for and who know exactly why they are coming here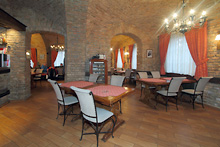 During these ice-cold days, the well known restaurant "Old Customs House" on Zemun Quay, owned by the Dašić family, has celebrated the fifteenth anniversary of successful operations. Intimate, moderate and noble. The Dašić family is originally from Peć, the noble Metohians, teh best old school and honest entrepreneurs. The family has come to Belgrade in early 1970's. They lived in Glavna Street in Zemun, old Dragoljub then worked at "Beograd" Shoe Factory. In 1982, they bought a house in Bežanijska Street no. 3. They had been renovating it for full four years, from foundations to the roof, before it became the famous "Skala".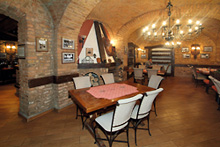 – We opened "Skala" in 1987, on St. John's Day, our saint day – says Dejan Dašić, who is today managing the family business. – At first, it was only a pizzeria, with a tavern and beautiful garden. In 1996, it was completely refurbished and redesigned, so that now it can accommodate 170 people. As is typical for large facilities, larger dedicated gatherings are organized there: seminars, symposia, weddings, birthdays... Since 2009, "Skala" also operates as an excellent hotel, with 14 tastefully furnished rooms and two apartments, equipped in accordance with high standards.
STRONG FEELING OF THE VICINITY OF THE RIVER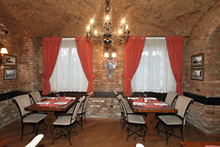 In 2006, in Donja varoš in Zemun, across from Stara kapetanija (Old Harbor-Master's Office Building), in the building of old Austro-Hungarian customs office from 1723, the Dašić family opened the "Old Customs House".
– At that time, this was a warehouse space – says Dejan Dašić, while we are tasting his excellent wine made form grapes from the vicinity of Trstenik. – The building is made in classicist style, in strict symmetry, with baroque ceiling structures in the basement and ground floor, and it was one of the biggest buildings in Zemun at that time. We have completely renovated it, while keeping its original virtues and patina, and a fine rustic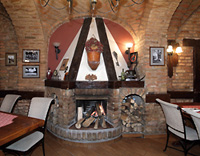 ity, but also enabling it to be equipped with the best restaurant facilities. We have tried to move it from the crowded street, but preserve the strong feeling of the vicinity of the Danube.
Cuisine at the "Old Customs House" is conceived with special care, based on the id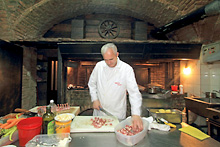 ea of Dejan's father Dragoljub Dašić, a jolly and vivacious gentleman, who understands life and people well, just like his contemporary from Elusive Summer 1968.
– You can see for yourself, this is an open-type kitchen. Guests can see what is being prepared and how, from what ingredients, hey can choose what they want us to prepare for them – explains Dejan Dašić. – Basically, it is old Serbian cuisine, with a lot of knowledge, skills and delicacies that have been practically forgotten elsewhere. Of course, we can prepare even
the most demanding specialties from other national cuisines, upon agreement with our guests. Since the Danube is our first neighbor, our menu includes all types of delicacies made of fish, a happy mixture of Mediterranean and continental experience. And all this is skillfully planned and realized by our main chef Milenko Šorgić, from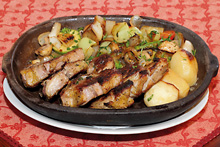 Dalmatia, with skills forged in best restaurants in Dubrovnik.
Guests of the "Old Customs House" are serious business people, there are people from the media, culture, sports. There are many foreigners. Mostly people with rich gastronomy and enology experience, those who know perfectly what they are looking for, what they are getting, and who know exactly why they are coming here. Of course, there is good live music, folk and "old-town", from Wednesday to Sunday. Because you can't be on the Danube without music.
***
Entrepreneurship
Dilligent, with a healthy sense of good business, the Dašić family was involved in other activities as well. They had their shoe production, producing goods commissioned by the military and the police. Now they are thinking of expanding their wine production, opening a nursing home, and many other things. But in everything their starting point is: whatever they do, it must be honest and with superb quality.
***


Hotel "Skala"
Zemun, Bežanijska 3
+ 381 11 30 75 032,
www.hotelskala.rs
***


"Stara carinarnica" ("Old Customs House")
Zemun, Kej oslobođenja 31
+ 381 11 2616 930,
3077 166