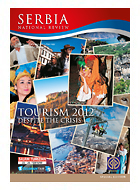 SERBIA - National review, Tourism 2012

Prologue
Another International Tourism Fair in Belgrade is here, February 23 to 26. For the thirty fourth time. This year under the slogan: "Around the World in Four Days".
Forty six countries from five continents and almost 900 exhibitors will represent their tourist offer. During these four days, Belgrade will certainly be the centre of world tourism.
Just like in previous years, one of the hallmarks of the Fair will be the special edition of "National Review" TOURISM 2012.
Click and see why.
Or visit the booth of Princip Pres at the Fair, and leaf through our pages in that nice old-fashioned way.
GALLERY

CONTENTS
Prologue
TOURISM ON TRIAL IN 2012
In the Shadow of Global Crisis
Vitrage
NUMBERS, EVENTS, INTERESTING THINGS
Album
GARDEN OF GOOD HOPE

Experience
PLACES YOU ALWAYS GO BACK TO
To Travel Means to Rejoice
"A true traveler does not make plans, and does have an intention to reach the end of the journey." This is the teaching of ancient Lao Tzu, permanent guide to our photography editor, great traveler, noble wanderer, old wolf. And he begins his journeys an hour before a new day is born, at the time when his children are coming back home from a night out. This time, he will talk about the reasons why he is always going back to Kamena gora, to Ovčar-Kablar and Đerdap Gorge, to Old Mountain, Zlatibor, to the canyon of Jerma and Pčinja...
Text and photographs: Dragan Bosnić
Notebook
WHEN LADY WINTER BANGS HER FIST ON THE TABLE
Holidays until Further Notice
We are gabby and boring. We gossiped about winter without any measure or taste. We took its goodness as its weakness. And then, at the beginning of this Aztec 2012, it couldn't stand it any longer. It showed its teeth, and we began whining and breaking down. I don't know what this has to do with tourism, but I am sure it will flourish. "In these lands"

By: Bane Velimirović
Genius loci
RAVELLO, CLOSER TO HEAVENS THAN TO THE SEA
Jewel of the Divine Coast
The legend says that Satan, when tempting Christ with the glamour of this world, presented him the dramatically beautiful sights of the Amalfi Coast. This is where Wagner found inspiration for the enchanted gardens of King Klingsor in "Parsifal", some of the palaces were described in Boccaccio's "Decameron", and D. H. Lawrence wrote many chapters of "Lady Chatterley's Lover". What else should one have in mind for the first trip to this edge of the Tyrrhenian Sea (afterwards you will know yourself)?

By: Dubravka Preradović
Photo: Serpil Ujar
Tradition
IN ROME, AT THE ENTHRONING OF THE FIRST LADY OF ARLES
Being the Queen of Provence
The picturesque event was established in 1930, for the hundredth anniversary of the birth of Frederic Mistral, remarkable writer and lexicographer from Provence. The lady chosen for the Queen of Arles is the official representative of the language, customs and tradition of Provence in the following three years, ambassador of the Provencal culture. One of the criteria is high knowledge of history, literature, architecture, art, tradition and language of Provence

Text and Photo: NR Press
Pilgrimages
RELIGIOUS TOURISM: THE METEORA, ONE OF THE MOST ATTRACTIVE DESTINATIONS OF RELIGIOUS TOURISM IN GREECE
The Monastic City on Rocks
An ascetic life began here in 985, with the arrival of monk Barnabas. After establishing Dupjana, the first monastery, and Protat church, the establishment of monastic fraternities began in the 11th century. The renaissance of the Meteora, in the 14th century, is linked with the arrival of a Holy Mountain monk Athanasius, the founder of the Great Meteora and the creator of the first Meteora Typicon, but also with despot Simeon (the son of Serbian king Stefan Dečanski), and his successor Jovan Uroš, with monastic name of Joasaf, whose support was immeasurable

By: Mišo Vujović
Reminder
SERBIA IN THE EYE OF TRAVELOGUE WRITERS AND NOTEBOOKS OF GREAT PEOPLE
In the Mirror of Time
Throughout many centuries, numerous warriors and statesmen, diplomats and merchants, explorers and spies, adventurers and scribes have passed here. Many of them left behind remarkable travelogues or included the pages written here into their later famous works. Great people who wrote, spoke or composed about Serbia included Ludovico Ariosto, Steven Storas, Andersen, Jacob Grimm, Mazzini, Goethe, Merimee, Pushkin, Lamartine, Alphonse Mucha, Tchaikovsky, Tolstoy, Dostoyevsky, Hugo, Nietzsche, Andreyev, Lessing, Clemenceau, Stanesku… We have dedicated a whole issue to this subject in the "Meet Serbia" edition, and now give you just a short reminder

By: Branislav Matić
Strategy
DEJAN VESELINOV, TOURIST ORGANIZATION OF BELGRADE DIRECTOR, FOR "NATIONAL REVIEW"
The Capital City Is the Pillar of Serbian Tourism
According to all indicators, Belgrade is the absolutely major tourist destination in Serbia. Even during the crisis year of 2011, it had a significant growth. Belgrade is the place from which many guests are directed throughout Serbia. The TOB continues participating in the fast and well led urban regeneration of Belgrade, in order to make it a globally known tourist destination

By: Goran Budimir
Welcome
CAPITAL OF SERBIA, ONE OF THE MOST ATTRACTIVE EUROPEAN CITY BREAK DESTINATIONS
The Magic of the Belgrade View of the World
The entire heritage and spirit of Belgrade, all its sights and charm, are woven into its tourist offer. There are streets, squares, monuments, parks, fountains, archeological sites, places one must definitely see or feel. And when you do it, when you understand its naturalness, relaxedness, its smile, you will understand the very special bond you have with Belgrade
Guide
TOURIST OFFER OF NIŠ IN 2012
From Antiquity to Burek Cheese Pie
Constantin's ancient Naisus, today modern Niš, is the commercial, cultural, educational and sports centre of Southeast Serbia. It has a population of about 300,000. Its turbulent history is a magnet for tourists and local people are righteously using it as an element of attractive tourist offer
Catalog
LAZAREVAC, CENTER OF SERBIAN MINING, IN A DIFFERENT SELF-RECOGNITION
Discovering Tourism Potentials
Southern and eastern parts of Lazarevac municipality, where there are no mines, have all the beauty of Šumadija. When their entire offer in the area of rural, cultural-historical, sports-recreational, industrial or religious tourism is listed, even many locals are surprised. Exactly this is the foundation on which they are building a new strategy of development of Lazarevac tourism
Encounter
TRADITIONAL EPIPHANY CELEBRATION IN OHRID
Long Life and Many Years
"The consecration of the Epiphany water is a traditional holiday in all Orthodox Christian churches, the memory of Christ's baptizing in the Jordan. It begins with a liturgy, continues with a procession, then participants jump into the icy lake and swim for the cross. As you can see, the whole city is on the shore as well as our numerous guests. It is festive and joyful", says Aleksandar Petreski, mayor of Ohrid
Health
AMONG HILLS AND BOONS, IN LUKOVSKA AND PROLOM BANJI
Health Facilities in Dragon's Furrow
In many way different from other beautiful thermal water centers of Serbia. Word about their medicinal qualities has spread far and wide (they say that even fairytales here can cure), but now there are many other modern facilities because of which even the healthy come here, and majority of the guests are "frequent visitors"

By: Petar Milatović
Health
RIBARSKA BANJA CONTINUES GOING UPWARD
Fruits of Big Investments
About nine million Euros has been invested in seven years. The spa center has restored its former glow. Old villas were refurbished, new facilities were built in the spirit of the natural environment, modern programs were introduced. Over 250 young educated people have been employed. Capacities are filled for almost one hundred percent, and the number of foreign guests is growing
Health
SPECIAL HOSPITAL "MERKUR" FROM VRNJAČKA BANJA AT THE TOURISM FAIR IN BELGRADE
By the Standards of European Spa Centers
The respectable institution has changed its business philosophy and focused on new attractive programs, in accordance with the best world balneology programs
Recommendation
FAMOUS RESTAURANT "PRI VODNIKU" IN LJUBLJANA
Poet's Gourmet Sonnet
Recommendation
"OLD CUSTOMS HOUSE", ON ZEMUN QUAY, WITH US FOR FIFTEEN YEARS
By Danube Standards
Basically, it is old Serbian cuisine, with a lot of knowledge, skills and delicacies that have been forgotten elsewhere. Guests? Mostly people with rich gastronomy and enology experience, those who know perfectly what they are looking for and who know exactly why they are coming here
Knowledge
University "Singidunum"
Insurance
Working Together – Winning Tohether
The insurance company "DDOR Novi Sad" established a successful cooperation with the company Amadeus, a leading Global Distribution System and the biggest processor of travel bookings in the world, within Amadeus' new integrated solution for insurance policy sales – Amadeus Local Insurance Solution (LIS), available at any moment (24/7) anywhere in the world