Gastronomy
"SENT ANDREJA" RESTAURANT IN ZEMUN
The Fine Spirit of Serbian Restaurants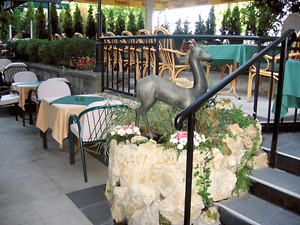 In the centre of Zemun's Lower Town, on the quay of the Danube, in the meeting place of most creative most vivid spirits of Belgrade, for 22 years now there is a famous restaurant called "Sent Andreja". As a first-class restaurant and the centre of romantic geography of Zemun, "Sent Andreja" has been a very important place on the gastronomic map of Belgrade for a long time, a kind of map that we represent and recommend on this page of National Review.
There is an interesting story about how this famous restaurant got its name way back in 1987 after the "northern Serbian town, the charming Sent Andrea, in which Serbian Baroque was born in the 18th century". However, we leave you to learn this story in the restaurant itself, when you decide to visit it. We can tell you that you can have lots of fun, with the best tradition of the Danube and the poetic character of Zemun. They mostly play songs of the old city. On Mondays, you can hear the orchestra "Tamburica 5", on Tuesdays "Kao lepi san", on Wednesdays "Spomenari", on Thursdays "Bele pčele", on Fridays "Danijela i prijatelji", on Saturdays "Stara staza" and on Sundays "Maja i Saša saks".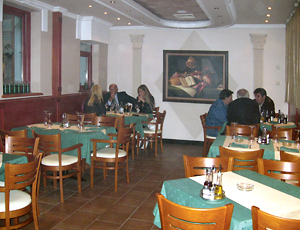 The cuisine of "Sent Andreja" is excellent, its cooks are real aces. Whatever you order, according to your mood, you will not be mistaken. With tasty cold or warm hors-d'oeuvres, soups and chowders, garnished plates, pasta, sauces, salads, cheese, you can also taste fillets and steaks (beef, pork, chicken, turkey, and many of its variants: mignon, pepper steak, medallions, stuffed meat, noisette steaks, steaks with sesame, mandel, etc...). If you choose to eat fish, it would be the right choice: freshwater fish (catfish, carp, perch, sturgeon, trout…) or salted-water fish ("Saint Pierre", dentex, anise, sea perch, red fish, sole fish, mackerel, angler's tale...). There are also fish specialties such as steaks "exotic", "dill", esterhazy", as well as grilled octopus or squid dishes. You can order excellent stew from "Grandma's Kitchen", then Hungarian goulash, lean beef on kaymak, ratatouille...
If we add a wonderful selection of desserts, the best wine from all good Serbian wine cellars and vineyards, as well as from neighbouring countries, then we have said enough about the beautiful complete stay in "Sent Andreja" so that you can enter your own adventure.
***
Sole fish fillet in crab sauce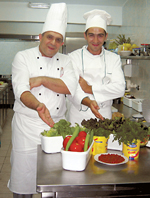 "Sent Andreja" recommends this fish specialty for the readers of National Review.
You need (for two persons) 400 grams of sole fish fillet, 100 grams of crabs, 50 grams of olives, 200 grams of potato, 2 dcl of white wine, 20 grams of flour, 0.05 dcl of olive oil, basil, salt, white pepper, garlic, parsley.
Sole fish fillet is salted and rolled in flour, then fried in olive oil. When the fish is done about 70 percent, you add crabs, garlic, olives, basil, pepper, parsley. Then, you pour the white wine and just as much water. You serve it with boiled potatoes with "Venčac" wine or Rhein Riesling from "Vrbica" wine cellar (recommended by "Sent Andreja").
***
"Sent Andreja"
Zemun
Kej oslobođenja Street 35
www.sentandreja.rs
Tel: +381 11 210 55 65