Media
INTERACTIVE WINDOWS IN BELGRADE AS AN IMPORTANT SOURCE OF INFORMATION
New Means of Communication
In contrast to many media which broadcast messages intended for everyone, here we have a screen serving as an individual and the individual's special needs. With a simple touch on a certain field, textual and visual information on the selected subject is open. Communication lasts on a number of levels and as long as the user wants it. That way, you can find out, in both Serbian and English, where to have fun, go shopping, eat, sleep, what are cultural and sport programs of Belgrade, what will the weather be like, the daily exchange rate and many service information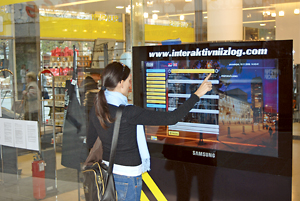 On two locations in Knez Mihailova Street, in the window of the Cultural Centre of Belgrade and the City Library, there is a fast and user friendly information point and Belgrade guide – Interactive Window. Unique in Serbia, Interactive Window offers a large amount of easily accessible information to every individual. Apart from most of the media that are using mass advertising, this "interactive" screen is in the service of the individual, their special interests and needs. With a simple touch of the desired icon, textual and visual information on the specific interest of the user and the "communication" lasts as much as the user desires.
The combination of technological possibilities with improved software solutions, allows the usage of standard multimedia that, in a unique way, present everything a city can offer, as well as a product or service.
– Interactive Window is a promoter of culture and tourism of Belgrade and Serbia – says Branislav Dogandžić, the Manager of this project, for National Review. - It represents a data base of various information that are available to all visitors and residents of Belgrade. It offers a list of possible places for fun and night life, for the best shopping in town, for a delicious meal or comfortable accommodation. It brings us information on Belgrade theatres and movies, it is a reliable guide on orientation in Belgrade, it announces sport events and concerts. One can see the weather forecast, the daily exchange rate and much service information.
THE ADVANTAGE OF INTERACTIVE SOLUTIONS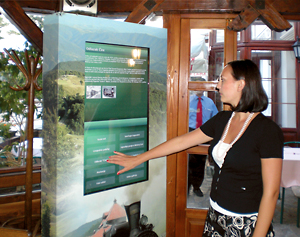 Interactive Window has been made by two Belgrade agencies: V-Interact and XXL Marketing in cooperation with Cultural Centre of Belgrade and City Library. An expansion of the interactive network is planned and the instalment of more interactive info points on the most frequent locations in the city through the courtesy of the Tourist organization of Belgrade "Prices for all interested in advertising and promotion through the Interactive window, are very affordable and attractive for all potential clients", as they stated in XXL Marketing agency.
V-Interact (www.v-interact.net) agency is specialized in development, production and implementation of interactive solutions. Interactive solutions can be used as a 24/7/365 assistant of all products and services. Interaction can attract and keep the attention of a user, making a unique impression and raising brand awareness to a higher level.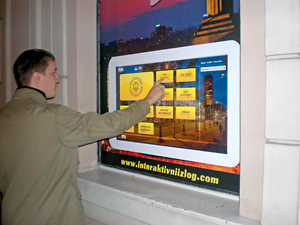 – Interactive solutions, as a way of promoting tourism, have been introduced on Mokra Gora, where XXL Marketing and V-Interact have developed a project of installing Interactive kiosks – says Dogandžić. – With a simple touch of the screen, implemented inside the monolith kiosk, many visitors have been moving through the interactive presentation of the museum and tourist complex "The Šargan Eight". On the Fair of Tourism in Novi Sad, the "Serbian Railways" have introduced their tourism offer through an interactive presentation.
Whether it is an interactive window or some other media, interactive solutions are very flexible and adjustable to specific demands and as such are able to answer to almost every project's specifications. Check it out.
***
Contact
Interactive Window
Kralja Milana 4, Belgrade
Tel: + 381 11 2656 882
Fax:+ 381 11 2686 122
Mobile: + 381 65/5663 460; + 381 65/8844 484
www.interaktivniizlog.com
info@interaktivniizlog.com
V-Interact: info@v-interact.net
XXL Marketing: office@xxlmarketing.biz