Introducing
"MERKUR" FROM VRNJAČKA BANJA FOLLOWING MOST ATTRACTIVE WORLD WELLNESS AND SPA PROGRAMS
Understanding Your Own Body
"We recommend you to run away from the often crazy rhythm of everyday life" they say in "Merkur". "Give yourself a little time: a weekend once in two weeks, or a seven-day vacation and some pleasure in our Wellness centre. Discover how to understand your own body, how to let the energy of your spirit to be free!"

The world of wellness is dynamic, developing really quickly and getting more and more rich every day. Following world trends, Special Hospital "Merkur" from Vrnjačka Banja had offered to its guests a completely new opportunity for relaxation and good spirit, only one year after the opening of the first Wellness centre in spas of Serbia.
Aqua centre "Waterfall" in "Merkur" Hotel is a new investment for a modern guest. With its appearance, its functional character and its contents, it will surely satisfy European and world standards. On about one thousand square meters, this centre has a whirlpool for 10 persons, two body jets, underwater massage and massage showers, underwater air jets, a waterfall which enables exciting baths without going to an exotic jungle, a waterfall which completes the ambient of the magical water world.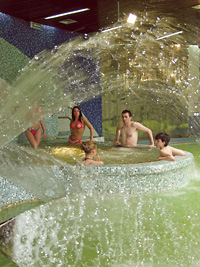 The guests of "Merkur" can easily get into this magical world of water, in their robes and slippers, right from their own room.
With the opening of the Aqua Centre, Special Hospital "Merkur" gives the opportunity to feel sophisticated benefits of mineral water in a pool with thermo-mineral water (36,5 ˚C) which is a natural group of elements which are necessary for your health, satisfaction and relaxing times. Beneath the transparent cupola, on more than 230 square meters of thermal water surface, guests can get a lot of fun and pleasure.
Above all, there is a fitness centre, a sauna, a tepidarium... This miraculous world of fun and relaxation can satisfy its most demanding guests. The fitness centre has the most modern equipment for the cardio-program, running tracks, cross training machines, room bicycles, twisters, gym rowing programs and the popular "gladiator".
PEACE AND HARMONY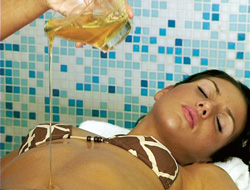 Water is the essential part of wellness and pleasure, which was also known in ancient Rome, two thousand years ago. They considered hot water baths as the best way for quick and total physical relaxation. Two millenniums later, after many technological revolutions and changes in the life of a man and in the society, thermal springs of healing water became most popular destinations for European people, who want to get out of filthy and polluted towns. According to these needs, traditional spas have included more things in the idea of health, offering visitors formulas for reaching physical and psyche harmony.
The first Wellness centre in Serbia was the "Fons Romanus" in Vranjčka Banja, offering relaxation and a good feeling. Relaxation and harmony of the body is achieved with care, physical activities and resting, under supervision of doctors, physiotherapists and other medicinal staff. The program offers a very attractive combination of 26 different relaxation massages, with many elements and details. There is underwater massage with water and air, Finish sauna with dry air baths (to 100˚C) and a barrel for cooling the room, a room for relaxation and resting after spending some time in the sauna. We should also mention pearl baths, dry sauna, the King's and the Queen's bathroom, aesthetic programs of cosmetics, pedicure, manicure, sunrooms...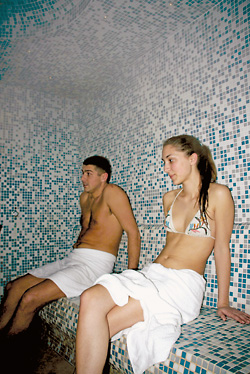 There are many relaxing inventions, such as a sofa which can completely replace a physiotherapeutic or as a device for feet shiatsu massage.
Oriental bathroom, like from the "One Thousand and One Nights", gives us the culture of bathing from the East and unites hot baths and steam bathroom in the wellness program. With the temperature of 50˚C and one hundred percent of humidity, this bathroom offers better pleasure than the sauna. The pleasant humid warmth is good for those who cannot bear the heat of the sauna. The body get warmed up gradually; there is no drastic change of temperature that could burden your organism, which contributes to freshness of the skin and a great relaxing feeling.
The Oriental bathroom is also called the Turkish bathroom, recommended to all those who suffer from serious diseases, diseases of the respiration system, problems with blood circulation or high blood pressure.
"We recommend you to run away from the often crazy rhythm of everyday life" they say in "Merkur". "Give yourself a little time: a weekend once in two weeks, or a seven-day vacation and some pleasure in our Wellness centre, Discover how to understand your own body, how to let the energy of your spirit to be free! 'Fons Romanus' is a natural group of elements which are necessary for your health, satisfaction and relaxing times."
***
Royal treatment
Since May of 2007, the other part of "Fons Romanus" Wellness centre is open, on 400 square meters, intended for guests who want a more intimate stay. The King's Bathroom, made in 1936, now has an exclusive and specific offer, besides the usual wellness program. "In a royal atmosphere, with the romantic light of candles, having a bath in thermo mineral water, getting massaged, the pleasure with your loved one could be complete with a lunch or a dinner 'à la carte'."
The Queen's Bathroom offers a jacuzzi bath, renewing one's psycho-physical balance, getting to know yourself in a spiritual, emotional and physical way, which is really a wellness philosophy.
***
Tepidarium
Tepidarium easy chairs are a real innovation, covered in plates which are warmed up to 37-390C, similar to body temperature. Lying in a nice atmosphere of wellness can get rid someone from stress, can strengthen his immunity without burdening circulation, being successful in healing and preventing from diseases. The heat which comes form the chairs is affecting the vegetative nerve system, and gives back regulation functions to the body. Tepidarium is recommended to both young and old people.