Introducing
"JAT – HOTELI SLAVIJA" AND TRADITION OF A CENTURY AND A QUARTER
Decades of Success
"Slavija I" ("The Tower") was open in 1962, before the European Athletics Championships, "Slavija II" in 1973, before the World Swimming Championship and "Slavija Lux" in 1989, before the Conference of Heads of State or Government of Non-aligned Countries. Three hotel buildings, a very important part of the tourist offer of Belgrade, now have 431 rooms, 23 suites, eight "catering units" (restaurants, cafés, bars, halls) and many most modern complexes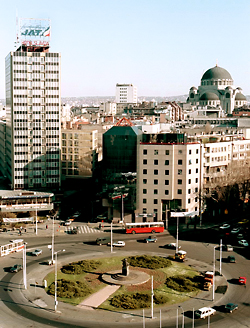 The history of "Slavija" Hotel begins way back in 1885. The former two-story hotel was located on an important part of the square after which it was named later. The present buildings of this hotel were built on the opposite corner of the same square, between Makenzijeva and Svetosavska Streets. Before the beginning of the 7th European Athletics Championships in Belgrade in 1962, "Slavija I" was built, called "The Tower" (17 floors). It was a very modern building, popular as a part of the town's profile. "Slavija II" as an annex to "Slavija I" was opened in 1973, and its first guests were the participants of the World Swimming Championship. In 1989, "Slavija Lux" was opened, the most modern and most luxurious part of this hotel complex, and its first guests were 15 foreign ministers of countries which participated the Conference of Heads of State or Government of Non-aligned Countries, then members of their delegations and their escort.
Today, these three hotels offer 431 rooms, 23 suites, eight catering units (restaurants, cafés, bars and halls) with 1075 seats in total.
Some of the restaurants are popular on the gastronomic map of Belgrade, such as "Panorama Restaurant" in "Slavija Lux", well-known for its Mediterranean cuisine, or "Mala Slavija", very popular for its Serbian cuisine.
THE CENTRE OF THE CAPITAL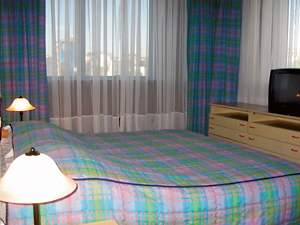 "JAT – Hoteli Slavija«, are offering their accommodation and restaurant services to guests who know what they want and what they get. Today, these three units, connected but yet separated, have a special place in the tourist offer of Belgrade. Big accommodation capacities, various levels of comfort from two to four "stars" can satisfy various needs, tastes and guests' requirements.
Its location, in the very centre of the centre of Belgrade, on the crossroads of seven most busy streets in Belgrade, great connections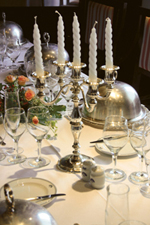 with the business and commercial centre, most important sports objects and cultural institutions, with the main railway station and the bus station, as well as with the »Nikola Tesla« Airport – an ideal combination. Therefore, it is the favourite place to stay for businessmen, athletes and tourist groups.
With constant quality promotion of quality and services of "JAT – Hoteli Slavija" have made additional offers for the main types of their guests, above all fro business people from abroad, but also for bigger groups of tourists, excursions, sports teams and other visitors of Belgrade. A special privilege is the "JAT Airways" bus terminal, where passengers can get all information about their trip by any airplane company and they can reach the airport with JAT buses from the hotel (and vice versa).
***
"Slavija Lux"
It was established as a modern building of the highest category, 20 years ago, and it is now one of the most popular hotel objects of the Serbian capital. Even if it is located on one of the biggest and busiest squares of Belgrade, in the very centre of the town, all these years it has been a quiet oasis. There are 90 modern rooms and suites, with four stars and great comfort. It includes all sorts of communication, a business centre, piano bar, fitness and spa centre, hair salon, beauty salon, dry cleaning, garage, rent-a-car, exchange office, dentist, conference halls, exhibits, cocktail parties, auctions, slot salon...
***
"Panorama"
On the seventh floor of "Slavija Lux", with a terrace and a beautiful view on Belgrade, "Panorama" restaurant is well-known for its everyday delicious menus. International and Serbian specialties go without saying, but we must single out the exciting Mediterranean cuisine, especially Italian, then flambé dishes and sweets, great wine, many cocktails, as well as home delivery service ("Silver Service").
Besides all this, the catering part of these hotels has three more restaurants and four halls (from 60 to 250 seats).