Strategy
SERBIAN TOURISM: NEW RECOGNITION AND UPSWING
Three Basis of Development
Basic development document of tourism in Serbia, from April of 2006, says that important elements of the competitiveness of Serbian tourism are people, geostrategic position, water potential, mountains, forests, rural areas, monumental heritage, the current cultural and spiritual creativeness, festivals, celebrations, events (life style). The development concept of Serbian tourism has three bases: the tourism valorisation of the term Balkan, the tourism valorisation of the Danube, the integral interpretation of the Serbian agglomerate of values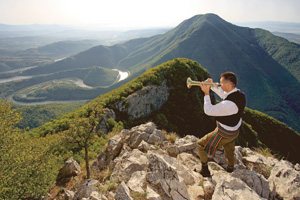 Tourism is one of the most important branches of Serbian economy and the direction towards it will especially develop in the upcoming times. After all turbulent political, social and economical changes at the end of the previous and beginning of this century, the re-branding and new positioning of Serbia on the international and local tourism market is in progress.
According to the large-scale study Republic of Serbia Tourism Development Strategy, ordered by the Ministry of Trade, Tourism and Services (in April 2006), the possibilities are huge and very different. Experts state that the important elements of the competitiveness of Serbian tourism are the people, geostrategic position, water potential (both underground and surface waters), extraordinarily maintained potentials of mountains, forests, rural areas, monumental heritage (mostly numerous monasteries and temples), the current cultural and spiritual creativeness, festivals, celebrations, events (life style).
Exact analysis point to excellent predispositions of Serbia for top-level development of urban tourism (vacations and journeys), business tourism, tourism on mountains, rivers, lakes, rural, medical, nautical tourism, tourism for persons with special needs…
The development concept of Serbian tourism, which has already started growing, has three bases.
First, the tourism valorisation of the term Balkan. The term Balkan in the tourism sense is completely unused and unrecognizable, before all by the Balkan countries, and then further.
Second, the tourism valorisation of the Danube. "None of the Danube countries use this term in their tourism slogans, although it is undoubtedly striking in global proportions. The size and importance of the Danube corridor through Serbia directs the wanted development upswing to all parts of Serbia. There is no other tourism resource in Serbia which is at the same time so nationally cohesive and globally competitive."
Third, the integral interpretation of the Serbian agglomerate of values. "The Serbian culture, people ready for entertainment, art, literature, hospitality, passion and pride, and the union of the traditional and the modern…" It allows a specific dynamics in creating an offer of some "tourist products", such as short stays in Belgrade, touring through Serbia, river cruises, visiting especially attractive events and festivals…
The mentioned study, within the whole tourism vision of Serbia, also expresses "the visions of chosen tourism clusters as spatial entities with an independent system of experiences, possible to be commercially presented on the international tourism market". They are the four wholes: Voivodina, Belgrade, Southeast Serbia, and Southwest Serbia.
FOUR SPACES, FOUR PERSONS
Voivodina is marked with the Central European urban tradition, water streams and urban centres connected with the idyllic Panonia plain. It has autochthonous cultural, natural, gastronomical and recreational values. Nautical, rural, spa tourism and tourism of special interests. The Vojvodina castles and salaš are very interesting. Its symbols are also the Danube, the Tisa, Palić, Fruška Gora, Petrovaradin. The brief characterology of Voivodina states that it is a lover of wine and food, adorer of water, hospitable, creative, extrovert, sensual, romantic, with a tendency towards exploring…
Belgrade is marked with its position of a leading regional centre of the Danube region and Southeast Europe, "the attraction potential", "a rich local colouring and cosmopolitan content". It is the leader in the field of culture, entertainment, sports. A business centre. "On the way to become a globally recognized urban tourist destination." Its symbols are the Danube, the Sava, Kalemegdan, the Victor, Avala, Košutnjak, Knez Mihailova Street… "The personality of Belgrade" is creative, free, sensual, weird, full of life, communicative, special, educated, likable, stubborn, sportsman-like.
Southeast Serbia is "the hidden wildcard of Serbian tourism in the times to come". It represents the large area from the confluence of the Timok into the Danube, through Negotin, Zaječar, all the way to Niš, Leskovac and Vranje. It is a cultural treasury of medieval Serbian heritage and astonishing findings from the ancient times. It is marked by mountains, lakes, spas, rural tourism… A special destination is the city of Niš, Roman Naisus, the birthplace of the most significant Roman emperor. The symbols of the area are Lepenski Vir, Viminacium, Felix Romuliana, Soko Spa, Stara Planina, Vlasina… Southeast Serbia is healthy, silent, dream-like, sensitive, challenging, and isolated from the crowds, it has a feeling for exploring, it is a friend of nature, traditional, unspoiled, attractive, and revitalizing.
Southwest Serbia is in the sign of "tradition and pride woven into the space of medieval rural Serbia, with idyllic landscapes of intact nature". The urban centres are Šabac, Loznica, Valjevo, Čačak, Užice, Kraljevo, Kruševac, Kragujevac, Novi Pazar… The symbols of this area are Zlatibor, Kopaonik, Vrnjačka Spa, Guča, Tara, Mokra Gora and "Šargan Eight", the Drina, Tršić, Cer, Gučevo… According to its personality, Southwest Serbia is authentic, entrepreneurial, and loyal to the nation, open to the world, lively, relaxed, different, fastidious, free spirited, gourmand, fun, aware of its health and oriented towards ecology.
We have no doubt that you will be convinced in all this during your journey through Serbia. We suggest a creative journey, with lots of curiosity and openness, which will enable you to, sometimes in the future, add some important lines to this sketch. w
 (From the book: "Touring Serbia by Roads, Railways and Rivers",
Princip Press, Beograd, 2007)