Hosting
HOTEL AND RESTAURANT "DUNAV" IN SREMSKI KARLOVCI, A PLACE ONE ALWAYS RETURNS TO
The Beautiful Temptations
Reflections of numerous famous edifices of Karlovac glitter on this relatively new building over the waters of the mighty river it was named after. "Dunav" soon became part of all tourist and gastronomy maps of the famous town and this part of Serbia, enlisted as one of the must-visit places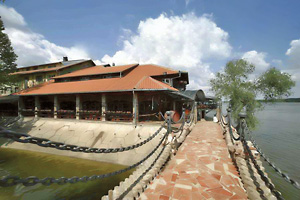 Perhaps one cannot find a better place than the one where hotel "Dunav" in Sremski Karlovci was built. Its terraces and windows are immediately above the powerful waters of the river it was named after, with the Bačka plain spreading from the opposite bank. Behind the hotel is Sremski Karlovci, one of the most beautiful Central European towns, with its baroque edifices and history particularly significant for the Serbian nation. The Patriarchate building, famous Karlovac gymnasium and Seminary are there too. The slopes of Fruška Gora descend into the town, including the Stražilovo height with the tomb of Branko Radičević, poet who sang about these parts and made them eternal.
– We welcome our guests like a host welcomes dear friends in his home. We attempt to satisfy all their requests, to the smallest details, and to see them off as friends, with a handshake which is much more than just politeness – says Jovan Adžić, director of "Dunav" hotel. – Our guests are members of the diplomatic corps, famous people from the country and abroad, people with rich experience and refined taste.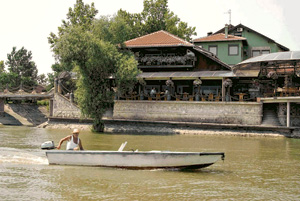 The splendor of numerous Karlovac famous edifices transferred to this beautiful and relatively new hotel building. "Dunav" soon became part of all gastronomy and tourist maps of the town, enlisted as one of the must-see places. When guests come to Karlovci, it is almost unavoidable to visit the "Dunav" hotel and, on some of the terraces or halls, with excellent Karlovac wine and authentic Srem cuisine, summarize impressions and take them away, as well as reasons to come back again.
WITHOUT FEAR OF PRICES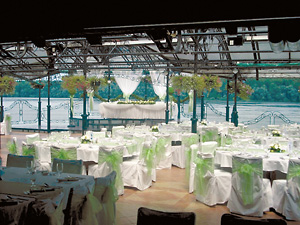 Besides luxurious flower terraces (large with 320 and small with 220 seats), the beautiful "Dunav" hotel has 50 rooms and two apartments. The small hall with 90 seats is furnished in old national style. Vojvodina specialties, tambouritza players and the recognizable poetics of the towns at the Danube banks expect you there. The congress hall with 500 seats is intended for banquets, weddings and similar family celebrations, larger gatherings, cocktails and professional seminars. The requests of organizers of such gatherings are satisfied to the smallest details and the offer is adjusted to their needs. There is also a restaurant with authentic local cuisine, fish, grilled meat and international specialties.
The Karlovac wines which the guests have at their disposal (besides all other beverages) are a special story. The sunny slopes of Fruška Gora around Karlovci have been covered with noble vineyards and vine sorts, some of them autochthonous, since the ancient times. People from Karlovci will certainly not miss to illustrate the famousness of their wines with the fact that those wines have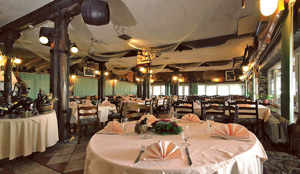 been present all over Europe since the XVII century, including the Austrian, Czech and French royal palaces. And you can check all that yourself in the "Dunav" hotel. After all, that way is the best.
– Although our offer is of very high quality and variety, prices are average, adjusted to the standard of an average Serbian family. We are especially happy because middle class folks come here without fearing of high prices in such an ambient and with such service – says Jovan Adžić.
***
Belgrade People
"Dunav" is, says Jovan Adžić, especially oriented towards Belgrade people who love this river and Sremski Karlovci. They often come by "Romantika" and "Plavi Voz" trains. Guests from Belgrade are already convinced that one cannot fully experience Sremski Karlovci without "Dunav". They feel at home here, therefore many of them organize weddings in this hotel.
***
The River
"Dunav" hotel has a marina and is especially oriented towards river tourism. There are more and more guests who come by the river, stay here and spend their time on the water and picturesque banks.