Hosting
MIHAJLO SALATA, THE MANAGER OF PIZZERIAS AND RESTAURANTS "ORAO" IN BELGRADE
The Winning Team
During its 20 years old history, pizzerias and restaurants "Orao", with three hosting objects (and the forth one coming), have now a very firm position on the tourist and hosting map of the Serbian capital. According to the quality and gastronomy skills, the ambient and the services, the specific hosting philosophy, those restaurants have become recognizable a long time ago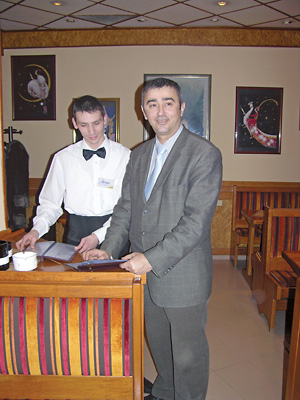 A two-decade long tradition is really profitable. "Orao" has its guests who are visiting for more than one decade. Even whole families are guests. Pupils from nearby schools who have been making a queue in front of "Orao" pizzeria in the 90's, on the corner of Cetinjska and Bulevar Despota Stefana streets, are now grown up people who visit restaurants with their friends and families for lunch, but the same restaurants.
Besides "Orao"'s famous pizza, they also take care of classic hosting, which is nourished in Belgrade kafanas and restaurants since the 19th century. The character of old noble Belgrade kafanas is very skilfully combined with the standards and demands of the new age. It is not only that the guest comes into a kafana, but one should follow the guest to his job, to his home, wherever he says. "Orao"'s top quality catering is famous, and they recently started home delivery of pizzas and other meals.
- When our young and ambitious team started working in 1992, our main idea was to offer Belgrade something new, different, which was to be accepted and supposed to survive. A young team of cooks and waiters was to fulfil that task. And we are working for two decades now, with the same passion – says Mihajlo Salata, the Manager of pizzerias and restaurants "Orao".
In the beginning, pizza was the main offer. But the famous Italian dish in "Orao" is wisely and creatively adapted to Serbian taste and gastronomic heritage. They added ham, Serbian cheese and kaymak, and other delicacies, which gave it an original character and very well accepted. And today, when you can buy pizza in Belgrade on every corner, pizzas "orao" and "orao special" have preserved their special and recognizable character.
Later on, the offer was complemented with classic and international cuisine, but they preserved caring about the quality, their recognizable character, gastronomic creativity and first class services.
There were also situations like these: some people have recently visited "Orao" in Bulevar Despota Stefana street, who were its regular guest during the 90's. They were absent for a long time and they returned to Belgrade 15 years later. They came to "Orao" and they saw their favourite table waiting for them. They made the same orders as 15 years ago and they were more than happy when they felt the good old taste in their mouths.
THEIR OWN SERVICE SCHOOL
This kind of hosting concept is left for young, educated, creative and characteristic people, always ready to learn, to use innovations and accept new challenges. For almost 20 years, in all three "Orao"'s restaurants in Belgrade a unique hosting school was created. Knowledge was acquired in Serbia and abroad, then carefully adapted to the staff's own needs and their own hosting philosophy.
– As in all serious restaurants, the guest is most important, everything is subordinated to the guest – says Mihajlo Salata. – Many people come to our restaurants and fast food windows, from business people, ambassadors, and famous people to completely common people. All people who visit our restaurant are the same for us. We host every guest with equal kindness – the ones who leave a big tip or the ones who stopped by for a coffee.
The basis of "Orao" pizzerias and restaurants is the one on the corner of Cetinjska and Bulevara Despota Stefana streets (once 29. novembra Street). Just across is the First School of Economy, nearby is the Business School and one primary school, so there are many students in the line of the fast food window. There are also many journalists because Politika is nearby, then Radio Beograd, and National Review. Two halls include about one hundred sitting places, one fast food room and employees work constantly.
In 2000, the second restaurant was open, in Bulevar kralja Aleksandra number 144, a little smaller, with about 50 seats and fast food space, but it preserved the quality of offer and services of the original restaurant.
After six years of constant progress, one more restaurant "Orao" was opened in Bulevar kralja Aleksandra street 186, near "Đeram" green market, in 2006, with a pizzeria and two halls with about one hundred places. In this pizzeria, nearly everything is the same as the two previous ones - the offer, the service, and the standards of quality. The formula of the winning team should never be changed. Because of the closeness of "Đeram" green market, which is every day visited by people from all around Serbia, the restaurant also offers barbecue.
Another, the fourth pizzeria-restaurant "Orao" should be opened in Belgrade in a few months, in a very attractive location in the town centre.
***
Catering
"Orao"'s catering, according to hosting standards of the 21st century, is well known as a good-quality and a reliable choice. Many celebrations, banquets, birthdays, meetings, slavas, are prepared in the area of the guest's choice, on his job, in his apartment or anywhere else where he wants it. As ordered, the waiters of "Orao" prepare tables, they bring meals and drinks, they serve guests. Catering includes well coordinated teams, equipped with special dishes for food and drinks which are all brought in their vehicles.
These kinds of hosting services are usually demanded by many embassies, Serbian and foreign companies, clubs, associations and families as well. It often happens that foreign guests, from other continents, order meals of their national cuisines and their national drinks. But "Orao" is ready to satisfy all tastes and most unusual demands.