Visit
BEOČIN, EMBRACED BY THE DANUBE AND FRUŠKA GORA
On a Ferry to the New Era
Many things have changed in this corner of Srem since the introduction of new technology and new standards in the "Beočin Cement Factory". There are no more grey roofs, dusty streets, desolated fields. The city has taken off the cement shirt it had been stoically wearing for more than a century and opened space for different forms of development. Several hundred hectares of vineyards and orchards have been planted, the "Fruška Gora" National Park and old monasteries are again in full bloom, the Danube banks are revived, an international port and auto camp are about to be constructed… There are problems, big ones; however they are there to be solved, and not to serve as an excuse for self-pity
By: Zoran Plavšić
Photo: Olivera, Ognjen and Ismet Ademovski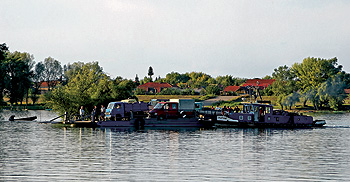 One can reach Beočin, a town on the northern slopes of Fruška Gora by the Danube, from this and that direction. That is what the locals say. One can also reach it from all sides: from the river and the road. The airport is also near, the one in Belgrade. From Belgrade, the fastest way is via the highway to Šid. You turn by Ruma, go over Vrdnik, and in no time reach the little town famous for cement. One can also reach it from the north. It is only about fifteen kilometers from Novi Sad. It was built as an industrial settlement in the Kozarski Potok valley after the discovery of cement marls at the foot of the mountain. The factory was founded in 1869 by Josip Čik from Timisoara. Then it was taken over by the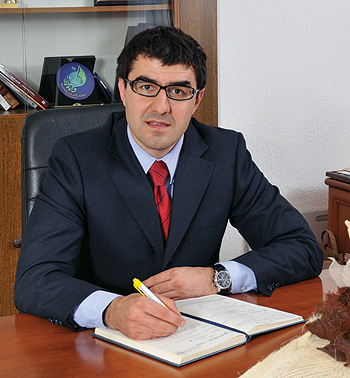 Pest company "Ornstein & Spitzer", and nationalized after World War II. Now it is in possession of the internationally renowned French cement producer Lafarge, which changed Beočin in many ways.
First of all, nature has returned. There are no more grey roofs, dusty streets, desolated fields. The city washed its face, took off the cement shirt it had been wearing for more than a century, opened space for other forms of development. The vision of a brighter future is now also based on planting new vineyards and orchards. Naturally, tourism goes along with it. A major part of the Beočin Municipality is within the "Fruška Gora" National Park area. There are announcements that soon an auto camp will be built on the Danube bank, an area of five hectares, in the place which the international camping organization chose and drew into its map.
Naturally, not all locals can be engaged in tourism, fruit-growing and viticulture. Therefore, there are plans for making industrial zones and employing all those left without a job after the privatization of the "Beočin Cement Factory" (when only one fifth of the 2.000 employees remained) and after the shutting down of smaller metal industry plants.
SREM PEOPLE IN BAČKA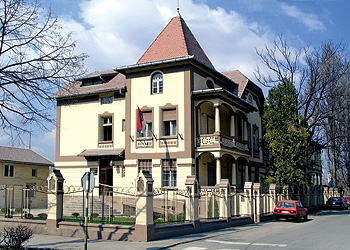 Beočin is one of the five most developed Serbian municipalities. Although in Srem, administratively it belongs to the Southern Bačka County.
– We hold on to the saying "Who is closer to fire, he feels warmer" – says (perhaps joking) for National Review Bogdan Cvejić, president of the Municipality of Beočin. – Since the center of the Southern Bačka County is Novi Sad, most significant center in this part of Serbia, we had nothing against being inside it, although we are in Srem. Finally, we are only fifteen kilometers from Novi Sad. Fruška Gora is on one side of our municipality and the Danube on the other. A population of 17.000 people lives in this not so large space. In a sense, we are also limited by the fact that 60% of our territory belongs to the National Park, therefore we cannot develop all the production capacities we would like to. On the other hand, we have wonderful nature and tourism and agricultural potentials.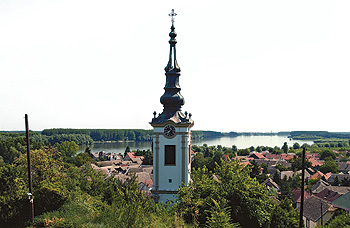 We used to have large areas covered with vineyards. Since many people worked in the Cement Factory, such areas were reduced. However, after the arrival of Lafarge and introduction of new technology which is incomparably cleaner but requires fewer workers, more and more people are returning to agriculture. Five years ago we had about 100 hectares under vineyards, now we have 230. By the end of the year, they will cover an area of 250 hectares, and soon even 300 to 400 hectares. We have households producing up to 30-40 thousand liters of wine from sorts of grapes with protected designation of origin. They make chardonnay, Riesling, neoplanta (autochthonous sort created at the Novi Sad Faculty of Agriculture, supreme desert wine), merlot, cabernet, frankovka… Bašić is erecting a winery on top of Fruška Gore with a wonderful view over Bačka and Banat. Two high quality wineries are also in the process of founding, in the villages of Rakovac and Banoštor, where days of grapes have been held for the last twelve years.
The numerous Beočin orchards mainly grow peach, pear, apple, plum and apricot trees. The sun and "winds which blow exactly as they should" give them strength. Some grow strawberries. There is also one purely cattle raising village, Susek, with most heads of cattle per capita (three to four thousand). Along with cattle breeding, there are dairies, meat production… In brief, agriculture is rapidly developing.
OLD TEMPTATIONS, NEW ANSWERS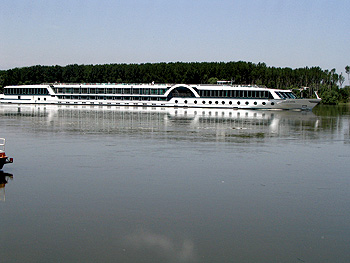 During the 1980s, the Municipality of Beočin was the first in former Yugoslavia which began developing industrial parks at the then level. Small entrepreneurs were granted pieces of land for free, which marked the beginning of development of the private sector. It was mainly metal processing industry. Now wood processing industry is also developing.
– We reduced compensations for building land if the investors employ a certain number of workers. Same is for those who have already been doing business here. Making of a spatial plan is in progress and construction permits are granted within five days. We are planning two industrial zones. One has 40 hectares and is located by the Danube, by the canal, and is very convenient for a port, marina (it is by the road). The other would be on an area of 30 hectares. The process of acquiring permission for an international port is in progress – tells us the first man of Beočin Bogdan Cvejić.
However, about 10 percent of the population is still unemployed. It is under the average unemployment rate in the country, but it is not less worrying. Lafarge consistently abides to the social program adopted at the takeover of the "Beočin Cement Factory". Many former employees still work for it in their own companies. Others have returned to their land and began their own production. The major problem are those who spent their redundancy payment and did not start anything to make a living.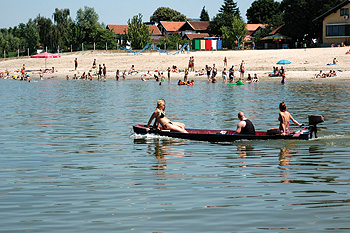 – We have more and more social cases, and nowadays it is difficult to open new working places – adds Bogdan Cvejić. – Our priority is to provide work for qualified and highly qualified workers, mainly from the metal industry, who gained experience in the "Cement Factory". They do not have any special qualifications; however, they are good and hard working people. We expect two or three investors. One from Sweden is coming within the business park in Lafarge. They will produce spare parts for mobile phones, roentgen devices, and biochemical analyzers, and have already employed about fifty people. The other will open a plant for recycling and processing motor oils in the cold (environmentally friendly) process and employ about 80 people. Also engaged in collecting oil will be numerous "secondary" workers.
There are large quantities of waste which should be processed and destroyed in an organized way. Many municipalities would like to join and purchase furnaces for burning waste (one costs about 30 million Euros). Lafarge, however, has a furnace which could be used for such purposes and they plan to do separation of solid waste in their territory.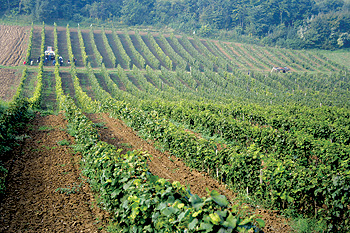 That way they would clean their own and other municipalities along with making profit.
– There is no danger of environmental pollution – explains president Cvejić. – On the contrary. We have two measuring stations for automatic measuring of air purity in two different locations in the Municipality (one is referential), and the whole Serbia has eight. Measurements show that everything is within allowed limits. The Ministry of Environment Protection and Spatial Planning gave permission for burning tires in Lafarge as up to 12 percent of total energy generating products used in furnaces. However, only six percent are used because they cannot collect enough tires in Serbia.
The people of Beočin have a thermal power station working on natural gas. They are also preparing to provide alternative sources of energy, biomass, whereas the raw materials would be collected within a radius of one hundred kilometers.
SANCTITIES AND BENEFITS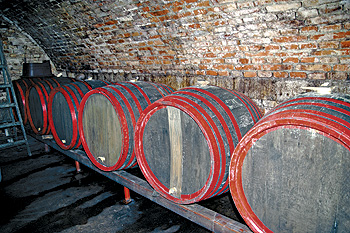 Two famous Fruška Gora monasteries, Rakovac (XV century) and Beočin (XVI century), are in the Beočin municipality. Their significance for the sacral and terrene history, as well as for the present life of people in this area is mainly known. Here we can add the story of the prioress of the Beočin monastery Ekaterina about the miracle making icon of Mother of God who grants children to childless women and heals the ill:
– We have been direct witnesses: before the Beočin icon of Mother of God, one hundred and fifty children were granted to mothers without children who prayed, and who, according to undoubting medical findings, were sterile. All this was later confirmed by doctors. We saw many sick people who were healed with prayers before the face of Mother of God. We are writing a book about all miracles which took place before this more than 500 years old icon. I have been in the monastery for 35 years and all this time kept following this true history of miracles.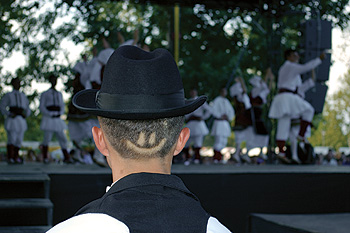 The Beočin people also have a hotel, "Andrevlje", located amidst the woods, with a congress hall and ethno houses. They are brother-municipalities with the municipalities of Ugljevik in Republika Srpska, Batanja in Hungary (with a Serbian elementary school), Herceg Novi in Crna Gora and Zemun in lower Srem, in the neighborhood.
Beočin also has cultural and sports life.
– We have the "Beočin Summer", local radio and television station within the Cultural Center, Cultural-Artistic Society "Brile" famous for folklore. The chorus in Vladičin Dvor (Bishop's Home) was revived, conducted by Georgije Maksimović, "Zemun man from Čerević", who used to conduct the chorus of Belgrade priests – says Cvejić. – The fishing club "Karaš" has won most trophies in the Municipality. We have a sports association with 23 clubs, whereas the judo club is national champion.
There are many restaurants along the Danube, called "čarda", with tambouritza players, card games, pool. The fishermen supply fish for making fish stews and soups. There are two ferries, in Beočin and Banoštor, connecting them with Futog and Bačka Palanka. w
***
Authors
The museum in the Beočin village of Čerević keeps the memory of three probably most important authors from this area that have a significant place in the history of Serbian culture: Jovan Grčić Milenko, poet, painter Milenko Šerban and sculptor Jovan Soldatović.
***
Funds
Supported by the Ministry of Agriculture, the Beočin people initiated founding a local Fund for the Development of Agriculture, in order to help small producers, mainly workers who lost their jobs and own several hectares of land, to develop viticulture or fruit-growing (investments would not be made in farming or cattle raising). The aim is to feed one family from that small area. Many people are also using means from the Vojvodina Fund for Agriculture with clearly visible results.

***
Harmony
Besides the Serbian majority, 10 percent of the Beočin Municipality population are Romas, 9 percent Slovaks, 8 percent Croatians. The truly multinational environment lives in harmony. Romas here live in houses, not like nomads, the Municipality coordinator takes care of them, they have their own Praying Home, cultural center, club of old Romas financed by the German government. Seven non-governmental Roma organizations perform numerous activities. Therefore "Decade of Romas" is not only a convenient phrase in Beočin, not only a seasonal marketing trick, nor a pseudo-ideological floscule used only for the propaganda maltreatment of Serbia.
***
Pharmacy
One of the oldest pharmacies in Vojvodina is in Čerević. It was opened by Dušan Cvejić, great grandfather of the present Municipality president. He graduated pharmaceutics in Zagreb in 1883, came to Čerević and married Angelina Geretski, cousin of Atanasije Geretski, great donor of Matica Srpska in Novi Sad and merchant, and opened a pharmacy in 1888. It was the third in Vojvodina, after Karlovci and Petrovaradin. Angelina's and Dušan's son Bogdan Cvejić graduated pharmaceutics in Gratz and married Nadežda from Vrnjačka Banja, daughter of a doctor. When the authorities took their pharmacy from them after World War II, grandfather Bogdan, disappointed, forbid his children to study pharmaceutics. However, their grandson, also Bogdan, graduated pharmaceutics and in 2008 opened the pharmacy "Kod svetog duha" ("At the Holy Ghost") in the same space and with the same furniture like 120 years ago.