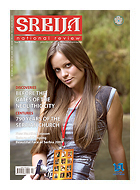 SERBIA - National review no. 13

Prologue

Spring has finally arrived, around us and (hopefully) inside us. And while many others are scaring you with the tottering parasitic empire of speculative capital which will pull your home down too by the end of this year, while they are showing you designed disastrous images to prepare you to swallow new repressive and restrictive laws without thinking – we will encourage you this time too to remember the billion and one beautiful and important things which really depend on you. The numerous precious "little things than make life worthwhile", which make ourselves and the world around us better, more noble. More pervaded by the divine.


GALLERY

CONTENTS
Prologue
HOW MUCH REALLY DEPENDS ON US
Spring Mirror
Panorama
"Zlatni beočug" Award to "Princip Press"
The Lasting Contribution to the Culture of Belgrade
The Beautiful Face of Serbia
PHOTOS BY MILINKO STEFANOVIĆ
Visit
BEOČIN, EMBRACED BY THE DANUBE AND FRUŠKA GORA
On a Ferry to the New Era
Many things have changed in this corner of Srem since the introduction of new technology and new standards in the "Beočin Cement Factory". There are no more grey roofs, dusty streets, desolated fields. The city has taken off the cement shirt it had been stoically wearing for more than a century and opened space for different forms of development. Several hundred hectares of vineyards and orchards have been planted, the "Fruška Gora" National Park and old monasteries are again in full bloom, the Danube banks are revived, an international port and auto camp are about to be constructed… There are problems, big ones; however they are there to be solved, and not to serve as an excuse for self-pity
By: Zoran Plavšić
Photo: Olivera, Ognjen and Ismet Ademovski
Visiting
PRIBOJ, THE CENTRE OF LOWER LIM, FACING NEW DEVELOPMENT OPPORTUNITIES
The Centre of the Magic Circle
For decades now, this area has based its prosperity on the famous Automobile Factory (FAP). Industrial problems during sanctions and wars in the 1990's have forced highlanders to understand again the values of their beautiful river, their spa, their medieval heritage, their urban culture and unusual sensibility, as well as the fact that in the radius of 40 kilometres around Priboj are Mileševa, Zlatar, Zlatibor, Tara, Mokra Gora, Višegrad...
By: Nenad Despotović
Road sign
ONE HUNDRED AND SEVENTY FIVE YEARS OF RIBARSKA BANJA (SPA), ON THE SLOPES OF JASTREBAC
The Tradition of a Royal Vacation
It is said that Stefan Nemanja got the property on which these wonderful springs are located, as a gift for his adulthood. Princess Milica also visited this area, coming from her palace in Kruševac. Moreover, the tragic Queen Draga Obrenović had her baths here. However, the most loyal guest was King Petar I Karađorđević, for whom they built the unusual Kraljeve stepenice. Can anyone today imagine that they were there by accident?
By: Dragica Bajić
Photos by: Dragan Bosnić
Edifices
PALACES IN VOJVODINA, CULTURAL GOODS AND WITNESSES OF PAST TIMES
About Magnificence and Transience
Splendorous ballroom music, jingling of jewelry and high heels, murmuring in many languages still echo in these Baroque and Classicist ballrooms. People came to receptions all the way from Vienna, Pest and Belgrade, legendary card games were played, an apple on the head of a countess was shot, men cried for women and horses. This is where Laza Kostić, "from the bottom of life" sang to Lenka Dundjerski, Franc List had his first public performance at the age of nine, queen Marija Karadjordjević came to family visits with her sons Petar, Andrej and Tomislav... Some of them today house museums, libraries, schools, hotels, while some are, unfortunately, completely desolated
By: Helena Duković
Photo: Dragan Bosnić