Edifices

PALACES IN VOJVODINA, CULTURAL GOODS AND WITNESSES OF PAST TIMES
About Magnificence and Transience
Splendorous ballroom music, jingling of jewelry and high heels, murmuring in many languages still echo in these Baroque and Classicist ballrooms. People came to receptions all the way from Vienna, Pest and Belgrade, legendary card games were played, an apple on the head of a countess was shot, men cried for women and horses. This is where Laza Kostić, "from the bottom of life" sang to Lenka Dundjerski, Franc List had his first public performance at the age of nine, queen Marija Karadjordjević came to family visits with her sons Petar, Andrej and Tomislav... Some of them today house museums, libraries, schools, hotels, while some are, unfortunately, completely desolated
By: Helena Duković
Photo: Dragan Bosnić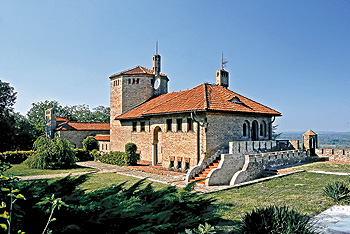 Old palaces in Vojvodina resemble old beauties that, in spite of their wrinkles, charm with their graciousness and gentility. Besides being splendorous, these edifices of extraordinary value are the most picturesque witnesses of a past life, richness and collapse of their famous owners. Each of them is a separate story, full of legends, fairytales and history. Balls were organized in them, the best wine served, ladies proudly presented their Viennese outfit, and gentlemen lost their estates, even their wives, in card games.
They were built from the XVIII to early XX century, with a style span from Baroque to Classicism. Looking up to similar palaces in Austro-Hungary and other European monarchies, they were erected by wealthy land owners, barons, counts, generals and other financial magnates, on estates they usually received as a gift from the Viennese court for military accomplishments. The beauty of these edifices is completed with their spacious nicely arranged parks. Out of 28 palaces in Vojvodina, the most beautiful and famous ones are "Fantast" near Novi Bečej, followed by palaces in Čelarevo, Kulpin, Ečka... Their significance is also confirmed by the fact that they are proclaimed cultural goods, with the status of cultural monument of extraordinary importance. Some have been turned into museums, libraries, schools or hotels, however there are also some completely desolated ones.
WITH THE POWER OF FORBIDDEN LOVE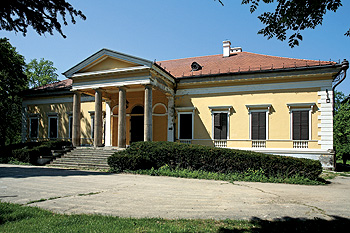 The most beautiful palaces and summer houses of those times in Vojvodina were owned by the wealthiest families, mainly Dundjerski. They originate from Gacko, Herzegovina. The legend says that Avram Dundjer dug out a pot of gold at the end of the XVII century, while working as a peon. His son Gedeon, Geca, bought an estate near Bečej for that money. However, they became rich thanks to Gedeon's son Lazar Dundjerski (1833-1917), who traded grain and other goods. He then invested money in purchasing estates from Hungarian aristocrats. He had 42.000 acres of land in his possession. The family chronicle writer Triva Militar wrote that Lazar used to wake up before dawn, that he personally supervised works and gave instructions for cultivating the land. Between two centuries, he also became stronger as an industrial manufacturer. He built and purchased factories, mills, and also erected two breweries. His sons Gedeon and Djordje continued following their father's footsteps, until their whole estate was confiscated after World War II ("nationalized").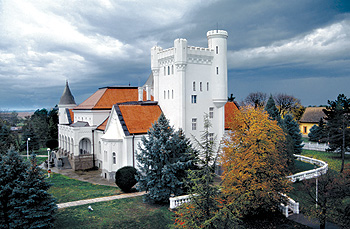 The most renowned and architecturally most specific palace in Vojvodina is "Fantast", 12 kilometers from Bečej. It was built in 1915 by Bogdan Dundjerski. He had 2.600 acres of land, but agriculture was not his passion. He had a passion for horses, cards and (naturally) women. Due to his eccentric life, this orthodox bachelor and bohemian entered many stories, the most famous ones related to "Fantast". He built this glorious edifice with a beautiful park, pool and tower from which he watched over his estate, so that he could organize balls and socialize with the most significant people of that time.
Although he could have had any girl, Bogdan fell in love with the dark haired beauty named Mara, his blacksmith's wife. As he could not or did not want to marry her, he built her a house near the palace, so that she could always be near him. He was also generous to her husband and opened him a blacksmith's shop in Srbobran.
Besides the palace, Bogdan also raised the Chapel of St. George, painted by famous Uroš Predić, friend of the Dundjerski family. The iconostasis is unique because the artist, according to Bogdan's wish, painted Mother of God according to Mara's image. Bogdan Dundjerski was buried in this chapel, and the sole inheritor of his estate, also according to his explicit wish, is Matica srpska (publishing house).
Today "Fantast" is an exclusive hotel, with a restaurant in the wine cellar.
HISTORY OF THE KULPIN PALACES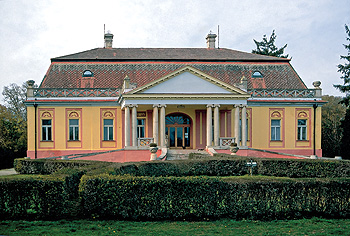 In Kulpin, about twenty kilometers from Novi Sad, there are two palaces, one by another, surrounded with a beautiful park and renovated auxiliary buildings. Although the exact year of their construction is unknown, they were mentioned as early as 1745, when Empress Maria Theresa granted them to the aristocrat family of Stratimirović for their war accomplishments. Bogić Vučković Stratimirović in 1737 started an uprising with his brothers in their native Herzegovina, thus helping the Austrian army in the war against the Turks. As an expression of imperial gratitude, after arriving to Bačka, the Stratimirović family first received the aristocratic title and then Kulpin. The famous Stevan Stratimirović, who entered the monastic order in 1784 and six years later became the Metropolitan of Karlovac, also belongs to this family. Member of this aristocratic family was also general Djordje Stratimirović, the great diplomat elected as President of the Serbian Main Board at the May Assembly in 1848.
However, the Stratimirović family wealth significantly decreased, forcing them to sell their estate.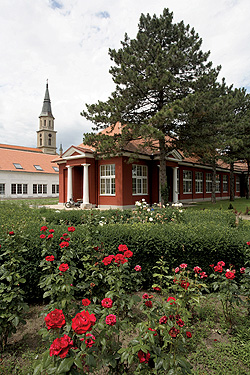 The palace in Kulpin got new owners in 1863 – the Hungarian aristocratic family of Maćaš Šemza. They did not enjoy the beauty of this palace long either. Twenty six years later, due to the same reasons as the Stratimirović family, they sold it to Lazar Dundjerski. He bought both palaces for his son Djordje, who was just graduating from agriculture, and turned the estate into an experimental agricultural land.
The residents of Kulpin considered Djordje as a hardworking householder, who promoted agriculture in this area. Since he married a cousin of the monarchial family of Karadjordjević, Queen Marija and her sons, princes Petar, Andrej and Tomislav were often guests of the Kulpin palace. In terms of style and time, both edifices belong to the Classicism era. The larger palace got its present appearance after the restoration in 1912, designed by architect Momčilo Tapavica.
The Kulpin palaces are surrounded with a magnificent park covering an area of four hectares, one of the most beautiful works of landscape architecture in our lands. There is a French park in front, with flower alleys and trimmed hedge. In the back of the palace, towards the depth of the estate, spreads an English park with wide meadows, horseback riding tracks and asymmetrically arranged examples of trees and other greenery. The park is ornamented by pine, fir, linden trees and chestnut trees, as well as some exotic tree species. A larch tree, about 120 years old, also known among the locals as a wide fir tree, was brought to Kulpin all the way from Argentina.
SANTA MARIA DELLA SALUTE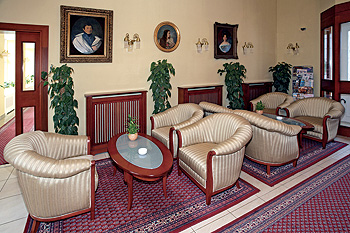 The palace in Čelarevo is another exquisite edifice with many legends surrounding it. There, in the vicinity of Bačka Palanka, it was built in 1798 by Leopold Marfi, respectable lawyer and aristocrat from Bačka. However, in 1819, the estate owner and manufacturer Josif Polimberger purchased it and nine years later gave it as dowry to his daughter Karolina (Charlotte) who married the aristocrat Nikola Bezeredi. The new owner, remembered as a great benefactor, first lived with his family in the old palace, but later decided to erect a larger building. The designs were made by an unknown Viennese architect, and the construction began in the spring of 1834. The building was completed in 1837 (the year is written in the palace pediment in Roman numerals).
Little is known about the interior of the castle after the construction. Some records state that the building was painted with frescoes. Around the building is a park, arranged in the style of English gardens, so beautiful that all of Hungary spoke about it.
This palace also became ownership of the Dundjerski family. Bezeredi's son Bela sold it in 1882 to Lazar Dundjerski. That is where the afar famous love story of the old poet Laza Kostić and young beauty Lenka Dundjerski begins. In this palace in Čelarevo, Lenka and Laza met each other and spent most time together. The poet, otherwise a family friend, even had his room in the palace. Aware of the great difference in age, Laza sorrowed. After Lenka's sudden death, shattered with pain, he married Jula Palanački, who was his fiancé for several years, but whom he did not love. To the memory of Lenka, he wrote one of the most beautiful poems written in Serbian, Santa Maria della Salute, in which he asks for forgiveness for his sinful thoughts:
Is all that beauty for poor me?
Is all that treasure for me?
For me, old one, at the bottom of life,
Is that golden fruit ripening only now?
Oh, sweet fruit of Tantalus,
Why have you not ripened for me before?
…
Forgive me my sinful wanderings,
Santa Maria della Salute.
COUNTESS AS THE WAGER
The palace-summer house of count Ivan Ivanović is in the vicinity of Novi Bečej, brought as dowry by the elder daughter of Lazar Dundjerski, Emilija. It is surrounded by a large park, and there was a bowling room in the basement. Even today, the access roads for carriages from both sides of the main entrance remind of former luxurious balls.
However, the palace became legendary mainly for the profligacy of his owner, count Ivanović. The story goes that once he lost not only his estate in a card game, but also his wife Emilija. To make the grotesque story horrible, the winner suggested that the count shoots an apple on his wife's head. If he hits the apple and not her head, he will be given everything back. The count, although drunk, managed to return the lost estate, but not Emilija. She had never forgiven him the disgrace and left him forever.
The old card table – with the palace, estate and wife as wagers – is still in the palace.

***
Museum
The large palace in Kulpin today houses the Museum of Agriculture. It was founded in 1993, as the only museum institution in the country for studying the agricultural past. The whole complex is under state protection as a cultural monument. Besides the two palaces, there is also the blacksmith's shop, horse shed and grain storage. After the reconstruction of the grain storage, the museum also got a unique exhibition and gallery space.
***
Inquisitor and Fantast
Bogdan Dundjerski loved horses and even named his palace after a horse. In 1932, his three year old horse Fantast won all three races at the Belgrade Hippodrome and won all titles. When he died, Bogdan buried him at his estate, where he will also name his future palace after his horse.
However, out of more than a thousand horses in his horse farm, he liked the Inquisitor most. He was the only one who rode him and rode around his estate with him. When this horse died, he buried him by the horse farm fence and raised him a monument shaped as a horseshoe.
***
First Performance of Franc List
The palace-castle of the Lukač family is in the village of Ečka near Zrenjanin. The rich Armenian cattle merchant Djordje Lukač received the estate from Maria Theresa, and his son Lazar Janoš made a brewery and horse farm with 150 horses at the estate. The "Kaštel" building in its present shape originates from 1820. It is recorded that the then nine year old Franc List played at the official opening of the palace. It was his first public performance.
***
Seventy Two
While getting ready for the journey, we spread before us the map with marked palaces in Vojvodina. Even with certain foreknowledge, we were surprised with the density of the network. We counted and found that there are as many as 72 registered ones!
More details and photos are available at many websites, e.g www.dvorci.info.