Adventures
A LITTLE EXPEDITION OF "NATIONAL REVIEW" IN THE CAVES OF FRUŠKA GORA
Deep in the Heart of the Mountain
We knew that the number of seven caves which have been discovered to date is not final. And that one is situated above Staro Hopovo, the second above Rekovac, the third on the Popovica, and below Popov čot, then near the Šakotinac Waterfall, two near Ležimir... But we didn't know what exactly was waiting for us inside and how much courage we should pack in our bags. Experienced alpinists and speleologists from the Society "Železničar" from Novi Sad knew everything, even this
By: Marina Gorski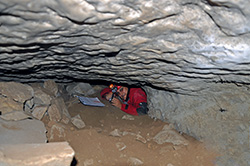 Members of the Mountaineering-Skiing Society "Železničar" and Lazar Popara, the coach of the national class of Serbia in sports discipline mountaineering, alpinism, and we, the lovers of Fruška Gora, are recognizable for our passion: enjoying the natural beauties of the National Park "Fruška Gora".
Not all of us are skilled like Lazar Popara. You may ask yourself how it is possible to train yourself as a high mountain alpinist when Fruška Gora is only 539 meters high at its peak called Crveni čot.
– Next to the cliff below the Petrovaradin Fortress, at the very entrance into the tunnel. We have practice ground on Orlovo bojište near Popovica. There are also numerous caves in this mountain of ours which attract us with their beauty, but also enable us to gain alpinist skills – says Lazar Popara. – When we gain experience and training, we will be ready to conquer high mountains. Until now, our Society has organized about forty expeditions in various areas, even Mount Everest. But everything starts from here.
Lazar Popara organized for us a special adventure: revealing secrets in the depths of Fruška Gora. We knew that the number of seven caves which have been discovered to date is not final. We knew that one of them is situated about thirty meters above Staro Hopovo Monastery, one on the Popovica, the so-called Old Cave, that Grgurevačka Pit belo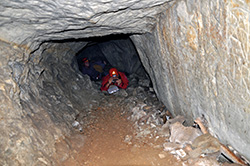 w Popov čot is next to the village of Grgurevci, that there are two caves next to the village of Ležimir, and Martinova Cave near the Šakotinac Waterfall... But we thought that in our first day of speleological explorations we would visit only Perina Cave and Beli majdan. Experienced Lazar Popara knew very well what we were getting involved into.
Above Rakovac Monastery a natural gallery opened to us. Actually, the entire hill rests on pillars and, enchanted, we sink underneath this too heavy vault without fear, unaware of the load above our heads.
– On this beautiful site, the so-called Beli majdan, people have been excavating decorative stone used in the construction of the monastery and local houses fro many years. This is how this extraordinary gallery was created – says Popara and asks from us not to stay too long under the heavy vault-hill.
We returned to Popovica and from the mountain lodge, down a marked road, "the road of health" marked with red hearts in white circles, drawn on tree trunks, then up to the so-called Slavica's trek, about three kilometers long and soaked with rainwater, we walked to Orlovo bojište (Eagle's Battlefield). This steep slope-viewpoint did not get its name by accident. An imperial eagle (aquila heliaca), untouchable and sharp-eyed, circled high above our heads.
WITH A HILL ON OUR SHOULDERS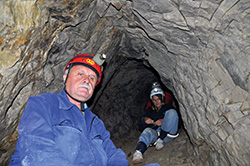 Then there was a sudden turn. After the eagle's heights, vastness and the feeling of freedom, we faced squeezing into a narrow and damp marl cave and the company of bats – the feeling of claustrophobia, icy shivers and bad associations. The entrance is like a threatening half-opened mouth, but there is no inscription above saying: "Those who enter will regret it, those who do not enter will regret it."
– A legend from 1820 says that a rich merchant paid some people to dig in this cave – tells Lazar Popara. – Every Saturday and Sunday he would return holding a bundle in his clenched fist. Peasants thought that it was gold. It was not proved that this is how it used to be. It has been proved that there is no trace of gold now. The cave is of a pit type, a rock shelter: about 70 meters long, about 15 meters high (deep). In the first part there are two narrow hallways: near the very entrance and after four meters. It is possible to pass only by crawling, laying down, almost touching the vault with your nose.
And this is how it was. W hardly squeezed through the opening, protecting our hair from bats with hoods, strutted in a squatting position to the part where a five-pointed star was carved and next to it the year of 1943. From the times when they used to say: "Take the gun and go to Fruška!"
After about fifty meters we come to the "well", a vertical opening about four meters deep. We go down to the bottom.
– Everything one can see up until the "well" is the work of nature. This is a sinkhole; by means of washing down materials during fluvial erosion the streams widened the already existing crevice. In the !well" itself, however, we notice the work of human hands. Since there is marl in the cave, people probably used to dig here to excavate its. Equal corridors branch out to three sides from here, into the depths, but we will not go there.
Before the exit, and we were rushing to it, in a widening where one is able to sit up, Lazar Popara showed under our fingers, in vivo:
– We see that the rock is damp. Since this rock is of the type of rock shelter, water slowly penetrates from the surface into lower layers, and we have a typical example of how it penetrates through marl. This is practically cement. You see, there are pieces broken off, even big pieces. Collapses occurred, but there was also some unreasonable breaking off. Adventurers don't know what they are doing and into what kind of danger they put themselves.
A BALL IN THE BLACK SLEEVE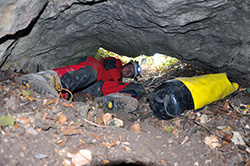 Many lessons were learned, adrenalin was raging, the experience was unique. Literally, unique. I would never do it again, first out of responsibility toward my children, Thank God, I have a story, and the blue vault above me. I write, therefore I am.
And still, the next day we are here, in front of Grgurevačka Pit. We came by asphalt road from Beočin to Crveni čot, and from there to the youth hostel "Letenka", and to Popov čot, then another two and a half kilometers to the old forest cabin, and 200 meters to the left down the abandoned carriage road to the plateau below the cave. We were to travel another fifty meters. To go in or not?
Lazar Popara says:
– When this cave was discovered in 1961, its opening was about six meters. But, since they used to quarry stone from here, everything collapsed. In order to prevent accidental travelers from getting lost and fall into this cave-pit, they placed this triangular metal gate. But the gate somehow disappeared. Fro a while the unprotected opening of the cave remained like that, and then it was secured again by the National Park "Fruška Gora".
Not allowing us to think any longer, members of alpinist society "Železničar" equipped me with necessary supplies. And again I was in the belly of Fruška Gora, with another two daring men.
The central hall of Popova or Grgurevačka pit, about four meters wide and about six meters deep, was lit by powerful lamps.
– Here we have all cave jewelry – points out Popara. – Stalactites and stalagmites were created through sedimentation of calcium bicarbonate. There is also jewelry in the shape of corals and clusters, which is typical fro this central hall. The cave than narrows down like a funnel. Behind me is s 10–11 meters deep abyss, which also narrows down, and in its lower part it is only 60 centimeters wide. There is also one collapsed canal which, apparently, used to lead into the depth of the cave, which is now inaccessible to us. Then Lazar Popara turned around and with great skill entered into the abyss. looking like a light ball disappearing in the black sleeve.
THROUGH LAZAR'S EYES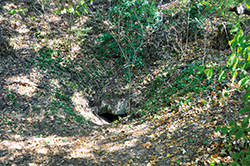 We left the Grgurevačka pit less frightened than the day before, because it was less difficult than Perina. I thought that the caves near Ležimir, which we were heading to afterwards, are more accessible. But my belief was unfounded, which was showed by Lazar's decision to enter one of them alone. We only got a short lecture:
– We are now standing at the entrance into one of the Ležimir caves, on the southern slopes of Čotovi peak, on the left side of Partisan Road. One goes toward the village of Ležimir and after three kilometers makes a right turn toward Duboki dol. It is this valley below us, after which the cave was named.
Popara spent no more than twenty minutes in the cave, in this hidden world, alone. When he came out, he told us:
– In this cave, unfortunately, there are no more stalactites and stalagmites, but there is jewelry such as corals, which are extremely sharp. There is a lot of collapsed material which may be bypassed from the left. After four meters of careful crawling one arrives at a widening, a small hall about four meters wide. When you pass this hall, about eight meters from the entrance into the cave, there is one "chimney" or "well". Someone smaller than me could go down that well, without alpinist equipment.
The cave called Sloba's Cave is situated at the very entrance into the village of Ležimir, exactly in between two hills, two peaks. Entrance into the cave is below Velika gradina (303 meters above the sea level). On the opposite side there is the peak Mala gradina (256 meters above the sea level). Again, on this place, Lazar's eyes were our eyes.
Martin's cave will have to wait for us. We should sort out our impressions, find time, gather courage. Members of the Mountaineering-Skiing Society "Železničar" will be ready to take us there again.
***
Sloba's Cave
– This cave, at the entrance into Ležimir, is 20 meters deep – says Lazar Popara. – It contains cave jewelry, but, due to circumstances, it collapsed. Works on the excavation have started, but they are slow. They should excavate another two-three meters so that we could access the hall and continue further through the cave. It was named after a local man, Slobodan, who had started excavations long ago, because his children used to play here. It is said that long time ago local people used to hide here from the Turks.
***
Take It With Your Lings, Like With a Goblet
You may also join the members of the Mountaineering-Skiing Society "Železničar" every Saturday and Sunday, and occasionally on Wednesdays. You will be led down the marked treks around Fruška Gora, where you can grab health with your lungs. And you can find "Železničar" at Trg galerija no. 4, in Novi Sad. And on the internet, of course.