Notebook
IN MOKRIN, AN UNUSUAL VILLAGE IN THE NORTH BANAT
Until the Russians Figure It Out
This is the birth place of Vasa Stajić and Mika Antić, Raša Popov and Bogdan Ibrajter, and Aleksandar Deroko used to brag that one of his grandmothers was from Mokrin. Mokrin wine and layered cheese are famous. Victory at one of the two local world championships, in fight of un-doped geese and championship in Easter egg tapping, enables you to treat and boas yourself all year long. Jokes are always welcome, especially if they are directed at people from Kikinda. In the territory of Mokrin there are 200 oil wells, and we hope that the new owners of NIS would look at this direction as well, it would only be right
By: Dragan Batinić
Photographs: Dragan Ristić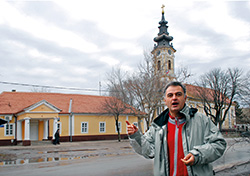 Mokrin, of course, has existed forever, says Dragoljub Badrljica, elementary school principal and founder of a museum in this village in the North Banat. Not all is exactly covered with evidence, but it simply could not be otherwise. And in the museum, with help from friends and various donors, he has built a collection of over 30.000 artifacts, photographs, documents...
Official science says that 4000 years ago, in the territory of the modern village, there used to be several settlements. Excavations led by archaeologist Milorad Girić have discovered, among other things, that ancient Mokriners used to have a highly developed medical practice, and that they even performed surgical procedures on an open skull. Some say that this was done for magical-ritual purposes. It is not known what kind of anesthetic they used, maybe the famous Mokrin wine, the one that, much later, made the famous poet from Mokrin, Miroslav Antić, sing: "There is no wine without Mokrin!" Every summer, the Mokriners pay respect to Mika, their famous countryman, poet, painter, filmmaker and eternal boy, by organizing cultural event Memorial "Miroslav Antić".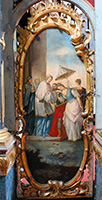 Raša Popov, the most famous Mokriner still alive, and who was prevented to join this visit to Mokrin by a cold, is also pining for this wine, which is increasingly difficult to be found, because there are fewer and fewer vineyards. Raša is also pining for the times of his childhood, when there were more than a thousand horses and as many cows. The cow milk is used in the production of the layered Mokrin cheese, which made Mika Antić cry in America, when it was offered to him, as a delicacy, at a restaurant in New York.
– And now, the few horses that have left, are kept for Christmas racing and parade – says Raša Popov, a journalist and poet. – And in the old times, horses and people used to do what is today done by tractors. Mokrin used to be a village of great martyrs, but also great entertainers and comedians. My countrymen know how to make a joke even when it is the most difficult, directed both at them and the others. True, it somehow feels better to make a joke at someone else's expense, especially in case of their eternal rivals - Kikinders. In these jokes I often found inspiration for my TV-host-acting creations.
Raša also misses the famous walks through the Mokrin promenade, which used to stretch between two churches, an Orthodox and Catholic one. After six days of hard work, well dressed men and made up girls would gather here on Sunday afternoon, and then go dancing. Everything is different today and there are fewer and fewer boys and girls.
A VILLAGE FROM BOOKS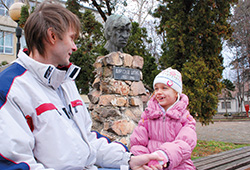 – At the beginning of the last century, Mokrin had a population of 9,300, and according to the last census only 5,334 – continues Dragoljub Badrljica. – In 1890, in schools of Mokrin there used to be 1,200 pupils from the first to the fourth grade, and now, at a modern school, the classes from the first to the eight grade are attended by only 460 pupils.
Young people are leaving the village, and those who stay rarely decide to have more children. It is the case everywhere, and in Mokrin as well.
– Life here can be good – claims Goran Dumitrov, who has been a Mokrin prince for eight years. – A family of four, working on about thirty hectares of land, can afford a decent standard. As for entertainment, Kikinda is close, and neither Novi Sad nor Subotica is far, and there is always something going on in the village itself. Here, a friendly handball game will be played at the new sports hall tonight, between two "Red Star" clubs – one from Mokrin and the other from Belgrade. Last night there was a literary evening dedicated to the 99th anniversary of the birth of Stiven Stepančev, a Mokriner, a poet and a former literature professor at New York University.

When yet another poet from Mokrin was mentioned, we also remembered the famous sentence by Milovan Ilić Minimaks: "If you claim you are from Mokrin, and you have not written a single book, it means that you are misrepresenting yourself." Mokrin is also the birthplace of Bogdan Ibrajter Tane, a poet and journalist, whose articles in Politika we were reading fro decades. Also the early departed Đura Đukanov, after whom a literary award was named. Mokrin is also the birthplace of the famous historian and publicist Vasa Stajić, after whom a local school was named, and Aleksandar Deroko used to brag that one of his grandmothers was from Mokrin.
– Four types of blood are running through my body: Viennese, Venetian, Dubrovnik and Mokrin – he used to say.
Darinka Maljugić, proclaimed the best librarian in Serbia, has been leading a literary and drama group for years in the local library "Miroslav Antić", so one should not be concerned about the young generation of writers. There are also Mokriners among painters, sculptors, photographers, musicians. And fashion designer Zoran Ladičorbić gained fame in New York.
A LEAGUE WITHOUT WORRIES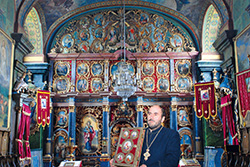 We have met the prince and the school principal, now we must visit the third most important person in the village: the priest.
In the Temple off St. Archangel, we are welcomed by Archpriest Stavrophor Dragan Govorčin, proudly showing the iconostasis from 1782, created in Baroque style, the work of Teodor Ilića Češljar. He specially draws our attention to the northern gate, showing the scene of farewell of Rebecca and her parents. In 1968, it gained fame in Paris, at the exhibition Two Thousand Years of Art in the Territory of Yugoslavia. Not less worth are the monumental biblical compositions, on canvas, painted in the mid 19th century by Nikola Aleksić. This temple also houses the Scripture printed in Moscow in 1663.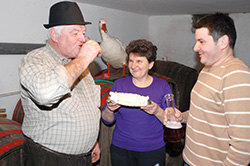 In the church yard there is a tomb of Hussar colonel Aleksandar Riđički. Legend says that he used to jump over the church, on a horse, the one that was worth the great hero. Once, the horse stumbled over the cross and fell, together with the rider, onto the ground. He was buried at the same spot where he died. And it is not a legend that the colonels' brother Pavle, a world traveler and adventurer, brought from Egypt a real mummy and donated it in 1878 to the Belgrade Museum.
– Of 1,200 oil wells in Serbia, 200 are within our municipality – says prince Dumitrov. – In the old times, the old companies, in addition to paying the mineral tax to the municipality of Kikinda, used to build road in Mokrin, help the infirmary, school, local community, sports clubs... It is not the case now, but I have been trying to contact the new owners of NIS. I am well about to explain to the Russians: if Serbs are their brothers, as they are to us, then Mokriners are their closest brothers! And brothers, it is only right, should help each other.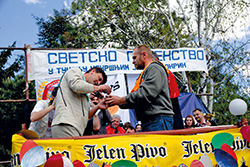 A day in Mokrin does not last long, because one has so much to see and experience. We are now rushing so Dragoljub Badrljica would not miss the said handball game. It cannot go without him. He used to be the goal keeper of the famous club from Mokrin, which used to compete in the 1970's in the Second Federal League of Yugoslavia.
– We had much worse conditions. We used to play on bare ground, against much stronger competitors. Our handball players now have a new hall. They are in the second round of competition, from the top, and they could certainly go against the best, only if we had money to cover it all – says the former handball champion from Mokrin.
Between two world wars, the Mokrin soccer players were fierce and unbeatable. Football Club "Delija" used to be called the "Banatian Uruguay". It is now tapping the ball on the level called the "League without Worries", because nobody could be disqualified from it. And hopefully the Russians will come to their senses, brother is a brother...
IN THE CELLAR, CLOSER TO THE SOURCE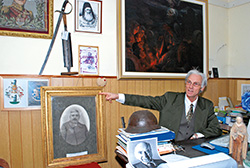 We arrive to the household of the Terzić family in order to verify that one can truly live well off the land. Danica, Sava and their son Živica are working about 35 hectares of land. In pens there are pigs, about fifty sheep and five cows, and in the cellar 6,000 liters of wine (there used to be as much as 10,000). So much wine!?
– We sell some of it, but we also use a lot. Neighbors come by, friends, relatives, and journalists also come from time to time – says Sava. He serves us with homemade sausages and that famous layered cheese. his wife Danica is making this cheese according to the recipe from her grandmother, but is also introducing some innovations of her own, so there are also varieties with ham, sour cherries...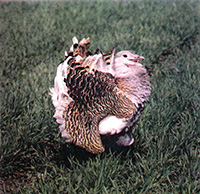 Everywhere around the room there are cups, diplomas, medals... Enough for another decent sized museum in the village, These awards were given to Sava and Živica for the production of local brandy, but also for winning world championships in the fight of geese and Easter egg tapping, and Danica for the cheese. Živica is currently preparing a book about the World Championship in Goose Fight:
– To some people these fights look horrible, but they are not. They fight with their wings, just like with pillows. The fighter who feels himself weaker would turn around and run away from the ring with dignity. Nobody is hurt. Male geese would fight even without audience, because in February the females are getting ready to lie on eggs, and the male is defending his family and the territory.
Some of our irresponsible colleagues wrote that the male geese are victims of the show-business industry and that they fight on drugs. Apparently, they are fed with corn that stayed in wine overnight. And everything here is fair, there are certainly no drugs. Wine, still, is not prohibited for the owners, audience and journalists, so we go down to the cellar, closer to the source.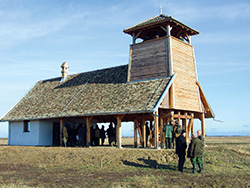 After the goose fight, people in Mokrin go to look after strong chicken eggs, for the Easter competition. For this occasion, some Mokriners boil and paint as many as a thousand eggs, and then they select the strongest ones. It is not insignificant to win one of the two World Championships in Mokrin. The champion would then have the right to treat and boast all year long.
At the end, we ask Živica, who earned his master degree at the Faculty of Agriculture in Novi Sad, why he refused the position of assistant professor at the Faculty and came back to Mokrin?
– I did not come back, because I have never left Mokrin. I went to Novi Sad to gain knowledge, in order to apply it here, at my family estate.
***
Wet Lily on a Flat Hill
The famous House on the Flat Hill is authentic, from the first half of the 20th century. In this house, the company "Terra Pannonica" has been organizing various cultural events, art and literary colonies for artists from the region. A part of the village in which it is located is called the Hill. None of the newcomers would notice this hill, so the witty Mokriners came up with the name Flat Hill.
Only when water rises, it is evident that this is an elevation, because this area is never flooded.
There used to be too much of this water, swamps everywhere making everything wet, and therefore the name of the village. According to a different version, settlers who came here long time ago saw lilies in the swamps and, not knowing what kind of flower it was, they called it mokri krin (wet lily).
***
Zlatica
The name of the nearby River of Zlatica, according to some people, comes from the gold it used to bring from the Carpathians. The second version, less probable but more exciting, says that somewhere at the bottom of this river there is the tomb of Hun leader Attila the Scourge of God, together with a huge load of gold and other treasuries. neither one nor the other gold is remembered by people or history books, but the name has stayed.
***
The Great Bustard
We did not go for a ride with a carriage, and this is not a small gaffe in Mokrin. We promised to do this the next time, and that we would use the carriage to visit the nearby natural reservation "Pastures of the Great Bustard". There, from the newly built visitors centre, one can see the biggest bird in the world that can fly. The male can weigh over 20 kilograms! (For comparison, a condor weighs only about fifteen kilograms.) The Great Bustard, protected species, has only a few more habitats in Hungary, and this one near Mokrin.