Virtue and Skill
MOTOCROSS DRIVER GABOR SAGMAJSTER, REPRESENTATIVE OF SERBIA AT "DAKAR RALLY"
Ultimate Limits Are Within Us
Moving one's own limits means increasing the area of freedom. The Rally isn't driven through the sand ocean, but through one's own self. There are no co-drivers, no navigators. Only the endless desert around. You must decide and believe in your decision. The race lasts two weeks, one sleeps three to four hours and drives about 800 kilometers a day, in temperatures ranging from minus 8 to plus 45, at altitudes of about 5.000 meters. One learns a lot about oneself, the world and life
By: Dejan Bulajić
Photo: Archive of "Dakar Rally" and our guest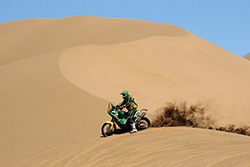 "A great story in life requests a million details."
This is the beginning of the story told by Gabor Sagmajster, a man searching for limits, not to destroy them, but to move them forward, because he believes that is how he makes his own life more spacious.
– When I started off to my last "Dakar Rally", I promised my team and sponsors that I would make it to the end line. I knew I wouldn't miss a single detail, that I'll take care of the engine and that's how it was. In deserts, in the dunes, I felt as if the machine was breathing with me, so I didn't force it. It was the right, perhaps the only way to fulfill my promise.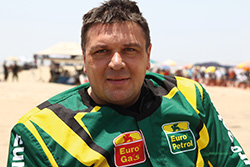 He took part in the most difficult international races ten times and gave up only once.
– Last year my sponsor insisted I make the best result at "Dakar", which was technically not realistic. I had no reason to doubt my psycho-physical readiness, since after 30 years of being active in sports, I know my abilities. However, I also knew that the engine won't endure such a rhythm. They didn't listen to me, they were persistent. I stepped on the gas and after the fifth stage, the engine broke.
BEING HONEST AND PERSISTENT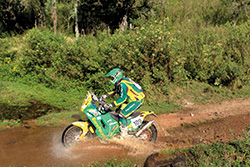 The temptations at the "Dakar Rally" only strengthened his previous life experiences, forcing him to think about every detail that may be of importance.
– That competition is my life challenge. It taught me that strength and great wish are not everything. Only when you realize that vastness cannot be gained by passion, or that distances cannot be conquered by jumping over them, it becomes clear how much every step is significant and great. How honest and persistent you have to be in everything you're trying to do, how much strength, experience and mind you need. Without it, you can easily get lost in the wastelands of the deceptive world and remain somewhere on the side, together with your unrealized wishes and unused strength.
Vastness often confronts a human with loneliness, but also reminds him that in such moments, he can be the strongest support to himself.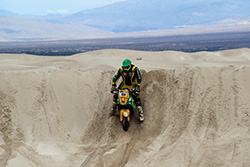 – I won't exaggerate if I say that there are only a few people in Serbia who can speak about such experiences. At a competition such as "Dakar Rally" everything is unusual and full of new impressions. The day begins at 3 a.m., we sleep three to four hours most. Every day, and just to remind that the race lasts two weeks, we drive 700 to 800 kilometers, in temperatures ranging from -8 to +45 degrees. A big part of the drive is in altitudes of about 5.000 meters. Everything is adjusted to almost unreal earthly conditions, even nutrition. We don't drink water at "Dakar", because it would be very difficult for the body while going through the dessert. A special jelly is used instead of water. Food is reduced. We mostly use something similar to deserts made of wheat. However, the most difficult moments are in the race itself, the great inh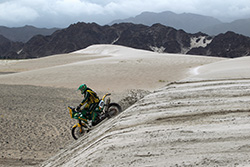 ospitable vastness, where one remains alone. I especially emphasize this, because bikers don't have co-drivers and navigators. They are completely alone and left to themselves and their own experience. I don't have to remind about the accident of our team this year: already after five kilometers, they went the wrong way and ended the race. The difficulty of such moments is especially present in the deserts, when you get lost. They you have to make the right decisions. You turn around and all you see is an endless space with no one else except you. Everything you can is to rely on yourself, to restrain the fear and nervousness and believe in your own decisions. It's like you are in a small boat in the middle of the ocean, while huge waves are rocking you. You can't just sit and wait – you have to decide which way to go.
THE FEELING THAT THE END HAS COME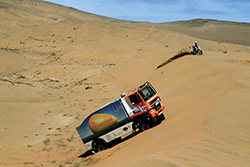 Fear undoubtedly takes over people in such moments.
– Fear is normal in moments you feel hopeless, and many participants of such difficult competitions encounter such situations. I have many years of experience, which helps me restrain sudden emotions, but I had such moments before. I remember I dehydrated during one stage at the second "Dakar". I had a bad feeling that the end has come. I completely lost my psycho-physical strength, I stopped and sat by my bike. I was aware of everything around me, but had the feeling I was leaving. It lasted until the moment the quad leader arrived and called for help. A helicopter arrived with medical equipment. They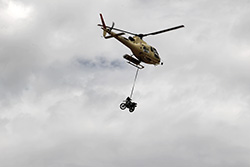 gave me infusion and a concentrate of energy liquids. I slowly started coming back and already after an hour and a half I was on my bike and continued towards the end line at full gas. I arrived 80th, without any injuries.
Gabor has been dedicated to sports since his early youth. He played basketball in Subotica "Spartak" for many years. Someone watching from aside could hardly anticipate his need to search for the ultimate limits of his abilities.
– I had this since my childhood. I always wanted to do something others wouldn't even try, but only through sports I began expressing it clearly. At basketball trainings, I wanted to do more, run more,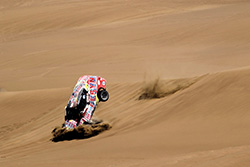 I even asked the coach for it. Then I became engaged in motocross, which was interesting for a while. However, after four state champion and several second place titles, it became a bit monotonous. I already had a big experience in motocross competitions throughout Europe, but I needed a new challenge, something that would move my entire being. "Dakar Rally" came at the right time, and everything happened by accident. One of the famous Hungarian "Dakar" racers was in Subotica and asked if there is anyone in Serbia interested and able to try the Rally. They answered there are no such people among auto racers, but that there is a biker who could surely do it. Already a few days later, they called me from an agency and that's how this story of life importance for me began.
THE MOVING STRENGTH OF A CHALLENGE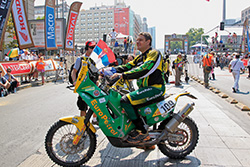 The fact that he was the first who took part in "Dakar Rally" without any knowledge of navigation and made it to the end line will be remembered forever.
– I was a real attraction for everyone in the Rally caravan. They talked about me, almost not believing that my travel book was completely empty, both at the start and the end line. It was funny for them that my entire strategy was based on chasing other bikers who knew navigation and thus reaching the end line. They were convinced such a thing was not possible at "Dakar". I later got in touch with the Slovenian rally driver Miran Stanovnik, my club colleague, who was very experienced already then. I learned a lot from him. Now we're close associates, almost family friends.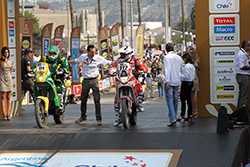 Sand, stone and the earth of "Dakar Rally".
– The sand is not a big problem for me, because in winter I practice very often at the Balaton in Hungary. I tried some of our sandy terrains, but people don't like someone racing across with his bike with over 150 kilometers per hour. I had problems with dunes at a time, because I was bad in orienting in the dunes. Miran Stanovnik talked me into going to the rally in Abu Dhabi, because they drive only in dunes, and I made it to the end line twice. As for stone or the areas of dried rivers, it was similar to the motocross tracks we have around Brus, Kopaonik or Zlatibor, so it wasn't a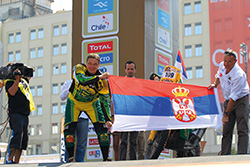 problem for me. Neither were gravel or macadam. After all these years, I am convinced I conquered the main challenges of "Dakar Rally" so well, that there isn't a single obstacle I cannot overcome. Now I know exactly how to prepare a stage, how to set the bike according to the ground type, how fast to drive, how to orient in space.
The aesthetics of South American areas.
– I've seen the most beautiful details this year in Argentina, in the area from Katchi to Tucuman. People, culture, architecture, roads, signalization, everything was on a very high level. There were, however, different experiences as well.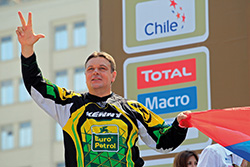 For example, I don't have a nice memory of the crossing over the Andes. Desolate area, noone around, only a 300 kilometer long macadam road.You come to the border crossing and you have no idea what they're doing there and where they come from. The fact is, however, that we don't have time to look around during the stages, so we probably miss some particularly beautiful landscapes. I know we passed by some smaller rivers and lakes which would be worthy to stop by if you are a nature lover, but not if you're a rally driver.
***
Bike as a Best Friend
– I was fortunate with my team. Keiser Thorsten from KTM, experienced mechanic, would repair the bike during the night and I would take it over in the morning. I didn't have to worry about that, because the mechanics' team was doing a great job. The engine worked excellently. In such a place, it's only you and the bike. There are 200 bikers around you, but each of them has their own system of navigation, strategy, path, soon there is a distance between you and there's nothing else but to rely on your machine, encourage it, talk to it and pray it endures until the end.
***
Giant and Feather
– I think I'm an exception in the motorcycle world with my height. They call me John Dir! I drive a green-yellow bike of "Europetrol", my main sponsor. While driving by a huge supermarket with the same colors in the vicinity of Buenos Aires, a Romanian driver named me after it. Everyone finds it interesting that I, almost two meters tall and with 110 kilograms, perfectly handle the bike under any conditions. At the beginning they were convinced I entered their world by accident, as a former basketball player, but now they know that I'm equal from the technical aspect as well.
***
Lessons to Young People
– First of all they have to learn patience! While they are still young, they should practice on smaller bikes, up to 50 cc. Afterwards they should slowly move to 125 cc and so on. Before the age of 25, they shouldn't drive 1.000 cc bikes. Powerful bikes should be driven only by people who have an experience in life, not only driving. There are no young drivers at the "Dakar Rally", only experienced ones. And don't play games with speed. If speed is your master instead of you ruling it, you won't go far. Adrenaline is not for the traffic. You'll never see me on a bike in traffic.
***
Sons
– I have two sons, who, I hope, don't find it difficult to follow me. The older is a sports type. He practices tennis, likes bikes, goes to the gym, but it seems that, unlike me, he isn't into competitions. The younger is also talented for many sports. He played football, tennis, swimming. For the last three years he has been in motto sport and I see he has a wish to compete in serious competitions. I warn him, however, that he needs time, that he must prove himself gradually.
***
And Besides Sports
– I have my own business and try to organize it to run smoothly regardless of my frequent absences. In the afternoon I always go to the gym. I spend a few hours in the evening with my friends in a kafana. I am often on the road; I drive about 100.000 kilometers a year, which takes me away from my regular work. In the meantime, I also became president of the Motto Association of Serbia Board of Directors, there are new obligations I must dedicate my time to, which means that most of the time a day is too short for all my wishes and needs… I'm a big gourmand, I enjoy food. I like to go to nice places for a good lunch and good wine.