Winner
VLADIMIR KULENOVIĆ FROM BELGRADE, YOUNG CONDUCTOR WITH GROWING POPULARITY WORLDWIDE
Entire Life in Art
He graduated from the Boston Conservatory, then from the New York Juilliard, the highest level of education for performers. He was immediately hired by the Utah Symphony and Opera Orchestra. He conducted with the greatest maestros of the world. About his performances with the Belgrade Philharmonic he says: "That much soul, passion, authentic sentiment, charge and human experience, I cannot imagine anywhere else"
By: Radmila Tamindžić
Photo: Guest's archive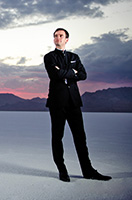 Pleasant work and great atmosphere. This is how our young conductor, who has been making a brilliant career in the US in the past twelve years, judged his three previous engagements with the Belgrade Philharmonic. The program was challenging as well: Mozart and Stravinsky, then Brahms (in cooperation with maestro Zubin Mehta), and finally Rachmaninoff, Shostakovich, Miloje Milojević. Many world orchestras, states Kulenović, are not up to Rachmaninoff's Symphonic Dances, but the Belgrade Philharmonic is. He did the same piece earlier with his orchestra in Utah.
– I was deeply touched when, for the first time after ten years, I heard this truly unique orchestra, which has advanced a lot – said Kulenović three winters ago, when he visited his home city and conducted the Belgrade Philharmonic. – That much soul, passion, authentic sentiment, charge and human experience, I cannot imagine anywhere else. Orchestras in the US have a big advantage because they have money; they can hire the best musicians in the world, but here one can feel true life experience and enormous potential. It's great to be here and to come often, and I hope it will continue in the future.
WITH HIGHEST RANK ARTISTS
Vladimir Kulenović's parents, mother Snežana, high school piano teacher, and father Vuk, respectable composer, professor of composition at the Berklee College in Boston, say that, already as a baby, he used to wave a stick when they would play Vivaldi to him. He deeply believes that he will never let the stick go, as long as he lives, because conducting is not a job. For him, he says, it's the meaning of life. He states the words of the old international maestro Kurt Masur: "Conductors never retire, conductors die."
Kulenović completed elementary and middle school of music in Belgrade, enrolled in the Academy of Music and then left to Boston in 2000. He graduated from the piano department and gained a magister degree in conducting at the Boston Conservatory. He later enrolled in the Peabody Institute in Baltimore, especially because of Professor Gustav Meier's reputation. After graduating two years later, he applied for the art diploma at the New York Juilliard, the highest level of education for performers. Only three of the 300 applicants were admitted.

– I had a big honor to win the Bruno Walter Foundation a scholarship for two years in Juilliard, located in the "Lincoln Center", in the immediate vicinity of the Metropolitan Opera and New York Philharmonic. Nowhere have I had the opportunity to meet and listen to so many highest rank artists as I have in New York. I was especially lucky to have a chance to work with Ricardo Mutti in the Metropolitan Opera and to conduct at classes with Alan Gilbert, chief-conductor of the New York Philharmonic.
After graduating from the Juilliard and wining the "Charles Shif" Award for extraordinary achievements in his category, young Kulenović continued in the same manner: in a vicious pace. In May last year he couldn't even find time to go get his diploma, because he was hurrying to Japan, to the Festival of Music in Kyoto, the place that gathers the best students from all over the world. He stayed there for a month, returned to New York, then immediately left to Taiwan, where he had two concerts, returned to New York again, and was given only one week to move to Salt Lake City, since he was hired in the Utah Symphony and Opera, where he immediately began working.
FOSTERING CULTURE, CULTURE OF FOSTERING
– I am very happy because I entered a professional orchestra immediately after school, one that gives great possibilities to a conductor, because I transferred to the side which gives more than it takes. I have about a hundred concerts a year with this orchestra, which is really a lot. I am the second conductor, not chief-conductor, but I have more concerts than him. For the sake of comparison, my colleagues in more prestigious symphonic orchestras, such as New York or Boston orchestras, have two concerts a year, but have to be ready for each concert of all guest conductors, to jump in in case of an accident.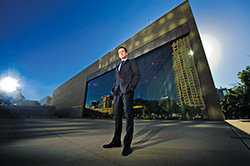 This orchestra is one of the two in America which are supported by the State.
– Our hall was designed by the same man who designed the New York Philharmonic, but ours sounds better – says young maestro proudly. – Everything else functions well too. The 2.800 seats hall in Salt Lake City is always almost full and the State of Utah has given us the mandate to have the entire orchestra travel around the country and hold concerts every year. Since it's a missionary role, in addition to the classic repertoire, I make specific, educational programs. I have an excellent cooperation with chief-conductor Thierry Fischer. If I'd be able to choose an American orchestra, I believe I'd choose this for a start. My objective is not Karajan, but to learn from music, to understand and return it.
Thus it's very important for a young conductor to find the same wavelength and develop trust with the musicians. He achieved it completely in Utah and managed to achieve the same with the Belgrade Philharmonic. They immediately became very close, so it even happened that musicians come and start the rehearsal earlier, which is beyond imagination in the US.
GENTLE LEADER WITH A STICK
– There you have the orchestra manager which stands with a watch showing atomic time from the satellite, so the rehearsal cannot begin or end a second earlier or later. It's iron discipline, you have to respect the rules, which is good, but perhaps a bit unpleasant when one is always under such pressure. For me it's not any more, I'm used to the pace and I'm aware that I have chosen a profession which swallows your entire life. I live in an apartment near work, I wake up very early, have some physical activities, come to work at seven, have a rehearsal at 9.30. It's not just learning and conducting. There are many other things to do as well. For example, design the program. My day has three time dimensions: what I conduct today or during the week, what I learn in the following six months and what my objective is in a year. I really enjoy each component of my work, both organizational and artistic, although I don't have much time for anything else.
It is perfect, he says, when the conductor and the orchestra are a whole.
– The conductor's job is to be a mediator between the composer and the orchestra, to inspire. Much depends on his competence, self-assuredness and stand; he has to be a leader, best if he's a gentle leader. On the other hand, as a conductor, I can learn a lot from the orchestra. I'll never forget the oboe player of the Canadian National Orchestra, with whom I had my professional debut in 2006 in Ottawa. As soon as I heard him, time stopped. That's what I'm trying to say: a partition is not really the end of learning. You mature through your experience with people. That is why I choose to be a conductor rather than piano player, with an ambition to become chief-conductor of a professional orchestra one day.
***
Father and Son
Vladimir's father Vuk Kulenović has been living in America for 20 years, and made a great success in Boston with his sixth, "Electric Symphony".
– I already conducted his "Adoration of Moon", and played his chamber music as a pianist – says Kulenović junior. – I'm supposed to perform his excellent composition "Mechanical Orpheus" this summer, so the Utah Symphony and Opera will be the best American orchestra which has ever performed any of his pieces. Everything he does is close and important to me. My dream is to, when I achieve the level in my career to select the program myself, participate in performing his numerous symphonic pieces. In my hometown of Belgrade.