Ethno
MILICA MILISAVLJEVIĆ DUGALIĆ, PERFORMER AND GUARDIAN OF SERBIAN MUSICAL HERITAGE OF KOSOVO AND METOHIJA
If Singing Fades, All Will Fade
The great people of traditional Serbian Kosovo and Metohija singing, such as Voja Dimitrijević, Jordan Nikolić or Mara Đorđević, today seem as permanent values. They testify about the taste in music of a time much more authentic than the one we have today. In the present times, we must sing about Kosovo and Metohija, to ourselves and out loud, all the time. If the song continues living within us, all this that's bothering us, however long it takes, will only be a temporary tempest
By: Miloš Vojinović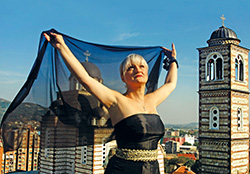 She is journalist by education, works in Zvečan, in TV "Most", as music editor. However, her life is completely marked by Serbian ethno music from Kosovo and Metohija, which she has been performing on high level for decades. The peak of her work up to now is certainly the ethno album Silent Bells, published by PGP RTS, in which Nenad Milosavljević (Neša Galija), composer and producer, has participated as an author. In the year 2009, it was awarded for the best ethno album on the Balkans at "Sunčane Skale" Festival in Herceg-Novi.
Milica Milisavljević Dugalić, offspring of an old Serbian civil family from Kosovska Mitrovica, was awarded with many prizes and recognitions for her work. We find her in her studio, finishing her new album.

Your musical expression is signified with in-depth research of ethno-heritage. How come?
When we listen today to the great people of traditional Kosovo and Metohija singing (Voja Dimitrijević, Jordan Nikolić, Mara Đorđević...), from a half-century distance, it all seems like a classical, permanent value, testimony of a taste in music of a time much more authentic than the one today. I myself attempt, while performing ethno songs from Kosovo and Metohija, to have the ancient emotion diving out from them, one surpassing centuries and reaching to the very foundations of our personal and national existence in this sacred land.
EACH SONG HAS ITS STORY
Can we today, from this rock bottom, sing about Kosovo?
Serbian cultural and religious heritage in Kosovo and Metohija is today the most endangered heritage in Europe. Many factors, social, cultural, even political, have always had an influence on authors and creativity.
By constantly expanding the repertoire of Serbian Kosovo and Metohija folk songs and the circle of their admirers and respecters, I want to raise to a higher level the intangible cultural heritage my art of performing belongs to.
So, it is possible to sing about Kosovo and Metohija, it's a must. If the song fades, all will fade. If the song continues living within us and among us, all this that's bothering us, however long it lasts, will only be a temporary tempest. The future of music certainly is in its roots, in the past.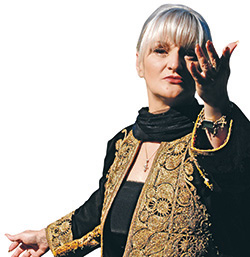 When one carefully listens to the sound reaching us via your voice through the depths of time, what are those ancient singers, our ancestors, teaching us and what is their message?
Our musical tradition is multilayered. Byzantine singing left a trace in Serbian musical heritage, especially sacral. The secular musical heritage, old songs, folk celebrations, human longings, sufferings, wishes and fears, bring us the vivid folk thought. "Each song has its story." Communication is made with contemporary listeners through music, and the message of our ancestors, ancient singers and mythographers, is transferred in different levels, conscious and unconscious, visible and invisible.
It is not easy to survive with authentic, especially Serbian values, in today's music in Serbia?
The music in Serbia is shaded with politics, the mainstream is of low value, so all responsible ones should work on improving its quality. As for the religious and national designation, there are good and bad people everywhere. Don't forget who and what you are, so you wouldn't become bad people. Preserve self-respect so others would respect you too.
THUNDERING SILENT BELLS
Of all the composers and producers you have cooperated with, it seems that working with Nenad Milosavljević has been the most productive?
You are completely right. Neša Galija is an extraordinary author, with great creativity and imagination. My album Silent Bells, which he designed, composed, arranged, produced and played with his associates, marked my musical ethno expression and brought me recognitions. Even three years later, the album is actual as if it has been published yesterday. There you see how loud Serbian, Kosovo bells can be heard, even though they are silent.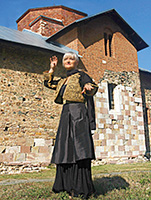 What is your closest and most favorite musical project?
I consider the songs to which I breathed a new life most important both in terms of music and culture. I had the opportunity to learn from the source. Lyrical singing and Byzantine tone have been cherished in Kosovo and Metohija for centuries, from generation to generation, therefore they are close and dear to me.
And what song?
I very much like the song "Slavuj pile", one of the most beautiful love songs from Kosovo and Metohija. In the song, the girl asks the nightingale to stop chirping, because her sweetheart is sleeping. She put him to sleep, so she will wake him up herself.
Despite everything happening to us, you decided to stay in the southern Serbian province, to live and work there?
All my living family and graves of my ancestors are in Kosmet. My soul is in Kosmet. Whatever house you enter, people greet the guest with a smile. Whatever they offer you, they do it from the heart. Where else could I find all that, except in the place I belong to?!
Are you preparing any new musical recuperations and joys for us?
I'm in the studio, recording the second album of ethno music. I found more old unrecorded songs from Kosovo and Metohija. The new album is different. It has an excellent atmosphere, with old instruments, full of kavals, bagpipes, tupans. My new young associates pervaded the songs with freshness and enthusiasm of youth. Dejan Arsić, composer and producer, is successfully managing the entire project. I will promote a single these days, which has already been well accepted by admirers of ethno music, to announce the new album.
***
Silent Bells
The name of Milica Milisavljević Dugalić's album "Silent Bells" was taken over from the book of late Zoran Bogavac, published by "Princip Pres". The book "Silent Bells. Christian Heritage of Kosmet", awarded with the "Stuplje" prize at the International Book Fair in Banjaluka, received high grades from professionals and readers. Now the silent bells have transferred from the book into music, to be preserved there until the time comes.
***
Awards, Performances
In 1971, Milica Milisavljević Dugalić was the youngest winner of the popular "Maksimetar" competition organized by RTS. At the "Subotica 72" Festival, she won special prize as the youngest performer. She won first place at the "Akordi Kosova" in 1976. From 1977, she was member of the "Kosovski Božuri" band in Priština, with which she published a record in 1979 for PGP RTB.
She continued her solo career in 1980. She was winner of the "Silver Microphone" at the "Akordi Kosova 82" Festival for best interpretation. In 1985, she was awarded with "Golden Microphone" of Radio Priština, and in 1986 with a plaque and "Performing Artist of Yugoslavia" title. In 1991, she represented Priština TV at the "Eurovision Song Contest"...