Memory of the Street
THE BALLAD OF VLADA GRK AND THE BEAUTIFUL RUSSIAN GIRL
Life Passes By like a Bad Party
No one knows who brought that boy with a glass eye to the Writers' Club, to the water trough. Pera the Horse, Aca Sekulić, or someone else? But everyone knows that the apartment of Vlada the Good was the sanctuary of Belgrade homeless writers and painters, especially during long winters and starving years. He left behind a love, a war and a life. Illness caught him suddenly, at a curve, when he didn't care any more. He departed silently, alone in a crowd, the way he lived
By: Nebojša Jevrić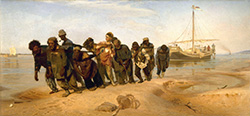 Vlada Grk, Vlada the Good, was a boy from the Belgrade skyscrapers. Belgrade homeless writers and painters used to sleep at his place. He was yellow, short, without one eye. At a football game in the hood, Vlada was the goalkeeper. He jumped for the ball and dropped his eye. The game was stopped and everyone started looking for Vlada's eye.
One starving year, the famous actor Slavko Štimac spent an entire winter at Vlada's place. Štimac was in great drinking and no one dared to give him a role.
Everyone from our crowd was doing something. Vlada did nothing. He was just Vlada Grk. He always had money in a stack for another bottle of brandy. Vlada Grk lived his life alone in the big city. We were his family. No one remembers who he came with to the water trough, to the Writers' Club. Some claimed it was Pera the Horse, others that it was Aca Sekulić. He stayed there. At the water trough, among Serbian writers.
Then a war started. I ran away to Sarajevo from women and creditors.
Nedžarići were burning from four sides. The sky over the city was burning. There I met a family of real Herzegovina heroes, the Grković brothers. Vlada Grk understood the logic of war before all of us. Again, who knows how, he had a bottle of brandy with him. Almost transparent, he roamed the hallways of the "Terma" hotel. The room he slept in faced the Turkish positions. Once, he got out of bed drowsy and a sniper bullet whistled through the window glass. Vlada threw himself on the bed and said: "I'm never getting up."
Since then, whenever there were no actions, he was in bed in "Terma" drinking brandy.
That's how he became friends with Čeda from Žitište.
After returning from the "Terme" hotel in Ilidža, Vlada and Čeda decided to turn to business and forget the war. It was 1993. Hunger.
Vlada had an apartment in Belgrade, across the street from "Sava Centar", and Čeda had a kafana in Žitište. Čeda also had a wife and a son. When he left to war, his wife left and took the son.
Grk sold his apartment and decided to invest the money in a brothel the two of them would open in Žitište. He easily found a buyer for his apartment and they bought the first Russian girl cheaply, for only 700 Deutschmarks, for three months.
NEITHER TO DAVID, NOR TO THE EMPEROR, NOR TO SIPAHI
Olya was the first and last Russian who came to Čeda's kafana. It was the winter of 1993 and you could drink the entire day for ten marks. Vlada had thirty thousand marks, his Russian girl and his kafana. And he fell in love.
Then Vlada Grk began living like a Russian prince in the village of Žitište.
He bought a car, hired a driver and two secretaries. He rented another kafana across the street from Čeda's and brought two bands.
When they'd get bored in the kafana, they'd bring both bands to Čeda's house and they had to play even while my two war comrades, Čeda and Vlada, were sleeping.
The kafanas were full, but the drinks were mostly on Vlada.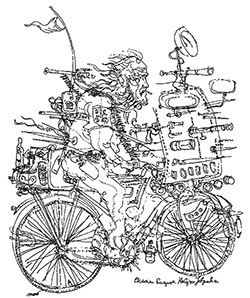 Three months later, Olya, the beautiful Russian girl with whom Vlada Grk partied in Žitište, was out of mysterious pills she used to take every day. They were strong neuroleptics. She began running wild and breaking everything. It took Vlada long to believe that his love is ill. And it was difficult for little Vlada to part with his Russian girl. But the money was coming to an end as well.
Only then they found out that the mysterious flame in the corner of her eye, the thing which made Vlada Grk jollify and party, was a serious and incurable disease. Escorted by the police and medical staff, Olya, crazy Olya, flew back to mother Russia.
Vlada and Čeda continued partying for another month, until they were out of money, and then returned to where they'd left me, to Serbian Sarajevo, to the land belonging neither to David, nor to the emperor, nor to sipahis.
After the war had ended, Vlada Grk purchased a van and parked it in Bulevar. He sold books and slept there among them. He dreamed about his first and last love. He could earn enough money to buy a drink. Then he'd throw the books into the van and spend the night there. Among books. His debtors, whom Vlada gave money openheartedly, never showed up.
But he had enough to survive.
Then he felt pain. In the chest. Not from smoking.
Mean disease, evil. Lung cancer.
I visited him during the bombing. He was lying in the sheets and said:
"Listen, scribbler, you know all sorts of things. Where can I find a truck of explosive? I'll be gone soon. That's why I want to drive the truck to the NATO point, to blow them all up!"
Little Vlada Grk died three days later.
Without any death notices, without friends. Silently, alone in the crowd, the way he lived.
***
They Were Ruining My Furniture
Šole the Boxer, Šole of Peć, lived on the ground floor of a building in Dorćol. He was never a boxer, but he was beat so much that he had a boxer nose and the nickname. He once fell asleep with a cigarette and set fire to his apartment. The neighbors called the firefighters. Šole jumped out of his bathroom window and sat on a bench in front of the entrance in his pajamas. When the firefighters came and began extinguishing the fire, he knocked down the chief of the firefighting team. He had only one explanation before the judge:
"They were ruining my furniture!" (...)
"So, Šolević, wanna go to jail again?"
"I am Pontius Pilatus, procurator of Judea, take me away! I killed Jesus."