Worlds
SCULPTOR SRETEN STOJANOVIĆ, PROFESSOR AND ACADEMICIAN, REDISCOVERED CLASSIC OF SERBIAN MODERN ART
Internal Strength of the Balkan Human
Early noticed talent, younger brother of famous Dr Mladen from Kozara, member of "Young Bosnia". After the assassination in Sarajevo in 1914, he was imprisoned with Kosta Hakman. He worked in "Književni Jug" with Ivo Andrić and Ivo Vojinović, was taught by Zelezny and Levandovsky in Vienna, was friends in Paris with ingenious Japanese drawer Fujita and Isadora Duncan, with Sava Šumanović, Milo Milunović and Risto Stijović. Kašanin, Rastko Petrović, Gustav Krklec... wrote about him in Belgrade. The exhibition in RTS Gallery was an incentive to remember him
By: Dejan Đorić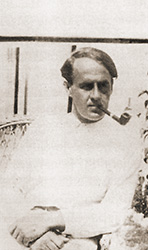 The life story of some artists and its richness surpasses their work, which cannot be understood without it. There are artists living the life of an office clerk, entering adventures only in their studios, while they are creating, and others for which Lazar Trifunović said they eat with two spoons. Sculptor, painter and critic Sreten Stojanović, whose retrospective exhibition was open the RTS Gallery in Belgrade from June 18 to September 6, is certainly among the latter ones.
He was born in Prijedor in 1898, in the family of a priest. Originating from Nevesinjsko Polje, he listened to stories about magnificent Russia from his childhood. As a boy, he drew a stag beetle and showed it to his father. The father liked the work so much that he gave him a big golden coin and told him he would become a master. It's the well-known story about the bug and the father from his biography.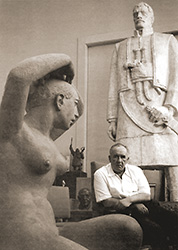 He was not a good student in high school, but his talent for art was immediately noticed. With his older brother Mladen, later legendary hero from Kozara, he became member of "Young Bosnia". After the assassination of Archduke Ferdinand, still as a high school student, he was arrested and sent to prison together with Kosta Hakman, his friend and later famous painter. Talented drawer and woodcarver, he discovered his talent for art in prison. He made tobacco boxes of linden wood with figures in folk costumes, and kept one of them until the end of his life. After being released from prison, he went to Zagreb, worked different things for the Književni Jug magazine. There he met many respectable people, such as Ivo Andrić and Ivo Vojinović. In 1918, Dr Đurica Đorđević from Zagreb became his great benefactor and sent him to school to Vienna. He attended classes of professor Zelezny, virtuoso in making wooden sculptures, and professor Roman Levandovsky, Rodin's student, who told him that his education in Vienna is completed and that he should go to Paris.
SAVE THE HIGHLANDER WITHIN YOU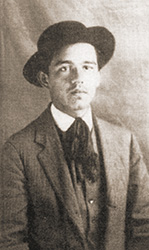 Stojanović's life is divided into periods before and after living in "the city of light". Instead of the Academy, he attended the private school of Antoine Bourdelle, the greatest living sculptor at the time. He advanced rapidly in three years, so he became the master's assistant in a way and gained many privileges. Bourdelle learned from Rodin for twelve years and directed Stojanović towards modern expression, although the young artist never became his epigonus. He told him: "I like the fact that I see a highlander in your works, I like your works because they have something wild in them. Keep it as a great treasure."
Entire Paris is a big school, says Ljiljana Porčić, expert in the artist's life and work, writer of the introductory study in the catalogue. Museums, cafés, exhibitions, theaters and several-hours discussions in studios form an author. Stojanović was friends in Paris with ingenious Japanese writer Fujita, Isadora Duncan, sculptor Zadkin, Kisling, Milo Milunović, Risto Stijović, Sava Šumanović, he attended Dadaist seances of Tristan Zara, was a dear guest in the home of Henry Bergson, made portraits of the then still unknown great artist Alberto Giacometti, but didn't get involved in the actual extremes of avant-garde aesthetics. He visited Florence, Munich, Berlin and London, exhibited at Paris salons. He knew Maxim Gorky.
IN TOUCH WITH REALITY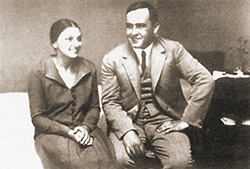 After returning to the country, he settled in Belgrade. He exhibited with famous artists; Milan Kašanin, Rastko Petrović and Gustav Krklec wrote positive critics about him. He was also involved in art critic, as a critic of the Politika daily.
He had material security, had a daughter Jovanka, later professor of history of medieval art, held popular lectures at the "Kolarac" and earned a big studio. He became professor of the Art Academy and High School of Pedagogy.
He spent the war in Belgrade. After the war, his born traditionalism introduced him to socialist realism. He received numerous orders, was our representative at the Biennale of Venice, professor and rector of the Academy of Art, president of the Serbian Artists' Association, editor of Umetnost magazine, initiated the "Painters and Sculptors" edition, which published eighteen monographs, and became member of the Serbian Academy of Science and Art. His life was interesting, at times dramatic. Based on his experience, he created a comprehensive work, always in touch with reality.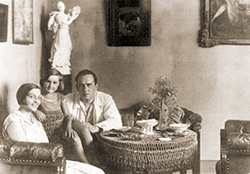 Sreten Stojanović is a sculptor of modern expression, with which he surpassed socialist realism, although he had never abandoned classic form. His sculptures are heroic and dramatic, they express the internal strength of the Balkan human, barbarogenius – the blood and the soul of a human from cruel Balkan mountains, as he used to say.
While mostly dealing with the classic subject of portrait and bust in plaster, marble, bronze and wood, as well as monumental sculptures, similar to Milo Milunović and Petar Lubarda, he searched for the strongest possible expression. Stojanović's works are most often not enhanced, but disheveled, bursting with internal energy. His favorite subjects are gusle players, ancient heroines, warriors and Karađorđe, to whom he raised a three-meter high monument.
He is one of the last Serbian sculptors of the old school and comprehensive vision, who knew how to descend to the greatest silence and peace in showing the person's character. Such a general swing and security are rarely seen today, so the exhibition completely revealed one of the forgotten classics of Serbian modern art.
***
Books
He published art critics and essays in Umetnički Pregled, the most reputable magazine between the wars, and collected his studies and articles in 1952 in the book About Art and Artists, preceded by the book Busts.
In 1927, he stayed two months in Russia with Dragiša Vasić and Vladislav Ribnikar and published Impressions from Russia after his journey.
***
A Sculptor above All
The exhibition in the RTS Gallery also presented Stojanović's paintings. Although he was a good drawer and some of his paintings have artistic values, they cannot be compared with his sculptures.