Departure
JAKOV GROBAROV (1938-2013), CURSED POET, BOHEMIAN, CARRYING SCARS FROM ALL TIMES, WITHOUT A SASH
Pilgrim's Goal Is Invisible
He was brought to Belgrade from Mostar and employed at a funeral company by Momo Kapor, but that is a whole different story. He was spending nights with Branko Miljković, Brana Petrović, Libero Markoni... "Belgrade would be empty without Grobarov" (Ršumović). He was constantly saying the verse: "Andrijana Tioles, you will be poplar..." In his book-testament, he asked the following words be inscribed on his grave: "I'll be right back!" He had no predecessors, no heirs, but his biographers will be numerous. Because it will be the history of that Belgrade which we will forever be pining for
By: Nebojša Jevrić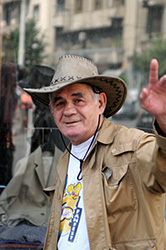 Jakov Grobarov died. First he was Miladin Kovačević, and then he wrote the verses: Me Destiny – Slave of the Grave. He was frequently saying poems in taverns. An orphan from the war orphanage in Trebinje was never allowed to enter other institutions. But he never asked for that. And then Me Destiny – Slave of the Grave (Ja kob - Groba rob) turned into Jakov Grobarov.
"He was an urban legend of Belgrade. The last one. Without predecessors and without heirs", Brana Petrović wrote. He left a book-testament asking that the following words be inscribed on his grave: "I'll be right back!"
The Bermuda Triangle in Belgrade: "Lipa" – "Šumatovac" – "Grmeč", where famous drinking bouts grobarovke used to be organized, is gone. Gobarovke would last for a week. It was easy for Grobarov to drink when he has no problem with guilt in the morning. No, he was not immoral, he was above moral. He will be remembered by many. Many received a scar from him as a souvenir. We forgave him everything, and he forgave everybody. Even the police which used to detain him often during Tito's era. Until his fame exceeded the size of its scandal. And he was a master of scandals.
He was loved even by those who he gravely offended, and by those who should be forgiven by him. He used to sleep on attics, elevators. hallways. And then he got a room above "Kalenić" tavern. He often dreamed that the floor would collapse and he would fall straight into the tavern. He was known and loved by Saša Dragstor and Matija Bećković. He was not given national pension or national funeral. They buried him in a grave at Bežanija Cemetery.
Poets and pilgrims. And nobody even believed that he was mortal. If he is mortal. I met him in the Congregational Church, where he prayed kneeling down, for the first time. Then I didn't know who he was but I found that out soon.
This is only a small article about a man whose life deserves a novel. And he appeared in novels of many local writers. Especially in oral literature, literature of the street.
FIGHTER AGAINST HIMSELF, PERSISTENT AND STRONG
It was one of those small shacks adapted into rooms for rent, with an outdoor toilet and tap water in the backyard. They would usually have an ancient sofa and a closet. They often leaked. The cheapest kennels in Belgrade. It was rented by Emil and the rest of us would spend nights there when there was nothing else. I sneaked out and went to get rakia for cooking. Emil would wake up only when he would smell the boiled rakia from a dented teapot, the only dish we had.
Only after that we would go out. We would go out to look for Grobarov.
Everybody knows Grobarov.
Grobarov is everywhere.
Grobarov comes from all sides.
Tito was dead.
The city is opened.
And everybody waited to hear what Grobarov would say.
There is no table in Belgrade taverns where you cannot approach a drunken company and ask: "Excuse me, has anybody seen Grobarov these days?"
Out of three drunken men, one would surely know Grobarov.
"Is that man alive?!"
"He is alive, just the other day we were at..."
And then you jump in with yours story about Grobarov.
The best storytellers in the world are alcoholics who have not yet been destroyed by alcohol and who have no money to pay for their drinks. They have to tell stories so well that no one of those people who have money would think about leaving. Scheherazade was fighting for her life and you have to get a drink, otherwise you'd be killed by the crisis. Food is a habit, alcohol is a need.
And before that guy who stuttered "Is Grobarov alive" managed to come to, I was already at the table. And I was already releasing the feelers toward the wine bottle and asking the waiter authoritatively to bring me a glass.
I heard about Grobarov when I was a high school student in Bijelo Polje. Theatre amateurs from Berane at a festival performed his play Game of the Right Quarterback. There was a discussion afterwards. Jevrem Brković was talking about this as of a sick literature and sick writer. And I liked exactly that.
A failed student of literature and a poet with whom all the girls from the high school literary club used to be in love was telling us about Jaša, because he had long hair and knew Miljković's verses by heart. Once he even made a photo with Desanka Maksimović.
He used to tell us how he had drunk with Grobarov at the "Last Chance".
WEALTH OF THE POVERTY AND POETICS OF THE BOTTOM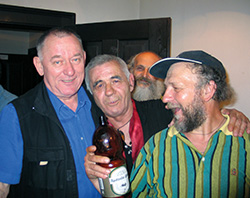 When I came to Belgrade, the first person I wanted to meet was Grobarov. Late Bulatović would never forgive me for this.
Grobarov was a democrat. There was no one whose drink he would refuse to drink.
When I would begin my mornings at the railway station, I would first go to find Pajče Paja. Paja the countryman. Paja is a good boy. He has good heart, so they call him Pajče the Villain. He has three Gypsy women who work for him in the park near the Faculty of Economy. He has a big golden chain around his neck. And he always asks me what I want to drink.
Then up the hill toward "Astoria".
Žika the Stuntman is in "Astoria".
And I ask him about Grobarov's whereabouts.
And then, along the Terazije Ridge. the Magical Rock for those who are coming to the City. What is Montmartre hill for Paris, the Terazije Ridge was for us.
I was climbing to the top of the Terazije Ridge.
I entered deep into the Bermuda Triangle, bypassing the crosswalk. It's jinx. And because of Grobarov.
Jakov Grobarov or Miladin Kovačević. A writer. Personal pensioner. War orphan. If he was ever born, he was born in Herzegovina. He published his first book and drank his first drinks with Slavo Bogojević.
He used to sleep in elevators, hallways, attics, prisons, hotels, at Sava Jokić's, at Šole Bokser's. Often he would not sleep at all.
He used the fee from his first book to rent a room. And he asked friends to celebrate. The book was small, the size of a matchbox. But it was a big reason for celebration. When he came back the next evening, he found the door locked.
– You don't live here any more – said the landlady from the other side of the door.
– But I only need to get my stuff.
– As for the staff, I can return them to you through the keyhole.
And really, she managed to return all his things – a copy of his first book – through a big old-time keyhole.
HE DEFENDED HIMSELF AND MOCKED WITH INSANITY
In 1959, with a little help of his big friends, Grobarov reached neuropsychiatry ward and the department for treatment of boozers. Slava Bogojević visited him every day. And brought him eggs. Eggs from which he would extract the content with a syringe and filled with rakia "daskovača", formerly a famous booze.
One day, while he was drinking his fifth egg, it fell down and spilled all over the room, the smell went everywhere, and Grobarov was caught.
– Comrade Grobarov – the doctor told him then – if you continue to drink, you will die in three months.
Jaša, of course, continued to drink and the death really came three months later. The doctor died. Secretary of the tenants' council connected this with the cat that followed Grobarov everywhere, skillfully climbing up that rope of Sava Bogojević in the church.
No wonder people were running away from Grobarov outside the crosswalk. He even took a share of the Nobel Prize from Andrić.
– Grobarov, your financial problems came to an end. Come to the Association tomorrow, I left a blue envelope for you with the secretary there – Andrić told him one day when he met him on the street.
Together with money, in the mysterious envelope, Andrić also left him three tarot cards.
That same night, drunk, Grobarov lost the cards at the "Las Chance". Even before the dawn he forgot what cards they were. Since then, every day at dawn he would throw tarot cards, trying to remember unsuccessfully which cards they were.
An the share of Andrić's Nobel Prize lasted a week.
***
Searching for Grobarov
It is a nasty trick: not knowing how to do anything but to write. And be needy, and be penniless. I only knew that I was a writer. And I didn't know anything else. The selection was great. Literary market offered a lot at that time. Postmodernism or writing about nothing, as the precondition of social and political aptness, or being a dissident at party's duty, which often turned into socialistic realism of that gang. Between these two ruling and apparently opposing trends, I chose the third: searching for Grobarov. Disgust and despise toward the successful, believing that they always give a piece of themselves for the sake of success.
***
Educators
Slava Bogojević was painting the ceiling of the Congregational Church without scaffolds. He was floating in the air, ten meters above the ground. From time to time he would throw down the rope onto which Grobarov would tie small rakia bottles.
Grobarov was educated by Libero Markoni, Slava Bogojević, Risto Ratković, Žorž, an anarchist from Odessa who is still drinking his booze on Montmartre.
And he also educated them to an extent.
***
Horse without a Horseman
He was the right quarterback, but still everything revolved around him. His first book, "Interpretation of a Dream", was published in 1961. It was followed by books of short stories and poems "The Pilgrim" (1968), "In the Dressing Room" (1976), "2000 Is Approaching" (1989), novels "Drawer without a Number" (1973), "From God or Devil" (1990)...
The series should certainly be complemented by "Horse without a Horseman", "Scars for All Times", "The Past Has Past" (autoboemography), "Tavern Pearls", "Who Said: Cheers", "I Will Live from the Beginning"...