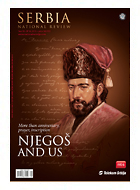 SERBIA - National review, No 39

Prologue
So many blockheads and miscreants are acting in this bad theatre performance around us that a decent man, even if not very squeamish, simply cannot stay till the end. He must search for the true face of the homeland. That is why the Holy Bishop is on the cover page of "National Review". That is why we visited the First Europe in Vinča, followed the Nerodimka River down to both seas in which it empties, reached the mythical Herzegovina with Radoslav Bratić. We got reminded of Sava Mrkalj, Miodrag Grbić, Sreten Stojanović. We hovered around Rudnik, said goodbye to Jaša Grobarov, went overseas.
And again, Snoopy was right: "No problem is big enough that you cannot run away from it." <


GALLERY
CONTENTS
Prologue
MORE THAN ANNIVERSARY, PRAYER, INSCRIPTION
Njegoš and Us
Vitrage
NUMBERS, EVENTS, INTERESTING THINGS
Album
VISUAL READING OF "THE MOUNTAIN WREATH"
Painting into the Heights
Road Sign
NEW EXHIBITION AND OLD QUESTIONS AT THE VINČA SITE, IN THE HEART OF NEOLITHIC EUROPE
Golden Age of Mankind
The poet Ovidius considered that era golden. Science has no dilemma that the Neolithic Age had its highest achievements in the culture of Vinča. That is where the mysterious "Neolithic revolution" took place. The discovery of Vinča dramatically changed the entire view on prehistoric man and revealed the superficial arrogance of modern barbarians. What about Serbia, the immediate inheritor of that priceless heritage? What is Serbia doing?
By: Radmila Tamindžić
Mark
IN LOWER NERODIMLJE NEAR UROŠEVAC, IN THE SOUTHERN SERBIAN PROVINCE, A NATURAL PHENOMENON
One River into Two Seas
The scientists call this bifurcation. At the place where there used to be one of the royal seats of the medieval Nemanjić dynasty, the Nerodimka River branches out. One of its branches flows toward the Sitnica and Ibar, all the way to the Black Sea, and the other branch to the Lepenac, Vardar and Aegean Sea. This is also accounted for in the Charter of Gračanica of King Milutin from 1321. Just like the Nerodimka, the Casiquiare River in does the same thing and empties in both the Caribbean Sea and the Atlantic Ocean on the level of the Equator
Text and photographs: Zoran Vlašković
Summits
IN RUDNIK AREA, DOWN THE ROADS LESS TRAVELED
All the Beauty and Sorrow
It is here, within reach, and it seems like you have heard it many times before. And then you take off, like a pilgrim, through vineyards and orchards, over valleys and creeks, through forests, from Topola to Donja Šatornja, then to Rudnik and, ashamed, you realize how much you have left to oblivion. In these landscapes where the New Age Serbia has risen many times, one can now buy half a village for the price of one apartment in Belgrade or Novi Sad. But, even disturbances may not last forever, it simply does not happen, so do not think about this
By: Dragana Bukumirović
Photographs: Dragan Bosnić, Dragana Bukumirović
People and Waters
SMALL JOURNAL OF SAILING ON THE TARA AND THE DRINA
See It Through My Eyes
Rafting is not just an adventure. The river teaches us patience and calmness, specific kind of wisdom. To admire, to love and respect it. It sometimes cruelly warns shallow and haughty people. Otherwise it multiply returns care and gifts. It amazes and recuperates us. We are in nature, nature within us. Everything is in everything, borders don't exist. What we are searching for and what we find is the point of balance within us, a forgotten stronghold
By: Sandra Gagić
Photo: Lenka Miletić, Radmila Đević
Across the Sea
THE MOST ATTRACTIVE COUNTRY OF THE MAGHREB, ON THE RIM OF THE ATLANTIC, AT THE GATES OF THE SAHARA
The Fascination Called Morocco
Not a single shot in the famous film Casablanca was actually made in that city. In Fez, nobody is wearing a hat which got its name after this city. But in this picturesque country, enchanted, you start feeling like you have suddenly appeared in a story form the one thousand and second night. Citadel Oudaya in Rabat, Roman Volubilis, lovely Meknes, peaks of the Atlas covered with snow and a caravan string disappearing in the desert, enchanting whirlpools of Marrakesh, and many other things will make you feel forever connected with this place at the seam between two worlds
Text and photographs: Josip Šarić
Reminder
DOUBLE ANNIVERSARY OF SAVA MRKALJ (1783-1833), ALMOST FORGOTTEN SERBIAN GENIUS
The Sin of Being above Average
He spoke at least seven languages, ancient and modern. He had the highest grades at his philosophy and mathematics studies in Pest. He made an epochal shock in Serbian science and culture, with a book of only eighteen pages. Leaning upon Locke and Adelung, he elevated the hundred years old efforts of Venclović to the level of a language system and founded everything important later completed by Vuk Karadžić. It was difficult for his refined spirit and oversensitive nature to suffer three big breaks in his life. It is considered that he died at the age of fifty, in a Viennese "mental institution", but no one knows how or where his tomb is
By: Uroš Matić
Traces
SERBIAN ARCHEOLOGY IN 150 STORIES: MIODRAG GRBIĆ, PHD (1901-1969)
Discoverer, Protector, Relic-Carrier
Earned his PhD degree in Prague. Conducted researches in dozens of most important prehistoric and antique sites, from Pločnik near Prokuplje (1928), Humska Čuka near Niš (1934), to Heraclea Linkestis near Bitola (1936-1938). Discovered and defined the Starčevo culture. Initiated systematic research in Sremska Mitrovica, Niš and Mediana. Had a great contribution in the works of museums and professional protection of cultural monuments, in saving people and sanctities
By: Vojislav Filipović
Worlds
SCULPTOR SRETEN STOJANOVIĆ, PROFESSOR AND ACADEMICIAN, REDISCOVERED CLASSIC OF SERBIAN MODERN ART
Internal Strength of the Balkan Human
Early noticed talent, younger brother of famous Dr Mladen from Kozara, member of "Young Bosnia". After the assassination in Sarajevo in 1914, he was imprisoned with Kosta Hakman. He worked in "Književni Jug" with Ivo Andrić and Ivo Vojinović, was taught by Zelezny and Levandovsky in Vienna, was friends in Paris with ingenious Japanese drawer Fujita and Isadora Duncan, with Sava Šumanović, Milo Milunović and Risto Stijović. Kašanin, Rastko Petrović, Gustav Krklec... wrote about him in Belgrade. The exhibition in RTS Gallery was an incentive to remember him
By: Dejan Đorić
Life, Novels
RADOSLAV BRATIĆ, WRITER, ANNALIST OF MYTHICAL HERZEGOVINA, EXCLUSIVELY FOR "NATIONAL REVIEW"
Faithful to the Truth, In Spite of Everything
Deafened by circuses, turmoil and loud emptiness, a writer will find the best stronghold in literature. It is difficult to say where his past boy-narrator is today and all the things that have happened to him. If we understand the nature of the occupation we are in, the rest will just appear before us. It is not easy to save children or to call out to the brainwashed ones. The planet is heavy with banality and senile barbarism. What can a writer do in a world without justice and dignity of words, deep in tricks and plunderage, robbery and lies? Things are difficult, yet simple
By: Branislav Matić
Circles
THE THIRD BELGRADE FESTIVAL DEDICATED TO WRITER AND PAINTER MOMO KAPOR (1937-2010)
Unconditional Love Story
This is the most beautiful and the most "Belgrade-like" of all festivals in the capital. ala. Really, who loved Belgrade more tenderly and more charmingly than Momo?! He himself used to say that his line, the line with which he used to capture city portraits and landscapes, is a seismograph of the soul. Following this restless line at this year's "Momo's Circle", for two days, on September 6 and 7, we walked through the "Kaporian" Belgrade – Ada, Neimar, Dorćol, Skadarlija, Kalenić, a sentimental puzzle of unwavering love
Text and photographs: Dragana Barjaktarević
Departure
JAKOV GROBAROV (1938-2013), CURSED POET, BOHEMIAN, CARRYING SCARS FROM ALL TIMES, WITHOUT A SASH
Pilgrim's Goal Is Invisible
He was brought to Belgrade from Mostar and employed at a funeral company by Momo Kapor, but that is a whole different story. He was spending nights with Branko Miljković, Brana Petrović, Libero Markoni... "Belgrade would be empty without Grobarov" (Ršumović). He was constantly saying the verse: "Andrijana Tioles, you will be poplar..." In his book-testament, he asked the following words be inscribed on his grave: "I'll be right back!" He had no predecessors, no heirs, but his biographers will be numerous. Because it will be the history of that Belgrade which we will forever be pining for
By: Nebojša Jevrić
The Media
NENAD J. RISTIĆ, MS, EDITOR-IN-CHIEF OF THE EDITORIAL BOARD OF RTS CORRESPONDENT OFFICES
Quality Is the Key
We can combat the disruption of social values and lethal tabloidization most effectively with quality. We should take systemic measures as soon as possible, maybe even introduce a special tax for the poisoners in the media sphere, but the state and regulatory bodies must also react more rigorously. The media public service of Serbia is doing everything within its scope of responsibility, despite all problems. Correspondent offices in 22 cities in Serbia are an important program advantage of RTS against all other broadcasters with national frequency
By: Goran Budimir
Talents
ALEKSANDAR KUKOLJ, YOUNG MEMBER OF THE SERBIAN JUDO NATIONAL TEAM
Sports Is Sculpting of the Character
He won silver medal at the junior European Championship, gold at this year's Mediterranean Games, however his real achievements are certainly only about to come. The absence of a good system is not an excuse, but a reason to compensate it with personal feats. He considers sport a field of righteousness and honesty, so he never turned to paths where someone else opens the door with unfair means. He was always a straight A school, now university student, because he thinks ahead
By: Dejan Bulajić
Networking
VRNJAČKA BANJA ON THE ACADEMIC MAP OF SERBIA
Student City under Goč
Resting upon 145 years long tourist tradition, the state owned Faculty for Hotel Management and Tourism has been successfully operating here for three years. Interest of freshmen from all over Serbia is great and is continuously growing. As of the next academic year, the first generation of students will be enrolled at the International Faculty of Health Studies
Guide
EXHIBITIONS, A GOOD ASSET IN TOURIST OFFER OF KOVAČICA
Colorful Ethnographic Treasure of Banat
Slovakian Ethno House and Ethno Museum in Padina, Romanian House in Uzdine and Hungarian Ethno Museum in Debeljača show how generations before us used to live in the territory of Kovačica municipality. These are also good illustrations of how materials on national culture can be collected, preserved and turned into an element of modern times
Gatherings
THE TENTH INTERNATIONAL FOLKLORE FESTIVAL IN SREMSKA MITROVICA
The Entire World in Srem
Seventeen ensembles, fourteen countries, three continents, 600 dancers and almost 20,000 visitors have made this festival one of the most important in this part of the world. This year, the was marked, among other things, by the celebration of the 1700th anniversary of the Edict of Milan
Voices
"DAYS OF MOKRANJAC" IN NEGOTIN, AN EVENT WITH GREAT TRADITION AND REPUTATION
Celebration of Music and Culture
This year, the festival will be marked by the 200th anniversary of the Njegoš' birth and the killing of Hajduk-Veljko, an almost legendary defender of Krajina from the Turks. In addition to choir and national art, there will be genre extensions, such as musicals. The Tourist Organization of the Municipality of Negotin is preparing its side programs
Recommendation
TRADITIONAL EVENT IN THE CITY ON THE BEGEJ RIVER, FOR THE 28TH TIME
Beer Flowed through Zrenjanin
Although with a tradition from 1745, the brewery in this city is no longer operational, but the five days long beer fest was visited by about 200,000 people. Everything was filled with songs and interested, and about twenty brewers presented themselves
Catalogue
ACTIVE HOLIDAY IN THE CITY ON THE LIM RIVER
In the Rhythm of Priboj Summer
Beautiful landscapes and outstanding natural features can not be overlooked here. International biathlon, regatta in which there is also a place for people with special needs, as well as an attractive national championship in free climbing in the Sućeska Canyon are just some of the elements of the offer patiently built by the Tourist Organization of Priboj
Gathering
THE THIRTEENTH "SCHOOL OF FRIENDSHIP" ON TARA
There Are no Borders, There Are Gatherings
In the organization of "Our Serbia", more than 400 Serbian children from Serbia, Srpska, Montenegro and Albania, together with guests from Russia, attended programs of the cultural-educational project "Serbian Code". They recognized themselves in others, recognized others in themselves, learning that we are one. There is a desire to create a permanent centre for children and youth with a mission like this on Tara, the tripoint between Serbia, Srpska and Montenegro
Knowledge
PROFESSOR DR ILIJA SAMARDŽIĆ, DIRECTOR OF BELGRADE BUSINESS SCHOOL
Meeting new challenges
The School is already educating students in the area of business informatics, management, finances, accounting, banking, marketing, trade, taxes and customs... It is now getting ready to accredit new programs in both undergraduate and graduate studies, and to, in the upcoming period, grow into an academy of vocational studies. It will soon also enable Distance Learning
Knowledge
PROFESSOR  DR OLIVERA NIKOLIĆ, THE DEAN OF "SINGIDUNUM'S" BUSINESS FACULTY IN VALJEVO
Encouraged by the Youth
"We would like to be different in the sense that our students will focus more on entrepreneurship. Our goal is to support business ideas and fist business steps of our current and former students. We are educating experts in the fields of finances and banking, accounting, business informatics, law, tourism and hotel management..."
Text and photographs: Rozana Sazdić
Connections
"BELGRADE TALKING", AN APPLICATION OF "TELEKOM SRBIJA"
Personal Guide through Tourist Attractions
Based on technology of "Augmented Reality", this unique cultural guide covers more than fifty locations and brings a completely different perception of the Serbian capital. The original special addition dedicated to "Exit" and the Petrovaradin Fortress served as the basis for development of a special application for Novi Sad. In Montenegro, this application currently covers coastal cities, Cetinje and Podgorica, and it is planned to be expanded to other areas as well
Resources
"RADLJEVO", IN UB MUNICIPALITY, THE HOPE OF THE MINING BASIN "KOLUBARA"
New Mine for Old Stability
The ore deposit is stretched over a surface area of almost 6,000 hectares, and reserves of good quality lignite are estimated at 350 million tons. The exploitation should begin in the second half of the next year. This mine is planned as a replacement and is very important for stable supply of current and future thermal capacities in Serbia
By: Ana Pavlović