Pilgrimages
RESTORED ENDOWMENT OF KING DRAGUTIN UNDER CER
Rejoicing in Radovašnica
Looted and bombed by Germans in 1941, the Church of St. Archangels has been rebuilt, thanks to Milica Abt, now Mother Eugenia, who thus fulfilled the pledge given to her husband, a Swiss Christian Orthodox, Adolph Abt, on his death bed. The temple is a faithful replica of the royal endowment from the 14th century and is already a new place for important gatherings
Text and photographs: Milan Janković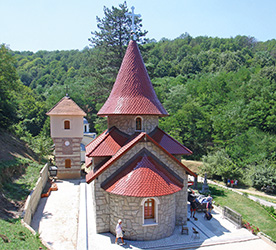 Christian Orthodox believers from Western Serbia will remember the past summer for a joyful event in Radovašnica Monastery below Cer. After more than seven decades, the church dedicated to holy archangels Michael and Gabriel, just like the monastery itself, was restored to its former glory. Big misfortunes give birth to great ascetics, courageous and humble people, who have strength to persevere in their dedication and complete great deeds. And what makes the restoration of this church, with balanced architecture, so special is the fact that its donor and builder, an enterprising and generous woman, came here from rich Switzerland, replacing life in luxury with probation and monasticism.
The builder of the monastery church, Milica Abt, now a nun, Mother Eugenia, spent her life in Basel, married to Adolph, a Swiss, who converted from Catholicism to Orthodox Christianity. The husband and wife pledged to each other that whoever survives the other would dedicate his/her life to God and monastery life. And so Milica, who was born in Semberija, has chosen this holy place at the foothills of Cer as her new home. But she did not only dedicate herself spiritually to the monastery, but has become its donor, donating all of her property she earned during more than three decades of working in Switzerland.
WITH 9,000 CANDLES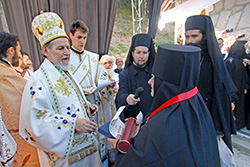 In her mundane life she graduated from School of Music "Kornelije Stanković" and a gymnasium in Belgrade. Since she came from a family upon which the government at the time was not sympathetic, she moved to Switzerland in 1972.
She liked that country, because honest and hard-working people are respected there. She lived with a woman in Basel, studied German and with time she met a Swiss, with family name Abt, which means an abbot. He was a jeweler, came from a wealthy family of craftsmen which had its own company.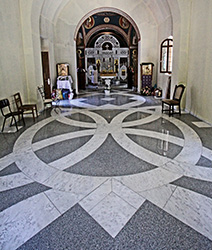 Milica worked there as a bookkeeper, and in her free time she was helping at the Serbian Church of All Saints in Basel. She cleaned, cooked, sang with the choir, helped organizing weddings, funerals and baptisms, with her husband made wafers and Christmas badnjak (oak tree branch), which they would sell and collect donations for the church. Bishops and numerous Serbian priests were frequent guests in their house.
When her husband passed away ten years ago, she visited orthodox monasteries in Serbia and neighboring countries, wanting to become a nun and fulfill the pledge given to her husband. She shoes Radovašnica Monastery for the church dedicated to archangels and which had to be rebuilt.
Radovašnica was desecrated during the Austrian-Turkish Wars, as well as during the First Serbian Uprising, but it suffered most damages in 1941. That year, Germans looted the remaining monastery property and burnt the dormitories and other buildings. Everything burnt to the ground.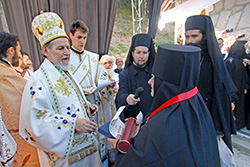 On October thirteen 1941, the monastery church was dynamited and destroyed.
Milica became a novice on April 3, 2010, precisely six years after her husband's death, and became a nun in late July 2013, in the eve of great celebration for consecration of the temple that she built with her own money. As a sign of respect and remembrance, she was given monastic name Mother Eugenia, just like princess Milica seven centuries earlier, who had built Ljubostinja Monastery. Between Mother Eugenia and her great predecessor there is another important similarity. Just like in Ljubostinja, every stone in Radovašnica, and there are about nine thousands of them, is dedicated to someone.
– I received blessings from the Bishop of Šabac Lavrentije and prior, father Nikolai, and I lit nine thousand candles for souls of nine thousand people, both living and deceased – says Mother Eugenia, who has lived for this great project in the past two years, based on witness accounts.
GOD GRANTED, WE EMBRACED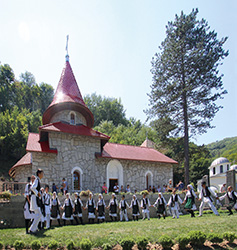 Architects and engineers, experts of all backgrounds, hired in the restoration of Radovašnica, received great recognition for their skills. Compliments also came from abroad and on the internet from the entire world, even from people of other religions. When he saw photographs from the construction site on the website, a Muslim from Abu Dhabi sent an e-mail with expressions of admiration for the future appearance of the church.
– God granted that I have found people with whom it was possible to work. There is nothing without communication and agreements. I knew everything about who was doing what, and sometimes I was even too strict, wishing everything to turn out as good as possible. What can I say, I am only human – says Mother Eugenia, who was decorated by the Diocese of Šabac with the Order of St. Bishop Nikolaj Velimirović. At the church consecration celebration, archpriest Dragan Mićić from Linac was decorated with the same order for his contribution to the monastery, while recognition and gratitude award was given to Petronije Marković from Zurich.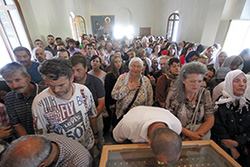 Mother Eugenia Abt has been involved in charity work for a long time, and one of her benefactions is continuous assistance to Seminary students – currently two poor young men are receiving her financial help. During the war in Bosnia, in which many members of her family were killed, she was sending humanitarian aid. She contacted numerous companies abroad in order to collect as much medications as possible, and she would also come to Srpska, to visit one of the hospitals, to see for herself that packages were delivered to the right place.
– Here, in Radovašnica, nature is unspoiled, clean, the monastery has its own economy, and I am glad for this. We have all conditions for production of medicinal herbs, tea, honey, wine and jam, and the monastery can sustain itself from this.
Mother Eugenia believes that more people will come, together with their children and grandchildren, and rejoice in God in Radovašnica.
– I have also embraced god as a child embraces his mother. Nobody could take me away from the church.
***
Building according to Dragutin
The main architect Nada Jovičić Ivančajić and her husband Zlatan Vukosavljević, the project organizer, were very skilled and economical, and the construction of the church, as we have learned, cost only 350 thousand Euros. The building was made as a faithful replica of the endowment of King Dragutin from the 14th century. It was built with modern materials, with three-layered wall. Outside is thirty centimeters thick stone, in the middle just as thick insulation, and brick was used inside, for fresco painting.
***
Under the Eternal Cover
– In the temple we have floor heating, high quality acoustics, the church is covered with brick tiles, baked at over 2000 degrees. It is glazed and specially coated, which makes it eternal. I am more than satisfied – says architect Nada Jovičić Ivančajić. – It was a great pleasure to work on this project with the fraternity and sisterhood of Radovašnica Monastery, and especially, of course, with Mother Eugenia.
***
Sanctity with a Landscape
Consecration of the restored sanctity in Radovašnica has attracted many people from Western Serbia, Semberija, Šumadija, Bačka, Romania and Bulgaria. They were touched with the hospitality in the monastery, the art program in which choirs and folklore dance groups participated, and especially the area in which there is also the Church of the Protection of the Holy Mother of God, built in 1988, a medicinal water spring, two centuries old pine trees and a granary which are under state protection, the creek that runs nearby...