Krajina
OUR REPORTER IN NORTH DALMATIA, HIS HOMELAND, AFTER TWO AND A HALF ETERNITIES
Landscape Painted with Memory and Sorrow
About twenty years of exile, scars of war and the anger, about monks who are healing memories, about a record according to Milutin, about Krka Monastery and the old art colony, the oldest seminary and future bishops, about old and new friends, about pride and melancholy, and everything else I experienced in the corner of the world where my roots are still holding on
Text and photographs: Željko Sinobad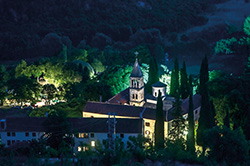 I have an acquaintance, Belgrade artist Milutin Dedić, who is originally from Šibenik. Once he confided in my colleague Miša Lazić and me sharing a piece of his family history that got wedged in my head and haunted me the whole time in the bus to Dalmatia. And he told us the following:
– My good mother Jelka was born in a remote village in Dalmatian hinterland. The name of the village describes it the best: Rupe (Holes). It is situated in the upper reaches of the Krka River, fifteen kilometers from Skradin. Only, the landscape is magnificent: harsh but beautiful. It was given to them by God himself. The villagers of Rupe came here from Herzegovina after the Cretan War in the 17th century. They were Serbs, Christian Orthodox, and others called them Bunjevci because they were from the banks of the Buna River... My mother was from the Mišković family... But when they arrived, the government demanded that they convert to Catholicism. So, what choice did they have, God is one, they consoled themselves leaving behind their old religion. Only one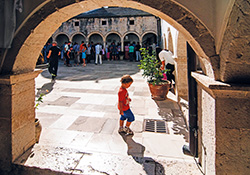 family did not concede, so they were relocated to the far side of the village, so they would not draw attention when some lay or church dignitaries would come to visit. This was Nadoveza family, to which our famous football player belongs... My mother married to priest Jovan Dedić, a Serb, in 1929, so she had to convert back and become Christian Orthodox again. She died on February 19, 1995, in the eve of the famous military-police operation "The Storm". At that time no communication with Šibenik was possible. I did not go there since the beginning of that horror anyway, but now it was my debt to my mother, my origin. My brother Arsen gave me this said news from Zagreb, through singer Lado Leskovar. I called him immediately and cried on the phone: "Hold the burial!" It took me three days to get there, round and about... Now, in Šibenik, there are three cemeteries: one Catholic, one Orthodox and one partisan, and only the last one, about eight kilometers away from the city, has equipment for keeping the bodies of the deceased. They placed her there, although she had never liked partisans. I knew that she was a religious woman and that d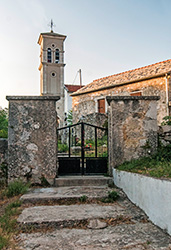 eep down she had remained Catholic, so I went to don Marko, to ask him to hold a funeral service for her. He had one condition: that the service take place on the partisan cemetery, and in presence of only the family members, so nobody would think that he was trying to convert us, Christian Orthodox. It was a Shakespearean scene: a partisan cemetery, Catholic priest, and us Christian Orthodox. After that we buried my mother in a tomb on the Orthodox cemetery. And the entire Catholic Šibenik came to her funeral. For this occasion someone opened a little old church and at least one hundred people came inside to light a candle for the soul of this good old woman.
And here I am, in the bus, thinking that we are all some sort of colonists: some came earlier and grew their roots there, some came later and grabbed the soil only with their vines, but nobody here on the Balkans has their family tree growing at the place where they were born.
I read the other day in the Magazine of North Dalmatia from 1935, which was started and, at that time, edited by Vladan Desnica, that fra Lucijan Marčić and Boško Desnica, then a correspondent of daily paper Politika, were trying to persuade the readers that here, behind the Velebit, the same and equally hard working and honest people live here, and that the only thing that makes them different from one another is whether they are led by Catholic or Orthodox priests. Historical romanticism? Yes, but maybe in the 1930's it was a truly successful formula for a "harmonious coexistence" in the Kingdom of Yugoslavia? Who can tell...
REUNION
I did not go to my Dalmatia for two long decades, and my heart leapt at the thought that we would meet again. One can imagine how I felt when I arrived in Knin, the city of my ancestors, and then in Kistanje and, finally in Krka Monastery, to spend entire two weeks with a small fraternity and painters who had been coming there for twenty years to continue the tradition of the local art colony.
The foundation of this colony was built by the "Zadar Group", art and other dissidents of that time – Mica Popovic, Pera Mladenovic and Mileta Andrejević, who was replaced the following year by Bata Mihailović, when three beautiful female painters (but also future wives) stayed in Zadar: Ljubinka Jovanovic Mihailović, Vera Popović Božičković and Kosara Boškan Omčikus. They were all students in the class of Professor Ivan Tabaković, which is not insignificant in this story. The group fell apart in 1947, as the result of all the troubles that befell each one in this group of defiant artists. And then, in the early 1950's, Bata Mihailović painted a portrait of of archimandrite Nikanor Bugunović and donate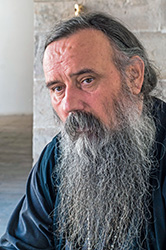 d it to Krka Monastery, which was the beginning! There, in Zadar, they are long forgotten... although the sisterhood of Krupa Monastery had a close ecumenical and sisterhood connections with the nunnery in Zadar.
Krka Monastery was abandoned when in 1995, before "The Storm", it was left by the last monks – the old old abbot, whose heart snapped in Serbia, where he hid from the vengeful winners, and his younger brother and attendant, who did not want to leave him even when the others followed the people.
In the beautiful valley of the Krka River, only three and a half kilometers from Kistanje, upon the wish of Princess Jelena, a sister of Emperor Dušan married to the Croatian Prince Mladen II Subić, the famous ruler of Skradin and Bribir, in 1350 a monastery was built dedicated to the holy archangel Michael. Its lay name is still in use because of the namesake river, the spring of life of the entire region... My destination and lodging.
nearby there is Krupa Monastery, built by Jelena's grandfather Stefan Nemanja, half a century earlier, so I reckon that my roots go all the way back then, that the Sinobads might have already inhabited this area, and that instills pride. Anyway, a part of Knin still has the name Sinobad Glavica – after one of my ancestors, although he entered the history of Dalmatia only in the 17th century, by waging war against the Turks, because of which he was admitted to the Venetian Order of the Knights of St. Marco!
FOURTEEN BISHOPS
Krka is an old sanctuary, so the scars of time it carries, and people's attempts to heal them, are all the more obvious. I am not a historian, but I know from accounts that the monastery was destroyed and left abandoned at least three times: in the early 17th century, when the fraternity with students of our oldest Seminary fled from the Turks to Zadar, in 1943, when people fled from the Ustaše, and in 1995, when the monks followed the people in the eve of "The Storm". And it was looted every time! How did these old buildings carry the burden of time and wars, I don't know. I guess that the One Above is still taking care of that?
At the monastery I found two monks and two painters. One of the painters was my cousin Gula, the second my friend Zdrave. I met (and adopted) immediately those good monks. Abbot Nikodim, young and wise man totally dedicated to the spiritual, a postgraduate student in Rome. He is a descendant of the famous Serbian Dalmatian family which gave birth to some of the great historians and writers. A Dositej was warm, kind-hearted and always smiling. To them I owe my gratitude for not being completely overtaken by memories and possessed by the demons of sorrow.
– I would have been different if it had not been the school break – abbot Nikodim consoled me. – It would have been more cheerful, but also more difficult: for young seminarians to learn, for artists to paint, for you to follow all that, but also for the two of them...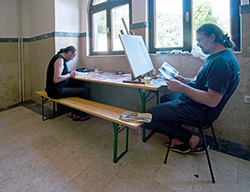 That is how I find out that the Seminary has returned to its former place, returned from the sad exile it had to survive on Divčibare and in Foča. And also that as many as fourteen current bishops of the Serbian Christian Orthodox Church studied at the Seminary in Krka! And how many have there been since its establishment in 1625, only people at the Patriarchy might know?
– Today, about thirty boys attend this school, so you must keep your eyes on each one of them, because who knows how far they can go, maybe even to the throne of the patriarch – Zdrave was teasing me.
He and my cousin Gula, in Knin less known as Nebojša Sinobad, passionately surrendered themselves to graphics this year. From who knows where they brought an ancient press, maybe a few years younger than the Guttenberg's, but it works. Why are they printing so much? Isn't it easier to paint?
– Our idea is not only to increase this monastery collection, which already contains works of our greatest painters, but also to do something we might sell – he explained to me in a conspiratorial whisper. – Because they keep us here without complaining, give us food and water, help us as much as they can even when they have more important business... It is only right to return the favor somehow. And they are located in the middle of a national park, there are tourists here from all over. In such a case graphics is the first and foremost. So, what do you think, are we going to get lucky?
SURVIVED TWO WARS AND TWO PERIODS OF PEACE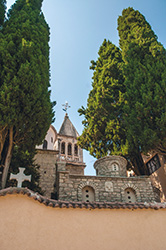 I was interested in the existing collection. Indirectly I led the story to my point of interest and learned that this unfortunate collection almost shared the destiny of the people but that she managed to escape by a thread. In 1995, it was relocated before "The Storm", and during war activities it was exhibited in Sanski Most. Half an hour before entry of the Muslim troops into the city, painter Mihajlo Rakita, managed to take it out and bring it to Banjaluka. But this was not the end of the suffering! Because, in 1999, in the eve of the bombing, it was kept in Prizren. If it hadn't been for some brave guys from Raška, who literally took it out at the very last moment, it would have remained only in our memory...
And I also heard an account about an incredible destiny of the sculptural part of the collection. Namely, this collection was especially dominated by sculptures, busts and reliefs of important personalities in the history of Dalmatian Serbs (by priest Petar Jagodić Korudža, Sava Bjelanović, Nikodim Milaš, duke Golub Babić, bishop Stefan Knežević) and those who stayed with them for a while (King Petar I, Dositej Obradović, Vuk Karadžić, British benefactor Paulina Irby). The works were exhibited on locations historically tied with these people but, unfortunately, they disappeared from their bases at the time or after "The Storm".
– Fortunately, like a part of a prophecy, they were cast in two copies – I was consoled by abbot Nikodim and Zdrave.
TRANSFORMATION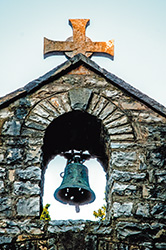 There are catacombs underneath the monastery, formerly used as a crypt, just like in the Cathedral of St. Peter in Rome. And since it is known that Apostle Paul preached around Dalmatia and in this region, these catacombs are tied to this period. It is very obvious that archaeological explorations have commenced here, but were suddenly interrupted without explanation.
Earthly remains of generations of monks, perhaps some earlier ones, are neatly stacked and are a constant target of prying tourists and their cameras, , but to me it looked improper, blasphemous, even sad.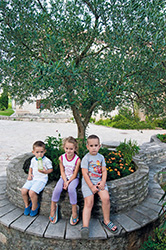 I was cheered up by an unexpected event - the baptism of eight people, including two girls, two young Polish girls, and their mother married to a Dalmatian. Why are they being baptized in Krka? The reasons were personal, so I didn't want to pry.
And then, on Sunday, August 19, on the Day of Transformation of Christ, several thousand people gathered in the monastery and around it: They were all locals, but most of them came from a far, from places they had been exiled to by life or war. For them, this gathering is the last, but also unbreakable link with Dalmatia.
Mine is in Knin, on Sinobada Glavica, near an old school where Dositej Obradović taught in the late 18th century. A plaque indicating his stay here is still standing on the façade of the building, but the stone indicating the year of construction of the school building was broken and vanished. Apparently, someone did not like the date that was a reminder of continuity of Orthodox Serbs in this area?
Eh, my Dalmatia...
***
The Bell
I never thought it was possible, but I saw, and recorded, this ghostly sight: above the monastery gate hung a bell – riddled with bullets! As as if someone had used it to practice sharpshooting and test their hatred? It stands like that today, reminding and warning. Immediately I realized that these were not scars of war, but of hatred! Obviously, the battle with the bell took place sometime later.
***
Saint Days and Memorial Services
In the early 199's, painters who gather in Krka chose Saint Magdalena as their Saint Day, not realizing that that day, August 4, 1995, Croats would celebrate as the Day of Liberation in the Civil War. And it is known what happened on that day and why on that same date some other Dalmatians attend memorial services! Isn't that the same war which apparently failed to end in May of 1945? Fotije, the Bishop of Dalmatia, in order to comfort me and turn me away from gloomy thoughts, says that every storm comes and goes. Did he also refer to "The Storm" when he said that, I don't know.