Reminder
GAVRILO PRINCIP, ASSASSINATOR FROM SARAJEVO 1914, THROUGH THE EYES OF THOSE WHO KNEW HIM CLOSELY
Gentle Young Man and Cry of Freedom
He became famous unexpectedly, yet remained almost unknown for many. Not many people today know that he was a caring son, excellent student and fine poet. That he was named after Archangel Gabriel, on whose day he was born. That he read a lot and was a newspaper reporter. He worked on paving the Karađorđeva Street in Belgrade to earn money for books. He passionately longed to become Serbian volunteer in the First Balkan War, reached all the way to Prokuplje, but was sent back due to his fragile health. His only preserved poem is the one carved with a spoon on a prison dish
By: Petar Stojanović
50 years ago, I met Gavrilo's cousin Bogdan Princip in Sarajevo, where he lived with his wife and daughter. He told me about the big Princip family, Montenegrin origins and the time their ancestors moved to Veliki Obljaj near Bosansko Grahovo.
– We are from a peasant family – says Bogdan. – Gavrilo's father Pero, whom we used to call Pepo, had a bit less than two hectares of land, but such that the corn picked from it wasn't enough to feed his family. Old Pepe therefore transported goods for merchants and was the village postman, which was also the job of Gavrilo's grandfather. Pepo had nine children with Nana, but only Jova, Gavrilo and Nikola survived (the latter became a doctor and was savagely killed by the ustashas in 1941 in the Jasenovac concentration camp).
Gavrilo was born on the floor, by the fireplace, in a Bosnian house covered with shingle, continues Bogdan Princip.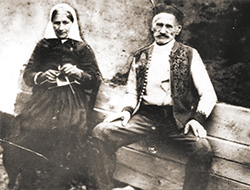 – Watching the women tying the child's bellybutton, Nana had the strength to ask her cousin Janja to go to priest Ilija and tell him to register the newborn as Špira. She wanted him to be as strong as her brother with the same name. However the priest opposed. "What Špira!?" he yelled at the terrified young woman. "Tell Nana that the child is born on the day of Holy Archangel Gabriel and that his name will be Gavrilo." Janja told the whole story, and Nana couldn't dispute the priest's words. The child was baptized eleven days later, and the priest registered him as born on June 25 instead of July 25, 1894. Gavro was almost convicted to death by hanging, because this mistake made him officially adult.
We read in the court documents that the judge called Gavrilo's mother as a witness and she testified that her son was born on July 25. Thanks to that, Gavrilo wasn't treated as an adult before the court, so he avoided the death penalty.
GAVRA BUYING A HAT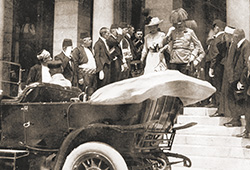 This is how Bogdan Princip describes his brother Gavra:
– He was a gentle and caring boy, especially towards his mother Nana. He was very happy when he started attending elementary school at the age of nine. Even before that, he liked carrying around books, although he still wasn't a schoolboy. He went to school, but during the day took care of turkeys and helped his mother with house chores. During vacations he worked in the fields, mowed, led the horses during reaping. He wasn't afraid of any work. Bogdan stopped to light a cigarette, when his Ljubica came and put a bowler hat on the desk, "the only memory of Gavra". Going through archives, I came upon the memory of Svetislav Tornjanski, teacher, about buying hats with Gavra in a shop in Sarajevo.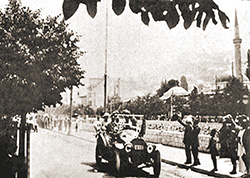 – Take this one, real Viennese goods "Wiener-vare" – said the merchant to Gavrilo.
– I wanted to buy this hat, but now I won't – said Gavrilo. – If you had told me the hat was from Kumanovo or something, I would've taken it regardless of the price. But Viennese goods are no longer selling in our Bosnia.
Then the teacher raised another hat and told Gavra:
– Take this one, it's from Kumanovo.
That day, teacher Tornjanski and Gavrilo Princip bought same hats. That Gavrilo's hat was before me, with the remark of my hosts that it's a shame it isn't in the "Young Bosnia" Museum, where Gavrilo's clothes are kept.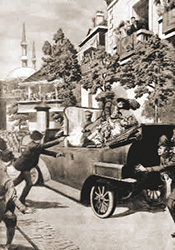 Bogdan Princip keeps the stenographic notes from the conversation Gavrilo Princip had in the prison solitary confinement with the Austrian prison doctor Dr Martin Pappenheim. He met Gavrilo three times, once in February and twice in May 1916. Princip fell seriously ill in the dark cell, in which Hadži Loja, the first prisoner from Bosnia, was confined before him. The doctor describes that Gavrilo is tired of suffering and longing for Bosnia. He tells the doctor:
– I've been in the cell all this time. They unchained me for the first time only three days ago.
He wore the chains 24 hours a day, for two entire years. He confides in the doctor that his love for a girl has not vanished, but he's not writing her letters. He admits he has never even kissed her. He attended a private school, often was lonely, spent much of his time in libraries. He wrote poems, but only one was preserved. Drago Kalember, former prisoner, salesman, told us the famous and excellent verses Princip engraved with a spoon on a dish in the Sarajevo prison, during the trial.
THREADS OF UPRISING TIGHTENING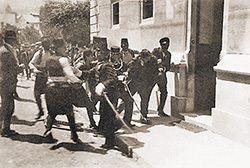 Gavrilo's cousins say that he was an excellent student in elementary school, so his wish to continue his education in Sarajevo was fulfilled. His brother Jovo, merchant, enrolled him in the Commercial School in 1907, when he was thirteen years old.
Besides literature, he was also interested in politics as a student. He immediately became involved in high school national-liberation organizations and was soon noticed. When the Serbo-Croatian Progressive Organization was founded in Sarajevo in 1911, its president was Ivo Andrić, later Nobel prize winner, and its members Gavrilo Princip, Lazar Đukić, Trifko Grabež, Sadija Nikšić, Ivo Kranjčević, Josip Vrinjanin, Ibro Fazinović (almost all of them conspirators on St. Vid's Day of 1914). The spirits of high school youth became turbulent. They came into conflicts with the police and school authorities. Many young people were expelled from gymnasiums and other high schools.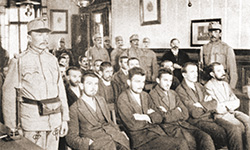 The youngest generation openly rose against the Austro-Hungarian occupying regime. Assassinations began. Žerajić, Jukić, Dojčić, Planinščak shot occupying politicians and soldiers. On the day of Jukić's assassination of the Croatian ban on June 8, 1912, Ivo Andrić wrote in his diary:
"Jukić assassinated Cuvaj today… How beautifully the secret threads of deeds and uprising tighten. How joyfully I anticipate the days of great deeds. The hayduk blood is rising and burning. Long live those dying on the boardwalks fainting from fury and gunpowder, feeling pain from the common shame. Long live those shy and silent ones preparing the uprising in dark rooms."
So Princip began fighting with a book and in demonstrations already as a boy. His friends emphasize that he was one of the most militant among them. Already as a student, he was getting the shape of a national revolutionary.
"He didn't like his friends calling him Little Gavra because of his short stature, while he liked the nickname Gavroš, after the boy from Hugo's Les Miserables who died in the barricades. We called him by this nickname until the Sarajevo assassination", notes Drago Ljubibratić.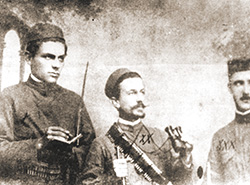 Vladimir Gaćinović, student and revolutionary, leader of "Young Bosnia" stated Gavrilo Princip as an example: "At the meetings of our group, Princip, the youngest among us, was always reserved and humble, and always stood on the side. He avoided theoretical discussions, but he always asked for books and read them insatiably. Already at the age of fourteen, Princip entered the group of national enlightenment, and spent part of his high school days in Belgrade."
Princip soon became famous and popular. Almost all his friends mention him in their mutual correspondence, just as they do with Nedeljko Čabrinović, regardless of whether they write from Serbia, where they gathered on Zeleni Venac in Belgrade, most often in the "Moruna" tavern, which offered them cheap meals, or from abroad.
THERE WAS NO TIME FOR TALENT
In a letter to Borivoje Jevtić, member of "Young Bosnia" and writer, Miloš Pjanić asks: "How is Gavro? Is he yelling: 'Long live the revolution'? Send my regards to him!"
"Although hunger and poverty were often", writes Borivoje Jevtić, "in Belgrade, Piedmont of Yugoslavia, people lived and breathed freely: it was a kind of a resting place after the Austrian persecution."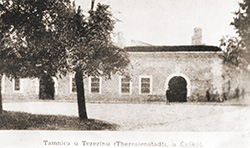 Gavrilo had many worries. There was never enough money, not even for a small room and cheap food in Zeleni Venac. His brother Jovo regularly sent him money, but he would soon spend it helping friends who didn't have anyone to support them. Princip used to work on paving Karađorđeva Street in Belgrade to earn money for food and books. While working on a construction site in Belgrade, he fell and seriously injured his nose, which can be noticed on later photographs from the Austrian courthouse and dungeon. Princip and Čabrinović always bought books. (Once Čabrinović spent all the money he had received from home for the return ticket to Sarajevo on books. Then he sent the books by train, in a cheap suitcase, and returned to Sarajevo on foot.)
Princip's activities, writes Gaćinović, started at the age of fourteen and continued until the assassination, when he turned nineteen. He even had time to be a newspaper reporter, which is little known. At the same time, he wrote verses and prose and privately took exams of the gymnasium he was expelled from. At the age of nineteen, he was a political reporter, which can be seen in his report written for the Sarajevo based Narod on December 10, 1913, during the elections in Hadžići. Princip openly condemns the pressure of the police and gendarmes on voters during the elections. He doesn't use phrases, he depicts the atmosphere, notes details.

"Eight gendarmes came to the elections", he writes. "Besides their main role to watch these 'wild people', so they wouldn't make incidents, they had another, more important one – to threaten and force people to vote for the government's candidate Vukan Kuljanin. Besides them, many officials came very early and began agitating for the government's candidate. The election committee was entirely made of people placed by the government, except for one honorable housefather, and they were all illiterate."
These lines show a formed character, a fighter who doesn't fear consequences. Forming of such a character – wrote his friend B. Jevtić – was influenced by him being the direct witness of the troubles our people lived in. Princip is a village child. Ever since his early childhood, he was marked by the features of his homeland: courage and persistence, tendency to clam up and long periods of silence. However, from that soil he also took the pure and immaculate instinct of the race, built into long traditions.
Starved, ill, tortured in the Theresian dungeon, he died in 1918.
***
Princip in Belgrade
Expelled from the sixth grade of the Sarajevo gymnasium because of his participation in the anti-Austrian protests, Gavrilo Princip spent part of 1912 in Belgrade. He spent most of his time with his friends from Bosnia and Serbia, discussing liberation and uniting. He supported himself by working different jobs and finished two grades of the gymnasium in Belgrade. During the First Balkan War, he enrolled in the Serbian army, went all the way to Prokuplje, but wasn't accepted due to his weakness and fragile health.
***
Will and Way
– My ideal was one Yugoslav republic, generally a Slavic republic – said Nedeljko Čabrinović, typographer, on the first day of the trial, answering the question of the president of the panel of judges Aloysius Kurinaldi.
– How do you think it can be achieved? – asked the judge.
– Our wish is to unite Bosnia and Herzegovina with Serbia. That is also the opinion of Princip and my other colleagues from "Young Bosnia".
***
Cyrillic Alphabet and Feeling
Interestingly, the minutes of the investigating judge after the Assassination were written both in German and Serbian. Those in Serbian were in Cyrillic. The minutes were kept in the Land Museum in Sarajevo, and were shown to us 50 years ago by curator Cvetko Popović, one of the six assassinators distributed along the quay on June 28, 1914.
– That day, you could easily find not only six, but twenty assassinators – told us Popović. – Such was the feeling of the people, especially the youth.