Steps
WOMEN'S FOOTWEAR FROM 19TH AND 20TH CENTURIES, EXHIBITION FROM COLLECTIONS OF THE MUSEUM OF APPLIED ARTS IN BELGRADE
Shoes for Walking through History
"In 1938, Dr Pavle Miljanić 1938 broke of his engagement of many years when he met Ružica Stoisiljević, enchanted, among other things, with her shoe no. 34", we read on the caption of one of about a hundred exhibited shoes at the Museum of Applied Arts. History speaks in different ways. Stories are all around us, only if we are willing and patient to discover them
By: Dragana Barjaktarević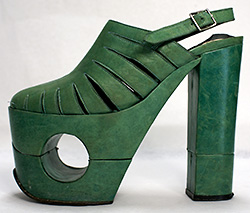 Every shoe in the Museum of Applied Arts was really worn, and it belongs to both personal and historical context. Curators Draginja Maskareli and Bojana Popović covered all these contexts with one sigh – "Ah, those shoes!" Shoes were exhibited even before, on different occasions, but this is the first exhibition focusing exclusively on them.
19TH CENTURY
The rich collection of the Department of Textile and Costume and Department of Contemporary Applied Arts has been stepping for two centuries. It bears witness to moist floors of the Hamams, crackling wooden floors of ballrooms, cobblestones, paved boulevards and concrete halls of all those Serbias that took turns in that period.
The first guideline for a walk through history written on the soles and belts of ladies' shoes are hamam clogs from the 19th century, the last testimony of Turkish era on our feet. Women did not walk much at that time. Visit to a hamam was a rare opportunity for them to show themselves, bringing before their girlfriends silver combs, embroidered towels, clogs line with mother of pearl or silver plated sheet... Clogs were also popular among poor people, of course without luxurious ornaments, as functional footwear for the house and street.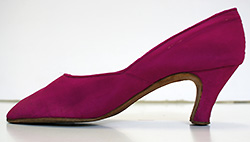 They had two high heels, which protected feet from street dirt.
In about the same period, a pair of boots decorated with colorful patchwork comes from distant Kazan in Russia. These are traditional Tatar boots, worn by cavalry in the late 18th century. A century later, thanks to their exotic appearance, lavish decoration and colors, boots called ala Rus become popular in the European, especially French avant-garde fashion. They were not worn by general population, but bold people from artistic circles. And a few people in Serbia.
In the late 19th and early 20th century, fashionable clothes stores are being opened in Belgrade, where those aware of their appearance could have purchased clothes in the latest European fashion. The most famous were stores "Kosta Nikolić and Friend" in Knez-Mihailova Street no. 18 and store "Lazarević and Stojankić" on the place where today is "Progres". The museum in its collection has shoes on which brands of these trades are impressed into the lining.
THE FIRST HALF OF THE 20TH CENTURY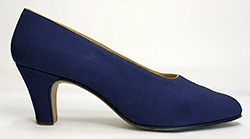 A post-war period is always fruitful in all areas. As if people are rushing to compensate for the creativity missed during the war. 1920's were revolutionary for fashion. Silhouette is changed, dress is no longer ankle length, but stops in the middle of the calves. Thus the footwear becomes more significant, becomes more prominent. Paris is the world centre of fashion, a circle of brilliant fashion designers create there: Elsa Schiaparelli, Coco Chanel, Paul Poirot... And Belgrade after World War One was close to the West as never before – and Paris.
Wealthy ladies from Belgrade used to buy their shoes at "Balnik" or "Lektres". "Lektres" is the most exclusive Belgrade salon for tailor made shoes manufacture between two world wars. It was in Knez-Mihailova Street no. 19, and was founded in 1920 by Mika Lević who, as a young shoemaker in Paris, specialized in manufacture of women's footwear. His clients were the wealthiest Belgraders, inclu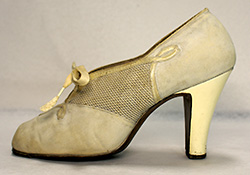 ding Princess Olga. Her shows were made of the best quality materials and often in a set with the dress. Exclusivity was very important, and they would most frequently display those sets only once during balls.
Other social groups were able to purchase ready-to-wear shoes, in "Boston" or from Petrović brothers... In addition to cheap local shoes, they were also able to buy those imported from America for a cheap price. Americans were great manufacturers and leaders in conquering new technologies, and their footwear was of good quality and at affordable prices.
Well-being between the wars is replaced by a new wave of cost-effectiveness and great poverty. World War Two begins in 1939. Fine footwear could possibly be obtained from rich relatives in America, together with a package with food and medicines. This is how, for example, Ruža Miljanić got her gentle beige shoes designed by famous Elsa Schiaparelli, and they are one of the favorite museum pieces.
THE SECOND HALF OF THE 20TH CENTURY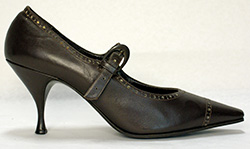 Just like the world in between the wars emulated Paris designers, the post-war world emulates Italian fashion. Everybody is rushing to Trieste to get their pair of original shoes, and local factories are copying Italian models. The exhibition simultaneously presented original models and copies thereof – "Romeo" from Venice and right next to it almost identical pointed shoe made by "Leda" from Knjaževac.
In 1961, the Museum of Applied Arts held the first exhibition of contemporary Yugoslav industrial design, which presented everything that was being designed in our territories based on the mot advanced technological, artistic and functional principles. Among the exhibits were shoes made in Derventa modeled after Italian fashion. Those were the first current fashion shoes that entered the Museum.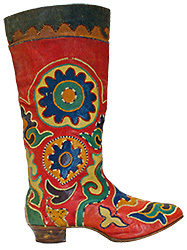 After World War Two, socialism boosted the production, but salons for manufacture of ladies' or gentlemen's footwear were being closed down. It was not in the spirit of socialism to make tailor-made shoes. Instead of salons, stores for general population are being opened up. Still, here and there it was possible to find excellent pre-war shoemakers, who were able to make the perfect and unique pair of shoes after a pattern from Parisian or Italian magazine.
1970's being a new twist, the hippy revolution and a new philosophy liberated from all restraints. At that time, music had great influence on fashion. Young people wear shoes like their favorite rock stars who, when on stage, are wearing shoes with extremely high heels with platforms. 1980's bring a new phenomenon, the prisoners of which we have remained until today: worship of brands. It is no longer important what kind of footwear we are wearing, but whose signature is on it. The fashion system collapses even more in the 1990's. Although famous global brands are opening their stores in Belgrade, the footwear that arrives here is being several seasons late against the rest of the world.
THE CIRCLE

The exhibition is conceived as a circle, because that is what fashion truly is. Everything goes in circles, disappears and then comes back. The story begins with house slippers from the end of the 19th century when woman spends almost all of her time at home, and ends with two pairs of slippers that in the late 1990's we are wearing outside. Synchronized psychological and fashion shift. Besides always coming back, the fashion also becomes increasingly more tolerant. It is evident when we look ad shop windows, it is evident when we hear thrilled comments of visitors at the exhibition: "I would wear these!" Each pair of those shoes from the past times could be worn today.
***
Museum collection
The first shoes entered the Museum of Applied Arts immediately after its foundation. It was a gift from painter and graphic artists Ljuba Ivanović, who collected examples of material culture in the field from our territories. The collection has continued to grow thanks to individuals who kept in their closest representative examples of footwear from a certain time and gave them to the Museum. The collection is still growing.
***
Side Program
In order to make the exciting history of fashion in Serbia as complete as possible, a cycle of ten lectures "Ah, that Fashion!" was also organized. Ten ladies, who are experts in different field, will present every Wednesday until the end of 2013 and until the end of the exhibition, the history of fashion in Serbia in the 19th and 20th century, from their perspective. All the topics are, of course, feminine – wedding fashion, hairstyles, jewelry, fashion magazines, consumers' mentality...