Destinations
IN LEBANE, SOME NEW WINDS ARE DESTROYING OLD STEREOTYPES
On the Roads of Revival
About twenty kilometers from the highway, in the fertile valley of Leskovac, this town and the seat of the municipality has been extensively revived n the past years, after a long stagnation. Even the new appearance of Lebane is the reflection of the efforts and investments. Municipality leaders want to bring back the development upswing from the 1980's, when there was no unemployment here, and the town had the quality and liveliness of an urban center full of young people
By: Rozana Sazdić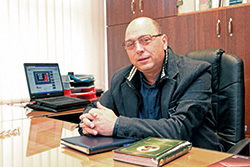 We will do everything it takes to change the image of our town. What we do must comply with the standards. We have invested about 100 million dinars in infrastructure projects, and our budget is 500 million. All our companies are solvent and we spend only what we have – says Zoran Ilić, president of Lebane Municipality. – Initially we started refurbishing our city, our face. We have two rivers and we want to develop the confluence of the Šumanka into Jablanica River, to make a promenade, parks and to revive the spirit that this city had in the 1980's: liveliness of an urban centre with restaurants and cafes, numerous cultural and sports events. It was great growing up here. I returned to Lebane after university studies in Belgrade, like many of my peers. My roots are here.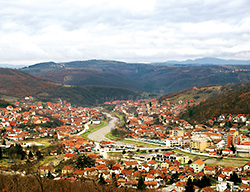 Former giants of textile and mechanical industry used to operate in Lebane, such as "15. maj – Eksporteks", "Trikotaža", "Kožara", "1. maj"?
In 1970's and 1980's there were no unemployed, 5.,000 worked in industrial production, and in the early 2000, Lebane was one of the cities with the highest unemployment rates! My main motive to do this job was my desire to have Lebane experience its Renaissance. We want to build our city, we want it to become an administrative center where education, crafts and tourism will have an important place. Our intention is to increase interest of investors and to revive industrial facilities. One company has already purchased the halls of "1. maj" and employed 250 people. We are planning to commission one more plant in the city centre and attract Greenfield investments. We would leas a part of the commercial space to small and medium sized companies.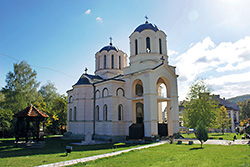 A woman from this city recently won The Best entrepreneur of the Jablanica District award?
Yes, the owner of company "Vidra" won this award, and we are very proud of it. We have several dozens successful private companies that employ between 10 and 20 people. We are trying to support them in promotion. We are organizing appearances at trade fairs and other commercial events and we cover their costs.
Although a lot of strength is necessary to conquer destruction, because not everybody likes change, we have spun the wheel and we are going in a positive direction.
THERE IS BREAD IN LEBANE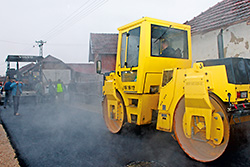 How will you use the natural and cultural resources, especially the nearby Empress' Town?
Yes, "Justiniana Prima" is a sight with global significance, and it is located in the territory of our municipality, seven kilometers from the city centre. It used to cover the area of more than 40 hectares. Today, although not fully unearthed, it is the only ancient town in Serbia that can be observed as one unit. Walking through its streets, remains of mosaics, churches and public buildings, give you an impression that you have returned to the 6th century, when this district was an important administrative and military centre of the Byzantine Empire. Many people don't know,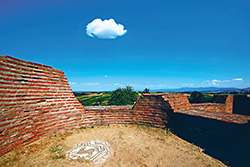 especially tourists who want to visit the Empress' Town, that this site is managed by the National Museum in Leskovac. They are approving visits and providing guides. We want o secure funds for security and maintenance, to safeguard the national treasure from vandals, as well as to create a tourist offer, but the law prevents us from doing this.
In the city centre we have the Church of St' John, founded by King Aleksandar Karađorđević. All year round we are organizing cultural events and programs. There are numerous possibilities for recreation and sports activities in the city. We have 18 sports clubs, soon we will rebuild the swimming pool and build a sports arena. The surrounding mountains of Radan and Goljak are good basis for significant development of tourism.
Everything we do will be left to the future generations, so that they would continue to safeguard and love their city.
***
Investing into Young People
– In order to improve business environment, we attach great importance to knowledge as the basis for development. We invest in human resources, in young people. This year we have employed 46 trainees, university r college graduates, and enabled them to complete their internship. For students with GPA above 9 we provide a one-off scholarship in the amount between 30 and 45 thousand dinars, on the basis of an open call, and we also support students during their master's studies and participants in state competitions – says Zoran Ilić.
***
Village
– I used to work as a veterinarian and I got to know 39 villages around Lebane. I have built relationships of trust and respect with villagers. And now, when it is a market day in Lebane, they come top the municipality to see me. We have asphalted many sections of local roads. Unordinary, just like in other municipalities, our villages re predominantly populates with elderly households. I am trying to enable young people to have good quality life in the villages and to restore the mountain estates.