Introducing
TOMISLAV JANKOVIĆ, DEPUTY MAYOR OF SREMSKA MITROVICA
That Important Step Ahead
"Mitrovica has a series of great advantages: positions, two big rivers, vicinity of a highway, the border and Fruška gora, vast fertile plain. However, I see this while working in the city administration, people are the greatest potential of this city. The situation is not easy, either in the world or in our country, but there are clear roads and manners to contribute to development and affirmation of our local community. It is the key motive for me to take up this responsible work"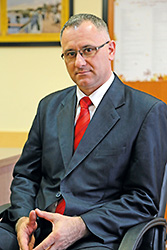 As a graduate in economics management, he used to work in "Serbia Post". For a long time he was the postmaster in Inđija. Great experience from such a complex and organized system, which is the extended hand of the economy, has been precious in the current mandate as the Deputy Mayor of Sremska Mitrovica.
You have been working as the Deputy Mayor for a little over a year. How did this position seem to you when you just took the office, and how does it look today?
I see it primarily as a great responsibility. In difficult times, when the state is facing numerous social and economic problems, I think that this function gives the opportunity to make a contribution to the affirmation and development of the city.
Despite the not so long mandate, is there anything you are especially proud of?
It is primarily the making of good relationships within the city administration itself, so that by joining forces we would do something for this city. I think that people are the greatest potential of this city, because I have just realized this while working in the city administration, where I will give my unselfish contribution.
In the times of economic crises, everywhere in the world and in Serbia as well, Sremska Mitrovica is also not spared the consequences, unfortunately. How can the local self-government satisfy the needs of the citizens?
If every individual gives his maximum and approaches the work responsibly, a lot can be done. The citizens are very much aware of the situation that the state is in, and I hope that people would soon regain trust in institutions, as well as in other human beings, because it is the good basis to move forward.
To what extent are local self-governments autonomous in their work and how could, in your opinion, the work of local administration could be improved, for the benefit of the citizens?
In addition to the main advantages that Mitrovica has, the geographic position, vicinity of highway, two big rivers, vicinity of the state border, expedience in work of the local self-government certainly has great contribution to the development of a city. We are submitting applications for various projects, both to the Province and the republic stat authorities, and by engaging all resources in the city it is possible to ensure that one local self-government is a step ahead. Also impotent is international cooperation, which Mitrovica has, as well as financing of projects from European funds.
TO HEAR PEOPLE, TO STAY CLOSE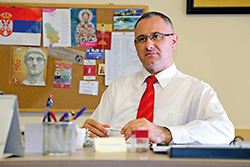 You are known as a person whose doors are open for everybody, and you are often in the field, among the people. How strenuous is this, actually?
It is very strenuous, since my 61st weekend was a working one again, and since my tailor had to downsize my suit four times (laughter). But, if you are not in different locations and if you don't talk to people, you can not recognize their problems. We take into consideration every issue and every problem, there is nothing about which I cannot or won't talk. I am fully open and I won't let the job I am currently doing change me, it can only make me a better person. Relationships with people are very important to me, because on the basis of their requests and needs we have been planning our activities and directing our realistic abilities toward the citizens. Transparency and accepting criticism is something that every local self-government should practice.
I was born in Mitrovica, which is an additional motive in my work, pa so my need to get to known the city is even greater.
You are also active in creating international partnerships. What experiences have you had in this field?
We are aware of the fact that Serbia cannot be an deserted island and that we must cooperate in the process of accession to the European Union, we must follow trends coming from the regional countries. There are only a small number of countries around us that are not EU member states, and in order for us to become a part of it, we must be open for cooperation with those countries. I am a signatory of the Memorandum of Understanding of the cross-border Drina–Sava region, which includes 17 cities from the territory of B&H, Croatia and Serbia. Our task is to prepare projects in different areas and to appear as solving problems in the area of agriculture, tourism, environmental protection, etc. Also significant is cooperation with the cities in the region – Bjeljina, Brčko, Tuzla, Osijek, Vinkovci – which are interested in cooperation with our city.
A CHANCE TO HELP IS A GIFT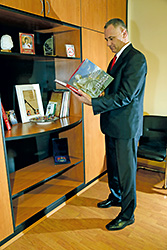 Your name is frequently linked with organization of charity events. There are many people who need help?
It is a wonderful feeling when you are in the position to help someone who needs help. It is fulfilling and it gives you energy for future work. Every responsible local administration should, to a significant extent, be involved in the solving of social or healthcare problems of the people. Mitrovica is a responsible and humane environment, we help people as much as it is possible. It is my pleasure that I can help our citizens, by organizing concerts, sports games and other charity events.
Foundation for financial assistance o children and youth suffering from severe diseases was also established in Sremska Mitrovica?
It is a special healthcare program dece for children and youth up to the age of 26, from the territory of the city of Sremska Mitrovica, who need help in getting medications and aids, as well as payment of medical costs. Proceeds of this foundation will be used to finance therapy of children and youth suffering from severe diseases. For the most part it will be filled with dedicated budgetary income, a part of opportunity funds upon decision of the Prosecutor's Office, or by sending SMS messages. Up until now, the city was accommodating in such situations by organizing various humanitarian events, but now we are getting the legal base for our future humanitarian activities.
***
Investments and Development
– For investments and development of economy, important is to foster international cooperation, overlapping of potentials and expanding contacts with cities and countries in the region, and beyond. It is important to use all potentials and to present them to others in an appropriate manner, so the future investors could use the advantages of this city.
***
Motivation
– I like the environment where I was born, but I will do my best to justify the fact that I was given a chance primarily to prove myself as a human being, and to prove myself in this work. My goal is to promote the city in which I work in the best possible way, including its people, potentials and values.