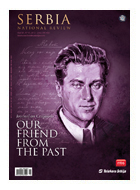 SERBIA - National review, No 41
Prologue
Don't worry. VAT and PPV will grow this year again, and Serbia will shrink. Užice will get water from as far away as Čajetina. Security services will be coordinated so such an extent that the citizens could get hurt only in case of fireworks. We will remain steadfast in opposing the human trafficking, but state trafficking will remain in trend this year again. Serbia will delegate the fourth Nobel Prize winner to the negotiations with the Dome. Minaret of the new mosque in Zemun Polje will be opened for tourists visits. Farm will become the basic cell of the society in Serbia, and the remaining cells will be filled based on PR needs. We will laugh only to ourselves. We will not be bored. Happy New 201..... which one was it? <


GALLERY

CONTENTS
Prologue
BETWEEN FAREWELL AND A WELCOME, WITH FINGER ON OUR FOREHEAD
In a Comparative Sequence
Vitrage
NUMBERS, EVENTS, INTERESTING THINGS
Album
WITH THE FIRST YEAR OF "SRPSKA – NATIONAL REVIEW"
Bridges in Us
Ventures
UNUSUAL NATURAL PARK AND A MODEL IN GORNJA RESAVA
Gathering Place of Old Monasteries
The most important monuments of Serbian sacral heritage, abbreviated history of Serbian golden Middle Ages, are collected in a space of around ten acres. Milenko Ilić, a mining engineer from Despotovac, erected these small buildings by faithfully recreating the originals, down to little details visible only to the best experts. Thousands of people have already visited this place, increasingly recognizable on the cultural and tourist map of the Resava district
By: Vlada Arsić
Photographs: Dragan Bosnić
Notebook
AROUND SERBIA, ABOUT FAMILY AND OTHER TREES OF THE OBRENOVIĆ
Predictions of Takovo Bush
A small part of former vast forests of Šumadija, the old bush (and its successors on the same place) was the axis around which the history of resurrected New Age Serbia was being told. Miloš' rebels would gather under it, as if the ruling Obrenović dynasty was grafted on it. After this, it predicted Miloš' and Mihailo's death, and even the tragic end of the dynasty. There were many attempts to plant a seedling next to the dried out trunk, but it wouldn't work, which was considered a bad omen. Next to the monument built by the people in 1995, a young seedling has finally grown the roots and is surviving
Text and photographs: Dragan Bosnić
Pilgrimages
ARAČA, AN UNUSUAL CHURCH LOST IN THE PLANE
Silent Witness of the Past
Halfway from Novi Bečej to Novo Miloševo, it will appear in the distance, on the boundary of heavens and earth, as a mirage. The Romanesque church was built on the foundations of an older temple. The oldest preserved written document mentioning it is from the XIII century, when it had the status of a Benedictine abbey. It was renewed upon the order of Elisabeth of Anjou, was the possession of Serbian despots, destroyed by the Cumans and Ottomans, time and storms, but it still stands. Fast and shallow, do we understand what its selvages are telling us?
Text and photo: Josip Šarić
Road Sign
JAHORINA, THE CENTRE OF WINTER TOURISM AND WHITE SPORTS IN SRPSKA
In the Old Olympic Circle
From the first skis, brought exactly ninety years ago, millions of winter sport lovers passed through here. Beginners and great champions, local people and foreigners, big and small, they skied sown these slopes and stayed in local boarding houses, remained permanently enchanted and kept coming back. The true climax was marked by the Winter Olympic Games, which took place here in 1984. Accounting for all this, the Tourist Organization of Eastern Sarajevo entered the new winter season with all the old and new trump cards
Heritage
OLD MILIJA, ONE OF THE FAMOUS VUK'S GUSLE PLAYERS, WHOSE RIDDLES REMAIN UNDECIPHERED
There Are Few Such Singers
Vuk Karadžić and his singers appeared at the time of the First Serbian Uprising. They emerged to elevate new heroes by singing about the old ones. The golden age of Serbian medieval times, the developed epoch of freedom and strength, knighthood and culture appeared through them, from the depths of time and memory. Vuk wrote it all down. Thus oral poetry was transferred to paper and traveled to world libraries. Today it is the most reliable Serbian classics, reaching to the heights of Homer
By: Dragan Lakićević
Treasury
SERBIAN ARCHAEOLOGY IN 150 STORIES: COLLECTION OF JEWELRY FROM ČURUG
About Taste and Connection
It most probably belonged to some respectable person from tribal aristocracy of Southern Pannonia tribes. Silver buckles and bracelets are indigenous type of jewelry made ​​in the Central Danube Region. Silver rings and earrings suggest Southern Balkan origin, and bronze buckles indicate north and northwest. Discovered by accident in the garden of Đoka Ćesarov, the collection was purchased and is exhibited in the National Museum in Belgrade
By: Vojislav Filipović
Journal on Crnjanski
FOR 120TH ANNIVERSARY OF THE BIRTH OF ONE OF THE GREATEST PEOPLE WHO EVER WROTE IN SERBIAN LANGUAGE
Our Friend from the Past
"Of all of us, only Crnjanski is a natural born writer", wrote and admitted Ivo Andrić. The old maestro knew that it is a type, the seal of forces on the destiny of an individual, and that it is a great fortune for literature but not for the writer. All made of opposites, which only in the gold of a verse or in the flash of a brilliant sentence achieve unity and self-justification, Miloš Crnjanski (1893-1977) as remained to date the most beloved and the most disputed among the greatest Serbian writers. A Mediterranean Hyperborean, a modern traditionalist, gentle warrior, grumpy lyricist, poor dandy, plebeian elitist, he planted many reasons that keep us always coming back to him
Edited by: Vesna Kapor
Steps
WOMEN'S FOOTWEAR FROM 19TH AND 20TH CENTURIES, EXHIBITION FROM COLLECTIONS OF THE MUSEUM OF APPLIED ARTS IN BELGRADE
Shoes for Walking through History
"In 1938, Dr Pavle Miljanić 1938 broke of his engagement of many years when he met Ružica Stoisiljević, enchanted, among other things, with her shoe no. 34", we read on the caption of one of about a hundred exhibited shoes at the Museum of Applied Arts. History speaks in different ways. Stories are all around us, only if we are willing and patient to discover them
By: Dragana Barjaktarević
The Winner
ZORANA ARUNOVIĆ, CHAMPION IN SPORTS SHOOTING
The Hand that Did Not Tremble
She is an offshoot of a new generation of Serbian sports shooting, a worthy heiress of Jasna Šekarić and other female medal winners from the greatest world championships. She had excellent results in 2013 again, so she placed first in the ranking list of the International Sports Shooting Federation in discipline air gun, and placed second for small caliber pistol. She continues to go upward
By: Dejan Bulajić
Destinations
IN LEBANE, SOME NEW WINDS ARE DESTROYING OLD STEREOTYPES
On the Roads of Revival
About twenty kilometers from the highway, in the fertile valley of Leskovac, this town and the seat of the municipality has been extensively revived n the past years, after a long stagnation. Even the new appearance of Lebane is the reflection of the efforts and investments. Municipality leaders want to bring back the development upswing from the 1980's, when there was no unemployment here, and the town had the quality and liveliness of an urban center full of young people
By: Rozana Sazdić
Guide
NUMEROUS TEMPLES AND ONE MONASTERY, THE SACRAL TREASURE OF ZRENJANIN
Ten Bell Towers over the City
The oldest preserved building in the old city centre is the Christian Orthodox Church of the Dormition of the Theotokos from 1746, which was, thanks to its strong structure, the only one to survive the fire from 1807. In addition to it, there are eight other churches of different denominations, and the Monastery of St. Melanija the Roman. For decades exposed to negligence, all of them have received new glow in recent years, and some eve got beautiful decorative illumination, which creates a special ambient in this city on the Begej River
Centers
THE YOUTH CENTRE IN PRIBOJ, ONE OF THE MOST MODERN IN SERBIA
Serving the Youth
"It is important for young people to have their space, where they can gather and exchange ideas. It is also important for them to plan their future in their hometown, and never to want to leave their city" – said Nenad Borovčanin, the state secretary, while opening the Center. Young people will now be able to organize seminars, workshops, cultural and entertainment events, with good quality and this opens a wide field of their creative work in this city
Recognitions
VRNJAČKA BANJA OFFICIALLY DECLARED A FIRST CATEGORY TOURIST DESTINATION
Century and a Half of Leadership
By the decision of the Ministry of Economy of Serbia, on the basis of the number of tourists and total infrastructure, Serbian "Queen of Health Tourism" joined this category in Belgrade, Novi Sad, Kopaonik and Zlatibor. It has officially become what it has been unofficially for a long time. In the best periods, between world wars and in the 1980's, Vrnjačka Banja was on the map of the most sophisticated and most visited European spa resorts. For municipal leaders it was not only the past and remembrance, but future and plan
Introducing
TOMISLAV JANKOVIĆ, DEPUTY MAYOR OF SREMSKA MITROVICA
That Important Step Ahead
Mitrovica has a series of great advantages: positions, two big rivers, vicinity of a highway, the border and Fruška gora, vast fertile plain. However, I see this while working in the city administration, people are the greatest potential of this city. The situation is not easy, either in the world or in our country, but there are clear roads and manners to contribute to development and affirmation of our local community. It is the key motive for me to take up this responsible work
Studies
PROF. DR MIROSLAV LUTOVAC, DEAN OF THE TECHNICAL FACULTY AT "SINGIDUNUM" UNIVERSITY
Knowledge Is Investment
"We want our students to have both basic and practical knowledge. We want to point out to them why what they are learning is relevant. Our goal is to make engineers that are needed in Serbia. Student is investing in knowledge he or she can apply and sell in the market. Of course, you cannot achieve anything of significance unless you are fully dedicated to your work. Only then you will get to the point and understand the principles from which everything else also becomes clear"
Text and photographs: Ruža Srbinović
Knowledge
PROF. ĐURO ĐUROVIĆ, PhD, NEW DIRECTOR OF BELGRADE BUSINESS SCHOOL
Maintain Reputation through Continuous Development
Well in its sixth decade of operation, one of the biggest colleges of vocational studies in Europe. More than 120,000 of its alumni are currently employed on important positions around Serbia. In addition to previous vocational economists in various fields, from finances to business informatics and marketing, it has been preparing three new programs: for state administration, vocational legal officers and tourism. One of the strategic goals is to have the school grow into a business academy
By: Aleksa Mitić
Photographs: Dragan Bosnić
Connections
IMPORTANT CAMPAIGN OF "TELEKOM SRBIJA"
When Driving, Park the Phone
At a speed of 50 kilometers per hour, a car goes almost 14 meters per second. Talking on the phone while driving increases the risk of traffic accidents four times, and writing of an SMS message eight times. Reactions of drivers caused by such distraction are slower and weaker, as if the driver has 0.8 mg/ml of alcohol in blood. If the phone is still being used while driving, then it should be used by means of legally allowed Bluetooth and hands-free devices. Even the famous athletes participated in this very successful and responsible action
Jubilee
THREE DECADES OF OPERATION OF "BLOCK 1" IN THERMAL POWER PLANT "NIKOLA TESLA B"
Road Paved with Records and Feats
The celebration in Ušće near Obrenovac, beautiful and balanced, was an opportunity for us to remember all those generations of builders, engineers and enthusiasts who embedded their years of service and their careers in this bright history book. In the past years, there have been great investments in reconstruction and modernization of plants, as well as reaching European environmental standards. There are strategic reasons and project conditions to seriously consider construction of "Block 3"
By: Zoran Plavšić
Photographs: Archive of TENT and "National Review"
Energy
MINING BASIN "KOLUBARA" REMAINS THE SERBIAN LEADER IN COAL PRODUCTION
The Key to Energy Stability
In the upcoming period as well, coal will be the basis of energy development of Serbia, as the main local energy generating product. The major role in this has "Kolubara". More than 50 percent of Serbian electricity is produced from coal that comes from this basin. With about two billion tons of available exploitation reserves, and annual production of 30 million tons of coal, "Kolubara" remains the guarantor of Serbian energy stability in the upcoming decades
By: Natalija Živković