Street Memory
RECORDS FROM THE YEARS THAT POISONED GRASSHOPPERS
Suicide of a Goldfish
We had our mischief, they have theirs. Ours was in our heads, theirs in our rooms and linings of our coats. They thought that we knew how to survive and that we would slip up in front of them. And we did not think anything. That was the secret if our survival. And then, when somebody turned on the light, there was a sight to see: "Fire is crackling merrily, it is our tent on fire!"
By: Nebojša Jevrić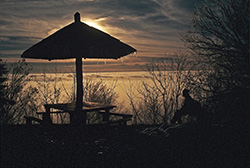 My book was published in 4,000 copies, which was huge circulation for someone's first novel.
And I spent the next months in the Military Hospital, in TBC ward.
"Great", said father's uncle Savo, the old doctor, "it is like a little more severe case of gonorrhea."
I dreamed women all night long. It is one of the symptoms.
Tanja Vujić, in which I was in love like a little ass, came to visit me.
She came every day.
She left me the same day when I left hospital.
She liked me more as a patient.
She told me that I looked like Montenegrin smugglers. And then went to Africa. She has never returned from that Nigeria, Zambia, whatever. She was probably eaten by a tiger.
I did not spend time with my generation from Bijelo Polje.
As senior high school students we went to the celebration of Tito's birthday in Belgrade, to wave flags at him. Our job was to run around the stadium and sing "Comrade Tito we swear to you, from your path we will never depart". I could not run and sing at the same time, so I cut the pieces of the song: "Comrade Tito, mi swear you f art". Ljubisav Knežević, a poet and party secretary, the man of the Office, did not like this, so he organized a meeting of the SS (Association of Socialist) Youth. Although I was not a member, they discharged me. Everybody voted that I should be punished and should no longer run around the stadium.
Ten days before my return I spent in Belgrade, walking around Terazije. I was buying cheap poetry books and decided to become a writer. And nothing interested me besides that. "I will fuck them all!" I thought.
In Balkanska Street I found the editorial office of magazine Student. I climbed to the fourth floor and was thrilled. There were bras and posters hanging on the walls. I told them what had happened, and they generously offered me to spend the night with them. They suggested I should enroll in the Faculty of Philosophy.
And so with an "F" for behavior, I enrolled in philosophy, because I was told that people there bark the most. I loved to sit next to the chimney on the roof and howl at sunset like a wolf.
MY FRIENDS, FIERCE GUYS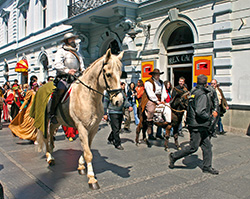 Pera the Ox falsely presented himself as Pera the Horse, being actually Pera the Ox. (Laza was the Horse.) One day, poet Aca Sekulić found ox horns and wanted to organize the coronation for Pera the Ox.
Pera was changing his business cards, as needed. He was mostly a painter.
And Edo Višo, from Trebinje, is now a displaced person in Canada. He graduated from a Protestant faculty and became a pastor. At that time he was a failing student of literature and mad as a hatter. He was good two meters tall. With long limbs, long blond hair, always in a long coat down to his ankles, in which he could fit half of a supermarket.
We hat the best system for "street pick-up of women" in Knez-Mihailova. (Nobody picks up chicks in Knez-Mihailova any more!) We would kneel down before a lone women passing by, careful not to scare her. Edo would take one of her hands, and I would take the other.
"Please", we would chirp at the same time, "would you be our girlfriend?"
Zvezdana was from Užice and was crazier than both of us.
"I will!" she yelled so loud that half of Knez-Mihailova turned around.
And my landlady, Mrs. Kajsija Majkić, was ninety six years old and was happily in love with Miloš Crnjanski, but also with Eda Viš (who presented himself as Eduard Višo, a Frenchman). When Ed wouldn't show up for three days, she would ask:
"And where is that pretty boy from Trebinje?"
When he wouldn't show up for seven days, she would mumble:
"And where is the bug-eyed boy from Trebinje?"
On day four of us were drinking brandy, and goldfish was looking from the fish bowl. And I don't like that. What I have, I always share. So I poured brandy to the goldfish, but it went nuts. It banged its head into the glass and committed suicide.
THEATRICAL FAILURE OF THE SEASON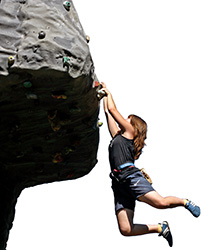 I treated my TBC with mulled wine. My roommate was Slavko Štimac.
He lied on one bed, I lied on the other. Between us there was a phone. We used to call chicks and friends to join us and bring some booze. Brother, that was sinkkking, as Vidosav Stevanović Muca would say when he is dead drunk with rakia.
And it went on until my dad found out about Štimac.
Dad came to take me to Bijelo Polje, but I didn't want to go. He took a chair and sat below the walnut tree.
"I am going to sit here, and I am not leaving without you", said the good professor of Russian language from Bijelo Polje.
We managed to make a deal. We took Slavko with us.
Slavko was an attraction in Bijelo Polje.
We decided that I would write a monodrama for him, which he would perform around Montenegro. In this way we would get some money and go to the end of the world (if this horrible place actually ends somewhere).
The monodrama was entitled The Secret of Bermuda Triangle.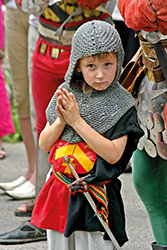 And then the tour began. It was still ok in Bijelo Polje. In Bar so-and-so. And then we went to Cetinje, to a gymnasium. My uncle Slobo put on his tie for the first time since he got married, and came to his best man, principal of the gymnasium.
We asked them to bring a crate of beer on stage. The actor lost half of the script, and forgot the other half. We were drunk. No, not drunk, stoned with booze. My uncle was the first to stand up. He snatched his tie off, threw it on the ground and left. The others left after him, the entire audience. "You can get money from sold tickets at the box office", said the organizer.
Slavko and I remained in the empty auditorium, with a crate of beer and uncle Slobo's tie on the floor. Slavko was long looked for through newspapers to act in film Brothers by Mother.
A year later he started spitting blood and stopped drinking.
We have not hung out since then. <
***
Đura's House
In the house of Đura Jakšić, in the middle of Skadarlija, there was the editorial office of "Pesničke novine." Krca, Ambro, Brana and Aca worked there. All deceased now.
The maddest literary evenings in town used to be organized there. Poets would get three bottles of schnapps as their fee. Tax free.
***
Lale Bas in Debt Bondage
And Almir appeared. Almir Zalihić. Nobody knew then how big a fraud he was. He became the hit. He would appear at seven in the morning and stay until the closing time. He was paying, covering up all our mischief. At the end he decided to buy out Svetislav Basara from debt bondage. Basara fucked up a BMW of some mafia guys from Užice. After he had really succeeded to graduate from the High School of Design, they gave him a job in printing office of "Borba". In order to cover the damage, they would take his salary every month. But he was saved by Almir. At that time nobody knew that Almir, too, in a dirty way, was taking money from loan sharks.