Bulwarks
DEFENSE AND NEW DAYS OF ŠABAC, THE CITY THAT MEASURED SERBIAN CHARACTER
March on the Sava
Between evening and morning the invisible border was crossed, Serbs entered a different time and state of mind, and nothing will ever be the same. Serbia saw its true face, heard its old noble heart. Dangerous tide was rising, the dark force, it was necessary to build an embankment made of the best examples and the most important virtues. Courage and morale, self-discipline and solidarity, intelligence and goodness, knowledge and faith, love and organization. It is simply unbelievable how many people came and from how many different places. The bank of the Sava became the front that night, and Šabac an example of how a city is to be defended, But, people, what can we do to avoid, after all this, sinking into the "normal condition" again? It is more dangerous and can kill us
By: Branislav Matić
Photographs: Serbian Army, Branislav Matić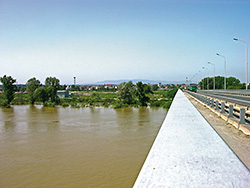 It was the night of transfiguration, with great power.
The night in which confused and disoriented crowd is again becoming people. A twelve-million sum of individuals, scattered here and around the world, is becoming a community again. Sunken into troubles that lasted too long, into new "bad infinity", slandered and robbed, tired and poor, with hands tied and dust in its eyes, left to the lowlife and charlatans, chained with bad examples and criminal media, in hard suffering under soft occupation, Serbia suddenly surfaced from itself. Looked at its own face. The "noisy monotony" went quiet, Serbia heard its old noble heart. It threw away the armor of the colonial "civilization program", went out of a tin can, stepped to the front, approaching danger and temptation.
Just like when a nation returns back to its history or a person to their biography.
In the night May 16/17, 2014.
Just like March 23/24, 1999.
Nobody in this country could be left undefended and hungry.
Nobody was here alone.
RIVER BANK LIKE A FRONT
Unnatural rain was falling over Serbia for more than fifty hours with completely same strong intensity, like under a regulated pressure, like from a forgotten fountain. It was the third day that the unusual cyclone did not budge from above Serbia, with the odd "direction of non-movement". Underground waters also went mad. Enraged rivers, rivulets, creeks. Obrenovac was already an underwater city, Krupanj was Moon Landscape. The Sava in Šabac, almost a meter above the historical maximum, was still rising. A new drama ahead, enveloped disaster. And the first horrifying news from the bottom came to the top, until then deaf of pathos and kitsch, blind of egotism and cheap dramaturgy.
Then something deep down clicked, in people. What little was left from the state – it also awoke.


Poisoners and spin-doctors, speculators and aspirants for leaders, lack of serious strategy and all the shallow-mindedness of underground political calculations became unimportant. This story suddenly lost everything in it that was accidental and ephemeral, and what this people has been holding since the time immemorial came to the fore.
Ten times as many people as what was expected and could have been transported responded to the call for gathering of volunteers for defending Šabac, in front of Belgrade "Arena". In Šabac, of course, everybody was on their feet. A large number of people gathered in the centre and waited to be allocated. Malicious rumor (political manipulation) that people of Šabac are "sitting in cafes and don't want to defend their city" entered some more bitterness and positive spite. Gave it an additional shake.
The bank of the Sava River in Šabac that night became a front.
On that front, symbolically, the honor of Serbia was being defended. It was a real modern March on the Sava, to face the growing force.
– It is simply unbelievable how many people came in such a short time and from how many different places – Milorad Đukić tells us in the settlement of Benska bara, on the edge toward the Sava, near the railway station. This linguist, a private entrepreneur for ten years, led a group of about thirty men himself. His team, he says, capable guys. – And it is not true that the city was unprepared. There were enormous quantities of available sand in Letnjikovac and in "Interkop", sandbags arrived, all companies were ready to give machines and equipment. The enormous energy of the people in the streets could have been touched with bare hands. Only, it had to be organized and channeled. I am not interested in party games that might be behind all this, but it is not bad that the command over the Crisis Headquarters was taken over by a general, soldier. It introduced exactly the tone that was missing. The tone that Serbs love and respect. The tone of battle. True, I don't know if it is appropriate that this person is exactly the Chief of the General Staff of the Serbian Army. I don't believe that someone would send Živojin Mišić or Petar Bojović to defend a city from flood. But, since the army today does not have another general who could take over such a task, if that misery is the real state of affairs, then let it be its first officer.
TO BELIEVE ONE'S OWN EYES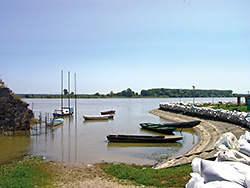 In the city, on the embankment, that Saturday, May 17, thousands of citizens of Šabac, Belgrade, Novi Sad. Already after noon guys started arriving from Niš, Vršac, Prokuplje, Serbian Sarajevo, Subotica, Trebinje, Herceg Novi, Bar... Especially touching was the presence of undisguised tears, when a column of Serbs from Kosovo and Metohija entered Šabac.
– You might have forgotten us, but we did not forget you – said Mitar from Mitrovica, Kosovska, and hugged his host, Sava from the Sava.
Then he turned to his men and immediately started organizing unloading of help and tools, and creating groups of guys for embankments.
– Let's not talk now, brother, we will talk once this is all over. Let us be quiet and work – he said to the gathered reporters, who were poking microphones and pushing him in front of the cameras.
Arrival of a large group from Novi Pazar sparked pleasant disbelief. Zijo, Sejo, Zlatan, Momčilo, Muharem, Halil...
– Why are you surprised, bro?! – says Sejo Ibrahimbegović. – As if you wouldn't come to help us if we were in trouble?! We are one country, guys, one people... We are not hungry, let's work.
If we hadn't seen it with our own eyes, we could have thought: "Propaganda, cheap and stupid!"
At the entrance in Šabac from the direction of Mišar, near "Zorka", a real international rescue camp was created. Specials from Russia and Belarus, experienced with this type of emergency situations around the world. Special vehicles, rescue motor boats, diving equipment, pumps, diesel-aggregates, electrical generator, devices we had never seen before. Also available are their helicopters MI-24 and MI-8, who could be here quickly if requested. (Together with the Sava, a testimony of remarkable behavior of Russians and the Belarus in Obrenovac. About heart-stirring courage while rescuing thousands and thousands of people. About the fact that they do not have "lists with priorities" but are rushing in where it is the most dangerous and are saving everybody, fighting like lions.) We also see teams of civil protection from Slovenia and Montenegro. The team from Austria, with special vehicles and big pumps, day and night is draining water that is gushing into the battery limit of Chemical Industry "Zorka".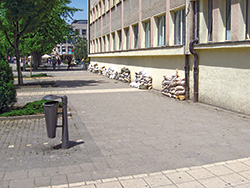 We found ourselves in rescue camp at the time when Russian ambassador Alexander Chepurin arrived to visit, accompanied by General Ljubiša Diković, commandant of the headquarters for defense of Šabac.
– Serbia was struck by great tragedy, but you are not alone – said Chepurin. – Our teams are at your disposal and will be of use. Just like always when times are tough, you have showed great courage and solidarity. In many countries when critical situations like this occur, there would be riots. Selfishness gushes out. In Serbia now, high order and organization have been established. When this is over, a lot will be needed to remedy and restore all this. We will help.
General Diković expressed his gratitude to his guest briefly, like a soldier.
– Yes, our country was struck by great tragedy, but Serbia is fighting. It is important that you are here, with us. Our people feel better as soon as they see you, because they trust you. Because you are our brothers. Thank you for coming. I hope that you will not have to react here.
LATE, BUT NOT TOO LATE
On the embankment near "Alaska koliba", on the shore, not far from the Fortress, we are drinking coffee from thermos brought by Šabac girls and are looking at the swollen Sava. At the open water. Young people astonished everybody here with their morale and self-awareness, courage and goodness.
– They are always the first – says Miloš Savatić, who is on guard with his son, nineteen year old Matija. – They were the first to come here too, that night when we were filling the sandbags and building embankment. In light sneakers, without equipment and preparation, without calling and offering, they know where they should be and why. They mobilized the city by themselves through social networks. They mitigated the consequences of the fact that we do not have a serious government, that we have a cripple army, that professionals everywhere are underestimated and pushed aside. They are also the first among volunteers in shelters. The first in collecting aid. I hear that seniors of secondary schools from Šabac, just like in Belgrade and other places, are cancelling their prom nights and transferring that money into the fund for helping the victims. I wanted to spare my son the risks, to go to the embankment instead of him, and he asked me: "Do you think that this city is more yours than mine? " It isn't, I thought to myself. I just shrugged and both of us came.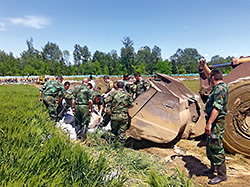 The embankment in the city is stable and under continuous control. But the villages upstream from Šabac, at the order of the Headquarters, were evacuated fully or partially. Majur, Tabanović, Pričinović, Ševarice. The most critical situation is in Drenovac. There, opposite from Jarak and Hrtkovci, the Sava is making a big turn. From the direction northwest-southeast it bends suddenly toward southwest and is straightening toward Šabac. On Čevrntija, embankment near Drenovac, on Tuesday and Wednesday, May 20 and 22, it is critical. Volunteers from Šabac were also invited. A real little combined army responded. Hurrying forward. Another March on the Sava.
Water is dangerously undermining the old earth embankment built in the 1970's. Its foundation and sides are now being enhances with stones. Bags and sand are no longer sufficient. While walking along the embankment and near it, the earth under our feet shivers. Engineers warn us that t his is because the water already penetrated the depths underneath us and is creating whirlpools.
– If it gushes here, the question is whether in these plains it would stop before Šabac. We had to predict this and prepare ourselves. We have evacuated these few villages, and we will defend the city. But the first line of defense is here, on the embankment itself.
Here we meet General Diković again.
– The chances that the Sava would break through in this part of the flow are now 50:50 – says the general. – We are doing everything humanly possible to not let this happen. And if the tide gets stronger here, we are prepared to react. We will first protect the people, and then everything else that is possible.
We remain in Čevrntija zone all night, with a group of experienced observers. Just in case. If water breaks through, at least people here will not be flooded, like in Obrenovac. And nobody would tell them not to leave their houses. Or to decide themselves whether they would go or not. Finally, the professionals are taking charge here and everybody knows who has the executive power. And the person giving commands is not running ahead carrying blankets in front of the cameras, in dilettante sketches, with soggy tuft and a mask of a martyr on his face, but there are those in charge of carrying blankets everywhere where there are no cameras
It is late but not too late.
PEOPLE TALKING
Another night on the embankments of Šabac. Near the silos, between the Fortress and the railway bridge, with a big group of people from Šabac and first responders. The water level stagnates. It is no longer as critical, but the number of people is not getting smaller. They stay to spend another night together, watching over the city. They craved the spirit of community.
The sky is low, night is dense. Cigarettes are sparkling in the darkness and the lamp of our Dictaphone. And people are talking, just like with Rastko Petrović.
– What is it, reporter? While the others are chasing information and news, you are chasing stories? You are a strange kind.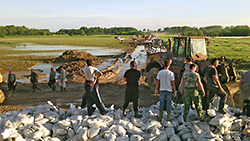 – Leave the man alone. He is not a reporter, he is one of us.
– Can you hear those official nonsense, they say "natural disaster"! Those who have eyes and minds, they saw: there was nothing natural about this.
– This disaster was not natural but social.
– I am sixty years old. I have never seen rain pouring down with same intensity for three days, in the area of several hundred kilometers. Never.
– Since last summer, we didn't have two clear days in a raw without the sky over Serbia being crisscrossed with chemical traces. Unlike the normal trace of a jet plane, which is short and disappears quickly, chemical traces are enormously long and disintegrate for hours. They turn into a whitish veil that descends toward the earth. These are thousands of flights. They fly systematically, in parallel, and then cross. Making a net. Sometimes they sign with a big cross over the city. The campaign lasts from several hours to half a day. There, in front of all of us. You cannot not see. My best man is working in the flight control and he swears to me that these are officially unreported and unidentified planes. Those on earth apparently don't know to whom they belong. Guys, if they were throwing dandelions over our heads it would be bad, let alone chemical substances!
– According to analysis of the soil in Vojvodina and Mačva, drastic increase in heavy metals is recorded, aluminium and nitrogen in soil and agricultural products. All this enters the food chain, changes the climate, rapes the nature. The government has this information on their desks, but would not dare to publish it.
– I remember, a year and a half ago, the police union asked that they disclose what kinds of flights these are and what they are throwing. But all that was covered up soon, nobody ever responded.
PEOPLE KEEP TALKING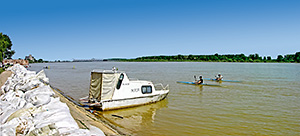 – And HAARP? What will we do about it?
– What HAARP? Don't you know that scientists from Stanford told in confidence to a columnist from Politika that it is an ordinary antenna for studying the spreading of radio waves? They called the man and told him everything, straight from the heart. And so he realized that the entire problem lies in the congenital paranoia of the Serbs.
– I know! They also told to Telesković that everything had been dismantled then, if it was ever mounted at all. The Americans published this on the website, hey, the official website, and we don't read anything, and keep nagging.
– They say that it is a conspiracy theory.
– It is not a theory, many, but practice. We are feeling this on our skin, quite practical.
– I only don't know what we are to do with that huge item in the American military budget that is allocated every year for climate wars. They are wasting money, fools. And they didn't ask Telesković and Pavlović.
– We will defend ourselves with ceramic tiles. They will remember us.
– Come on, people, let go of those freelancers. They will get by without us. But, the e river is calming down, already tomorrow the will announce the end of the state of emergency. How can we survive the regular state that is ahead of us? How can we not sink again into that lair and rot?
– I don't know how, brother, we didn't manage before. We get up, impress ourselves and others, show that we are still alive and kicking, and later let everything slip away. And what we are seeing now is neither accidental nor ephemeral. The disaster happened to us a year after these same guys turned over Kosovo, betraying Serbia. Routinely, like paying a hotel bill. Lightly, like the hand of the executor.
– Yes, and then in the elections, from that one half of the confused masses who voted, they got absolute majority. This is not sludge on the streets but Kosovo shame on the faces of all of us.
– Remember everything they were saying! One asked that he and his dogs are allowed to go to Mitrovica for 45 minutes, so that he would ensure obedience of the Serbian north of Kosovo to the occupational government. The other was mocking while telling that Duchess Milica gave her own daughter to the harem of a Turk, so why couldn't he, the reptile, sell Serbia at an auction. Maybe we have no sense or memory, but those words were spoken and we will pay for them.
– You know how they say: "Every word spoken about Kosovo is heard in the entire universe."
– Man, it is horrible how fast we forget! Already now it seems as if this happened to someone else, two hundred years ago!
– Come on, people, not everything is that dark. There are lighter things. Here, it is dawning, time to go. Let us not forget how good it is to be people, a man among people, to have a community, solidarity and pure heart. Let everything grow again from that.

***
Images and Tears
– I am a soldier by contract. We ran to critical places from Banja Koviljača down the Drina, then down the Sava to Obrenovac. The army does not have people even for the basic tasks. I am filled with heavy and touching images. I cried a few times. First time when, in the shelter, the five-year old boy from Obrenovac whom I had saved from the tide a day before recognized me. He jumped from the mattress and hugged me. Both of us cried, and then people who were watching us cried too. I also cried when I saw, in Zabrežje, how a guardian dog would not leave the house door. The tide was rising, he was standing still. He drowned right there, in front of the door, but he did not betray his home. I also cried when a Russian rescuer, not thinking for a split second, jumped from the bridge into the raging river and took out a baby. Then they almost did not save him... You know, Branislav, we will need a lot of tears. Tears have healing properties.
***
The Sun
In Šabac, reporters gathered around Russian ambassador Chepurin. They ask all kinds of things, he is answering patiently. A local reporter asked:
– Russia helped a lot. But, you said, that by far the most important aid you had brought is: the sun!?
Chepurin halted, mused for a moment, smiled, nodded. And left.
***
Duh
In the difficult nights, while we were feverishly filling the sandbags and carried them to the shore, or moved rocks to enhance the embankment, we maintained the high spirits.
– Sense of humor would not leave us. And that morning on the embankment, when we began to joke for the first time, I knew that we survived. That we won.