More than a Disaster
IN KRUPANJ, AFTER THE UNPRECEDENTED DISASTER
Moon Landscape in Rađevina
These are not typical floods and landslides. As if this pretty mountain town and the entire area were wiped out by a vortex of invisible forces, which made nature and waters, earth and the sky go wild. Houses are tumbled upside-down and thrown away like toys, some half demolished, others swallowed by the earth. Twelve bridges are gone, and the usefulness of others is questionable. Not a single road has remained intact. Hundreds of hectares of former parcels of arable land look as if they are on some lifeless planet. How to go on from here?
Text and photographs: Jugoslav Trijić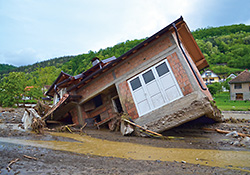 Until Wednesday, May 14, Krupanj was a fairytale-like village in Western Serbia. People used to come to this place surrounded by thick forests, rivers and creeks for vacation, excursions, seminars, sports preparations. People are hard working, modest and proud. Proud of their unspoiled nature, turbulent history, religious and cultural monuments, numerous bridges. It is less known that Krupanj is a town with more bridges per capita than Venice. Better to say: it was.
Because, in the night between Wednesday and Thursday, an almost idyllic image changed in a very short time. The Likodra river with its little tributaries, which go dry in summer months, was enraged. The torrent is destroying everything in its way. Houses and buildings were falling down like houses of cards, a torrent was running down through the city center, there was water everywhere. Twelve bridges, until yesterday the source of pride of the town, were demolished. People speechless, confused with calamity that befell them.
– We have survived all sorts of thinks in our lives, even bombing, but this is something unseen. In a few hours, the town has been almost completely wiped off. This cannot be brought back to normal in fifty years – tells us a road-maker from Krupanj who we find on location.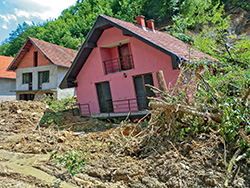 The sun has not fully come out yet, and Krupanj was literally cut off from the rest of the world. On the only road toward Loznica the torrent took away the bridge, city water supply system is covered with a pile of sludge and dirt, telephones are disconnected, power supply was out. Nobody could come in or out of Krupanj. Or send a message, or call. With no water, electricity, telephone and roads, left to themselves, both the people and local management get by with great difficulties. Without machinery, serious organization and people, little could be done. The town is on the brink of panic. For three full days. The balance is horrifying. Five hundred houses are under water, more than 600 people evacuated. A few dozen houses are demolished, ten times as many are seriously damaged. And, what is worse, two lives were lost.
– The situation was, and still is, critical. The town was without water and electricity, destroyed and cut off from the world. Drinking water was gone, there was no supply, no roads. Nobody knew how we were doing because both telephone and internet lines were disconnected. The citizens of Krupanj will never forget those two-three days – says Rade Grujić, president of the municipality.
DESTINIES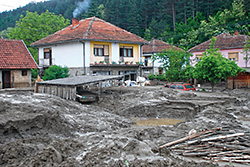 Real drama was taking place in almost every house. Families could not get in touch with those who were not at home at the moment. Livestock, which means life for many, is drowning, hoses are swallowed by the torrent.
In the settlement of Žarkovača, just above the market, in the house of the Milanović family, Verica (53) with daughter Slađana is peacefully going to sleep not expecting what will fall upon them soon.
– Around half past three I was awaken by the roaring of the river. I go to the window and I see that it flooded from its bed. I go to the other side of the house, the one facing the street, open the door and there was a sight. The river was running down the street. I start to panic, the worse thoughts were going through my head. Four years ago, our twenty-four year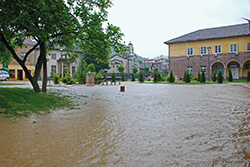 old son Slaviša drowned in the Drina. Is water going to take away my second child as well?! I grab the telephone and call my husband who was in Kostajnik. I scream into the phone: "Come here right now, save the child, is the water going to take her too!?"
Water is coming in at great speed. With help from the neighbors, Slađana finally leaves the house, and then she could relax a bit. By that moment I didn't even have time to think about the house and things, says Verica. There was no time for that later as well. A lot of time has passed by, and husband Radivoje (58) was nowhere to be seen. Verica still doesn't know that he is also going through a real life drama on the other side of Krupanj.
– As soon as my wife called, I sat in the car and drove home. However, the water soon flooded the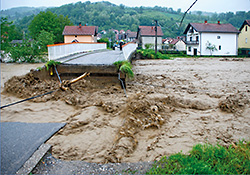 road, and then lifted the car that started floating like a boat. I thought to myself, this is it, this is the end. At the last moment the car hit into a tree trunk that got stock and stopped. The torrent was hitting harder and harder, and I was fighting against it. Fortunately, the tree trunk does not give in. I cannot budge. I was sin water for more than two hours, until my brother and the neighbor, who was alarmed by my wife, pulled me out with a long pole – says Radivoje.
And while he was fighting for his life, their house collapsed. In an instant, everything they owned was gone.
– In the so called transition, we were both left without jobs, and after that we lost our son. We hoped that that was the end to misfortunes that had been following us, and now we were hit by this force. We are now completely homeless, without jobs and without hope. But at least our Slađana is alive. And now when I think about what could have happened, I feel like I am going crazy – tells Verica through tears. Three of them are placed in one room in "Pegaz" Hotel where they are awaiting their destiny to be resolved.
HEROES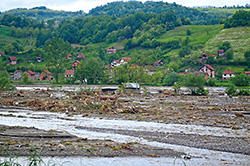 There are hundreds of stories as sad as this that were created by the torrent in Krupanj. In the settlement of Žarkovača, that is almost not a single house that was left in one piece. But, fortunately, as it usually happens, great misfortunes make true heroes. Those who remain in service to their countrymen although they were in great difficulties themselves. One of them was Slavko Živanović, a cameraman at the local cable TV. In six day of the disaster that befell his town, he spent only twenty minutes in his house. And his yard is in disarray. The old house completely demolished, the new one under the risk of mudslides and landslides.
– I live in the village of Brštica, six kilometers from Krupanj. I had two houses in the yard, old and new. On the first day, the old house cracked up to one half, on the fourth day it collapsed completely. Landslide reached five meters to the new house – says Slavko not letting go of his camera. He says that he left his house last Wednesday with the camera, when the creeks in his village started to rage.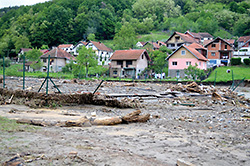 – I went to record what was happening, and events were changing at such speed that I didn't have tome to go home since then. Only on the second day I stopped by my house for about twenty minutes to take some spare clothes – says Slavko.
In the house, he left his wife and one daughter, while other two daughter s are at the university.
– Everybody is asking me if I am insane, why don't I go home and save what can be saved. They may be right, but this is drama and history. This disaster must be recorded – says Slavko.
On a motorbike with a camera in his hand he is flying around Krupanj and recording everything. By now he has collected hours of video materials and over five thousand photographs. He says that he has learned about their old house being completely destroyed and about the danger that threatens his other house form his wife on the phone. But he does not have the time to visit her.
– I was going to go today, but here, the Minister of Agriculture is coming. There is help coming continuously, the cleaning of the city began, there is so much work to be done. My wife and daughter are getting by, they are used to it, this is what my job is like – explains Slavko, adding that he is not the only one who has been with his countrymen all the time. He mentions the chief of the police stations, numerous policemen, firemen and many others. How long will he hold on?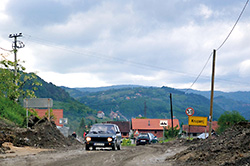 – For as long as it is necessary. It is not easy, especially because these are my countrymen, I know them all, and now I am looking at their sad fate, and I don't even have time to start thinking about mine – says Slavko, then jumps on the bike in order to get to the stadium where a helicopter is just about to land. Everything must be recorded.
And the said chief of the police stations, thirty-years old Darko Mićić, is one of the heroes for his community. He has been at work continuously for six days and six nights. He has been with his people all the time, rescuing, commanding, organizing.
– Nah, I am not a hero, I am only doing my job. I am proud of my people who, not sparing themselves, reached almost all parts of Rađevina. From the completely cut-off Kostajnik they have managed to pull out thirty three people, literally carrying them on their hands to the basket of the bulldozer. When you see such self-sacrifice of your people, you get new strength and you keep going – says Darko. He admits that the most difficult thing is not being able to see his two-years old son, although he is only 700 meters from the station. While he was taking care of Rađevina, his wife and mother were mounting sacks with sand around their house.
RESTORATION
On the third day after the tragedy, Krupanj was finally unblocked. Finally everybody heard about the tragedy of this little town and help started to arrive from all sides. In one moment, this created a big problem as well, because the only clear road to the town from Zavlaka was jammed with trucks and cars. Everybody wanted to help to the suffering people from Rađevina. Water left behind a huge quantity of sludge. The cleaning began, volunteers were coming to the town. Before what used to be the Day of Youth there were about five hundred of them, with old flags and songs from youth work actions, known only to those who were older. The old volunteers, various associations, institutions, everybody came to help.
Hoes, shovels and spades in the hands of five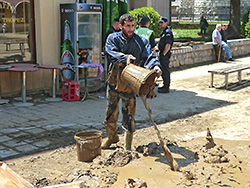 hundred people do the own. They cleaned someone's yard, someone's house covered with dirt, somewhere the entire street. Elderly people from Krupanj are happy that they are not forgotten, aware that they cannot restore the destroyed town themselves. Children puzzled while looking at what is going on. If only it will last.
– Thanks to everybody who is helping us. And we do need help. If five hundred people worked here for two months, they wouldn't be able to clean this misery. That is how big a damage we suffered – says Rade Grujić, president of the municipality.

***
Damage
Nobody can estimate as yet the damaged suffered by Rađevina. Thirty three collapsed houses, 164 cannot be inhabited, twelve bridges gone, the rest almost unusable. There is no local road in the municipality that has remained undamaged. Hundreds of hectares of arable land, which is the only source of income to many in this poor municipality, no longer exist. The torrent took it all.
***
Help
Krupanj cannot make it out of this disaster on its own. It will need all kinds of help. And for a long time.
– That will not happen. The entire country was struck by great misery, who is going to think about remote Krupanj. It has always been like this, and it will be like this now. Out of sight, out of mind. That is how it goes – says the old man while looking melancholically into the field where his farmland used to be. Now it is only a wasteland resembling desert landscapes.
***
Asylum seekers
Asylum seekers from Bogovađa also arrived in Krupanj. They help others to survive the difficulties. Mohamed from Sudan, Ujam from Iraq, Mohamed from Egypt, they know well what hard times are. They work as hard as they can, and their minds, they say, are full of images of their own sufferings they have left in their homelands.