Circles
LJUBOVIJA SURVIVED THE THIRD FLOOD IN THE PAST DECADE
Unfortunately, We Have Experience
Fortunately, now it was not the Drina that flooded, like in 2010, but only the Ljuboviđa. And in the past years canals were being cleaned and riverbeds regulated, so the damage was mitigated in this way. Still, the town was completely blocked for three days. Three bridges were demolished, four were damaged, as well as over three hundred kilometers of roads, numerous water supply and other facilities, and about thirty houses. Among all those gloomy images, the only bright light comes from examples of humanity, sacrifice and solidarity o primeri
Text and photographs: Miroslav Lukić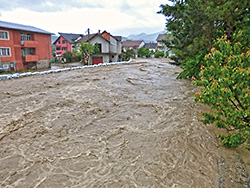 "Is it really happening again?!" uttered through his teeth Živorad Radojičić from Kosovska Street in Ljubovija when, on Wednesday evening, on May 14, he saw that the Ljuboviđa river was going to flood from its bed. When it became clear to him that his house will be under water again, for the third time in only thirteen years.
– When in 2000 I moved into the new house, I didn't dream about this. Already in June 2001, the Ljuboviđa flooded us and created huge damages. Then in December 2010, the Drina burst, flooding the house almost two meters. And now again. Enough is enough – he tells us, getting ready to spend the night by taking his thighs up on the floor, moving his car, tools from the garage.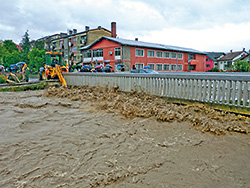 His example is followed by everybody in this and in the surrounding streets, the settlement of Vagan, Moše Pijade. There is nothing to wait for, two floods have been survived. Experience accounts for the lack of panic, everybody already knows what is ahead of them and what needs to be done. Anger also comes from experience, because everybody knows the consequences.
– I have not fully repaired the consequences of the previous flood, and here, new water has arrived – Radojičić's neighbor Arsen Mladenović complains.
The municipal Crisis Headquarters also has experience. Already on Wednesday evening it declares state of emergency. Sacks are hastily being filled with sand, trucks are thundering, holes on the embankment of the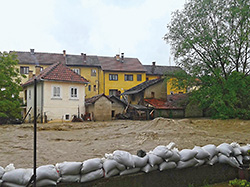 Ljuboviđa that is rising minute after minute are being closed. On Thursday morning, everybody realizes that the town will be under water again. And in a few hours it really happened. Almost 400 houses were flooded, kindergarten, rivers are flowing down the streets, all traffic directions are impassable, the town is cut-off from the rest of the world. Bridges carried away, electricity and water shut off, telephone lines disconnected, internet. But there is no panic. Everything has been seen already. Twice, in the past thirteen years.
The level of the Drina is being observed closely. If it starts rising, Ljubovija is beyond salvation. And this is what happened in one moment. The Drina started to rise, it was no longer capable of receiving water from the Ljuboviđa, and a serious threat arises. Fortunately, it did not last long.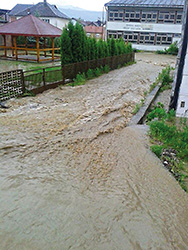 "The Drina is receding!" was the news that made everybody happy that Thursday evening. Another grave danger was avoided. On Friday, the enraged Ljuboviđa also began to calm down. Wearing tall boots people are returning to their flooded houses and yards. Evaluating the damage.
– It is good. Water only entered the basement, garage and outbuildings – says Božidar Simić from Svetosavska Street. He says that he does not know what he would do if it entered the house again.
– The last time we had to tear down the walls, remove the parquet, dry and do everything again. I don't know if we could do that again – says Božidar, while pumping the water from the basement.
On Saturday, water slowly withdraws from some yards. It leaves behind huge quantities of sludge, and big cleaning begins in almost the entire town.
MAIL MUST BE DELIVERED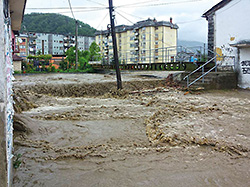 While they were pumping the water and taking out sludge from their houses and yards, the people who live in Drinska, Kosovska, Hilandarska and the surrounding streets were more than surprised when, while walking through the knee-deep water, Pero the Mailman came to their door. Carrying the mail he was to deliver.
– Pero, what are you doing in this misfortune?! – asked a man struggling to drive out water and mud from his garage.
– Mail must be delivered in all circumstances – answered Petronije Stanojčić, calmly and seriously. – Nobody has asked me to do this. With me, it goes without saying. I have been delivering mail in this area for years, I have become close to local people, for whom this is the third flood in the last decade, and I could not have stayed and done nothing. Because of my age, I cannot help much physically, so I decided to do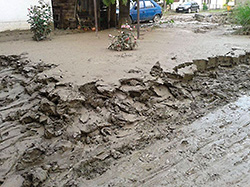 what I can. I put my boots on, went through the water and started delivering mail – says Pero and wonders for the media interest in his endeavor. – If people were not at home, I left the mail in their mailbox, and with those I found here I had a chat, and offered my help in accordance with my abilities. I don't think I have done something special. There are also several companies here, elderly people, maybe they received something important or something that will make them happy in the misfortune that befell on them.
And Mirjana Radojičić from Kosovska Street tells us:
– First I was surprised, what is the mailman doing in the flooded yard? Only when Pero left I felt some warmth in my hearth. Somebody still remembered us, somebody here is persistently doing their jobs, life comes back to normal, goes on. It means a lot in situations like this.
DIALYSIS AND THE FIRST TRUCK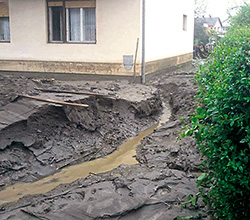 In the municipal Crisis Headquarters they have their hands full of work. They had to think about everything, solve all problems. Both those with the rising water, and those that occurred as the consequence. Being cut off from the rest of the world, inability to organize supply. Bottled water disappeared in an instant, bakers are not able to bake bread. Nobody can enter Ljubovija, or leave it. What will happen with nine patients with renal failure who must undergo dialysis?
– It was really a big problem. It was not possible to go toward Užice, or toward Valjevo, or toward Loznica. Time was running out for them, we had to act quickly, find a solution – explains Miroslav Mićić, president of the municipality. The rescue came on Friday. Helicopter of the Serbian Army transferred all nine patients to Loznica for dialysis and they all arrived in time.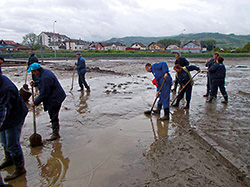 Milivoje Milutinović, an old grocer from Ljubovija:
– Eh, if someone had told me that a helicopter would come for me, I wouldn't believe them. I thought that it was the end. The roads demolished, water up to our throats, who would think about us? But there, someone thought alright.
Then the first vehicle arrived in Ljubovija after the roads had been blocked for three days. It was a truck of the National Bank of Serbia, and the truck was full of četniks. Members of the Movement of Serbian Četniks in the Homeland, as they explained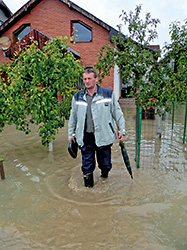 – We came to take as many boats as possible, as many as we can find here, and we are going to help people in Obrenovac and Šabac. People from all over Serbia, Republika Srpska and Montenegro are waiting for us there – said their leader, Rade Čubrilo, who introduced himself as a duke. – Don't let the truck confuse you. One of our members works in the National Bank, so they let us use the vehicle.
The arrival of the first truck was the certain sign that the road is no longer blocked.
The supply has slowly stabilized, and after three days we even get the newspaper.

After the water had withdrawn, the town was left in a chaos. Big quantities of sludge, which in individual places (the Square of Ivo Andrić, bus station) was one meter high. Houses, yards, streets full of mud. Machinery is scarce: new problems appear, not less serious than those with water. Many landslides appeared in the territory of thee entire municipality. The worst situation is in Selanac and Podgaj. They cannot be reached. The rescue workers take out about forty people from Selanac, carrying them in their hands. About fifty of them in Podgaj are almost impossible to reach. Water on one hand, on the other hand a sliding hill. The rescue workers go there on foot as well, and rescue those that are the most vulnerable. The others stay to look at the misfortune that befell them.


***
Damage
First estimates say that the floods and landslides created damage in the municipality of Ljubovija of about 2.5 million Euros. Three bridges were demolished, four damaged. Twenty hectares of arable land lo longer exists, crops were destroyed on a surface of about 400 hectares. Six houses were demolished, 24 damaged, 110 endangered. About 300 kilometers of roads are damaged, as well as numerous water supply and other facilities.
***
Mitigation
– The damage in Ljubovija would be even bigger if we had not, learning from experience, cleaned the canals in the past years, built embankments, regulated riverbeds. Now we must remedy the consequences of this disaster as soon as possible and continue normal life pre – says Mićić, president of the municipality.
***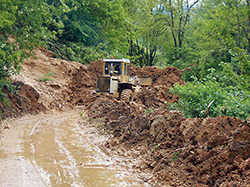 Temptation of Fate
And remedy and reconstruction have begun. Heavy construction machinery and trucks arrived in Ljubovija upon recommendation of Tomislav Nikolić, president of Serbia, who came here to visit. They are already working in full capacity. Embankments on the Ljuboviđa River upstream from the town are being repaired. Local roads are being backfilled, bridges repaired. But, how will the people remedy their damages?
– By ourselves, just like in 2010. That is our destiny – says Božidar Simić.
We will see whether these words will come true.