Abysses
IN REBELJ, WHERE MEDVEDNIK SWALLOWED THE VILLAGE
In a Single Bite of the Mountain
Until last year, all that was missing here was the road (and then it arrived), and now everything is missing. In only one horrible night, the earth swallowed houses and barns, orchards and pens, fountains and bridges, wells and graves. The sun set, but it did not rise. For day no word was to be heard from there, good or bad. Neither song nor cry. Among the first who managed to get there was the reporter of "National Review". He found the entire village in only one little house hanging above the abyss. He listened and recorded
Text and photographs: Vlada Arsić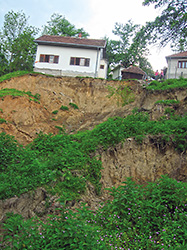 Last fall, people in Rebelj celebrated. For the first time since its establishment, the village at the foot of Medvednik Mountain was asphalted. Well, only for two kilometers from Bebića luka, but still enough for the locals to get together, celebrate and star telling the story about some better times all over again. Because here, about thirty kilometers southwest from Valjevo, all that was missing was the road. Today, only a few months later, everything is missing. In an instant, in only one night, everything that had been created by generations of Pirgić, Pešić, Marković, Aleksić and other hamlets was gone.
Although only about ten days passed, the highlanders accustomed to all sorts of grief, still overcome by silence and disbelief. They look at one another in misery and ask where their houses have gone, their vegetable gardens, barns and orchards. What happened to fountains and bridges, where are now their pens and graves... Because, nothing here is the same. Only here and there one can see a ruin, curtains flying in the wind and dogs howling. They still guard the village, circling before the house doors, only the houses are no longer there.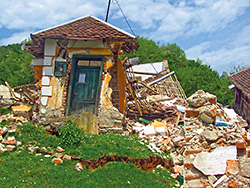 The first word about the disappeared village traveled long. The cry of the highlanders was firs heard by Leposava Pirgić from Valjevo. Led by a hunch, she rushed on foot to the homeland of her ancestors from where not a single word had been heard for days. Neither good nor bad. Before the village she was greeted by strange debris, washed away farmland and scattered tombstones. She looked at the mountain in front of her, unknown reliefs and wiped out forests; She wondered, for a moment, what is happening and whether she came to some other village by mistake. But, there was no mistake.
– When I saw the tumbled graves and collapsed buildings, I wondered if anybody was alive – Leposava is telling us while walking in front of us down some kind of goat path that, until recently used to be a road. – It is the real miracle that nobody was hurt in this disaster, not a single scratch or wound... Except those in people's hearts, which will never be cured.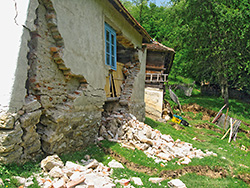 These days, Leposava has been both the government and authority for the people of Rebelj, hope and consolation. Only she goes to visit them and cheer them to keep going. Thorough social networks and numerous appeals she managed to recruit everybody she knew. And she didn't even know how many she had. Friends, acquaintances, but also completely unknown people, responded to the call. In only a few days, owners of taverns in Valjevo and tavern musicians gathered among themselves 150,000 dinars. The others also give, as much as they can. And everything is immediately exchanged for flour, oil, yeast, detergent, candles foodstuff... Leposava knows well what peasants need and what is crucial for survival these days. But she didn't know how to bring all that to this place, which can now be reached only by birds.
– People helped me with that as well – she says. – Almost every day we leave Valjevo, go by car to Bebića luka, and then by foot, with hands full of bags, we go up toward the clouds. We cross tree trunks, cross over the raging river and the abyss, and we are in a hurry. The mountain is huge, and hamlets are scattered. Each one of them must be reached, give helping hand to everybody and at lest ask them how they are and what they need.
LISTENING TO THE MOUNTAIN, AT NIGHT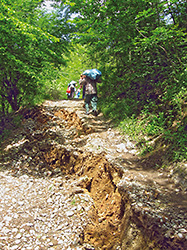 And these days, conversation has been the only medicine to many. The only way for them to understand that they are not alone left in misery. In the house of Leksa Pirgić, one of the few that did not move, the entire village gathered. All those neighbors, refugees, who have nowhere to go. They are all squeezed under his roof, remembering and fearing together. They have saved their lives and now as if they don't know what to do with them.
– Our peasants have this urge to get up during the night, go in front of the house, listen to the mountain and livestock in the barn – explains Andrija Marković, into whose house it is also impossible to go. – This saved us. When the hill rushed toward us, we had just enough time to run out and release the animals. Everything else was taken by the water.
The worst happened to Desimir Aleksić from a hamlet just below the very peak of Medvednik. When the earth collapsed, the barn with eighteen sheep, thirteen lambs, a sow and eight piglets was destroyed first.
– Only a ram and one sheep managed to run out of the barn that was swallowed by the torrent – she tells us with tears in her eyes. – Only two of them are left out of the entire herd, I guess the Lord intended them for the grandmother and me for the soul.
Peasants in the Valjevo region call their herds a treasure, and Desimir's has remained under the ground forever. And when this happens, many resent the fact that they survived.
– Where am I to go now?! – cries Anka Pirgić, an elderly woman, in front of her house. – I was brought to his house long time ago, I gave birth and baptized my children here, bid them farewell and welcome them back again. And where am I to go now? Lord, why didn't you leave me under the house too?
THE DOG WHO SENSED IT
Among those who went to the mountain with Leposava is Aleksandra Milutinović, a specialist doctor from the hospital in Valjevo. She brought necessary medications and medical devices, so much is missing, but at least a word of comfort can be found for everybody.
– No matter how calm and composed they seem to be, the device is not lying – she tells us while measuring blood pressure to everybody she meets in this wilderness. – For most people, blood pressure is far above the upper limits, and I am afraid that it will be even worse when the first shock subdues.
One of the few who does not care for the general tragedy is grandmother Rosa Pantelić. True, her house was undamaged, but her home, as Leposava tells us, was wiped out long time ago.
– Half a century ago, I think it was in 1968, she buried four of her children in a single day – she tells us. – Since then, she hasn't cared about anything, she is only waiting to die, but death keeps passing her by.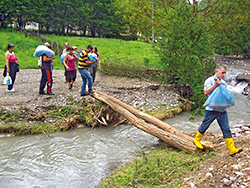 Some say that the cause of those deaths was some illness, and others think that it was an act of god. Both are probably right.
On the ruins of the house of Dragan Aleksić we see gathered family. Father, son, daughter in law and a one-year old boy. They jump over the collapsed wall and play with a little mixed-breed, they say his name is Cuko.
– Animals are strange. I don't know if they know anything, but they always sense everything – Dragan tells us. – I remember, an evening before the tragedy, I saw him standing in the rain, getting wet and crying, but wouldn't come near the house. And he always used to sleep in front of the house doors. Because of this behavior we were also cautious, we didn't even fall asleep, mad maybe this saved us.
We do not have animal instincts, but for the sky over Medvednik we don't need them Some heavy clouds are gathering again, lightning bolts arte heated up, and we know that our fortification, the arranged tree trunks and beams, are as loose as a grandmother's tooth. We rush down the village, greet the locals, but their eyes are escaping somewhere up the hill, somewhere far above us. They are afraid of the rain, it is clear. In the house over the abyss, where the entire village is squeezed under a single roof, it will be yet another difficult, uncertain night.

***
New Rebelj is Sprouting
Dragan Jeremić, director of the Directorate for the Construction of the City of Valjevo, knows well the situation his countrymen below Medvednik are in. He also knows that misfortune befell entire Serbia, that many need to be helped, that the municipality budget is empty. Still, he promises that Rebelj will not be forgotten.
– The village will no longer be there – Jeremić is clear. – Simply, there is not a single acre of land where we could build something, but we will not allow the village to disappear. We have been working hard on collecting donations and I am certain that we will build it in a new location. Whether this will be in Poćuta, seven kilometers closer to Valjevo, where they have school, post office, shops and health center, or maybe closer to the peak of Medvednik, where most of the villagers have their estates, they will decide themselves. I only know that they will not wait until the snow and winter without roofs over their heads.
***
Cry of Animals
There, under the peak of Medvednik, where barns and pens of Desimir Aleksić used to be, the earth that night swallowed forty live beings. Sheep and lambs, sow and piglets. All of them buried alive. For days the wailing of animals was heard from under the earth, for days Desimir was digging the earth with his bare hands and trying to release them, but it was in vain.