Summary
FLOODS IN SRPSKA WERE ALSO IN CATASTROPHIC PROPORTIONS
Connected vessels of disaster
For the first time in the history of this Republic, state of emergency was proclaimed on its entire territory. Floods directly hit 58 percent of the population and 40 percent of the territory. The most severely damaged were Posavina and Semberija, cities Šamac, Doboj, Bijeljina, Modriča, Banjaluka... Damages are enormous, just like courage and solidarity showed by the people. It seems that misfortune and water sometimes connect people better than the bridges
By: Senka Trivić
Photographs: Mladen Blagojević, Aco Čavić, Vladimir Stojaković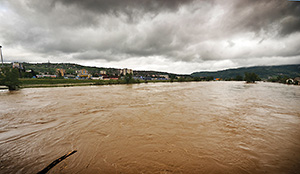 "It has not happened in the past one hundred years", "water has never been like this", "I did not have time even to lift my furniture", "nobody expected flood this big". Statements of the victims kept repeating. In disbelief, they watched farmland, streets and roads turning into indefinite bodies of water. The severity of the situation could be only vaguely sensed through the shocking media images.
Information was spewed and it was difficult to grasp what was going on. Where did the water spill, where the embankment broke, which roads were blocked? Confusion was followed by worry. Attempts to receive information about the loved ones from the most affected areas over the phone were mostly unsuccessful. The water rushed in, electric power was disconnected, and the telephone communication was very difficult or interrupted. Expectations filled das and nights.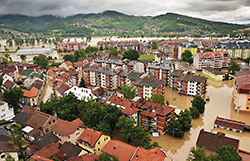 With no sleep, they were monitoring the situation in the field. With TV and radio, like never before, the social networks were flooded with information. Also enabled were payments of donations through the PayPal system, and a website was created where it was explained how it was possible to help the victims of the flood.
Where this was possible, additional embankments were made from sandbags. Many volunteers participated. However, previously built embankments, in parts of municipalities of Banjaluka, Bijeljina and elsewhere, they broke in many places. Superhuman efforts were made to save what could be saved. People often did not give up even when their own lives were at risk. Water divided neighbors, cousins, family members, but the misfortune brought them together. And the desire to help the most vulnerable.
Stores were emptied, public events were canceled, everything was covered by only one word: flood.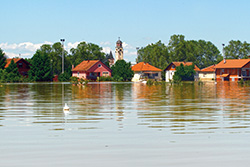 Water levels of rivers, which were reported hour after hour, marked their historical maximums. The highest level of the Bosnia River in Doboj, marked on May 13, 1965, was 578 centimeters. A whole meter lower than the one measured on May 16 this year: 680 centimeters.
– I was still in bed when my mother called me to look through the window. I saw what was happening and I immediately realized that it was not an ordinary flood in our street as the result of heavy rain – recounts Mladen Blagojević, a photographer from Doboj. – It was a river flowing down the street! Fast, half a meter deep. I jumped from the house and tried to drive my car up the hill, but the traffic completely collapsed, because everybody was trying to do the same. I parked my car a meter and a half above the street and hoped that it was high enough. Doboj is a wide town, a lot of water is necessary to cover this surface. I could not imagine that the water would rise a meter above my car, which is completely destroyed.
STREET HEROES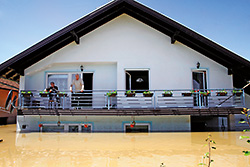 Helicopters and boats went on the first line. Everybody was aware: damage, no matter how big, can be remedied, but human life cannot. The most vulnerable people were evacuated, and those who decided to wait on the upper stories of their houses for the situation to calm down, or upper floors in apartment buildings, were brought food and water. Ironically, at the time when the big water covered everything, the most demanding item was exactly it: water, but drinking one.
Many rafters and divers from entire Srpska engaged their equipment and power and made them available in the rescue missions.
– In one word: disaster! – says Aleksandar Pastir, president of Rafting Club "Canyon" after returning from Doboj. – A disaster like this has never befallen either this state or others in the region. We should give great recognition to the people of Doboj, who survived all the hardship. As well as individuals who, despite the torrent, bravely embarked on boats and helped.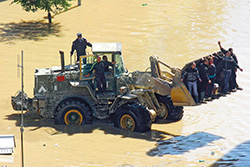 Members of rafting clubs from Foča were rescuing the affected population in Bijeljina for four days. Six of them also participated in the rescue mission in Obrenovac.
– In Semberija, villages are now literally like lakes, people are in despair – recounts Vjekoslav Ćalasan, one of the rescuers from Foča. – Villagers need immediate help in the form of feedstuff.
Helicopter Service of Srpska and Armed forces of B&H from Banjaluka, with help from four helicopters from Croatia and Slovenia, evacuated more than 500 citizens of Doboj, Modriča, Šamac and Bijeljina, whose lives were endangered by the floods. On the first day they were flying in bad weather. Visibility was exceptionally low, it was raining heavily, and wind was blowing at the speed of 60 kilometers per hour.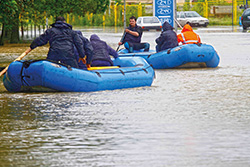 – Under normal circumstances, nobody would fly in such weather. However, we responded to the first call of the Prime Minister of Srpska. When we had to evacuate to Banjaluka a woman with skull fracture, who could not survive if she stayed in Doboj, we decided to go at our own risk – says Boban Kusturić, director of the Helicopter Service of Republika Srpska.
Some people were rescued from the roofs of flooded houses and they handled that heroically. Rescue missions were also conducted by members of civil protection and special police. There are many people whose unselfish actions and heroism saved human lives. We might never hear their stories. To them, heroes from the shadows, the people of Srpska will remain grateful forever.
STATE OF EMERGENCY AND MOURNING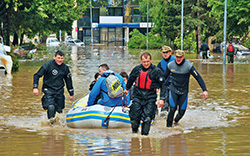 For the first time in its twenty two years long history, Republika Srpska experienced a state of emergency in its entire territory. It was declared on May 17. Two days earlier it had been declared in fourteen municipalities.
The flood, the unstoppable water, was hitting town after town, house after house: Zvornik, Prijedor, Bratunac, Prnjavor, Čelinac, Kotor Varoš, Banjaluka, Laktaši, Modriča, Bijeljina, Šamac, Doboj...
Three days after declaration of the state of emergency, the Day of Mourning was declared. Floods were the last life stop for seventeen people, mostly older ones.

Numerous landslides and mudslides were activated throughout Srpska. People were watching in disbelief how earth was swallowing houses. Cries and shouts of crushed villagers brought chills. Just like in a silent movie. Only the waving of heads left and right illustrated people's state of mind.
Stories of the victims are the same regardless of location. Water sometimes makes stronger bonds than bridges. The flood tide entered houses, basements, ground floor facilities, apartments on the first floor. Almost all of that is destroyed. With sorrow and disbelief people were watching how everything they had been building for years was destroyed in only a few minutes.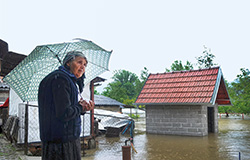 Ivica Ćosić, from the settlement of Lazarevo in Banjaluka, has lived in a barrack for more than 35 years. He testifies that since the barracks were built, after the earthquake in 1969, the Vrbas has never flooded in this part. But now it did. Ilija was not able to save anything. His wife has cancer and is now in a hospital. His son in law came to help, to clean mud off the floors and obtain construction material.
– I had laminate and parquet there, it is all destroyed – says Ivica. – And who knows when we will be able to return and live here again. I am now staying with my daughter.
In Trno, the biggest settlement of Laktaši, it is estimated that about 2,000 houses were flooded. A single father with four children lives there. The house was already bad, and now it is flooded too.
– As it usually happens, the poorest were hit the hardest by this misfortune – he says. – Yes, the rich and the poor found themselves in the same situation, bosses and workers, indigenous people and newcomers, but recovery will be the hardest for the poor.
GETTING OUT OF THE MUD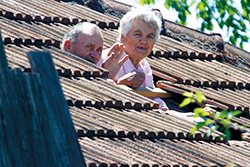 A bigger shock than the flood itself, people say, were the consequences left by the water.
Cities were turned into dumps. As far as the eye can see, already ion the first day after the water receded, there were piles of scattered rubbish. People with masks on their faces and with gloves were cleaning the mud, somewhere up to 40 centimeters high. Only on the second-third day the technical water was released, unusable for bathing or drinking. Electricity was coming back on gradually. Fear of possible epidemics was hanging above everybody, like a cloud.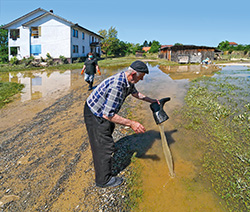 In places where water stayed for one day, the remedy works began sooner. Šamac, Doboj and Bijeljina were not so lucky, being some of the cities that were hit the hardest.
Semberia plains experienced agricultural and livestock massacre. The entire city of Doboj, and all of its commercial facilities, are victims of the water Armageddon. The crises in Šamac lasted the longest. Officials are warning on a daily basis that the water in Posavina washed away warnings of mine fields, but also relocated the mines themselves.
And after the water settled back in its riverbeds, everybody has only one goal – to bring back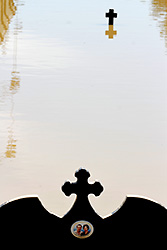 everything in the original state as soon as possible. An army of volunteers, mostly young people and students, like swarms of bees were visiting the affected villages and helped where help was needed. There are many more challenges ahead.
Most of the trades have been closed. Packages with help are arriving from all over. From the neighboring countries, Russia, European Union, United Nations... They are delivered by planes and trucks. And the damage is yet to be estimated. They amount to many millions, no doubt.
It was announced that the flooded parts of Doboj and Šamac will be declared special zones, and that a Solidarity Fund will be established for helping the flooded areas. The state of emergency, except in ten municipalities, was abolished in Srpska on May 26.
Will we remember and learn something from this tragedy?

***
Serbia Is Helping
Humanitarian number for helping the affected areas of Republika Srpska – 2161 – is available in all networks of mobile operators in Serbia. By sending an empty message to this number, people can donate 100 dinars (0.87 EUR) of help to the victims in flooded areas in the territory of Republika Srpska.
***
The Old Truth, New Media
The important role of online media, social networks and forums in situations like this was once again confirmed. Danger of inaccurate news existed, but this media today is undoubtedly a tool necessary for every modern craft. The government of Srpska has also realized this. After the state of emergency was declared, it created its official profiles on Facebook and Tweeter, through which it posted daily updates on implemented measures, important telephone numbers, established points for donating food...