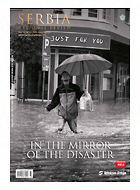 SERBIA - National review, No 43
Prologue
It has not happened before, and it will never be forgotten. The May flood of 2014 was a large scale natural disaster. Until the moment when we write this, the official number of casualties in Serbia is 35, but hundreds of people are still unaccounted for. The floods hit 39 cities and municipalities in Serbia, 1,643,832 people were endangered, 31,879 were evacuated. About 83,000 hectares of arable land were flooded, about 4,500 buildings were demolished or severely damaged (not counting the flooded Obrenovac). Material damages exceed 1.5 billion Euros. "National Review" dedicated its entire new edition to these events, testifying directly and leaving an important document. <


GALLERY

CONTENTS
Prologue
SERBIA ON WATER, UNDERWATER, ALONG THE WATER
In the Mirror of the Disaster
Vitrage
NUMBERS, EVENTS, INTERESTING THINGS
Album
IMAGES OF FLOODS, INSIDE AND OUT
The Water Will not Wash Away Everything
Disaster
TESTIMONIES FROM THE FLOODED OBRENOVAC
Encroachment at Unnatural Speed
Maybe the tragedy could not have been avoided, but the consequences certainly could have been less serious and without casualties. How could the Tamnava rush into the city unannounced and from the undefended side? What was the role of Rovni Dam above Valjevo when the water tide plunged in Obrenovac with startling speed and force? Why did the sirens go off only the following morning, when the city was already flooded? There are many difficult questions that must be answered by a fair and professional investigation. And there, in the tide, in horrifying days and nights, many known and unknown heroes were saving hat was left to be saved
By: Mišo Vujović
Photographs: Archives of the Serbian Army, SAJ, Mišo Vujović, Nikola Obradović
Energy
FLOODS DELIVERED HEAVY BLOW TO THE "ELECTRIC POWER INDUSTRY OF SERBIA"
The Kolubara Battle with Nature
For the first time in its history, almost 120 years long, Mining Basin "Kolubara" was forced to completely shut down coal production for a few days. The Kolubara River penetrated the pits, water gushed from everywhere. Only in "Tamnava – Western Field", the biggest mine in the Basin, there are now 210 million cubic meters of water (the entire Vlasinsko Lake has 165 million). Excavators and transport equipment are flooded. Everything. Divers are bringing photographs of the situation, but the first rough estimates already speak about hundreds of millions of Euros. On the most important mine, where situation is the worst, the basic remedy will take a year and a half
By: Ana Pavlović
Photographs: Archive of "Kolubara"
Bulwarks
DEFENSE AND NEW DAYS OF ŠABAC, THE CITY THAT MEASURED SERBIAN CHARACTER
March on the Sava
Between evening and morning the invisible border was crossed, Serbs entered a different time and state of mind, and nothing will ever be the same. Serbia saw its true face, heard its old noble heart. Dangerous tide was rising, the dark force, it was necessary to build an embankment made of the best examples and the most important virtues. Courage and morale, self-discipline and solidarity, intelligence and goodness, knowledge and faith, love and organization. It is simply unbelievable how many people came and from how many different places. The bank of the Sava became the front that night, and Šabac an example of how a city is to be defended, But, people, what can we do to avoid, after all this, sinking into the "normal condition" again? It is more dangerous and can kill us
By: Branislav Matić
Photographs: Serbian Army, Branislav Matić
Upstream
HOW SREMSKA MITROVICA DEFENDED ITSELF FROM THE SAVA
The Fortress of Solidarity
The river made dramatic threat. It was necessary to protect the most critical places, then the entire quay about ten kilometers long. Everybody came like one, more than 5,000 volunteers came to help from other cities across Serbia. Over half a million sandbags were mounted. And then the Sava broke through the embankment in Croatia and threatened to burst into Mitrovica through farmland and forests, from the outer side of the embankment. And this was prevented. It turned out that everything that was done, and it was not a little, was sufficient. This time. But it is going to rain again here, and we should already think about that
By: Milijana Barjaktarević
Photographs: Nevena Uzurov
Notebook
IN JADAR, THROUGH NEW FLOODS AND OLD STORIES
Four Days of the Flood
The people of Loznica have defended their city without must fuss about it, cameras and bad performances. People in this area have seen too many real horrible battles, they have died here ay much as they have breathed, so they cannot allow themselves to descend into something that trivial. And about 5,000 hectares were under water and as many households, with about 20,000 people. About 15,000 people were cut-off from the rest of the world, more than 2,000 were evacuated. And now? Life goes back into its regular flows slower than rivers into their beds
By: Goran Budimir
Photographs: Nebojša Trifunović, "Lozničke novosti" (www.loznickenovosti.com)
More than a Disaster
IN KRUPANJ, AFTER THE UNPRECEDENTED DISASTER
Moon Landscape in Rađevina
These are not typical floods and landslides. As if this pretty mountain town and the entire area were wiped out by a vortex of invisible forces, which made nature and waters, earth and the sky go wild. Houses are tumbled upside-down and thrown away like toys, some half demolished, others swallowed by the earth. Twelve bridges are gone, and the usefulness of others is questionable. Not a single road has remained intact. Hundreds of hectares of former parcels of arable land look as if they are on some lifeless planet. How to go on from here?
Text and photographs: Jugoslav Trijić
Visit
IN THE SURROUNDINGS OF BAJINA BAŠTA, IN DESERT AND WILDERNESS
Torrent and Its Whims
These people know the Drina well and its impetuous temper. They know what it can do, when it swells, and how to protect themselves from it. But now the misfortune jumped on them from behind. Enraged tributaries of the Drina. The Rogačica, Trešnjica and others. They howled, tore, swallowed. It has not been seen before and will not be forgotten from now on. It was the worst for the villages of Kostojevići, Gvozdac, Okletac, Crvica, Dub, Ovčinja... And the danger is not over yet
Text and photographs: Vlajko Poćuta
Circles
LJUBOVIJA SURVIVED THE THIRD FLOOD IN THE PAST DECADE
Unfortunately, We Have Experience
Fortunately, now it was not the Drina that flooded, like in 2010, but only the Ljuboviđa. And in the past years canals were being cleaned and riverbeds regulated, so the damage was mitigated in this way. Still, the town was completely blocked for three days. Three bridges were demolished, four were damaged, as well as over three hundred kilometers of roads, numerous water supply and other facilities, and about thirty houses. Among all those gloomy images, the only bright light comes from examples of humanity, sacrifice and solidarity o primeri
Text and photographs: Miroslav Lukić
Abysses
IN REBELJ, WHERE MEDVEDNIK SWALLOWED THE VILLAGE
In a Single Bite of the Mountain
Until last year, all that was missing here was the road (and then it arrived), and now everything is missing. In only one horrible night, the earth swallowed houses and barns, orchards and pens, fountains and bridges, wells and graves. The sun set, but it did not rise. For day no word was to be heard from there, good or bad. Neither song nor cry. Among the first who managed to get there was the reporter of "National Review". He found the entire village in only one little house hanging above the abyss. He listened and recorded
Text and photographs: Vlada Arsić
Sinking
THE CHRONICLE OF DISASTER IN PARAĆIN, DEEP AS THE NIGHT
And then the Creek Swallowed the City
On that disastrous May 15, in the pretty town in the Morava River basin, it was a quiet rainy day, until the little Crnica, in only a few hours, turned into big mean water. It crushed everything on its way, carried tree trunks that were hitting the bridges. Everything was bursting and the noise was heard far. Soon it flooded, and districts, cars, houses – more than a half of the city – disappeared in it. The electricity supply was interrupted, telephone networks were down, all kinds of traffic were disabled. And then everything was covered by the night, heavy as lead
By: Slađana Ristić
Photographs: Bojan Petrović
Repetition
IN SMEDEREVSKA PALANKA, THE SECOND TIME IN FIFTEEN YEARS
The Tide Is Back
Almost one thousand households were under water, with 3,500 people, several commercial facilities and 6,500 hectares of arable land. In the first few days of this disaster there was a conspicuous media obstruction, but then the truth reached the public and aid began to arrive. Again, Karađorđevo naselje took the first blow. Fortunately, there were no casualties and nobody was injured
Text and photographs: Dragoljub Janojlić, Dejan Crnomarković
Rescue
FLOOD AND LANDSLIDES ALSO HIT PARTS OF GROCKA
Old People in the Bucket of the Excavator
Nursing Home "Paun" in Umčari woke up flooded with water and evacuated in dramatic circumstances. In Popovića Kraj, after a landslide had been activated, only one house remained, and even that one will soon be evacuated. Wherever possible, the remedy works have already started. However, many problems opened up with the disaster will be given an epilogue in court. Yes, it was the nature taking out its rage, but human factor had a significant influence in many events
By: Radmila Tamindžić
Photographs: Željko Strelarac, Rade Krstinić
Summary
FLOODS IN SRPSKA WERE ALSO IN CATASTROPHIC PROPORTIONS
Connected vessels of disaster
For the first time in the history of this Republic, state of emergency was proclaimed on its entire territory. Floods directly hit 58 percent of the population and 40 percent of the territory. The most severely damaged were Posavina and Semberija, cities Šamac, Doboj, Bijeljina, Modriča, Banjaluka... Damages are enormous, just like courage and solidarity showed by the people. It seems that misfortune and water sometimes connect people better than the bridges
By: Senka Trivić
Photographs: Mladen Blagojević, Aco Čavić, Vladimir Stojaković
Recovery
VRNJAČKA BANJA, THE CENTER OF SERBIAN TOURISM, HIT WITH DISASTER ALREADY IN APRIL
The First Hit by the Flood
The rivulets of Vrnjačka and Lipovačka, recognizable among the symbols of this spa resort, went amok that afternoon, April 24. They turned into enraged waters and flooded the entire town. Endangered were the spa park "Merkur", Healthcare Centre, Post Office, hotels... The damages are estimated at 85 million dinars. Full recovery will last, help is necessary. The reasons almost needn't be listed
Plan
ENGINEER DRAGAN PANIĆ, PRESIDENT OF AN IMPORTANT SREM MUNICIPALITY
The Ruma Loop of Development
This working zone is one of the most attractive in the region and it has been attracting serious investors for a long time. Despite the difficult situation in the country after the floods, the development strategy of Ruma is sustainable and realistic. The goal is to create jobs, especially for young and professional people and increase the quality of life. This naturally wealthy area, with bright tradition in the industry and agriculture, is close to both Belgrade and Novi Sad, the Sava and airport, and conditions for prosperity certainly exist
Links
"TELEKOM SRBIJA" HELPING THE VICTIMS OF FLOODS IN MANY WAYS
You Really Have Friends
Even in great distress, the renowned company showed that that this is not only a marketing slogan for it, but profound business philosophy and ethics. A lot has been done to maintain stability of the system in emergency situation, enable communication between the crisis headquarters and people in the field, help the victims. To collect help, facilitate payment, provide health advice after everything. Contribution to the state and assistance to people continue
The Appeal
THE TOURIST ORGANIZATION OF BELGRADE IS ACTIVELY HELPING THE FLOOD VICTIMS
The Appeal That Was Heard
In Belgrade hotels, hostels and in private homes, almost seven hundred people found accommodation. Significant material and financial aid was collected
Shelter
STUDENT RESORTS "BELGRADE" HELPING PEOPLE EVACUATED DURING THE FLOODS
Complete Care
They didn't wait for official calls and orders. They knew what was available and who needed it the most
Care
"MERKUR" TAKES CARE OF CULTURAL HERITAGE AND IS HELPING THE VICTIMS OF FLOOD
Healthy and Responsible Approach
Floods in Vrnjačka Banja endangered the protected environmental unit of the Thermal-mineral bath and a part of the spa resort park. In order to prevent the recurrence, "Merkur" organized professional counseling "Let's Save the Heritage". All competent institutions assumed specific responsibilities, with specific deadlines: employees in "Merkur" gave away a part of their salaries to the victims of the latest floods, and they will also help "Kolubara" and TENT, their long-time business partners
Examples
BELGRADE BUSINESS SCHOOL JOINED THE ACTIONS OF SUPPORT TO THE VICTIMS OF FLOODS
Help When It Is the Most Difficult
Already the first night, students of this school went in big numbers to defend the bank in Šabac. The sports section of the school, "Serbian Fighting Team", went to Obrenovac with its boats, and there it joined the actions of the Mountain Rescue Service. It already paid three million dinars into the fund for aid for the city and republic. It will also make contributions into this fund from salaries and union memberships, and great allowances are being prepared for the students from the flooded areas
By: Zoran Plavšić
Photographs: Archive of BBS
Responsibility
"SINGIDUNUM" UNIVERSITY JOINS THE ACTIONS OF HELPING THE VICTIMS
Students Passed the Exam
A million dinars was paid into the budget, 10 percent of employees' salaries for the month of May were allocated, a volunteer center was organized, assistance of psychologists was provided for people evacuated in the shelters... A similar case was with outposts of this University in Niš, Novi Sad, Valjevo, on Zlatibor. The responsibility in the community drives these young people
By: Ruža Srbinović
Photo: Archive of "Singidunum", Ruža Srbinović
Advance Training
CENTER FOR BUSINESS SKILLS OF "SINGIDUNUM" UNIVERSITY
Written Communication Skills
People often think that they know everything about writing e-mails or creating presentations, and then they are amazed when you point out how many mistakes they make. And what negative business impression that can make. Electronic communication says a lot about the person who participates in it. There are rules and techniques that must be learned, practiced and advanced. The benefits are multifold and affects people's careers
By: Rozana Sazdić
Photographs: Archive of "Singidunum", Rozana Sazdić