Time Machine
ON THE MARGINS OF INTERNATIONAL REVIEW OF OLDTIMERS IN SOMBOR
Brothers in Hobby
They are driven neither by money nor by vanity. And they are not idle rich people. Love for these beautiful old guys on two or four wheels is for them very special and enormous. They have been gathering in Sombor for ten years. Now they have arrived from all over, from Switzerland and Italy to Montenegro. They brought their pets and their stories. They were hanging out and enjoyed in the fact that there are enough of them in this world for one big and jolly fraternity
By: Radmila Tamindžić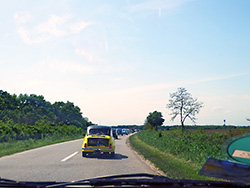 They are all like big children. Both young guys and those with grey hair. They have some childlike naïveté, spark in their eyes, they emanate joy all around. Because they adore something that serves no purpose at all, and is only a great expense. Oldtimers. They will give their last cent for a spare part, exhibition, review, encounters. They come from afar, load their polished old guy with four wheels on a trailer and – go. And it does not have to have four wheels, there are also polished old guys with two wheels that would not be abandoned by their owners for anything in the world. And when they all gather in one place, and when the day is beautiful, as it was on April 26 in Sombor, on the tenth International Review of Oldtimers, then it is a great hit. Both for them and for those who came to enjoy their enjoyment and elegant lines that bear witness to the ideals of beauty of the former fleet.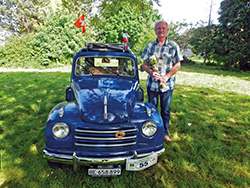 I guess only this sort of people knows how to, with a budget of 13,000 RSD (they swear that is how much they had), receive about one hundred oldtimers and twice as many people, to, like an homage to the film The National Class, in the Fabric of Special Cars, organize a small rally of Fiat 500 and 600 on the polygon, take them for a lunch in Ethno House "Jelena" in Bezdan (bean stew with ribs and cabbage salad – to lick your fingers), to give them medals and cups and, in the evening, to take them to a party at the café "Des Arts" in the centre of Sombor. We should not add the amounts and prices, because this is some other mathematics, some other exchanges and barters are at work here, and at the end everybody feels good. It is important that it is happening, that it does not die down. And that Sombor Oldtimer and creative studio "Des Arts" is presented in July at the World Encounters "Fiat 500 Club Italy" in Garlenda and at the Fair of Oldtimers in Padua.
CONNECTED WITH NOBLE PASSION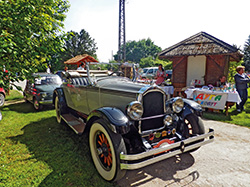 This club from Sombor was founded ten years ago as the result of enthusiasm of a few buddies, and still rests on that. They say that the idea came from its president, Milovan Radovanović Mikan, but he would not take this credit by himself. He says:
– I don't know if it was my idea, with me everything comes spontaneously... It started from one Citroen 2CV that I had bought in parts, then I went to a Citroen exhibition in the garage of Majestic Hotel in Belgrade, and so we go that way. There was the turn for tractors as well, and in Deronje they organized "Vuk's Grange" and tractor exhibition. Then we introduced firefighting vehicles... It was insane. The idea was born in one day, so lets do it next year, and the year after, lets ad this, lets add that... And so we reached the jubilee, even I don't know how. But one thing is certain: behind this tenth anniversary there is a lot of work and effort of an entire team of people, thanks to whom these Encounters in Sombor have become famous. I think that this year we had the biggest number of visitors so far, if I don't count those that we had organized together with Subotica.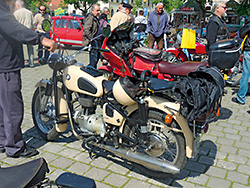 Emphasizing the chronic lack of funds, a member of the Club Dragan Bokun appealed for help in organizing such events and invited all lovers and owners of the old cars to join the club. And well known painter and musician from Sombor Branko Maravić, who is the most responsible for internalization of the Club, explains:
– Thanks to the friendship with Dr Giorgio Andriano, in December last year they founded the center of "Fiat 500 Club Italy" for Serbia. This model is one of the 8industrial icons there. We expect a visit from the official delegation of this club. About a dozen Fiat 500 cars will come from Italy, and then we will be their guests. They are interested in turning the space of the factory "Zastava Special Cars" into a kind of restoration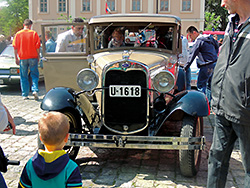 workshop and museum for Fiat 500, which would receive cars primarily from Italy, and then from the entire Europe.
Of course, Dr Giorgio Andriano also attended the jubilee Encounters, as an expert for UNESCO. he talks, and his wife Slađana translates:
– I came here with my Fiat 500 and Alfa Romeo, two legendary names in Italian auto industry. Our cooperation is not based on money but on connecting people with the same passion, preserving cultural heritage from automobile history of a certain country. That is what I do globally, I cooperate with the International Federation, then with people in Germany, France, Italy, Switzerland... I am especially glad that I work for Serbia as well. I am very much interested in "Zastava" and its past, I collect documentation to preserve it from oblivion. Many individuals help me with this, but there is not sufficient support from institutions.
SCULPTURES RUNNING DOWN THE ROADS
The cup for the most beautiful car at this year's Review, went to Predrag Ćojo from Novi Sad, for his "Topolino" from 1954. Predrag has lived in Switzerland for four years and will soon return to the country. He was touched with the prize, especially because he had found out about this gathering of the "Brothers in Hobby" by accident and it was not hard for him to load his pet onto a trailer and come all this way. It is no longer important that he had flat tire when entering Vienna, so he traveled for 12 hours – the important thing is that the cup is glowing in his hands.

Slavko Beronja came from Budva with his white Mercedes from 1936, but with all the comfort of a modern vehicle with which he can travel anywhere in the world. He has another five unique vehicles at home, and his greatest pried are two wooden cars that he made with his own hands, as well as a bus from 1903, which was bought by knjaz Nikola in France.
– With this I only have expenses, I have to ration, and because of money I rarely go to exhibitions – he whines. – But what can I do, love solves everything. I am a failed sculptor, and when I make a sculpture it is standing in the park and nobody is looking at it, while these are sculptures that travel on roads.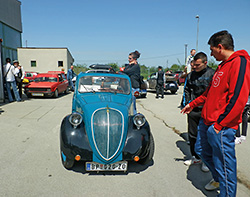 Willis Knight from 1927 with its luxury also drew the attention of participants of the Encounters in Sombor. Its owner, Branko Bogdanović, a member of Auto-Moto Club "Veteran" from Novi Sad, a car mechanic by profession, has several other cars, but this is the only one that is ready for driving when he needs to go to some gatherings.
– It draws attention, you can see something like this only in films. This one came from the Netherlands and is on hundred percent original – I traded it for another one, even older, from 1913. I have been dealing with oldtimers all my life, and my wife likes them too, she goes with me to exhibitions.
***
Unrestricted with Reality
– We have always been setting higher goals than what the so-called reality allows – says Milovan Radovanović. – Some time ago I bought and restored several carriages, I thought that Sombor needed them, and they said: "What do we need carriages for?" Every year I say that I can no longer keep doing this, that I don't have strength any more, I am always bankrupt in some sense, but here, Giorgio showed up now. First he Came to the Faculty of Traffic Engineering, and then we invited him to Sombor, Branko is in contact with him... One year, second, third. Giorgio fell in love with Sombor, married to Slađa, a girl from Šabac, and the idea was born that we make this thing with Fiat 500...
***
A Wise Rule
According to the regulations of the World Federation for Historical Vehicles FIVA, says Branko Bogdanović, there are three criteria for a vehicle to be classified as an oldtimer: must be older than 30 years, must be original (or professionally restored) and must not be used in daily traffic. If it was not for this last rule, almost 30 percent of vehicles registered in Serbia could be regarded as oldtimers.