Departure
ŽELJKO TONŠIĆ (1954–2014), WARRIOR OF BEAUTY, THE LAST TRUE EUROPEAN SYMBOLIST
A Man of Biblical Dreams
He belonged to the ancient kind of initiates through which we were receiving the highest epiphanies. He searched for our angelic reflections, for buckles that link us with the heavenly home. He explored beauty to the extreme. He was draining the power away from the dump of global Necropolis. He knew that symbols are unlocking worlds, oceans of mysterious memory. He reluctantly spoke about his work, and was rather leaving his work speaks of him. He agreed with Thomas Mann: "I openly confess that I despise mediocrity. It knows nothing about mastery, and thus leads easy and dumb lifei"
By: Dejan Đorić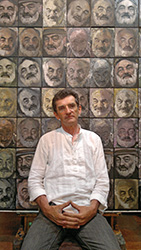 The prince of Serbian art is gone, for good.
Who is this mysterious maestro, the judge of elegance, respected equally by realists and fantasy painters? Is he the last great Serbian painter, the only one after Milovan Vidak who is able to work three years on one painting, Ante portas, dedicated to the subject of Apocalypse? Or someone who led the best art school in Serbia, which had the status a guild, in which the teacher was giving medals based on degrees of merit? Or all of the above, and much more?
Incomprehensible to contemporary smearers and avant-gardists, he knew how to spill a painting over the edges and create unreachable frames, superb works of art (he would hammer seventeen thousand little nails into those made of sheet metal). Why do the leading world experts for fantastic art prefer to get a postcard with a reproduction of his work than a monograph of another our artist? Is it because he was probably the last true European symbolist, strayed from the time of Pre-Raphaelite in the twenty-first century, an artist who, in Serbian culture of resistance to evil, achieved an unusual feat? When in 1999 the bombs were falling over Serbia, dumped from "civilized countries", Tonšić, as a sign of contempt for the aggressors, was in his studio persistently painting the most beautiful angel not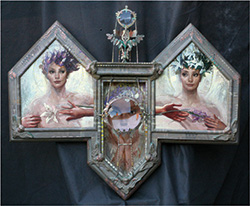 only in modern Serbian art, the angel who is now watching after him. Not knowing about the scientific work awarded with the Nobel Prize in 1996, he discovered a structure similar to fullerene, laser-synthesized molecule of great beauty.
Yes, he was interested in the extremes of beautiful, maybe even the terror of beauty, but also the occult. He was creating magical textual remarks on his paintings, sublime messages he would cover with a layer of white to make them appear concealed. He had Biblical dreams, and he was finding books on angels and angelic sculptures in dumps, reflections of his true nature.
He was not only facing the past. In some magic way, his paintings, without exhibitions, catalogues, monographs or documentation, were a warning to the future and that is why they are so deeply respected. For better understanding of this diverse opus, one should still f turn backward.
WITH A ROSEWOOD CROSS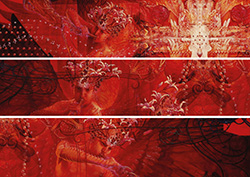 William Butler Yeats, one of the leaders of the "Golden Dawn", an occult group of the most intelligent people of Great Britain from the early twentieth century, wrote:
"The centre is no longer holding and anarchy broke round the world."
What is the purpose of painting today and celebrating beauty when Marcel Duchamp, long lime ago, called the insurmountable Giaconda a whore, and art historians raised his urinal into the artistic symbol of an era? After this, the road leads to inhuman, toward a fall into abysses of negative theology of the avant-gardism. Anti-temples appeared, centers of annihilation of light, which bring only chaos and disarray. Cities are slowly turning into one single city, the Necropolis, into a live electronic organism that will chain the entire planet in steel, electricity and absurd, as envisaged by abbot Pierre Teilhard de Chardin. About the world of perverted values, Jean d'Ormesson says: "If nobody knows how to draw a garden, build a temple, write an ode, celebrate a cult of deities, how is it possible to restore culture and civilization, restore the joy of life and knowledge?"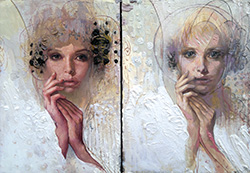 Modern art as an empire of inversion was first addressed by Miro Glavurtić, an occult, but also ultra-Catholic leader of group "Mediala". Mircea Eliade noticed that former art gods were thrown into the dump, and beauty, in words of Hans Stadlmair, has been dismantled long time ago. On the road toward the final triumph of (post)modern mediocrity, the esthetic was abolished. A critic who would want to establish a value criterion would resemble Don Quixote.
Artists who oppose the supremacy of the god Mammon have more difficult time than others. They carry a cross made of rosewood, perfumed and thorny. They are art underground, outcasts from the world of today, martyrs of beauty. In accordance with the hope of Joseph Beuys that artist will never again take a brush in his hand, they were proclaimed copyists, kitsch artists and anachronists. Few people are aware that even modernism is not freed from kitsch.
In entire Europe in recent years there was only one painter restorer of ingenious requirements of symbolists. He was trying heroically, despite the time, to bring to the end the reasons for beauty. What is the meaning of this full dedication to the charms of painting and persistent, knightly unfaltering? Isn't it maybe the egocentrism of a master who raised himself above the others and was watching the human herd from above? Or is it a whim, a caprice of someone for whom undedicated painters are equally foreign as experimentators who wouldn't even think of offering the audience a little art? Isn't this the aristocratic contempt of the winner, the one who did the most and the best, and thus discarded the weaknesses and dirt of this time?
IN TRANSCENDENTAL LIGHT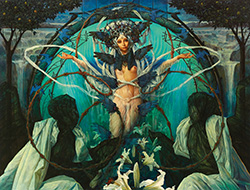 Željko Tonšić was maybe the last one to, so proudly, elegantly skillfully and freely rise above the ruins of world art. The topics of his artwork cannot be understood without Catholicism, which he actively professed (and he was buried on a little Catholic cemetery in Zemun).
Some of the greatest Serbian minds used to proclaim Belgrade a secret center of the world. Tonšić came out of Belgrade gnosis, the esoteric circle, but he overcame the narrow frames and designations. He saved himself from the world of rot and, in his lifetime, he soared into the un-rotten empire of beauty, goodness and truth, reaching the cosmic, transcendental light. His magic, dreams and growing fame indicate that he was chosen.
Thinkers, monks and artists such as he, with their ordination, are defending this world from complete disintegration, their spirit is burning, they open the door to the sacral. Some may be doing this only in the name of one flower or a big white cloud. For Željko Tonšić, the cult of perfection and form was above everything. This world actually means nothing to the warriors for beauty. There is nothing one can add or deduct from their work.
***
Symbols and Dedications
Željko Tonšić was born in 1954, in Belgrade. He graduated from the High School for Design, Department of Industrial Design, and then from the Academy of Art, Department of Photography. For a decade he worked as a graphic designer, and then he fully dedicated himself to painting. Dedicated, literally. He had his first solo exhibition in 1992. He grew into one of the best representatives of Serbian symbolist painting from the turn of the century. Extremely respected, especially abroad, and therefore it is no wonder that a painting of his can be found in castle-museum Gruyeres, in the "best European collection of contemporary fantastic painting".
After a battle with severe disease, he died on July 5, 2014, in Gornja Varoš of his Zemun. He was buried on July 7, exactly on his 60th birthday.
***
Paintings and Picture Books
He reluctantly spoke about his work. He'd rather leave his work speak of him. He nurtured a noble contempt toward banality of marketing and the horror of general self-praising. He lived in silent quest for god, dedicated maestro, warrior of beauty, peacefully carrying his cross on that road.
– Painters are always immersed in their worlds and thoughts – he used to say. – A true painter is always in his painting. This is how one makes paintings that have energy, secret and meaning. They tie you to themselves, you stand in front of them mesmerized and in shock. If it is not so, it is not a painting but a picture book, and it is not mastery but mass production. When modern painters paint something, they have to explain that on 25 pages of text, to make someone interesting in that smear and to give it a meaning that nobody can see.
***
Gornja Varoš
Master class of Željko Tonšić, in Svetotrojična no. 21, was probably the best art school for young artists. It had programs for drawing, painting, graphics and sculpting. It prepared young people to enroll in elite universities and art schools. A huge percentage of its participants would enroll in desired universities. Even artists with high degrees would go there to learn some skills and trick of the trade.
Željko Tonšić lived above Muhar, in Dobanovačka Street. And most of his masterpieces were created in his studio in Josipa Šenera Street no. 9, in "Galenika" district.
Everything in Gornja Varoš of his Zemun.