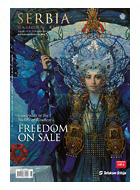 SERBIA - National review, No 45
Prologue
The world is a vortex. The crisis of society and humanity has reached dramatic proportions, the crisis of the prevailing civilization model, obscene conception of history, demonism of money, plundering and poisoning psychology of the one that is currently the most powerful, neo-colonial wars, natural and other disasters. From such vortices one can not get out to the side, only up. Harness its mighty strength to your car, "ride the tiger". So that one is not pulled to the bottom, but carried to the summits. Because you are, here, at the right place. Life is not a game, but the history of salvation. <


GALLERY

CONTENTS
Prologue
WORKING AGAINST ONESELF, WITHOUT SLACKING
Cyrillic
Vitrage
NUMBERS, EVENTS, INTERESTING THINGS
Album
IMAGES, CRUMBS, FEASTS
The Puzzle of the Visible
Memorial
ON TE DAY OF TRANSFIGURATION OF CHRIST, ONE HUNDREDTH ANNIVERSARY OF THE BATTLE OF CER WAS COMMEMORATED
The Vowed Price of Freedom
There, on those ranges and slopes, over 40,000 people shed their blood in four days. It turned out that Serbia was after all not just a handful of oats that could be swallowed just like that. It was the first clash of two armies in World War One. Serbian victory was announced around the world. Now, we see a lot of people in front of the monument. Bleu guards uniforms, famous wear flags, bayonets sparkling in the sun. Solemn expression and deep emotion. Some special dignity, pride and admiration that rise in everyone, and a teardrop in many eyes
Text and photographs: Nenad Marković
Relics
IN THE HILLS ABOVE THE DRINA, BELOW THE RIB OF MEDVEDNIK, A RUSSIAN MONASTERY
Temple Glowing in the Universe
Even when you know well what kind of scene you can expect, suddenly you stop stricken by tenderness, stricken by beauty. On the foundation made of cut stone, a beautiful wooden church is standing, truly Russian. Warm wooden lace resembles old Slavic gowns and Hyperborean clothes. If in July 1914 and in December 1915 there had been no Emperor Nikolai II, there might not be Serbia today. This temple, yet another bridge between Serbia and Russia, is dedicated to him and his ill-fated family
By: Branislav Matić
Guide
"PUTOSPEKTIVA", A SIMPLE WAY TO TAKE A WALK AND REACH THE END OF THE WORLD
I Will Tell You My Image
It happens once a month, in Dorćol, in Belgrade. In the quest for a story, you reach "Rex" and end up god knows where. From the Ovčar-Kablar Gorge to India, from Vranje to Iceland, from Belegiš t Petrovac na Mlavi. Somebody shares with you their minute of happiness anywhere in the planet. They show you recordings from the trip, tell you about the adventures read records or journals. And you find it all picturesque, as if you were also there. Then you want to offer the magic from a trip of your own to someone
By: Dragana Barjaktarević
Photographs: Dragana Barjaktarević, Dragan Bosnić
Grain
THE EIGHTEENTH HARVEST FESTIVAL IN SAJAN NEAR KIKINDA
Old and Young Pulses of the Plains
For a long time, these activities have been performed with harvesters and other machines. But people still like to gather on that old-fashioned harvest, to put on traditional clothes, put their heats on and tie scarves, sharpen the blade and hear the scythe slashing through the cereal. To play music and dance, to tell jokes and remember, to toast and welcome. It is especially important for them that children and youth are coming. Because, if they are absent, there would be nothing
By: Dragan Batinić
Photographs: Tamara Ristić
Encounters
"TEŠNJAR EVENINGS", IN LATE AUGUST, FOR THE TWENTY EIGHTH TIME
Charm of the Summer in Valjevo
A hundred cultural and artistic events, in fifty locations in the city, in ten days. From valuable exhibitions to animated films for children, from drummers from Berkeley to Serbian medieval dining table, from flute to saxophone, from traditional gatherings to pop music. There was no shortage of events, or visitors, or open heart, or good energy. When one sees all that, one realizes again how important it is to also nurture the poetics of smaller cities. It makes Serbia even more attractive and richer
Text and photographs: Helena Granić
Dances
THE ELEVENTH "SREM FOLK FEST" IN SREMSKA MITROVICA
In Kolo, Lavish, Playful
Fourteen ensembles from ten countries showed the great richness of diversity, reminding us of the importance of preserving national traditions and cultures. Everybody could see why we should not become a uniform mass and grey planetary herd. More than 15,000 visitors did not hide their enthusiasm for what they saw and experienced
Invitation
INTERESTING EVENTS IN RUMA THIS SUMMER
One Confluence for the Entire Srem
They say that it is exactly here that the Upper and Lower Srem are joining together. The agricultural and wine one, rural and urban, belonging to the Sava and Fruška Gora, traditional and modern. Since time immemorial, many roads have been flowing into this city of fairs and tamburica players, festivals and sports. It has been, with an increasing success, molded into an attractive tourist offer. We bear witness to this ourselves
Road Sign
NUMEROUS PROGRAMS MARKED THE SEASON IN VRNJAČKA BANJA
Summer in Golden Cross-Section
"Carnival", "Lovefest", Film Screenplay Festival, International Business Summit, "Days of Danilo Bats Stojković", International Festival of Classical Music, "Days of the Renaissance"... gathered more than 300,000 visitors. Banja received benches of Ivo Andrić, Desanka Maksimović, Dobrica Ćosić, the Bridge of Science and "Carnival Stairs", as well as a thousand new fans. It was the 146th summer of organized tourism here
Heritage
TEŠAN PODRUGOVIĆ, HAIDUK AND VUK'S FAVORITE SINGER
In the Light of the Green Sword
If Vuk Karadžić had only had Tešan Podrugović, his collection of epic poems would have been huge. If Tešan had only composed "The marriage of Dušan", Serbian epic poetry would have been among the world's best. Our notion of the greatest Serbian epic heroes are based on images modeled by Tešan. And he, from a rich family on the other side of the Drina, had to join the haiduks and become a warrior. And, they say, he embedded himself significantly in his best heroes
By: Dragan Lakićević
Traces
SERBIAN ARCHAEOLOGY IN 150 STORIES: MIHAILO VALTROVIĆ (1839-1915), A GIANT OF SERBIAN CULTURE
Scientist of Enormous Merit
First he taught architecture at the Great School. He was one of the first sixteen full members of Serbian Royal Academy, and one of the first four in its Art Department. He performed first field explorations of medieval heritage and first official archaeological excavations in Serbia. He was the first professor of archaeology at the Great School and the director who raised the National Museum into a modern institution of this type… Without him, many important things in Serbia would have been late for decades
By: Vojislav Filipović
Destiny and Comments
LITTLE LITERARY JOURNAL: THE GLIŠIĆS, MILOVAN AND STANKA
Long Flight with Eagle's Feather
Personality and work of Milovan Đ. Glišić (1847-1908), the founder of Serbian realistic novel, the writer who open the door of our literature to fantasy, is well known. But only the few could say who Stanka Đ. Glišić (1857-1942) is. This story, as a well-deserved bow, is dedicated to her, the brilliant sister in the shadow of her big brother
By: Petar Milatović
Departure
ŽELJKO TONŠIĆ (1954–2014), WARRIOR OF BEAUTY, THE LAST TRUE EUROPEAN SYMBOLIST
A Man of Biblical Dreams
He belonged to the ancient kind of initiates through which we were receiving the highest epiphanies. He searched for our angelic reflections, for buckles that link us with the heavenly home. He explored beauty to the extreme. He was draining the power away from the dump of global Necropolis. He knew that symbols are unlocking worlds, oceans of mysterious memory. He reluctantly spoke about his work, and was rather leaving his work speaks of him. He agreed with Thomas Mann: "I openly confess that I despise mediocrity. It knows nothing about mastery, and thus leads easy and dumb lifei"
By: Dejan Đorić
Workshop
NEW STOP IN SAVAMALA: DESIGN STUDIO AND SALES SALON "SHAMLIZA"
A Small Stand for Great Ideas
In Karađorđeva no. 11, with a view over the Sava Pier, this group of educated, creative and skilled people are producing and displaying furniture. Unique or produced in limited series. They design and redesign. From discarded they make exclusive, from forgotten unforgettable, from ordinary they make mysterious. They also create lighting, design interiors. They work exclusively in solid wood and metal, only with furniture produced in Serbia, by Balkan authors. The lines are simple, solutions purposeful, tools minimal, the role model being Bauhaus. Target group: people who recognize what this is all about
By: Daša Marjanović
Photographs: David Bilobrk & "Shamliza"
Fairytale
HOW THE FIERY BIRD MARRIED GOLDILOCKS AND HUNCHBACK GRUJO
Magic Flute from Sinjajevina
Alas, there are evil princesses too. They would blue every water, spoil every story, steal from everybody's eyes. They actually don't love anybody, not even themselves. Incurable. Fortunately, there are wonderful wonders. Melodies and words that make the world tremble, images turn into gold and love blossom. In this principality, there might be more evil, but the good is stronger. This is how the evil princess fell into the pit she had dug for others, and the snake bit its own tail with its venomous tooth
By: Nebojša Jevrić
Illustration: Predrag Todorović
The Winner
DR BRANISLAV POKRAJAC, A HANDBALL STAR, PLAYER, COACH, PEDAGOGUE
Return of proven Principles
In sports, children are no longer asked whether they go to school, let alone what grades they have. Clubs are full of uneducated players. And later, whet else, they want to be coaches. And it is difficult to make educated coaches from uneducated players. This is where the fall and disintegration begin. In handball, there is obviously a problem of the Association, because some others, like volleyball and water polo players, achieved much better results in equally difficult conditions. Restoration must go from top to the bottom. National team is something that must be created, not assembled. Great people are nurtured, you cannot buy them per kilo 
By: Dejan Bulajić
Photographs: Archive of the Interlocutor
Studies
JELENA ĐORĐEVIĆ BOLJANOVIĆ, PhD, ASSOCIATE PROFESSOR AT "SINGIDUNUM" UNIVERSITY, ABOUT LEADERSHIP AND TEAM WORK
Knowledge is the Greatest Capital
"Knowledge is power." In contemporary business environment, this famous Bacon's sentence is gaining ore significance. Formerly power used to be based on force, today it is based on knowledge. The leader must know how to move his team, motivate it and discover unusual potentials in people. The best team is sometimes comprised of average individuals, but flawlessly fit together and led
By: Rozana Sazdić
Photographs: Rozana Sazdić and Archive of "Singidunum"
Experiment
CONTEMPORARY SOCIAL PATTERN: CONSUMERISM AND IDENTITY OF THE YOUNG
In the Whirlpool of Colorful Simulations
Contemporary world does not produce primarily to satisfy the needs, but it first produces the needs themselves in order to empty their warehouses, and uniformly shape the desires, awareness and tastes of billions of people. In the illusion of freedom and availability of everything to everybody and immediately, whole and healthy personalities are disappearing, societies are distorted, nations are degraded into crowd. In planetary perspective. How can we understand these temptations and respond to them?
By: Aleksandra Đurić
Health
CENTER FOR MEDICAL ESTHETICS IN "MERKUR" OPENED IN MID-JULY
Tailored to Elite Guests
It is a brand new profit sector within this Special Hospital in Vrnjačka Banja. Basically, it consists of three programs: Balancing of body weight (treatment of obesity), Reshaping and Anti-cellulite programs, as well as Relax programs. By the end of the year we are planning to introduce Dental program, Plastic Surgery and Skin Lifting (rejuvenation programs). A special package will be created for each user, from treatment to diet, in accordance with their goals and needs
By: Ljiljana Rebronja
Connections
EXCELLENT NEW APPLICATION OF "TELEKOM SRBIJA"
Niš in 50 Stories
This city can now also talk about itself. All you need to do is direct your phone toward a certain location, building, monument, and you will immediately receive basic information about them, a lot of interesting details, photo-time travel, instructions how to get there and what must be seen. You also have all this as an audio guide, so that you can direct all your attention to the attraction itself, and not to the phone. Within a wider project of "Telekom Srbija", Niš in this way joined Belgrade, Novi Sad, coastal cities...
Energy
THE CONSEQUENCES OF FLOODS ON THE THIRD MINE OF "KOLUBARA" REMEDIED AND PRODUCTION RESUMED
True Feat of the Restorers
"Veliki Crljeni" Mine was returned into the system fifty days before deadline, which made Serbia save about 30 million Euros. They did it with their own resources and funds, in unfavorable weather conditions. The production is now raised to 65,000 tons per day, which is 75–80 percent of the one before the May floods. They are now moving their forces to "Tamnava – Western Field" Mine, where the flood water should be pumped out in 90 days
By: Natalija Živković