Destiny and Comments
ZORKA KARAĐORĐEVIĆ (PETROVIĆ), CROWN PRINCESS OF MONTENEGRO AND PRINCESS OF SERBIA
Bridge in the Noble Heart
A daughter of the great Serbian ruler and poet, for Russia, where she studied, brought back in her eyes reflections of golden domes and a different sense of time. From the mountains of her homeland, where one can touch the sky, she saw far. She knew what she was doing, and she smiled. Petra recognized and grew fond of her. She tied with herself two flows of Serbian modern history, so that t hey would become one again. Today, those who betrayed everything would sometimes mention her father, but have no courage to remember her
By: Hristina Plamenac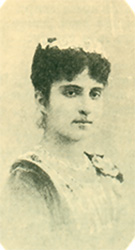 "Truly, I am not tired of life, but of this... half-life." In thoughts, reclining in the old comfortable armchair, Petar wearily glanced at his watch. The clock on the Paris square just showed 18:00. The following day he packed and went to Cetinje, himself surprised with this decision.
He was forty. He traveled around Europe, from city to city, followed by stories from the court of Milan Obrenović, both true and false, on the brink of poverty, trying to find himself and his place in the historical events of that time. Somehow, he had never seen himself as a king, but this idea forced upon him still made him feel good. While he was approaching the building that the Montenegrins even today like to call the "King Nicholas' Court", this idea seemed increasingly real and comfortable.
Nikola, who was known for good politics and diplomacy, had his daughters returned to him from studying in Russia. They had left naively honest, prepared with Montenegrin traditional clothes, with their hair neatly tied, and returned powdered, perfumed, with feathers, hats, cashmere, experienced, but not for a moment losing that decency that every princess must have. Already then Knjaz knew that his daughters would be of more use in his politics than all the sons of this world.
Watching them strut up and down Cetinje, he remembered the first years of his reign and marriage with princess Milena, who was only thirteen and a half years old when she became his wife. When she was sixteen when she gave birth to Zorka, his favorite child, not only because she was the first born, but also because she irresistibly resembled her father. Big black eyes, dark blond hair and pronounced cheekbones left an impression of melancholic but authoritative personality.
Zorka spent her childhood, until she was eleven, on Cetinje, honestly devoted to her parents. That is how she carried the title "father's son". But still, although she physically resembled her father very much, Zorka's character was like the one of her mother, princess Milena, who was, for her kindness and care for people, known as the "national mother".
MARRIAGE AND DAYS OF HAPPINESS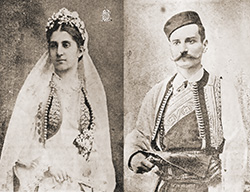 Petar's arrival in Cetinje caused great reactions in Belgrade and Vienna, and even Nikola was not indifferent: "What is he doing here?!" Little is known about the encounter between Zorka and Petar. Whether love or politics was decisive in that relationship, or both? It is certain that Petar with his appearance could not come close to his brother Arsen, who was cheerful, tall, with white complexion. Petar was skinny and his character was more subdued, but he had clear and cheerful eyes, in which Zorka saw the entire world. Her world. She saw herself next to him, saw that he was the one who would make her a woman, mother and queen, but she also saw and understood the words of her father: "All that glitters is not gold, / nor is throne a resting place, / believe me, my child, there is / little or no happiness there. / Flash of a crown reflection often hides / the thorns growing underneath, / of a perfectly happy king / we would not recall from a story..." That was probably the reason why she liked Petar, he was a perfectly unhappy king. And he was extremely kind toward her, a true gentleman: "Here you are... I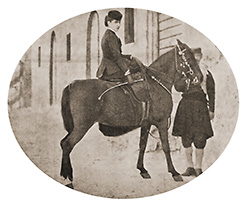 kiss your hands, milady ... would you like anything?" Nobody had ever asked her before if she wanted anything.
Since she came back from Russia, she was spending all her free time riding horses. Those were the moments when she felt free, alone and herself. When Petar wanted to join her, she didn't mind.
– Do you need help? – he asked while she was trying to mount a horse.
– No, I will do it myself! – she said, realizing that instant that it was a wrong answer, and that a princess is always expected to have others doing things for her. She shyly gave him her hand. That is how their walks around Cetinje turned into a marriage proposal, and the person who was actually expected to say the fateful "yes" was actually knjaz Nikola.
Marriage like any marriage, only this was a royal one. The marriage took place in the Monastery of Cetinje, officiated by metropolitan Visarion (Ljubiša). A dining table was set for two thousand guests, diplomatic corps and representatives of foreign forces. Everything that was able to move gathered at the foothills of Lovćen and in front of the monastery. That same day, followed by cheering of gathered people, the bride and groom left to Paris. Those were the day of happiness.
AND THE DESCENDENTS BROKE THEIR VOWS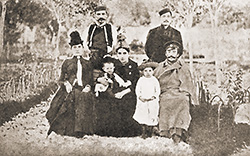 In October the following year, her daughter Jelena was born, and two years later Milena, who died after one year and eight months. Zorka has never recovered from the loss of her child. According to Montenegro customs, she never stopped wearing black. Only a few months later she brought into the world prince Đorđe, and Aleksandar a year later. Happiness for giving her husband an heir and incessant mourning for her lost child alternated in her face, while she kept remembering her father's words: "... But happiness, my son, is a true one / when in your own corners, / you can work in peace, walk like a human, / down the holy path of God." Those words were like an ointment on her wounds.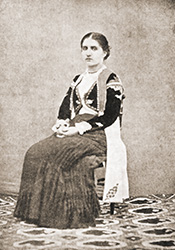 Tired from her husband's ideals, continuous race for the throne, she was finding her peace in helping the poor, establishing cultural institutions and, of course, laughter of her children that echoed in their house. On the other hand, Petar, from the moment when Zorka was pregnant for the first time, was restless. His excessive concern was giving birth to a suspicion in her. And he could not get a word out of Petar, moody by nature. The story goes that a reason for this was a prophecy of a woman from Vienna, who had foretold great future for Petar, and that he would become a king, but that his wife would die at childbirth. Two years after Aleksandar was born, Zorka gave birth to prince Andrija. Soon after giving birth she fell ill from peritonitis and died, and soon afterwards her newly born prince followed.
As at the moment of her death only she and Petar were at home, the people started spreading rumors. While she was walking in the royal garden, a cuckoo cried three times above her. An elderly woman afterwards warned the household members to beware, because three members of Zorka's household would die. Her brother-in-law died first, Petar's brother Đorđe, then Zorka, and then young Andrija. People were saying that Petar had pushed Zorka down the stairs in an argument. On the other hand, they say that she died with the following words on her lips: "He will be the king!"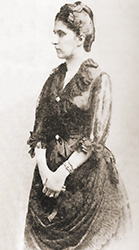 And really, thirteen years later, in 1903, her father Nikola I congratulated his son-in-law Petar I for his ascension to the throne in the following telegram: "Our like-mindedness and blood ties that connect us are the guarantee to Serbian people of eternal and inseparable brotherhood between Serbia and Montenegro. This brotherhood will remain for centuries bright, sacred, unstained and redeeming for our people. For this brotherhood, souls of our Serbian martyrs are praying before the throne of the Almighty; this brotherhood and unity will be guarded by the angelic soul of my Zorka, your wife, whose blood and love will forever tie your sons and mine."
Decades later, the sons split nevertheless, in such a manner that their fathers would not be proud of. And the image of the Montenegrin princess and princess of Serbia, wife of king the liberator and mother of king the unifier, it seems, has been completely forgotten. Hasn't it?

***
At Dawn, Under the Snow
She was born in late December, snow had been falling in Cetinje for days, the sky and the earth became one, and the first edition of Orlić featured a poem by Jovan Sundečić, who had been invited by King Nikola to Cetinje to be the editor of the first publication of this annual: "It dawns, it dawns, the white dawn. / Clad in the first snow, / is entire Montenegro, / the pride of the Slavic South..."
***
Despite Everything
The entire world was against this marriage. Austro-Hungary saw a conspiracy against it, and for Serbia it meant the fall of the Obrenović dynasty. However, according to some accounts, Nikola offered to Milan Obrenović to be the best man. They say that the other one got nervous attack. At the end, the Russian emperor was the best man in the image of his emissary, count Orlov Denisov.