Worlds
MIHAILO GLIGORIĆ GLIŠA, PAINTER IN THE HEIGHTS OF STYLIZATION
The Art of Wonders, Festivity and Joy
In order to be able to stylize, one must know classical principles well. He is a seeker, an art nomad. From his spiritual journeys he brings back visionary images, as well as graphical sheets in which energy streams are whirling. He is never reduced down to the level of a witticism, entertainment and hollowness. His angelic landscapes are seen from above, subordinated to the scenes that have attributes of a ceremony. He knows his origin and his path. It is time to open the door that used to be closed for him
By: Dejan Đorić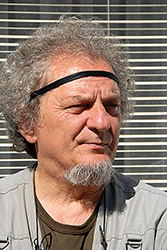 His artistic point of origin is Šabac, one of the most important art centers of Serbia. He has become recognizable on Serbian and Yugoslav art scene first for his drawings that used to aattract the attention of the audiences already in the 1970's at group exhibitions of ULUS. Nudes by Mihailo Gligorić Gliša drawn in pencil, figures and horses painted by brush and black ink, are characterized by unique appearance, between realism and expressionism, dominance of the linear in the composition and bold stylization. Gligorić stylizes every image, which is, according to Mihailo Đoković Tikalo, a higher form of artistry than mere copying of reality. In his mentally and technically complex revaluation of a realistic image he is using deformation, that old artistic method, favorite among fan tactic painters. In order to be able to stylize and deform for the purpose of creating an image different from the real one, and so develop one's own style, one must know classical principles well – drawing from a model, anatomy, perspective and composition.
"VIRUS OF DRAWING" AND "MAGICAL THREADS"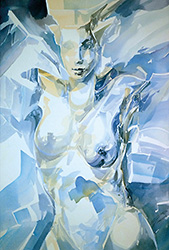 A painter starts from the simplest, thinking, like the experimental estheticians, that art is only a repetition of the basic forms on a higher and more complex level. Having mastered the drawing, he could, thanks to the acquired knowledge, embark on different forms of art, those that are created from the art of drawing. Artist Želјko Đurović wrote about the "virus of drawing" and art historian Tatjana Marković about the line or "magical thread" that Gligorić has discovered in his original way. By using linear multiplication, networking and spreading, striving to expand the linear beyond the format of work, Gligorić has mastered graphical techniques of dry needle, engraving, etchings and aquatint, as well as aquarelle painting, oil and airbrush painting. He gave his signature to each of these types of art presentations, expression of his personality, because the character of an artist is something that penetrates most deeply and defines not only the artwork. Numerous individual and group exhibitions, as well as awards, show that the audience and critics have been discovering this artist over and over again, especially because, in each of these techniques, he has produced a bigger number of works and complex thematic units within them.
"TRAVELING EYE", "SEER OF THE WORLDS"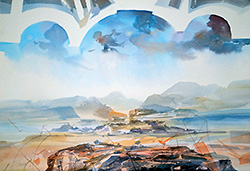 Gligorić is an explorer. He is not, like many, an artist who has successfully mastered one type of presentation n and continued to exploit it limitlessly. He is an art nomad, the "traveling eye", as Alberti would say. Seer of the worlds. From his spiritual and daily journeys, from numerous art colonies where he participates, as a witness and participant, he brings visionary images or graphical sheets in which energy flows are whirling, threatening to demolish the composition. He is striving to master the most complex, fantastic and visionary, without letting down the real; maybe that is why his angelic landscapes seen from above, covered with church three-mullioned windows, subordinated to the scene that gas attributes of a ceremony. He respects traditional creative principle of the art as miracle, celebration and joy for the eye, and not only, as Matisse thought, a comfortable armchair for resting and enjoying in the observation. That is why Gligorić's work, except for taking into account realistic creative conditions, is also defined by spiritualit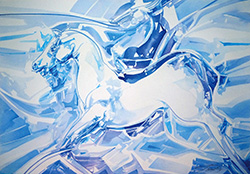 y or the fact that they ask certain questions from the viewer, forcing them to think. Works of this drawer, graphic artist and painter are never reduced to the level of a witticism, entertainment and hollowness. As an artist, he pays attention to the content and format of the work.
If we properly observe the quality, volume and diversity of artwork of Mihailo Gligorić Gliša, his figuration, landscape and animalistic portrayals, which he has mastered, we will agree that he is still one of insufficiently discovered artists, maybe even neglected ones. It is good that he has more frequent exhibition activity before him, and not only before the Belgrade audience. Because, in several decades of work, he has created a series of artworks that deserve to be independently exhibited by subject and technique. We believe and we hope that it is his way toward a place in Serbian art history that he deserves for the content and significance of his opus.

***
Roads and Freedoms
Mihailo Gligorić Gliša (Osečina, 1952) graduated history of arts at the Faculty of Philosophy in Belgrade, He is a member of ULUS and International Association of Professional Artists of Europe, as well as other associations. He has exhibited at more than 250 group exhibitions in Serbia, Europe and North America. He has had 30 independent appearances in the country and in Europe. He has participated at exhibitions in Austria, Italy, Greece, Germany, Poland, Belgium and France, as well as more than 30 art colonies. He has received several awards. He lives and works in Šabac and Belgrade as a freelancer.