Health
COLONEL DR. LJUBODRAG MINIĆ, A NEUROSURGEON AT THE MILITARY MEDICAL ACADEMY IN BELGRADE
Helping is a Great Privilege
He specialized summa cum laude, seventeen days before the breakup of Yugoslavia and outbreak of the war. He remembers many difficult cases and great challenges. From Serbian boys from Slavonija and Vukovar, through young guardsmen killed in the beastly bombing of Serbia in 1999, to a six-year old girl from Užice for whom he secretly cried. He specialized in brain and spinal cord surgeries, and he also has his special method. His team is also ready for the using of stem cells, they are only waiting for the approval of the Ethics Committee
By: Jagoda Plavšić
Photographs: Želјko Sinobad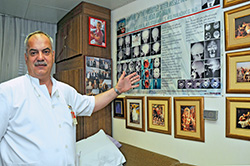 People entrust him with the most precious thing they have: their own life. He operates on brain and spinal cord, probably the most delicate human organs. He saved lives to many, and enabled many to live pain-free. There is hardly a bigger satisfaction and better statement about a professional than this.
Neurosurgeon colonel Dr. Ljubodrag Minić is the head of the Second Department of the Clinic for Neurosurgery of the Military Medical Academy in Belgrade. A man of exceptional energy and remarkable knowledge of his trade, with interests that go far beyond the medicine. He bravely faces professional challenges, likes to transfer knowledge and share experiences. Two days can fit into one of his. He is constantly in touch with latest medical knowledge, as well as with awareness that it is necessary to get to know every patient, inspire hope that is medicinal, give comfort.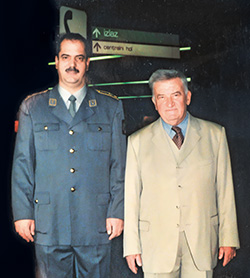 One poster is hanging on the wall of his study, among paintings and numerous books. It shows the movement of a bullet through a person's head, before it would be taken out.
– I am especially proud of this – tells us Dr. Minić. – The poster was displayed at the World Congress of Neurosurgeons in Berlin in 1995 and it reminds of a difficult story from those evil times. The Sava River valley, Christmas Eve. A two and a half years old boy was hit by a stranded bullet while he was sitting in his grandfather's lap. He sustained a penetrating head injury, in temporal region, on the left. The bullet was stuck in the posterior cranial fossa, behind the cerebellum. The boy was taken to the Emergency Centre in Belgrade, and was taken care of there. He got better, was able to walk, went home, but the bullet stayed. At St. George's Day his condition suddenly deteriorates. The bullet was no longer in the posterior cranial fossa, but in the region of the so-called third cranial fossa. After a long time the boy was taken to the VMA. We managed to remove the bullet, without damaging anything. The boy went up, started neurological recover, ophthalmologist and professor Branislav Đurović solved the problem of the eyeball. The boy completely recovered. Today he is a young man, he came to me last time when he was sixteen.
ABOUT HONEY AND BILE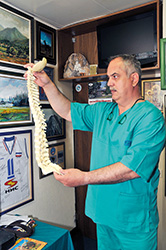 There are many more horrifying stories that the doctor keeps inside him, like the one about a Serbian boy from Vukovar, injured in grenade explosion.
– The mother tried to protect two sons with her body. When she stood up, she realized that one of them was killed, and the other sustained head and brain injury in the occipital region. She also sustained wounds all over her body. Their rescue was dramatic, but successful. The survived boy stayed at the Clinic for a longer time only because he didn't have where to go after the therapy. That is also war: not having where to go.
Another personal drama that doctor Minić remembers is the tragedy of young guardsmen in 1999, when the North Atlantic Pact bombarded Serbia.
– Six of them were still alive when they brought them in. Somebody tipped of the enemy that those children were located in two parked trucks at the entrance into the guard brigade. The explosion was so strong that it damaged the nearby maternity ward and hospital "Dragiša Mišović". Only one of those young men, actually still boys, had both legs when they were brought in. One was thrown away by the explosion in the nearby rose garden; in the middle of the wound in his hip, on the place of his chopped off leg, a red rose was stuck. Of six of them, we managed to save only two.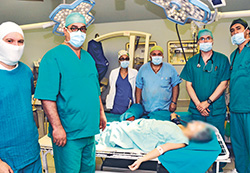 Already during specialization he took care of many heavily wounded people. In one war day he would have to do as many as five surgeries.
– We have all been sent here by God to do something, more or less important. We all have a serious obligation toward life and our people. When people are in jeopardy, we must make ourselves unconditionally available. And it is God's will how long and how someone will live. I see it as a gift and privilege that my education enabled me to help someone. Painters, sculptors and pets create beautiful work, but few of them can enjoy the result of their work as doctors can. To be proud for helping someone to survive, changed their fate, brought them back to their family. But even here, as we know, "a glass of honey" is accompanied with a "glass of bile". As much as success may lift up a doctor, the failure may bring him down. Even only one single disappointment, one sorrow, can question all the previous successes.
IN STEP WITH THE WORLD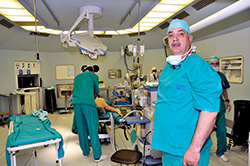 The saying that "the battle is not waged by shining weapons, but by the heart of a hero" does not fully apply to medicine. Modern medicine is to a high degree dependent on technology, emphasizes Dr. Minić. Still, the "human factor" can never be replaced with anything.
– Only people working in neurosurgery may fully realize how vast an area it is and what its abilities to help are. Therefore our specializations within the area. In the past years, for example, we have made the biggest breakthrough at the VMA in the spinal column surgery. We have reached those that are the best in this area, we are doing very serious highly specialized things.
Great results, of course, require a team. It is true strength when there is sufficient number of those who can transfer knowledge, establish a school, a standard.
– Exactly. Then you are surrounded with three or five of them who can definitely do very complex things. A great advantage of the VMA is that I can invite any of my colleagues for consults and assistance. Knowledge, team work and good organization bring results for which this house is famous.
He believes that he succeeds to transfer his knowledge. The story about truth, about secrets, trade, about continuous following what the others are doing. Those who have chosen this profession, he thinks, are not ordinary people. They must be forged in certain way and have special strength.
And the special method in treatment of spinal column injury, we are told at the VMA, was introduced exactly by Dr. Minić.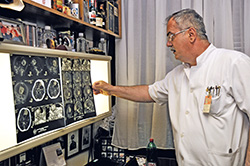 – It is a specific surgical treatment of gunshot injuries of the spinal cord – he explains. – In this, we are using mesenterium from the abdomen, as a multi-potent organ, which has the ability for the growth of blood vessels. We introduce it into spinal channel, at the place prepared after the trauma, and we wrap the spinal cord in it... This method was completely original in this part of the world when we introduced it here about twenty years ago. It has produced certain results. It is significantly an important intermediate step between the previously applied method of electrical stimulation and the current method of stem cell transplant.
In the surgery of spinal cord, an organ with low functional reserve, there is no strict determination up to when it is necessary to do a certain thing in order for the recovery to be successful. Dr. Minić still emphasized the importance of the first hour, the "golden hour", important in all emergency conditions in medicine. Just like it is important in cardiology, for example.
– Yes, because all this has to do with vascularization, with feeding of the tissue, blood supply of blood, sugar and oxygen into certain tissue. If absence of that nutrition lasts for a longer time, the endangered organ is irreparably damaged.
SOON THE USE OF STEM CELLS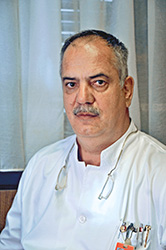 Professor Bela Balint, Dr. Minić tells us, has already mastered the method of stem cell separation. Its use in cardiology and neurology has already begun at the VMA.
– We have already prepared patients with spinal cord injuries for the use of stem cells in treatment. We have technical means and personnel abilities, and we are waiting for the approval from the Ethical Committee.
If people praise themselves, they spoil themselves – Dr. Minić believes. That is why we had to learn from other people in his institution that for the past quarter of a century he has by far the biggest number of admittances, examinations and completed surgeries. And this is the burden that is not easy to carry. Many wait for months to be operated on by him. Both success and failure leave traces.
– Half a year ago, I was visited by the father of a little girl from Užice, six years old, who had a tumor on the brainstem. They had been everywhere, and then they came to me. The thing was so horrible that, when I finished the conversation, I asked the nurse not to let anyone in. I cried, and I didn't want to be seen.
When he does everything he knows and can, he says, he is at peace. He is also doing this line of work because only in this way he can help. His entire being is imbued with this idea.
– When I turn around, I see that I did not waste my time.

***
Biography
– I was born in Rožaje, but I am originally from Mojkovac, from Podbišće. That is where my great-grandfather came after the Congress of Berlin.
He graduated in the first generation of alumni from the Medical Faculty in Kragujevac. He graduated from the School of Reserve Officers of sanitary service, did his internship at the Guard Brigade. He has been working at the VMA from 1986. He passed his specialist exam in neurosurgery with summa com laude, seventeen days before the civil war officially began in Yugoslavia. He was forged at his hospital, and outside. He also worked at the Hospital of the headquarters of the Army of the Republic of Srpska in Sokolac. He had advanced trainings in Moscow, Prague, Ljubljana. He published a large number of research papers. He has been decorated and awarded. He is an honorary citizen of Mojkovac.
***
Mozart and Other Influences
– I have three sons: Nikola, Miloš and Marko. I am a grandfather to one Katarina, who is four years old. I am a hunter, but the last time I had a chance to go hunting was a year and a half ago. I like listening to classical music, in the OR and outside. (I think that Mozart has especially good influence on neurosurgeons.) And not only music, art in general refines people, makes them whole. And when wholeness and meaning are there, the man stands upright and free.
***
Brain and Limits
– They have gone a long way in organ transplantation. Heart, kidneys and other organs, it is now being done almost routinely. But brain transplantation will hardly ever be done. Even if it would, it would no longer be the same person. There we reach that limit as to what can and what cannot be applied on a man, until when the man is what he is and when he stops being that. I also speak about those who are applying a certain method and those on whom the method was applied – Dr. Ljubodrag Minić says.