Traces
NJEGOŠ' STREET IN HERCEG-NOVI, FROM TVRTKO'S FOUNDATIONS TO OUR DAYS OF ILL FORTUNE
Related to the Heart
It is not an ordinary street, a strand of hair in the "eyebrow below the mountain". It is one of the golden threads that keep bringing this city and this sea, again and again, into the very heart of Serbian culture. Toward the bottom of this street, twelve-year old Njegoš went to school, and toward the top, Marko Milјanov died. In this street, Ljubiša and Matavulj spent their time, Andrić and Raičković lived, Ćopić and Desanka stayed, Džumhur and Kapor exchanged stories... If you don't believe me, ask Nogo and Bratić (you will see them there)
By: Branislav Matić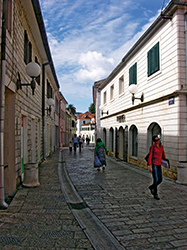 Whenever I come to the Herceg's city, old but New, I first measure it with this street. It remembers more of my steps than some in which I lived for a long time. It is not only a street, green and sloping, which you take when you go down from the center toward Topla and Igalo, like down the rib of a town. It is one of the golden threads that forever connect this city with the very heart of Serbian culture.
Imagine a provincial street of about kilometer or so at the bottom of which twelve year old Rade Tomov from Nјeguš went to school, later Serbian poet of the poets and the ruler of Montenegro, and on the top, duke Gore, Marko Milјanov, great hero and famous poet in his old age, spent his last days and hours. The street in which Ivo Andrić, a Nobel Prize winner, built a house for himself the only time in his life and which was chosen by arch-poet Stevan Raičković as his coastal habitat. The street in which Stjepan Mitrov Ljubiša and Simo Matavulј spent their time, where Desanka Maksimović and Branko Ćopić stayed, along which Zuko Džumhur and Momo Kapor were going up to the chat room "Pod lozom" every day. Still today, on this strand of hair "in the eyebrow below the mountain", you may run into Rajko Nogo or Radoslav Bratić, to give you a much better account about all this than this unreliable chronicler.
That is what kind of street it is. Quite ordinary but remarkable.
Nјegoš' Street in Herceg-Novi.
THE FIRST STONE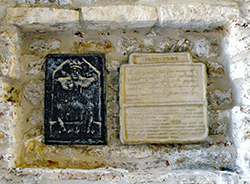 Marble slab on the Great Stairs under the Sat-Tower is the first beat of everything here. Although at eye-level, it is "the lowest stone of this city and people", an orientation for everything else. The following is inscribed in this stone, in beautiful Cyrillic letters, old and new:
"Tvrtko I, king of Serbia and Bosnia and the Littoral and Western territories, built the foundations of this city in May of 1382. It was named St. Stefan, but this name didn't stay. Today's name Herceg-Novi was retained by this city, after Herceg Stefan Vukčić Kosača, who had his court in it, and where he died in 1466."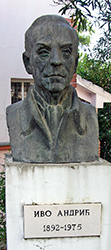 You read twice, touch with the palm of your hand to heel the heart of the stone, and then you go down the stairs, cut across the Square of Salt, and enter Nјegoš Street.
Nјegoš arrived in the street that would much later carry his name in 1825, when he was twelve years old. His uncle Petar I Petrović, bishop and ruler of Montenegro, today a saint, sent him to a local school with Josif Tropović, a monk of Savina and parishioner of Topalj. As Ljuba Nenadović testifies in his memoirs, little Rade Tomov already as a ten year old in Cetinje was able to read and write perfectly, and "knew everything that his teachers knew, and better than them". Josif Tropović was an educated man, previously ordained by St Peter of Cetinje himself, experienced elder-spiritual man, "wise with beads". Capable to lead both through world knowledge and into the inner circles of the Secret. As well as mastering foreign languages, especially Russian and Italian, and deep into the Church.
The school was situated in a stone house above the Topalj church and a small cemetery. From the street, one goes up a stone alley, along the church fence, and after about fifty meters reaches the gate. The priest's house is still located there, now in number 160. Little Rade Tomov used to live there. A part of the learning, the one that is more dedication than knowledge, took place in Savina Monastery as well. "The boy often walked to the monastery down this street and then next to the cemetery and over the Dubrava. Afterwards he would walk back along the shore, below the fortress, until he would see the bell tower of the Topalj church, and then up a steep alley, next to the former court of the Bishop of Herzegovina Savatije Ljubibratić, towards what is today Nјegoš' Street."
WORLD IN TOPLA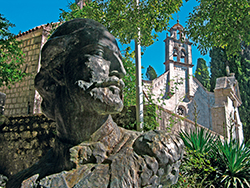 Ivo Andrić, who regarded Nјegoš as his spiritual ancestor, the highest and the deepest point of Serbia after the Battle of Kosovo, in 1963 described in the following words one "moment in Topla" of Rade Tomov:
"This grown and strong boy, metropolitan's nephew from Cetinje, who is attending school and learning from Josif Tropović in Topla, attracted the views of citizens as he passed through the city. The citizens watched – as citizens watch everybody and always ruthlessly and mercilessly, because they want to be informed about everything. (...) And their wives and daughters were adjusting their walk so they would see the metropolitan's nephew – without watching him; and they all thought the boy was beautiful and shapely and somehow mature too early, already a young man. (...) And he stopped on this day in July on the stone stairs in front of his teacher's house, suddenly sat on the hot stone and remained there, as if struck by lightning. Blood roared inside him and his thoughts with it, his pulse bounding.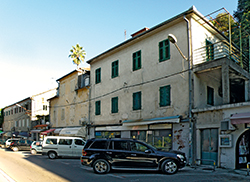 What is this Topla? A settlement of several dozen houses, with a cemetery and a church, and it is dear like an unusual maiden's name, and inside it, small as it is, entire life of this world is hiding, past, present and future. (...) And what is this handful of salt water sparkling smeared under Igalo? A piece of the sea for those who have no sea, and at the same time all the seas and oceans of this world, all connections and sailings and encounters that can be experienced in harbors and on open seas, and knowledge that is available to man. And the smell and taste of the experience. And a shipwreck without witnesses, traces and sounds, and victorious comebacks..."
Two years later, in 1827, Rade Tomov returned to his uncle in Cetinje. Some say that he had evidently become a grown young man and that the beautiful city on the shore, with its charms and attractions, became a great temptation. Others say that Tropović felt his approaching death (he passed away a year later, in 1828) and that is why he sent the boy back. But it seems that the reason was still a careful estimate that it was a time for a new level. Exactly as much time as he spent studying in Topla, Rade Tomov will have in Cetinje to be introduced into state and military affairs. Already in October 1830, according to the will of Petar I Petrović, he will become a new ruler of Montenegro. In early 1831, in the Church of St. Mary on the Kom Island, on the Skadar Lake, he was ordained as archimandrite and became Petar II Petrović.
Below, in the city on the sea coast, traces of him remained. The stone house in which he studied is still there, only the street today carries his name. And on a small extension right below the Topalj church, there is also a monument: bishop and ruler, beautiful and wise, looking eternally at the entrance into the Bay. (As of this year, count Sava Vladislavić, the moan most trusted by Russian Emperor Peter the Great, probably the most powerful Serb of the 18th century, has been standing next to him.)
I HAVE TO GO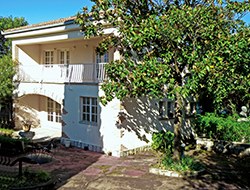 Toward the end of his life, renowned duke Marko Milјanov (1833–1901), already seriously ill, went off to northern parts of Serbia. He didn't go to look for medicine and publish his manuscripts on the way, but vice versa. "First I had to tend to what cannot die, and not what must die and what has not spared anyone."
In Belgrade and northern areas, even in Vienna, Pest, and Szeged, he would be greeted as a famous hero of Serbian liberation struggle against the Turks in "Serbian Sparta". Although he had not have a book yet, people knew about The Examples of Humanity and Bravery, they were read in parts, and he had already been a true literary star. Everywhere surrounded by brotherly love and utmost attention. The care about editing and preparation for printing of his manuscripts was assumed by Ljubomir Kovačević, great Serbian historian, professor at the Great School, academician, teacher of Vladimir Ćorović and father in law of Milan Rakić, father of Vladeta Kovačević who would later become a hero of the Battle of Kumanovo. All costs were covered by the endowments of Kolarac and Čupić.
But the illness, it seemed to have been a cancer after all, progressed faster than his literary activities. "Brothers Belgradians, when they saw that the disease was getting stronger, insisted that I should go to the coast, and let them finish the books. But... they would not dare take me out of my bed before they collected doctors to see whether there is life in me enough to survive the journey on the road and sea. They brought four doctors – Simonović, Subotović, Anastasijević and Bril – who examined me and immediately order that I should go on a journey."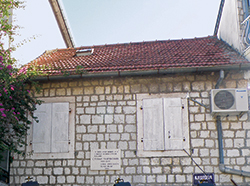 That is how Marko Milјanov arrived in the Littoral, from his folk to his folk. At first, he spent some time in Dubrovnik: at Dr Mišetić's in Gruž and in the house of my ancestors the Vojinovićs on Stradun. In the first days of winter of 1900/1901, he moves to Herceg-Novi.
Stone coastal house toward the top of Njegoš' Street, today opposite from the big terrace of "Gradska kafana". Two-story, four windows on the front façade on each floor, with a beautiful view over the gate of Boka. February, the first year of the new century and the last year of Marko Milјanov's life. The sky is winter grey and low, and light breaks through from somewhere. From the first floor window the duke is looking at the entry into the Bay and "exit from this world". He is sixty eight, he knows that death is at his doorstep, he is calm. He writes to his best man Stojan Popović, a commander from Kuč:
"Although I did not live to read my books, from my grace will listen to grandchildren of my friends reading about their centuries old heroic acts. (...) Do not cry for me, you or other brothers, because I tell you that I am happy in death and in life. I die happily for my humble work, and for the great wound, which is incurable, I don't even mention here. (...) As a Kuč I die quite happy, and as a Serb unhappy and unsatisfied, I am and will be your Marko, alive and dead."
The day before his death, he writes to Ljubomir Kovačević:
"Say hi to the Belgradians and I leave my Stef and my honor in your care. Goodbye. I have to go."
He died on February 2, 1901, there, behind these windows below which I am standing. On the stone house there is a white marble slab, letters are faded, hardly legible. The house does not hold a museum of Marko Milјanov, or a library, gallery, cultural institute. No. A foreigner moved in. It is not the measure of Marko Milјanov but us, contemporaries. And the unhealed wound of the duke, which he took into his grave, is today as big as half of Montenegro.
MEMORIES, BEAUTIFUL AND PAINFUL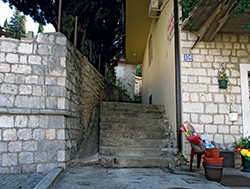 Even before, Andrić used to come to Herceg-Novi and he loved this city. It is not the most beautiful city on the coast, or the best preserved, but the wise writer felt the best there. In the city of "eternal greenery, sun and numerous stairs", as he described Herceg-Novi in The Signs along the Road, he was among his folk. Without tensions and shadows. He understood those people, and they respected him. The love was mutual.
Ivo and his wife Milica Babić, whom he had married on December 27, 1958, after a secret affair of more than twenty years, agreed on this. Daughter of Stevan Babić, renowned Serbian merchant from Šamac, a student of applied arts in Vienna, excellent costume designer at the National Theatre, she was in love with Belgrade, "immediately afterward in Herceg-Novi".
The idea of a "summerhouse in Herceg-Novi" was Milica's. Apparently, she shared it with her husband on return from Stockholm, in 1961, where he had received the Nobel Prize for Literature. It is certain that a part of the money from the award was invested into the realization of this idea. Ivo was willing, he fully agreed.
Seventeen years younger than her husband, then fifty four years old, Milica entered this endeavor with joy and enthusiasm. Ivo was smiling. They selected a land parcel in the middle of Njegoš' Street, on the side closer to the sea, on the corner with steep little Mirka Komnenovića Street that leads to the Museum (the building that is an endowment of Mirko Komnenović, a famous merchant from Herceg-Novi). The house was built in 1963, according to Milica's idea, and was occupied in 1964. Two-story house, balanced in every respect, hipped roof, not truncated top, porch at the entrance, wide terrace upstairs, sunk in the Mediterranean greenery of the yard, facing Luštica and entrance into the Bay. "Half underneath the roof, the other half in the lawn", says the poet.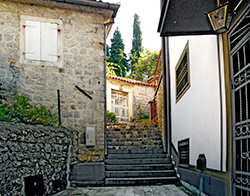 Ivo and Milica used to come often and stayed long, for months. He wrote a lot there, he had it going there. Some "coastal stories" and numerous records were made in this house, like fragments on fountains and stairs of Herceg-Novi. During breaks, Andrić walked a lot, and sometimes worked in the garden.
Their neighbor Stevan Raičković, in his Triptych about Andrić's House in Herceg-Novi, tells an interesting anecdote. Seventy two years old Ivo, in unfaded jeans, with new garden scissors in his hands, climbed on a branched fig tree to cut some dry branches. They were sticking out. Suddenly, "the old don Niko Luković, a socialite and talker and the writer of travel guide Boka Kotorska from 1951, came in". Mr. Ivo didn't want to show himself to him in this situation, and don Niko sat at the garden table under a tree, started chatting with Milica, and he just wouldn't leave. What happened next, you can find out if you read Raičković, so that we do not retell poems. And they also talk about unforgettable conversations in the garden and about a piano hat was heard from a locked house when nobody was in it.
Milica died here, suddenly, at the age of fifty nine, on March 24, 1964. Until the last moment he spoke calmly with her husband in the room upstairs, with the view on the Bay.
Ivo, who outlived her for seven years, never again returned to this house and this city. Those beautiful memories became too painful for him.
He bequeathed the house to the city and writers. There are some indications that soon, after all the wandering, it will become what it was originally supposed to be.
UNTOLD POEMS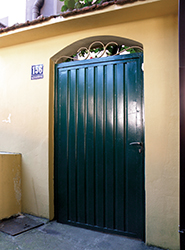 Famous Serbian poet Stevan Raičković used to go every day up those stairs between the Topalj church and number 156, those where young Njegoš used to sit. The two-story stone house is not big, two windows facing the street and the sea, wooden shutters on them. A little stone yard inside, from it a view of the church and cemetery. On the front, from 2008, there has been a marble slab with which Serbian Educational and Cultural Society "Prosvjeta" is informing us that "great Serbian poet used to live and work in this house..." (This slab almost got covered by an ugly cage of one ship.)
Stevan Visoki, Raičković, lived as a "sad knight" and "the monk of poetry". He was burning in his images and verses, he eulogized the ordinary and brought the unusual closer. Of all the mentioned tenants of Nјegoš' Street, he probably the most delicately felt and the most passionately understood this city and the bay, this vegetation and the stone, these boats and winds. And he was lest of all a guest, passer-by, and most of all a part of that world. He knew the meanings of words tramuntana, šijun, sijavica, refule, mareta, how "devils are getting married" and what "Crazy Anđelija" is.

If anybody doubts, they should read Stevan's Monologue on Topla. "Ten little poems or poems-stories". Or at least they should listen to the "Disaster in Boka Kotorska Bay" from September 28, 1987.
We are taking some crumbs for which we know for sure were created in this house, in number 156, after the great natural disaster, and we are rearranging them differently, only for this reporting occasion:
"Nobody saw any of this, while it lasted... And I who didn't take up my pen even once in months – as if it was enchanted or infectious – I take it this evening... and beside a candle stump I am writing. I am rescuing, at least in a description, some of what truly happened to everybody. But I am distracted, to mutual joy, by acquaintances who wander in, and who gather around my Robinson-like desk like moths. ... Only my poem is craving for a beautiful ending, which is not coming. Which will not come."
Whenever I come to the Herceg's city, old but New, I first measure it with this street. And I measure myself, us. Novalis was right: "Every memory is a present."

***
Ivo and Miloš
Ivo Andrić came to visit Stevan Raičković, who had just arrived from Belgrade. They sit in Stevan's little yard, a stone shell with a view on the Holy Savior of Topalj and cypresses, drinking coffee, smoking.
– What is new in Belgrade, Stevan?
– Crnjanski came back.
– He did! Well, best of luck!
Andrić then fell silent, musing. Raičković knew that the two literary giants, two so different personalities and with so different life stories, had long and frequent correspondence. And that Andrić keeps preserved over a hundred of Crnjanski's letters and Crnjanski, in his eternal turmoil and moving, not a single letter from Andrić.
Ivo finally says:
– You will see, Stevan, how unserious that man is.
We are told this by Rajko Nogo, in his "Memoirs of Herceg-Novi".
***
Branko
Right below Nјegoš' Street, at the place where it leaves the old town, in a triangular cut-out of one square, there is a monument to Branko Ćopić, writer and poet. A beautiful one, work by Nebojša Mitrić, a great master. Underneath the expression of a jolly and a joker, deep sadness is seen. And so, from the side, Branko is looking at all that word with eyes of someone who understood it all, but did not say. Out of compassion.