History and Legend
PAVLE BAKIĆ, EUROPEAN HERO FROM VENČAC
The Last Serbian Despot
Raised on the principles of old nobility and honor, he was educated and brave. Circumstances changed, empires and opponents, and he led his unwavering battle, our, always the same. He could have abandoned the occupied Serbia forever in December 1525. He inflicted heavy defeats on the Turks near Kahlenberg and Baden, he defended Vienna and the Danube, the only one who met them in the battlefield in Slavonia on October 12, 1537. He fell as a hero, in the battle, and his head, like the head of Karađorđe later, was taken to the sultan in Constantinople. So he would see that it is possible
By: Jovo Bajić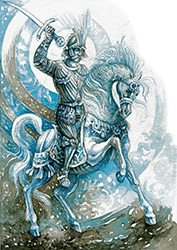 "Here, on the slopes of Venčac, Pavle Bakić, the last Serbian despot reigned until 1525. Defending Europe from the Turks, he died as a hero in Gorjani near Đakovo, on October 12, 1537."
These words are carved in the obelisk erected in the village of Banja near Aranđelovac, on the place where the court of Pavle Bakić used to be. Te monument was consecrated on October 12, 2009, for the 472nd anniversary of the hero's death, the last crumb of Serbian medieval statehood of Nemanjić dynasty. And not far from there, in Viševac, two and a half centuries later, Karađorđe Petrović was born, the one who would lead the Serbs from slavery under Turks into the restoration of both freedom and state. Importance and characters of these heroes are also reflected in the fact that heads of both of them were sent to the sultan in Constantinople.
The monument to Pavle Bakić, in the place that is today called Dvorine, was erected by the Association of citizens "Pavle Bakić", founded in Aranđelovac to preserve memory of this hero of European battlefields in the first half of the 16th century. (And at the time when Pavle Bakić reigned on Venčac, Serbs understood the European solidarity literally and sacrificially, as a vow, confirming it with their blood spilled in defending Budim, Vienna, Pressburg.) There, between the forest of Lomnica and the Jasenica creek, where Bakić's court was located, one can arrive down a road covered with gravel from white Venčac marble. The obelisk is on the edge of the old cemetery, next to the foundations of a large and insufficiently explored building, maybe remains of a court or a church.
On one of the last days in December 1525, Duke Pavle Bakić left here forever, leaving his court and estates with about fifty villages. He went north, toward the Sava River, then border between Turkey and Europe. He was accompanied by his wife Theodora, children (names of hi daughters Angelina and Marija are known), four brothers (Komnen, Manojlo, Matija and Mihailo) and one of the uncles (Petar), with families. Historian Jovan Rajić also mentions Pavle's brothers Kliment and Dimitrije. They and three carriages filled with treasures were accompanied by fifty horsemen. They crossed the Sava, and on the other bank they were welcomed by Pavle Tomori, commander of Hungarian army, with his arms wide open.
WHEN PAVLE CROSSED THE SAVA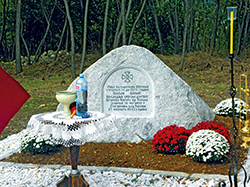 The Bakićs, old Serbian aristocrat family, is mentioned for the first time in 1476. In the territory of modern Serbia they had 64 villages, mostly in Užice district. Under the Turkish rule they extended their estates toward the north, what is today Šumadija, and had their court on Venčac. They had to provide soldiers for Turkish army and lead them themselves. Because of his heroism and warrior's ethics, Pavle received the title of Duke. He was in great favor of sandžakbeg Ferhat-paša from Smederevo, sultan's son in law. As a victim of intrigues on sultan's court, Ferhat-paša was executed. He was replaced by Grand Visier Ibrahim, who accused Pavle Bakić that he was the instigator of a Janissary rebellion and that he kept valuables of the executed Ferhat-paša for himself.
At that moment Bakić left Serbia and moved to Hungary. He was familiar with Turkish military tactics, and for this was highly esteemed by Pavle Tomori, commander of Hungarian army, who invested a lot of effort to help Bakić cross the Sava. Upon agreement, Pavle received estates in Northwest Hungary, in Komorin, Győr, Pilis and Somogy district, and later he received the Lak Fortress. Later, from King Ferdinand he also received Szombathely and Győr Fortress. He gave these estates to Serbian population who migrated with him.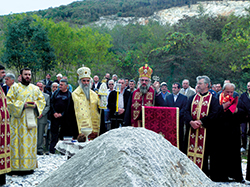 In Hungary, Bakić didn't find what he expected. The country was then in turmoil, King Ludovic II was weak and incapable of restoring order, and noblemen had been feuding. Serbs made significant military force. In the area of what is today Srem, Bačka, Banat and Slavonia, there were estates of a large number of Serbian noblemen and warrior (Raič Božić, Matej Ovčarević, Stefan Berislavić, Marko Jakšić, Petar Petrović...). Having arrived there, Pavle brought the news that sultan Selim II is getting ready for great campaign against Hungary, which happened in spring of 1526.
Hungarians prepared the defense and the main battle took place on August 29, near Mohač. Among Hungarian soldiers there were also Serbian warriors led by Pavle Bakić and Radič Božić. They proposed a different organization of the army and defense tactics, but their advices were rejected. Hungarian army suffered horrible defeat. Among numerous killed Serbs there was Matija, brother of Pavle Bakić. King Ludovic II fled from the battlefield and in panic horror drowned in a swollen creek. Turks freely walked into Budim. While Turkish army was rushing toward Budim, Bakić was hiding Serbs in refuges so they would not cross paths with the Turkish army.
WISDOM OF A LEADER, HEART OF A WARRIOR
After the defeat at Mohač and king's death, civil war broke in Hungary. Duke of Transylvania Jovan Zapolja and Habsburg King Ferdinand II were fighting for the crown. In south Hungary at that time warrior star in the image of mysterious emperor Jovan Nenad Crni shone. In Banat and Bačka he gathered powerful Serbian army and soon drove away the Turks who were withdrawing from Budim, created a large free territory with the capital in Subotica, and entered Srem. In the civil war he was siding with both Zapolja and Ferdinand, actually with none of the, until he was tricked and killed (National Review wrote about this).
Sultan Suleiman, called the Magnificent by the Turks, did not sit still for long. Already in 1529, he started toward Vienna with a great army. The Christian army, in which there were many Serbs, was getting ready for defense. Pavle Bakić with his warriors guarded, among other things, bridges on the Danube. At the same time, he was making ambushes, imprisoned Turkish soldiers, collected intelligence about planned attacks and notifying Vienna, in order to enable successful defense. Pavle inflicted heavy defeat on the Turks near Kahlenberg.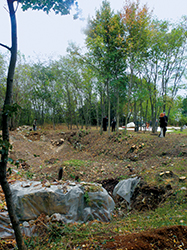 Sultan Suleiman started his second campaign against Vienna in 1532. Having crossed the Sava and Danube, his army looted and burned Christian settlements. Among the Europeans who stood against this were Pavle and Petar Bakić with their soldiers. A great battle took place in the vicinity of Baden. Bakić made an ambush for Osman-beg and his dangerous assault cavalry (akindžije), and defeated them. He personally killed Osman-beg in the battle. Bakić's victory was celebrated throughout Christian Europe, and a book about his heroism was immediately written in German language. King Ferdinand confirmed to him and his heirs the estates in Western Hungary and gave them new ones.
But such fame and recognitions caused envy and hatred among a part of Hungarian nobility. Valentin Terek wanted privileges and estates to be taken away from Pavle Bakić. There was also an increasing pressure to convert the Serbs into Roman Catholicism. Although Vienna was still in danger, on February 12, 1536, Roman pope praised the missionary of the Order of Saint Paul Đorđe Horvat for converting to Roman Catholicism a number of Orthodox Serbs in Slavonia. Pavle Bakić, representative of the Serbs in Hungary, opposed this. Strong in his identity and faith, he did not confuse things. As an illustration, although his scribes wrote official documents in Latin language, in accordance with the order of Europe at that time, at the bottom of all of them Pavle Bakić would put his signature in Cyrillic.
NOBODY OUTPERFORMED HIM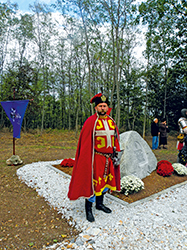 In 1537, Turkish army started a new campaign on Srem and Slavonia, from two directions. Commanders were Bosnian deputy Mehmed-beg and beglerbeg Mehmed-paša Jahjapašić from Budim. The Christian defense was an army comprised of Serbs, Croats, Czechs, Austrians, Moravians, Štajerci. Ivan Kacijaner was appointed top commander. Pavle Bakić led the cavalry, which mostly consisted of his countrymen. His brother Mihailo went with him, while Petar was entrusted to take care of the family and estate from Hungarian noblemen. Exactly then, on September 20, King Ferdinand appointed Pavle Bakić, who was with army in Slavonia, the Serbian despot.
In early October, two Turkish armies met near Osijek. Christian commander Ivan Kacijaner fled from the battlefield, scared to show up in battle. Serbian despot Pavle Bakić (it is not known for sure whether at that time he knew about the gained title of a despot) moved toward them with his horsemen.
It was, the historians say, October 12, 1537.
Near Gorjani, in the vicinity of Đakovo, a bitter battle broke between Serbian horsemen and Turkish Janissaries. In the first lines of battle, Pavle was shot to death. Many Serbian knights died trying to bring his body away from the battlefield, but they failed. Mehmed-beg Jahjapašić took Pavle's head to the sultan in Constantinople. Hungarian historian Nikola Ištvanfi wrote then: "And so, finally, the most courageous hero Pavle Bakić died, the one who has not been outperformed by anybody in military virtues in the Hungarian army."
A lot of offspring were left by Pavle Bakić and his brothers, and many of them bravely fought in the battlefields of Europe in the decades to come. Under great pressure, in a long time period, they succumbed to assimilation. In a charter written in Hungary, Pavle Bakić mentioned that he had left "Blood relatives" on Venčac. General Mišković in his work reminds that at the time of Karađorđe's uprising, there was a mention of Jovan Bakić, merchant from the village of Banje under Venčac. That is the last mention of this family.
And Europe? Has it forgotten itself, and in itself the Serbian soldiers who gave their lives on the bulwarks of its defense?

***
Honors
The memorial obelisk dedicated to Pavle Bakić was consecrated and memorial service was given to him and his soldiers by two archpriests of the Serbian Orthodox Church, metropolitan Amfilohije (then also deputy to Patriarch Pavle) and Bishop of Šumadija Jovan. About ten priest from the diocese of Šumadija participated in the service.
***
Memory in Toponyms
General Jovan Mišković visited the village of Banje one hundred and twenty years ago and left a testimony in his work "Bukulja and Venčac, geographical-historical sketch". There are many antiquities that the people ties to the Bakić family, he says. "From the tavern in Banje, in about quarter of an hour, and above the spring of Banje, one arrives to a mild inclination below Drenjak, near Bakić Court... Les then half an hour from the Bakić Court, under Vel(iki) Venčac and Čot, Bakić's spring is found in the creek and forest... There used to be Bakić's vineyards at the foot of Drenjak inclination..."