More than a Game
UROŠ PETROVIĆ, WRITER OF MYSTERY STORIES FOR CHILDREN, YOUNG AND OLD ONES
Mischievous Collector of Boomerangs
He started writing wishing that there again are books that will bring back the play of the shadow of fire on the face of the storyteller. He will explain the writer's tricks, and then everything will be even more mysterious. Writing is for him a filigree work on preparing the fireworks. He says that the words don't put the magic in motion but help us see it. Children today are the victims of mindless parents' love, disarmed by being overprotected, trapped in a 2D world. He understands and awakens them, and that is why he is always welcomed as a rock star
By: Vesna Kapor
Photographs: Archive of Uroš Petrović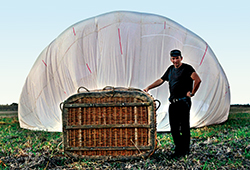 He is a writer of mystery and mysterious stories. This is what you will read about him on the internet, but he is much more than that. One can say, without the risk of error, that he is a magical character. His books invariably contain stories that come from Slavic and Serbian mythology. Certainly, he brings also elements of other cultures into them. His storytelling passion is transposed into photographs, through which he also writes stories. Thick fiber of imagination is charmingly descending on everybody who dives into the world of his storytelling.
He has changed many professions. Today, as a freelance, he travels, records and changes the world, in the way in which he can: with his talent and belief that that freedom is what we define ourselves. Also, "Uroš Petrović" is known as one of the most intelligent Serbs. He explains his life and his success as "merciless quenching of curiosity".
The first Serbian 3D film was filmed after his novel The Fifth Butterfly.
He is not only an author for children, but also a man in a mission. He is constantly on various events through which he is spreading interest for literature for children, as well as culture and history. His encounters with children are more than ordinary classes. By leading the reader through the world of mysterious obstacles, he talks to us about many forgotten terms. He stimulates wisdom, wittiness and honor. By mixing different worlds, he opens up the views and brings back the self-confidence.
He was declared the best writer for children in 2013, and at the award ceremony professor Ljuštanović said that children welcome him as a rock star.
Writing for children, but really capturing attention of the adults, stimulating their consciousness and forcing them to compete with children, is that a writer's trick or a chance?
Sometimes I wander and let myself being led by real or apparent road signs. That is also how I behave in literature. When I write, I don't know what will happen with the heroes of the novel. Or with the book. Or with me. It has turned out that such a method of writing invariably causes unpredictability of what is written. And such a way of life causes unpredictability of experience.
I receive many letters – even the real letters, hand written ones. They are mostly sent by children. Some of them started writing their own books, while others are writing my new books. It is invaluable. I collect boomerangs and I have many, but this one that I described in the previous sentence is the most beautiful one.
In many homes, mystery stories have become places around which the entire family would gather, just like they would gather around the fire in the old days. Do you feel this as a responsibility and a mission?
The series Mystery Stories was really created with a desire to have books that would bring back the game of the shadows of fire on the face of a storyteller. Of course, nobody expected such a circulation (only the first of ten editions was sold in more than 30,000 copies). I often find a group of children sitting in a park and reading those stories, training their minds. I see my books in social networks – in lists of ten books that have change someone's life, on family photographs from a summer holiday, bathing in the sun of the Aegean Sea together with the sun screen lotions. It is nice to know: someone somewhere is reading them.
WHILE YOU ARE TRYING, IT MAKES SENSE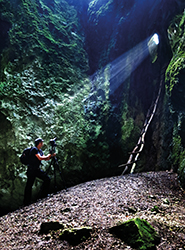 Transferring archetypal images to contemporary young readers obsessed with speed, new media and seemingly uninterested in everything that is connected with tradition, many people compare with the moving of the Sisyphus' stone. Still, you have found the way?
If there were efforts on that road in the beginning, it is obvious that a few years ago I have stumbled upon a long, mellow downhill road. Even if I should withdraw now to the mountain of Tara for a few years, this stone would continue to roll down by itself. Of course, everything under the sun has the same number of ups and downs, so I am prepared to the opposite angle of the road. I am not looking forward to it, but it does not frighten me.
Very early I have realized that the point is not the destination but the journey – everybody has heard this, but very few of them have understood it. And there are even fewer of those who at least partially apply this to their lives It is not easy to figure it out, it seems to me that people are spending much more energy lamenting over their misfortune than quite natural striving toward a turning point. All cocoons are made of fragile materials, although they don't look like it. They are made so that they could be broken one day and create a new life. Everybody should find the way to break them into little pieces. And for as long as you are trying, the time given to you makes sense.
Fantasy and mythology create the basis for your literary forms, but, the way in which you are building the worlds of your books, on the other hand, borders by means of some invisible shunt, with futuristic visions. Is that the key that opens the current world of the readers?
I don't write according to a synopsis. I see the writing process as a filigree work on preparation of fireworks. The reward is at the end. Sometimes the readers write to me, saying that my sentences were beating in their veins, as if they had lived them. One of the secrets is that I rarely describe an action that I have not experienced myself in some form or another. Going down the cascades of cold mountain river – I experienced it, I have a scar as a memory. Flying in a balloon – experienced, the consequence of the first award at the photography competition. Running away from wild mammals – still a fresh memory from Rtanj. Gold rinsing, horse riding, searching for buried artifacts and truffles, leech hunt, hawthorn injury, spending the night in a cave, all that has been experienced – I know how much it all hurts and how it can be loved. Of course, I weave all this into something imaginary, trying to have that go through experience, at least mentally.
CRUCIAL DOSE FO FREEDOM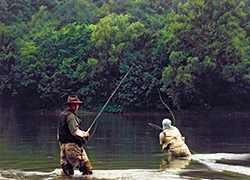 Entering literature and surviving in it, with joy. How much skill and work does it take?
It takes a lot of both skill and work. Still, I cannot fight the lust to look at all this from an angle: I was also very lucky. You see many good consequence only when you look back. Only now I know how important all those turning caused by curiosity meant to me, all those lessons I have learned although I didn't have to – maybe even more than those that I did have to learn.
How do you measure this moment and childhood of your children in comparison with your own?
Paradoxically, at the time of expansion of 3D technology, adventures of children's growing up are reduced more and more to 2D, to screens. We had a 3D childhood, screens were then tied. By analogy, maybe this today is a tied up childhood! And maybe it is human evolution, a step from those lying down big people from film Voli.
Generally, I was very early treated with a large dose of freedom, and that is the first condition for development of creativity. There is no stepping out without the possibility to make such a step, and there are no great adventures without the first step. I was lucky with growing up – I was not restricted in making the first steps. Today, out of mindless love, we overprotected our children and, paradoxically, disabled them from having the real childhood, like the one we had. Recently, we have taken city children, upon a secret agreement with their parents and Jovan Memedović, to a wilderness on Tara Mountain, to make fire, eat mushrooms and snails, walk barefoot on in the mud and bathe in a mountain lake. We surprised them, but they also surprised us. You will see!
Is your literary world an allusion of Serbia, the Balkans?
That is my surrounding, although seemingly displaced above the earth, into the past, depth, magical. It was interesting in one meeting of Serbian and Norwegian writers where I participated. We were envious of one another – we envied them for the richness of their environment, they were envious of us for the richness of the topics of our habitat. Balkan is an inexhaustible source of events, everything is rash and capricious. There is abundance of topics, and we are in want of everything else.
Is it possible to talk about inspiration as an initial moment in creation, or is it irrelevant in the modern world of the media and technology?
Inspiration is everything, and I must admit that sometimes a spark of an idea also comes from the screen. Technology that has conquered our senses is not only alienation and shortcut to superficiality. Today, I can afford to, in only two seconds, listen to the best musical compositions ever written, even in the most luxurious of performances! Only royal families were able to afford that until recently, and even them only sporadically! I want to write a few sentences while listening to Mozart? To seconds for that magic! I want to learn how "Vespa" got its name? Again, two seconds! We have all been given magic bowl, and almost free of charge. Of course, this gifts hides some by-products and a lot of unwanted material.
MAGIC IS EVERYWHERE AROUND US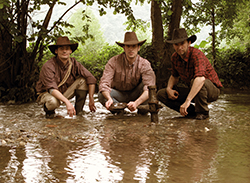 You travel often: literary encounters, art colonies, working with children.... How important is that act of encounter with others?
That is how I have imagined life. It is a big question whether anything exists in this world if it is not in relation to something else. There is only something to someone. The rest is nothing.
In addition to the storyline, which is always a riddle, there are also interesting anthroponyms and toponyms in your novels. Are they also a part of the answer?
I like to hide. In words, photographs, drawings, even in life. In each one of my books there are still unfathomed mysteries. Although it has been more than a decade since the publishing of my first novel Aven and Jazopas in the Country of Vauk, nobody has been able to decipher the manner in which I named my characters. Here is an example: the smartest being in my novel is Penvir, a fish-like creature suspected to be of extra-terrestrial origin – he was named in such a manner that a few syllables were taken out of the name of one of more than famous ancient settlement – LePENski VIR. It even resembles the famous artifacts that were found there. Also, in the novel The Children of Nowhere there are symbols that separate paragraphs – nobody has understood their meaning, although this book already has a five digit number of owners and readers.

Do real life and literary fiction sometimes overlap?
It happens to me and I don't think it happens by chance. A few weeks after the publishing of the book Dark Secrets of Ginkova Street, at the end of which the main hero gets a chance to fly in a balloon, I also receive the first prize at the big photography competition – flying in a balloon over Belgrade. Generally, books about the green-haired girl Marta were reflected, in a strange set of circumstances, one real Marta who, miraculously, was dyeing her hair green. It is a rare name here and could have been a coincidence, but in combination with green hair – it is a little too much. It is normal that, at least subconsciously, you describe in a book what has happened to you. The opposite also often happens to me, and I will have to be careful what I write.
Magical words are...
Everything magical is already here, around us! Take a look at least once at a spring or waterfall, stay silent for a few minutes and think well about what you are standing before. Magical words have never caused magic, they have always only helped us see it.

***
And he stumbles upon a downhill
He was born in Gornji Milanovac, lives in Belgrade, but often stays outside this city. He prefers spending time in nature and with children. He is the recipient of numerous awards for children's literature, and for some of them there were children in the jury ("Dositej's Quill", "Neven", Award of Zmaj's Children's Games, "Gordana Brajević"...) and award for a photograph. Books: "Children of Nowhere", "Mysterious Stories", "Stories from the Other Side", "Dark Secrets of Ginkova Street", "Aven and Jazopas in the Country of Vauk", "Secrets of the Skills of Marta Smart", "The Fifth Butterfly". He is a co-author of program "NTC Learning System", which stimulates creative and logical thinking and is applied in several countries in Europe.
***

Intermediate Stop of the Fifth Butterfly
In all of your books one can feel the winds of intermediate worlds, as if it is possible to touch the world of our dreams: eternity. Is that what you actually live?
One of the first stories I have written is called "Intermediate Stop". I was awarded for it, and also awarded novel "The Fifth Butterfly" was made after it, while Radio Belgrade produced a radio drama after this novel, and also after which the shooting of the first 3D feature film in the history of Serbian film has been recently completed. Intermediate spaces make borders meaningless, they are interesting, like cords with selected tones from the harmonies of diverse surroundings.
***
Four Lucky Concussions
You bring together mythology and history of various periods and nations, and still you bring the reader to one level they would not forget their own, and at the same time it is all twisted together into a diversity, on a cosmological scale...
I guess that diversity of motives is proportionate to the richness in one's head. When I want to make a joke, I say that as a child I had four concussions – it seems that a lot has been cross-wired in this misfortune. When I don't want to make a joke, I say the same.
***
Serbia Described with Light
In addition to literature, you are involved in photography, design, illustration... Can we say that it is your way of spreading the story about Serbia as a place of origin and positive values?
My photographs of Serbia have been seen by a few million people, but I think that I would be making them only so that they existed. It is still recording of lights, it even sounds noble. It has happened that people would visit Serbia thanks to the photographs I have published in the internet.
***
Different Approach to Education
– I was a president of Mensa for a few years, but now I am involved exclusively with children, especially talented ones. Together with Ranko Rajović, I give lectures to teachers and educators about our "NTC System" of learning in many kindergartens, schools and universities in the country and abroad. We have made a real breakthrough in a different approach to education. No doubt, a child gives up learning, even playing, only in case when what is offered is not sufficiently interesting and inspiring. Otherwise there is no limit in what, how quickly and successfully something can be mastered. The same goes for adults, as we usually call children with many decades of service.