Connections
"TELEKOM SRBIJA" IN PROJECTS OF SUPPORT TO AUTHENTIC CULTURE
From Little Ones to Giants
Traditional cooperation of this national company and Kolarac Endowment, thanks to which in previous years the visitors have been able to enjoy the program "Giants of Music", was in 2014 expanded with joint project "From Little Ones to Giants". The program of music workshops for children between five and twelve years old, entitled "How to make music: Knock, Knock, Kolarac" was also successfully completed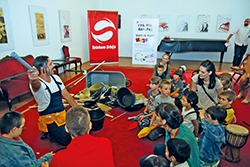 With a desire to bring closer to children the phenomenon of sound created on objects that are not traditional musical instruments, and which produce music and at the end a composition they compose themselves, company "Telekom Srbija" and Kolarac Endowment launched the project "How to make music: Knock, Knock, Kolarac", the author and leader of which is percussionist Bojan Ivković, VKV Boki. The first workshop within the project took place in Obrenovac for children temporarily placed on the local barracks. It was also the first time that one of the programs of "Kolarac" took place outside this cultural institution of national significance.
– We arte always trying to support projects that nurture culture in the right way, because when a society loses its culture, it loses its identity – says Marija Bošković, director of the PR Department of "Telekom Srbija". – Through these projects, we are trying to create conditions in which talents of young people will be discovered, and we are trying to give them a chance for further development. Maybe exactly some of these little ones will become great artists, and that is why we are proud of what we do.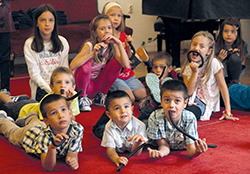 By creating a new experience in music communication and in support to the program "How to make music" – in the words of Jasna Dimitrijević, director of Kolarac Endowment – "Telekom Srbija" has recognized the needs of the children at this age to discover the magic of the world and new possibilities for creation, based on creativity and new knowledge.
– The visionary support of this company to creative initiatives of the youngest ones, created new values. Hundreds of children, searching for an adventure in the world of sound, are creating a musical oasis, with their own hands, filled with rhythm and sounds of objects that are used in construction of houses. In this way, they are building a new house in which they find and produce the most unusual sounds, creating a melody in the rhythm of good mood. By building a melody, the children participate in a labyrinth of ideas and possibilities of musical compositions. When they create a composition, the little ones introduce the audience and their peers into their world, sharing the infinite happiness that music can produce.
KNOCK AND IT WILL BE OPENED
Thus far, children from Elementary School "Vuk Karadžić" from Belgrade, children from the Center for Children and Youth "Dragutin Filipović Jusa", children of employees in "Telekom Srbija", and little ones from Lazarevac participated in the workshop, as well as other interested pre-school children who come to "Kolarac" every first Saturday in a month. During every workshop they are able to, by means of construction tools, create new sounds that would later grow into a work of art and a real little concert. After every time they spend together, the children confirmed that they had a great time and that they would also come to the real concert.
– It was great. We played on some other instruments, for example we made music on a broom. I play piano, but these are new instruments and new experiences for me – says Iva, a workshop participant.
Music workshops took place under the conductor's baton of Bojan Ivković – VKV Boki. With his positive energy, he additionally stimulates the little ones in this creative endeavor and rewards them with diplomas.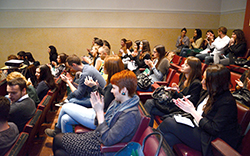 – In our time, music has become so widely available that it simply lost its value. It has become a commodity. We can recognize its commercial purpose in almost all segments of our lives, so it may easily happen that when you purchase, for example, a bag of laundry detergent, you would get a music CD – says Bojan Ivković. – Although so widely available, exactly because of that it becomes so distant to young people. The essence of this workshop is to explain the content and structure of creation of a composition, to return to children, through this process of creation, what belongs to them and what music means: joy, exploration, game. The harmony achieved through this approach is an indispensable feeling that remains forever impressed in the hearts of the participants.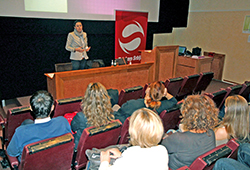 Children don't need a previous knowledge in music, Ivković says, because the essence of music is presented to them in the simplest way. Children show their true face that moment when you give them a task that they can understand and easily emulate. Are there musical talents among them?
– Just like in every orchestra, there are soloists, their sensibility is recognized quickly. The most important think is to use their skill in the right way.
Bojan Ivković expects that in 2015, with certain modifications, this project would be one of the greatest festival attractions. He is also proud because this is the first program of "Kolarac" that took place in other locations (in Obrenovac, Lazarevac, within the "Street of the Open Heart – Flood of Love").
– I am sure that visits to other cities will continue, because every place in Serbia deserves its little "Kolarac". For us, all you need to do is knock – VKV Boki concludes.

***
Lectures
Ehen it comes to adults, within the project "From Little Ones to Giants", an open call was announced this fall for preparation of scientific works and a series of lectures was organized for young high school and university students. The lectures at "Kolarac" have encouraged creativity and mobility of young people, created the space for application of programs in the area of research and technological development, stimulated innovativeness in the manner of promotion, emphasized knowledge as the key factor for a good job, stimulated entrepreneurial thinking among young people.
***
Additional Education
With this project, "Telekom Srbija" and Kolarac Endowment have opened a new chapter in promoting the significance of additional education of young people between ages of 18 and 25, says Jasna Dimitrijević. It is based on emphasizing new initiatives, research projects and ideas of young people, as a peer example and support for the future.